Best Accounting Software
Best accounting software in India are Zoho, TallyPrime, QuickBooks, Xero, FreshBooks, and QuickBooks Online. Such accounting system keep records and process business account transactions.
Get Free Demo
Connect With Your Personal Advisor
List of
20

Best Accounting Software

Showing

1

-

20

of

721

products
Until 31st May 2023
Accounting software helps accountants & bookkeepers record and report financial transactions. Invoicing, general ledger reconciliation, accounts payable (AP), and accounts receivable (AR) are among the recurring processes of business accounting software. Investing in an accounting system can help you streamline and automate various business functional processes, improving operational efficiency and ensuring accurate records.
Accounting software can come with cutting-edge features like the depreciation of specified assets and multi-currency support, depending on size.
A company's accounting department varies in size depending on the size of its company, and the complexity of its operations, and accountants, controllers, chief financial officers (CFOs), and other accounting department members use accounting software.
The accounting department can include one person responsible for everything or many employees accountable for a specific financial operation, including AP, AR, cash management, or expenses.
Financial reporting is done by accountants using the latest accounting software, which includes forecasting, profit and loss statements, and cash flow statements.
External accountants may be required to use the software of the customer or their software to help clients with their finances. Accounting firms manage finances for their customers.
Using accounting software, executives ensure that controls are built into how data is compiled, assess the company's financial position, and ensure that rules are built into their system. Most executives require access to financial reports and dashboards but rarely handle transactions or other accounting tasks.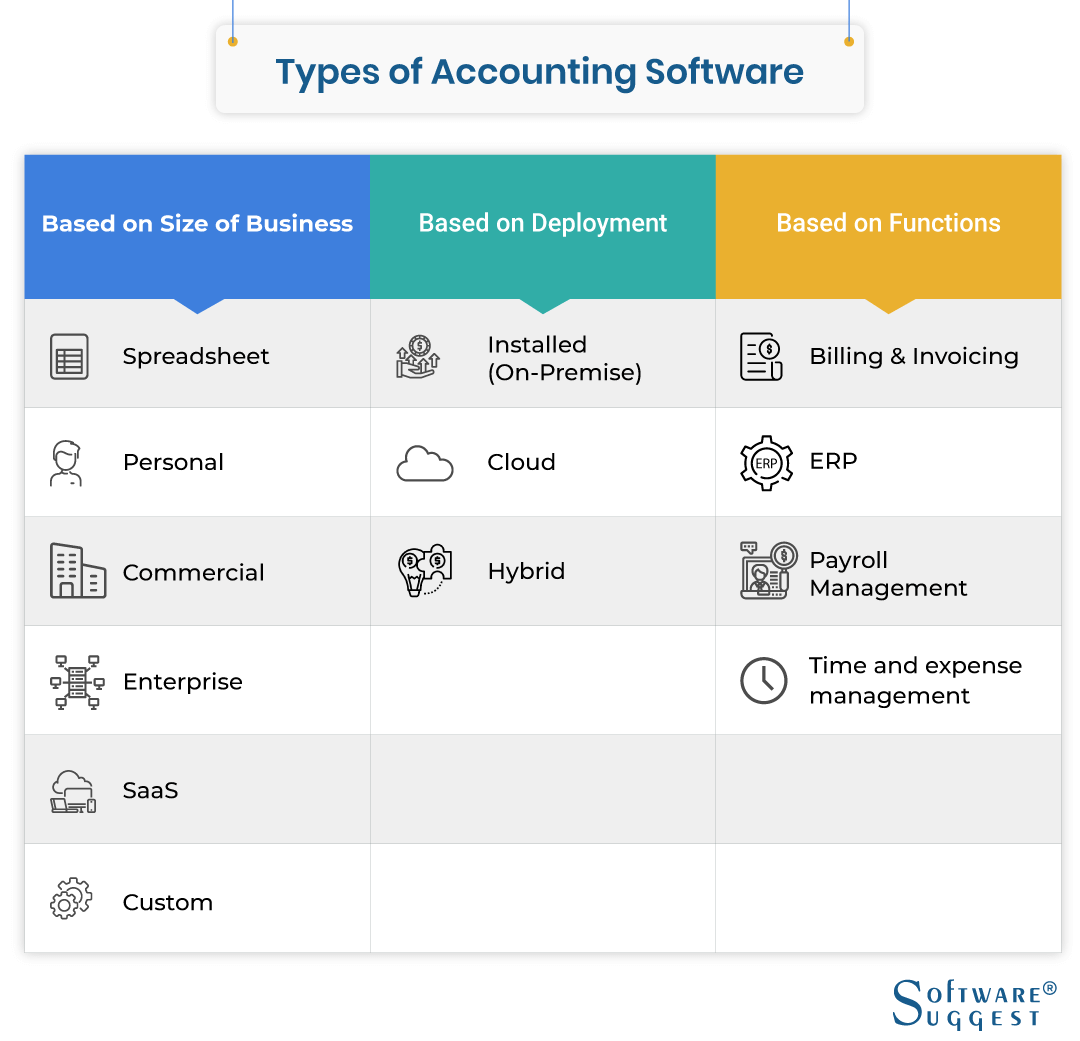 Various types of accounting software available in the market can meet diverse organizational requirements. Below are some of the types of accounting systems:
Cloud VS. On-Premises
Users can pay on a usage-based basis for cloud-based solutions since they are easy to implement, do not require hardware investments, and don't require hardware investments.
Cloud tools often find it difficult to provide robust offline functionality that allows users to access accounts and complete actions without connecting to the internet. Because cloud accounting is cheaper, it is usually the best option for small businesses.
On-premises systems might be client-server tools, which require each user to install software or be browser-based. Investing in hardware and IT support is required for on-premises tools, which offer additional security and can usually be customized without vendor involvement.
Based on the size of the company
A small business accounting team will typically look for a tool that offers a low-cost, easy-to-use interface that can handle billing and invoices. Most of these services are cloud-based and have mobile phone apps, offering convenience to the small business owner despite their simple, standard bookkeeping and financial reporting capabilities.
A large company needs software that can handle complex accounts with input from multiple roles. Due to higher volumes and greater complexity, reconciliation measures should be more rigorous. Larger companies can also ensure the integrity of accounts maintained by various employees by implementing audit trails and security measures.
Suite VS. Best of Breed
There are many modules within suite systems for accounting, inventory management, expense management, time management, payroll, etc., which make reconciliations between these accounts simple and automated. In addition, more specialized companies may benefit more from a system that caters to their needs.
For example, a service provider may only need an accounting system that manages expenses; a consulting firm may only need an accounting system that includes time-tracking information.
Based on the industry
Buyers must determine if a product is specialized in meeting their industry's standards or is versatile enough to be customized to meet their needs since tax codes, regulations, and best practices differ by sector. Companies of all sizes, whether small businesses or established companies, can be affected by this.
Accounting software comes packed with many benefits that can give your firm a distinct competitive advantage. Some of the most significant benefits of accounting software include:
Saves time

Accounting solution takes some time to get up and run. Still, once you do, they will save you hours of manual accounting by automating previously time-consuming manual processes. Also, it will save you hundreds of hours by taking over time-consuming manual bookkeeping and accounting processes

Generates financial reports quickly

You can easily download your Earnings Statement, Balance Sheet, etc., which contains key insights such as a month, quarter, or year's income and expenditures with the click of a button in accounting software platforms.

Promotes data accuracy

Whenever you make changes to your records, you don't have to manually update multiple cells in multiple sheets. Instead, accounting software will automatically update your financial statements and reports to reflect any changes you make to keep your data error-free.

Simplifies payroll

Even though you may need a technical payroll system at some moment, many small businesses use accounting software to keep track of their payrolls. In addition, using accounting software lets you automate worker payroll, estimate healthcare and insurance contributions, and figure payroll taxes.
Financial Reporting
You can generate financial reports with any accounting program, but some programs have more basic features than others, and some require you to pay more for advanced features.
If you need precise financial reports, you'll want to guarantee they're present in the software application and your chosen plan. Detailed information can assist you in making informed business decisions based on your financial data.
Bank Feed
This feature lets you connect your business bank and credit card accounts to receive daily transaction updates. Many people like this feature because it saves time by not manually uploading transactions. It also lets you see a daily overview of your accounts rather than just monthly.
Recurring Invoices
You can schedule recurring charges, such as subscriptions, to be automatically billed using this feature. In addition, you can set how frequently invoices are sent, such as every day, each week, monthly, or annually, and specify an end date.
Integrations
It saves you a lot of time to connect your accounting software to different programs because it eliminates the need to move data between them manually. Among the popular integrations available with accounting software are payroll, payment processing, point-of-sale (POS) systems, and customer relationship management (CRM).
Compare Accounting Software Products
Depending on the industry and the buyer's needs, the buyer might want to create a long list of business software designed to assist businesses in the particular industry, such as retail, manufacturing, restaurants, etc. For example, platforms are built explicitly for companies operating in retail, manufacturers, and restaurants and for many commercial organizations.
Accounting software built for smaller businesses is often easier to use but lacks advanced features in enterprise software. After reviewing the software on the longlist, the buyer can narrow down this list based on budget. It is readily available to suit all budgets, and some general accounting applications can be downloaded for free or purchased off the shelf at a lower price.
Selection of Accounting Software
Negotiating a contract is an important part of any business relationship. Whether it is about performance protection, security protection, or just ensuring that both parties agree on what they want from each other, gathering all the relevant information is essential before signing off on the deal.
Here is a list of accounting software in India for your business:
Invoicing, recurring invoices, costs, estimates, and much more are possible with Sunrise, India's most-used accounting software for lone entrepreneurs and small companies. In addition, a new feature called Capital Health has recently been added to Sunrise, which improves the account balance visualization, and other accounting categories improvements have also been made to the app.
Features
Tax & Cash Management
Spend Management
Purchasing & Multi-Currency
General Ledger
Expense Tracking
Pros
The dashboard is detailed and elegant.
Real-time business progress is provided.
All kinds of transactions can be easily managed.
A Plethora of payment options is available.
Cons
The user internal needs a bit of rework.
The system is lethargic in generating reports and statements.
The automation feature is not that accurate.
User Reviews
Chris has reviewed Sunrise as – "Great software for small business owners. It organizes and streamlines business accounting procedures. Which eventually led to business growth."
Compatibility
Zoho Books is the cloud accounting solution for growing businesses. With Zoho Books, you can simplify company transactions, track revenue and costs, automate business operations, and connect with other enterprise systems, such as CRMs and inventories.
Using automation features such as payment reminders, scheduling reports, and setting triggers for certain workflows, business owners can save much time from repetitive bookkeeping tasks.
Features
Customizable Invoice Templates
Online payments & Transaction approval
Recurring expenses
Inventory tracking
Schedule & Customize reports
Pros
The layout and UI are pretty clear and understandable.
The software is easy to integrate.
Customizable reporting dashboard.
Easy navigation makes it simple to adapt.
Cons
Appropriate support is not offered post-purchase.
The software is not scalable as promised.
The account-sharing feature needs some rework.
User Reviews
Emran has reviewed Zoho Books as – "The capacity to raise solicitations, deals requests and appraises and the data be imparted to the CRM side of Zoho. We generally had two frameworks and needed to enter information for clients twice. Utilizing Books and CRM has smoothed out our client information, detailing, and examination apparatuses." Read more reviews
Compatibility
As a comprehensive business administration solution, Microsoft Dynamics 365 Business Central links small and midsize businesses' finance, sales, and operations teams to a single, user-friendly application, enabling them to accelerate deployment and adoption with a step-by-step onboarding process, contextual next-best action intelligence, and interoperability with Microsoft 365 applications.
Features
Finance management
Purchasing and payables
Inventory management
Service management
Supply planning and availability
Pros
Provides accurate and assistive insights.
The charts and reports provided are comprehensive.
Effective cash flow management can be done with precise reporting and analysis tools.
Highly intelligent and intuitive software.
Cons
The customization feature is not up to the mark.
Ineffective integration with other platforms.
The availability of so many features makes operability confusing.
User Reviews
Jenkin has reviewed Microsoft Dynamics 365 as – "I Love the software interface; It's User friendly and easy to understand and maneuver. The Features in it fully detail how well programmed the software is." Read more reviews
Compatibility
Using Wave Accounting, businesses can streamline bookkeeping by invoicing, billing, tracking payments, managing payroll, processing credit cards, and scanning receipts. In addition, to improve efficiency and accuracy in bookkeeping, businesses can manage all bank account and credit card information in real time with Wave's bank reconciliation tools.
Features
Invoicing
Billing & payment tracking
Payroll management
Credit card processing
Receipt scanning
Pros
Billing is simple and can be done quickly.
Plans are cost-effective.
Automated transaction updating is the finest feature.
Simple to operate and offers a user-friendly interface.
Cons
Setting up the platform is complex.
Customer service is not helpful enough.
Reports are non-comprehensive.
User Reviews
Tulsi has reviewed Wave Accounting – "Wave Accounting has helped me save a huge chunk of money by taking charge of handling my accounts. Now, I don't require my CA, Starting from sales report generation to tax filing; it has helped me in all aspects. But the development team has to work on integrating its app as it consumes a lot of space." Read more reviews
Compatibility
myBillBook is amongst the top 10 accounting software in India. A company owner can set up role-based approval protocols using myBillBook's data security tools for different data users. In addition, the log management tools on myBillBook provide executives with real-time visibility into everyday workforce movement. Experts can also monitor and track production processes to identify bottlenecks.
Features
GST Invoicing/Billing
Analyze business reports
Customized bills and invoices
Flexible printing options
Barcode scanning
Pros
Payment reminders and due date alerts are provided.
It is a free tool that is highly assistive for start-ups.
Easy adaptability and self-explanatory processes.
Easy tracking of expenses and effective cash-flow management.
Cons
Reporting is not as detailed as required.
Customizations can be improved.
User Reviews
Nidhi has reviewed myBillBook as – " myBilBook offers an excellent service for businesses looking for a comprehensive and efficient solution for their billing and software needs. The software is user-friendly, and the billing system is easy to set up and manage." Read more reviews
Compatibility
One of the best accounting software in India, Vyapar, is used to manage a company's day-to-day business activities. A few of the features of Vyapar are easy and fast billing, bar-code generation, free transaction messages, payment mode selections, printing and sharing invoices, etc. Some include other accounting categories such as billing, accounting, inventory management, online sales management, etc.
Features
Invoice History & Creation
General Ledger
Billing & Invoicing
Financial Reporting
Income & Balance Sheet
Pros
Repetitive tasks can be automated.
Real-time performance reporting is offered.
Compliant with taxation rules and regulations.
Easy to integrate with other software.
Cons
It requires time-consuming training.
Advanced features are fewer as compared to other providers.
Software buffers many times, which causes errors.
User Reviews
Junaid reviews Vyapar as – "In summary, the service offers a good value for the cost and includes useful reports for tracking daily business activities. It also includes reminders for payments and dues, making it a worthwhile investment." Read more reviews
Compatibility
NetSuite
Thousands of organizations use NetSuite to automate key processes and gain real-time visibility into operations and financial performance by automating core processes. Organizing accounting, goods, production, supply chain, and warehouse processes is more comfortable with a single, integrated suite of applications.
Features
General Ledger
Cash Management
Accounts Receivable & Payable
Tax Management
Fixed Assets Management
Pros
Customization is good for operational and financial requirements.
The software is intuitive, and it offers a good user experience.
Easy to adapt to the availability of several modules for various business functions.
Automated processes make accounting tasks easy to accomplish.
Cons
Configuring the software is a complex task.
Report-making is a tedious task and can be improved.
UI is not advanced as compared to other software.
User Reviews
Aryan has reviewed NetSuite as – "It's a amazing product. I have also recommended many of my colleagues to this application. It is quite smooth and faster than other applications. When I decided to buy this product, I was a bit worried that if it didn't work, it would be very bad for me to do our work, but it did perfectly work for me." Read more reviews
Compatibility
A double-entry accounting solution for small businesses, Xero supports sales, assets, accounts, costs, inventory, and payroll. In addition to providing great reports and cutting-edge analytics, Xero also offers tools to track projects. As part of its automation processes and improved connectivity with financial websites, it uses artificial intelligence well.
Features
Send invoices
Bank reconciliation
Pay bills & claim expenses
Accept payments & Track projects
GST returns
Pros
Payments and expenses can be effectively tracked.
The dashboard is informative and easy to navigate.
Highly accurate inventory management and tracking feature.
Invoices are generated on a real-time basis.
Cons
Several other advanced features are not available.
Customer support needs to be improved.
Customization and automation features must be upgraded to enhance efficiency.
User Reviews
Donna has reviewed Xero: "I use this software daily; re-occurring invoicing and client payment methods are a must these days, and Xero has all this and more." Read more reviews
Compatibility
One of the best accounting software in India, AlignBooks aspires to help CAs and enterprises of all sizes. With AlignBooks, you can save money on LAN infrastructure, anti-virus protection, and data backups compared to other tools.
In addition, the offline version provides a smart solution for customers who want to maintain multiple company accounts simultaneously.
Features
Inventory management
Expense tracking
GST invoice generation
Payment tracking
General ledger
Pros
Pretty straightforward and easy-to-use software.
Error-free auditing of books and statements is feasible.
Tools are provided that automate the accounting process.
The customer support team is highly responsive and knowledgeable about their products.
Cons
The application is not quick and lags sometimes.
Complications in operations are caused due to frequent updates.
The user interface can be upgraded to a great extent.
User Reviews
Shweta has reviewed AlignBooks as – "AlignBook is an easy-to-use software; the team is always there to support and answer queries. I hope the group also helps in the future when required." Read more reviews
Compatibility
Sap ERP
SAP ERP Financials Management application provides a general ledger, journal entries, cost accounting, budget management, financial reporting, multi-currency support, and many other features. SAP ERP is a fully functional ERP solution that enables tracking, management, analytics, reporting, compliance, and collaboration.
Features
Accounting
Purchasing and Inventory Control
Fixed asset management
Banking and reconciliation
Financial reporting and analysis
Pros
Most advanced functionalities are offered.
Reporting and analytics features are quick and reliable.
Fully featured platform for all accounting needs.
Suitable for all kinds of businesses.
Cons
The software is too costly.
Support services can be improved.
The platform is not easy to navigate.
The dashboard is confusing as too much information is stacked in one place.
User Reviews
Harvey has reviewed SAP ERP as – "The platform simplifies the processes to a great extent, and the speed it offers is outstanding. Also, the features are highly scalable and offer good ROI."
Compatibility
BlackLine automates workflows, delivers a safe, centralized workspace for period-end accounting movements, and facilitates financial reporting so that accounting and finance can handle and control the end-to-end financial close process. As a result, teams can focus on analyzing discrepancies and identifying new ways to create value for the organization.
Features
AR intelligence
Cash application
Collections management
Credit & risk management
Disputes & deductions
Pros
Offers the finest control over accounting procedures.
Easy to adapt and user-friendly.
Accurate analysis is offered based on the transactions recorded.
Customization at its best.
Cons
The reconciliation feature is not that accurate.
Reporting is detailed but confusing at the same time.
Its implementation is time-consuming.
User Reviews
Micheal has reviewed BlackLine as – "Real-time and detailed reporting feature is highly beneficial in comprehending the current financial state of business. The framework of the software is highly secure, and advanced features are offered."
Compatibility
FreshBooks is a small business accounting software product well-suited to freelancers and independent contractors. With its powerful invoicing feature and customizable invoicing, it stands out from the competition. Invoices are sent on the go, receipts are scanned, and mileage is tracked; inventory is tracked for billable items; no double-entry accounting reports are included in the least expensive plan.
Features
Invoicing
Time and expense tracking
Simple project management
Accounting applications
Accurate Payroll Information
Pros
One-stop solution for all accounting needs.
Invoice generation and tracking can be easily managed.
Customization as per business needs is feasible.
The dashboard is highly optimized.
Cons
The automation feature can still be improved.
Bugs are found frequently, which slows down the processes.
User Reviews
Ahmedy has reviewed Freshbooks as – a "Great tool for freelancers. Quick to learn and saves you money on professional fees. Great freelancing site. Good customer service probably gets 10-20% of people to pay on time because when you send the invoice, there is an easy online method of paying via a credit card right there." Read more reviews
Compatibility
QuickBooks Online is one of the best accounting software for small businesses. Upon completing the 30-day free trial, monthly subscription plans start at $25 per month, offering more advanced features such as inventory management, time tracking, more users, and cash flow.
Features
Cloud Accounting
Invoicing
Online Banking
Cash Flow Management
Time Tracking
Pros
Accounts can be accessed via several platforms anywhere.
Highly secure infrastructure provides effective data protection.
Zero data loss due to accurate sync and backup feature.
24/7 availability of support is the biggest benefit.
Cons
Reporting module can be improved.
Some features can be enhanced to improve functionality.
High learning curve.
User Reviews
Manisha has reviewed QuickBooks Online: "I liked it very much and recommended it to everyone. It's too good. It is pocket-friendly and a time saver. It is just like its name quick. This is a must in the modern era. I loved my work experience on it. It is beneficial for you to know that we can get started in the right direction. I am not sure if you need anything else from this software." Read more reviews
Compatibility
Business management software TallyPrime enables businesses to manage all business functions through a single application, including invoicing, accounting, inventory, banking, cash flow, credit management, taxation, payroll, and cost management.
With TallyPrime, you can manage multiple business functions in an integrated manner, eliminating complexity and allowing you to focus on growing your business.
Features
Invoicing & Accounting
Inventory Management
Insightful Business Reports
GST/ Taxation
Credit and Cash Flow Management
Pros
Reports generated can be customized as per the requirements.
The support offered is exemplary.
Even tedious tasks like ledger and invoice creation can be automated.
All the tax laws, like GST, TDS, etc., are complied with.
Cons
Operability needs to be more efficient.
Reports take a long to load from the server.
Tough to integrate with other software.
User Reviews
Arpit has reviewed TallyPrime as – "Tallyprime is a brilliant platform for business management. This software allows us to easily make a new company manage our business and monthly turnover. Tally is one of the most widely used accounting software in the country. Prime is available in both the Application & web versions, where the web version has nearly all the features except the shortcut keys, which is considered the best thing about Tally. It's simple to operate on Tally and effective daily use." Read more reviews
Compatibility
Sap Business One
SAP Business One is an incorporated enterprise management solution for small and medium-sized businesses. You can access the SAP Business One software in the cloud or on-premises.
You can streamline and manage your vital business processes with SAP Business One in one integrated package. As a result, you can monitor every aspect of your business more effectively and make better decisions. This includes finances, customer relationships, warehousing, reporting, and purchasing.
Features
Purchasing and Inventory Control
Procurement
Master data management
Warehouse and accounting integration
Accounts payable
Pros
It is compatible with both small and large businesses.
Robust functionalities make it one of a kind.
Analytics offered are on a real-time basis and is highly accurate.
The main benefit is that platform is customizable as per the requirements.
Cons
Not at all cost-effective.
The software is tough to adapt, so professionals are required to operate it.
Integration is a major issue with the software.
User Reviews
Burak has reviewed SAP Business One: "You can track every history of an item/purchase order/a transaction with SAP. No one can make a mistake and delete it. There are tons of transactions to be discovered. Viewing a purchase order history is the best to understand. Checking the vendor line items gives you a brief summary easily." Read more reviews
Compatibility
Open-source, Odoo software includes hundreds of expertly designed business applications that are fully integrated, customizable and open-source. Among Odoo's intuitive database options are CRM, Sales, Projects, Manufacturing, Inventory, and Accounting, to name a few.
As a result, Odoo is a comprehensive software package that meets the needs of all businesses, regardless of size (or budget).
Features
Accounts Receivable
Clean customer invoices
Credit Card Payments
Control supplier bills
Automate bank feeds
Pros
Several kinds of modules are available, which makes the work easy.
Being an open-source platform, it is highly secure.
A huge number of applications are in-built making usability convenient.
Jam-packed with features and advanced functionality.
Cons
The user interface is poor.
Support teams are not at all competent.
Frequent update hampers the flow of operations.
User Reviews
Harry has reviewed Odoo as – "Simple and effective integration with third-party applications is a major relief. Advanced functionalities are offered at affordable prices. Apart from that, it can be easily customized as it is an open-source platform."
Compatibility
Sage Intacct is a flexible business accounting software with excellent accounting abilities for hundreds of companies worldwide. Sage Intacct offers lots of core accounting applications, such as a general ledger, AP, AR, cash management, etc., to any accounting department or finance team.
Features
Dynamic Allocations
Revenue Recognition
Multi-Entity and Global Consolidations
Vendor Payment Services
Spend & Inventory Management
Pros
Features are dynamic and improve operability.
The analytics feature is robust, which improves decision-making.
The software can be easily integrated with other platforms.
Streamlines the processes and enhances efficiency.
Cons
In comparison to other providers, the dashboard is not that advanced.
The report writing feature can be upgraded.
UI gets confusing as customization is not its strong suit.
User Reviews
Charleen has reviewed Sage Intacct as – "It is a solution to the difficulties of administration and financial control. We can generate detailed reports thanks to the robust integration with other Software. It is also a tool that can be used by my entire team without any difficulty, thanks to the fact that it has a straightforward interface. I also want to mention that the license costs are adequate depending on the functions it allows." Read more reviews
Compatibility
FreeAgent is a highly regarded online accounting tool exclusively for SMBs, independent contractors, and bookkeepers. FreeAgent helps thousands of freelancers and businesses keep track of their finances.
FreeAgent aids business owners in handling day-to-day administrative tasks, such as controlling spending, managing RTI-compliant payroll, and time tracking, as well as preparing and sending invoices and keeping track of cash flow.
Features
Custom invoices
Profit and loss statements
Automated bank feeds
Offers PayPal, Stripe, and GoCardless Integrations
Timesheet reporting
Pros
Simple usage makes the platform preferable.
It is quick to operate, allowing the user to accomplish tasks quickly.
Insights are offered on how to make the usage more efficient.
Highly intuitive software and cost-effective.
Cons
The integration process with third-party applications is complex.
Support teams are not responsive enough.
Professionals are needed to be employed for effectively operating the platform.
User Reviews
Raunaq has reviewed FreeAgent as – "My experience with this software is good, I will write some pros and cons for it. PROS Excellent dashboard. Understandable navigation. Thorough contact records. The appropriate feature set for small businesses and freelancers. CONS Few connections to external payment account providers and e-commerce sites. The user interface and navigation are not state-of-the-art. Non-standard inventory-tracking. Few add-ons. Doesn't project estimated tax amounts. Few reports." Read more reviews
Compatibility
We researched and compared 20+ accounting software companies before selecting the top five best suited for small businesses. We evaluated capabilities and price tags, as well as industry suitability. Here are our top five software for small businesses.
Here are our best picks with details (free trial, pricing, and benefits) to make your selection process easier.
| Name | Free Trial | Demo | Pricing |
| --- | --- | --- | --- |
| | 14 Days | Rs 5000 Per Year | Best for Small Businesses |
| | 14 Days | Rs 0 for Startups | Best for SMBs |
| | 30 Days | Rs 1200 Per Month | Best for Invoicing and Billing |
| | 14 Days | Custom | Best Accounting ERP tool |
| | Free | N/A | Free Accounting Solution |
Business owners and executives should be aware of some potential limitations and challenges of accounting software before investing in one for their business requirements. Some major difficulties of accounting software include:
Businesses can't just use any accounting service if they want to conduct transactions outside their national borders. The best accounting tools must be able to handle transactions in different currencies and languages.
Accounting standards and financial regulations vary widely; not all accounting systems comply with all of them. Usually, basic financial statements and reports are provided for compliance purposes, but buyers need to ensure that industry-specific compliance features are included.
Bank accounts, credit card information, and other confidential information, such as social security numbers, are stored in accounting systems, along with personal and business financial data.
Therefore, it is crucial to ensure that a limited number of users can only access this type of information and that it is protected from external threats like viruses and hacking attacks.
In the world of technology, things move fast, and accounting software is no exception. As part of this change, accounting solutions are becoming more affordable, automation features are being introduced, and integrations are being added. Below is a list of the top accounting software trends for 2023:
Bots and artificial intelligence (AI)
The use of artificial intelligence or AI for accounting is still in its infancy, but more and more vendors are adding it to their services. Most of these vendors released automated assistants that help accountants with their daily tasks utilizing machine learning and artificial intelligence.
Accounting intelligent assistants can benefit all types of businesses, including freelancers and small businesses.
It is common for companies to use two different accounting solutions and ERP systems to manage their finances due to the limitations of some accounting solutions and ERP systems.
A manufacturer, for instance, might choose an ERP system with robust production capabilities but weak accounting capabilities and another accounting solution to meet their needs.
Accounting Software Related Research Articles:
FAQs of Accounting Software
Accounting software helps to record transactions, download financial statements and reports, manage customer information, send invoices, share financial information with an accountant, and file business taxes.
Unlike bookkeeping software, accounting software performs all of the functions of bookkeeping along with more analytical accounting functions, such as cash flow analysis and forecasting. In contrast, bookkeeping software focuses on data entry and storage. It is used to keep track of your revenue and expenses.
Accounting software eliminates up to 40% of business losses caused by accounting errors, but you have to know which accounting processes can be automated effectively and which ones cannot. For example, accounting software automates invoices, payroll, expense reports, etc.
Accounting software works by automating and streamlining financial management tasks such as invoicing, expense tracking, payroll management, and reporting.
The best accounting system for small establishments depends on the particular needs and requirements of the business. Some popular options include QuickBooks, Wave, Zoho Books, and FreshBooks.
Businesses typically need accounting software that can handle tasks such as invoicing, expense tracking, payroll management, and financial reporting. Additionally, businesses may require integrations with other software programs and customization options.
Online bookkeeping software and accounting software serve different purposes. Bookkeeping software is primarily focused on recording financial transactions, while accounting software offers more advanced functionality, such as financial reporting and analysis.
Many accounting software programs offer invoice generation functionality, which can be convenient for establishments that need to create and manage invoices.
An online accounting service provides establishments with access to a team of accounting professionals who can assist with tasks such as bookkeeping, tax preparation, and financial reporting.
Accounting software can automate a range of business processes, including invoicing, expense tracking, payroll management, financial reporting, and inventory management. This automation can assist establishments to save time and increase efficiency.
Accounting Software in following cities
Accounting Software in following industries