25 Best Accounting Software in India 2020
Finding the best Accounting Software for your business is now faster and easier! Compare prices, reviews, features, and get free consultation to find the perfect software.
What is Accounting Software?
Accounting software is an application that helps in storing and managing accounts as well as in performing arithmetic or accounting operations.
All Software
Buyer's Guide

Accounting software is a tool used to keep records and process transactions such as billing, invoicing, payroll, account receivable, payable, etc. The main purpose of accounting software is to meet the internal and external financial expenses and keep a record of it.
It is the systematic measurement, verification, interpretation, summation, and classification of financial data.
1. Invoicing & Billing
With this integrated module, you can automate mundane tasks like payment collections from clients by preparing invoices in time. Besides, it helps in adjusting operations to new and effective payment methods.
2. Payroll
Your accounting software also supports a plethora of payroll features. Thus, you can calculate and process employee payments, print checks without delays, and meet all the tax requirements without any error.
3. Bookkeeping
Right from dealing with your sales and purchase ledgers to reconciliation with the general ledger, bookkeeping streamlines your accounting operations to a great extent.
4. Budgeting & Forecasting
This comes as a bundled module in your accounting software. As it interprets your financial performance for the current year and also helps to get an estimate of the budget for the coming year, you can set optimistic targets.
5. Fixed Asset Management
With this feature incorporated in the accounting software you purchase, you can rest assured that your financial data are managed accurately. It comprises other features such as depreciation calculation, cost records, audit history, etc.
6. Inventory Management
This feature gives your business the ability to control and administer all products' availability and movement. Besides, it alerts you in case of understocking or overstocking.
7. Expense Management
All your work-related expenses are taken care of by this module. Right from submitting the expense records to processing the payment, you can view everything under a single window.
8. Accounts Payable & Accounts Receivable
These are fundamental financial records that help you keep track of all the business transactions. Automating these processes help collect and submit payments seamlessly.
9. Bank Reconciliation
With this feature, you can make sure that your financial data is accurate. It compares bank statements with your account holder records; thus, ensuring no errors occur.
10. GST Filing
It lets you auto-populate GST on transactions, send GST compliant invoices, record e-Way bills, and ensure that your company remains compliant with GST regulations.
11. Multi-Currency Support
Most of the accounting software supports a wide range of currencies, i.e., it easily converts between different currencies so that you can send and receive payments and quotes without any hassles.
12. Reporting
It helps key a tab on all the key metrics of your organization, including profits, losses, balance sheets, and more. Hence, you can make informed decisions for long-term success.
Here are the top features that customers keep in mind while buying accounting software:
1. Optimized Business Operations
The main purpose of an accounting solution is to help businesses streamline and automate their accounting procedures. This results in increased efficiency and productivity at work.
For starters, it removes the redundant work and employees have more time to focus on more important tasks at hand. And second, it saves you from any kind of miscalculations. Thus, it speeds up the entire processing times.
2. Reduced Operational Cost
By implementing accounting software that suits your business needs and budget, you can save on outsourcing. You also save on printing and paper costs.
And if you wish to install a cloud-based solution, you don't even have to invest in infrastructure.
3. Automated Record-keeping
An accounting system automates the process of bookkeeping. From categorizing your transactions to reconciling your bank accounts, it streamlines the entire process. The solution has the ability to compile data you enter into different applications. It then generates reports based on those data.
Furthermore, an advanced solution can even analyze business practices and identify trends in your company's money flow.
4. Simplified Tax Compliance
Most accounting software come well-equipped with a tax planning module that enables you to store and organize invoices, receipts, and income statements on a single platform. It then automatically calculates the amount of tax to be paid.
You also get detailed reports on the amount of tax you have paid previously. And some advanced system even allows you to e-file tax returns.
5. Secured Database
Another important benefit of most used accounting software is that you can keep your files and documents protected. It has the capability to restrict access to admin-based control, which makes it easy to protect confidential information from unauthorized personnel.
Besides, you don't have to worry about natural calamities that can destroy your files. Even in case, your files get deleted by mistake or the system crashes, you can always retrieve it from the cloud service within a specified time period.
6. Reports
Best accounting software not only helps you to keep track of your finances but also includes banking transactions as well as sales revenues and investments. The software that can generate reports saves a lot of time and effort from the company.
7. Communication Between Departments
Accounting software manages the financial processes of the whole firm like employee salaries, orders of customers, and much more. This function comes with the feature of allowing multiple users to connect to each other to make the work smoother.
If you need to deal with your credit cards and investments, bank accounts as well as your income and expenditure, you can have it all in one place on your smartphone or PC.
8. Cloud computing
Cloud computing is the latest way of using an easy accounting system through different gadgets. It allows multiple users and also keeps the data secure using Online Accounting Software. What's more, is that it is quicker than the desktop installations.
9. Ease of Use
Accounting procedures involve complex processes and calculations. That's why the best accounting system offers an intuitive interface to work in. All the information is neatly arranged and accessible from a single dashboard.
10. Customization
Every company has different requirements. That's why most accounting software packages allow customization. There is no one-solution-fits-all, therefore you are given the option to add or delete modules/functionalities to fit your order.
Based on the different types of user requirements, accounting software can be classified under various categories. User requirements are generally based on the following factors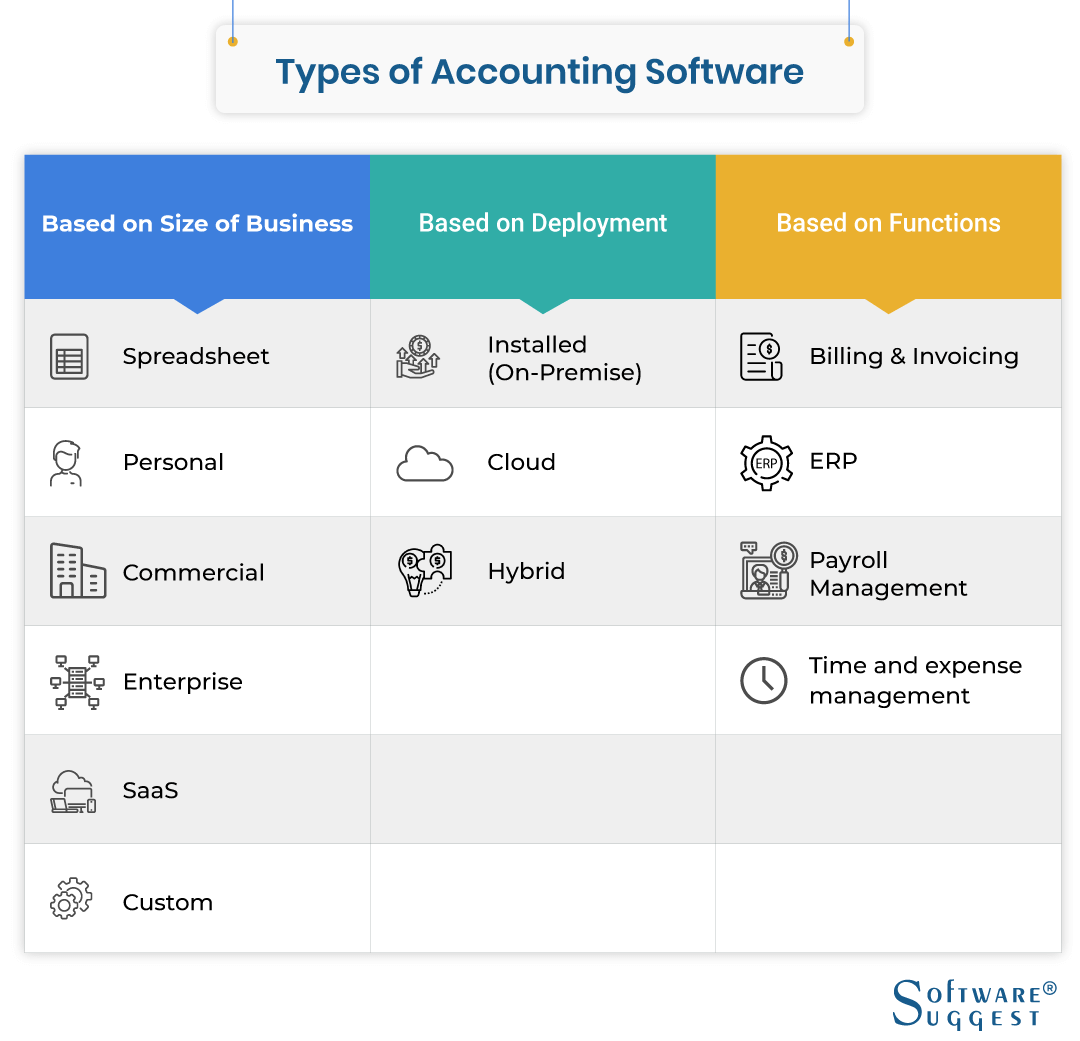 A) Based on Size of Business
1. Spreadsheet Software
Spreadsheet software is the most affordable and simplest of all forms of accounting solutions and highly preferred by businesses having low transaction volumes. The best accounting system seamlessly collects and organizes data, and allows you to place the data in neat rows and columns, which can later be organized or arranged by information type.
However, the downside is that though you can easily configure spreadsheets, they are prone to errors as the slightest inaccuracy in entering data or miscalculation will end up generating erroneous financial statements.
2. Personal Accounting Software
Personal accounting software is ideal for small businesses and start-ups. It helps you eliminate the need for manually entering draft amounts or balancing your checkbook.
A personal accounting system automates the process of tracking big transactions and allows you to take charge of your assets and investments such as fixed deposits, mutual funds, etc. It comes with simple budgeting tools and an astounding array of features to make your financial life simpler.
3. Commercial Accounting Software
Commercial accounting software has been designed to handle the accounting needs of small and medium-sized businesses. Commercial accounting software such as Quickbooks comes with a host of impressive features that automatically generates comprehensive financial reports and summarizes data to portray the financial state of a business.
What's more, commercial accounting tools can be easily customized to the needs of your organization. It also comes with a robust error detection mechanism to obviate the entry of inaccurate data.
4. Enterprise Accounting Software
It is best suited for managing the complex operations of larger companies. The best enterprise accounting software comes with a simple interface and offers multiple modules such as payroll, accounts payable/receivable, reconciliation, billing, invoice, inventory management, etc. to help enterprises improve their workflow processes.
This accounting system also provides inputs into the corporate level strategy. It also generates a graphical representation of accounting metrics, allowing CFOs and managers to evaluate financial information whenever required.
5. SaaS Accounting software
SaaS (Software as a Service) based accounting platforms are emerging as a popular choice for businesses looking to minimize overhead expenses.
Since SaaS solutions reside in a shared environment and are based on subscription models, the cost of software and hardware licenses is low compared with the conventional models.
6. Custom Accounting Software
This software is developed for businesses that want to customize their software as per their accounting needs. Businesses that want to tailor their report formats, invoices, data fields, etc. generally opt for customized accounting solutions.
The cost of this software depends on the number of customized features included, the number of users supported, and maintenance, support, and security services offered by the vendor.
B) Based on Deployment
1. Installed (On-Premise) Accounting Software
This accounting system is first downloaded on your PC and hosted on its server. An installed accounting solution can be accessed only on the device it is downloaded on. Locally installed accounting platforms are feature-rich, more secure than cloud-based applications, and do not require internet access.
Since this software comes with sophisticated features, therefore, they are a bit difficult to use and customize. Moreover, since it stores data only on your PC or laptop, you cannot access the data online or share it with others.
2. Cloud Accounting Software
Cloud accounting software is known for its scalability, ease-of-use, and cost-effectiveness. Cloud accounting solution sends data into the cloud, where it is processed and sent back to the users. This software can be used from your PC as well as mobile and tablet devices with a stable internet connection.
The greatest advantage of cloud accounting tools is that it eliminates the need for installing and maintaining accounting software on individual desktops. If you have offices in multiple locations, it also enables your team members to access the same financial data remotely through the internet.
3. Hybrid Accounting Software
Hybrid accounting solutions include sophisticated features of hybrid accounting software at a reasonable price, they are considered ideal for small as well as mid-sized businesses that require sophisticated accounting tools.
Like SaaS-based accounting solutions, this software offers accessibility from multiple locations via the internet.
C) Based on Functions
1. Billing & Invoicing Software
Billing and invoicing software is essential for completing the daily business tasks such as documenting financial activities, writing checks, and notifying customers about outstanding payments.
Accounting software automates invoice approval workflow and also sends automated payment alerts to your customers on your behalf. The software also comes with modules for client management and report generation.
2. ERP Software
Accounting software offers ERP software functions to help businesses plan, forecast, and generate reports on a company's financial results. The best ERP software comes with a scalable and comprehensive set of functionalities to help small businesses, as well as multinational corporations, streamline their accounting operations.
3. Payroll Management System
An efficient accounting software is capable of performing a wide array of tasks such as automatic payroll calculation, depositing salary directly into your employees' bank accounts, generating payslips, tax forms, and reporting.
4. Time and expense management systems
Time and expense management systems come with time tracking module to help you keep tabs on the time spent on different tasks by your employees. The software also records the time, labor, and costs associated with different projects so that you can send invoices to your clients with solid evidence of time spent on their projects.
Accounting software has now become mainstream for businesses of all sizes. But choosing the best from a plethora of vendors can be quite overwhelming. It is crucial to consider a vendor that possesses the agility to adapt to your market needs.
Taking this into consideration, we have curated top accounting software vendors by company size here.
Accounting Software Comparison for Enterprises
As your company grows, small or mid-sized business accounting software doesn't always cut the chase. So, if you are outgrowing your existing accounting solution, it's time you consider implementing an enterprise accounting software.
It comes with an ability to manage all your financial activities right from accounts payable and accounts receivables to payroll.
Some of the leading accounting software for enterprises include Sage 50 Cloud and Xero.
| | | |
| --- | --- | --- |
| | Sage 50cloud | Xero |
| Best For | Enterprise | Enterprise |
| Free Trial | 30 Day | 30 Day |
| Cloud Hosted | | |
| On-Premise | | |
| Double Entry | | |
| Mobile Access | | |
| Time Tracking | | |
| Payroll | | |
| Customer/Vendor Portals | | |
| Tracks Inventory | | |
| Document Management | | |
| CRM Integration | | |
| Multi-Currency | | |
| Live Support | | |
Accounting Software Comparison for Medium-Sized Businesses
Finding the best accounting software for mid-sized companies is not an easy task. While you might be overwhelmed with some of its promising features, it won't be worth the cost and vice versa.
To make the selection process easier for you, here's a comparison guide of top accounting software vendors along with their features, pricing, and more.
Some of the well-known names include FreshBooks and Zoho Books.
| | | | |
| --- | --- | --- | --- |
| | FreshBooks | Intuit QuickBooks Online | Zoho Books |
| Best For (Basic Plans) | Medium | Medium | Medium |
| Free Trial | 30 Days | 30 Days | 14 Days |
| Cloud Hosted | | | |
| On-Premise | | | |
| Double Entry | | | |
| Mobile Access | | | |
| Time Tracking | | | |
| Payroll | | | |
| Customer/Vendor Portals | | | |
| Tracks Inventory | | | |
| Document Management | | | |
| CRM Integration | | | |
| Multi-Currency | | | |
| Live Support | | | |
Accounting Software Comparison for Small Businesses
With robust accounting software, businesses can now view the financial condition of their company at any time. As it manages finances efficiently and also records income and expenses, small businesses can easily determine if they are running on profit or loss.
There are many accounting software available for small businesses but there are a few that help them grow. So to ease the search, the following is the accounting platform comparison.
However, Kashoo, Wave, and Less accounting are among the most sought-after accounting software for small businesses.
| | | | |
| --- | --- | --- | --- |
| | Wave | Less Accounting | Kashoo |
| Best For (Basic Plans) | Small | Small | Small |
| Free Trial | Free | 30 Days | 14 Days |
| Cloud Hosted | | | |
| On-Premise | | | |
| Double Entry | | | |
| Mobile Access | | | |
| Time Tracking | | | |
| Payroll | | | |
| Customer/Vendor Portals | | | |
| Tracks Inventory | | | |
| Document Management | | | |
| CRM Integration | | | |
| Multi-Currency | | | |
| Live Support | | | |
There are both free and paid versions available. However, the free version comes with restricted functionalities. It generally limits the invoices that can be sent online, the number of users, and linked financial accounts.
But businesses that are just starting out and have a limited budget and can benefit from free accounting solutions.
When you move to the paid version to get more functionalities, the price range begins around Rs 700 per user per month and can go up to more than Rs 54,000 for an advanced system with more users.
The bottom line is that there are accounting software for every range. And depending on your business needs, you can deploy the software on-premise or as a cloud service.
1. Moving to the cloud
Shifting to cloud accounting software is an ideal choice for companies outsourcing their hardware and software support to minimize costs and improve their core competencies.
By moving to the cloud, the software features can be accessed by remote users and various branch offices. An added benefit of the cloud is the ability to access business data and accounting systems from anywhere irrespective of the time and location.
The subscription model adopted by this accounting software is preferred by businesses because the software costs are flexible based on scalability. This eliminates the need to pay an upfront cost.
2. A wide range of functionalities
The present-day accounting software comprises of a wide range of functionalities and applications. These functions include supporting the HR, marketing, sales forecasting, supply chain, and manufacturing departments. Traditionally these functionalities do not fall in accounting solutions.
The aim behind introducing such all-inclusive account software packages is to remove the inter-module integrations. This helps reduce costs that would otherwise have been utilized in supporting such complicated integrations. A single system monitors multiple data-sets so that changes in any area show the real-time influence on other aspects.
3. Third-Party application integration
The 3rd party integrated software works in sync with the primary accounting management software. The data can thus be exchanged between the 3rd party application programming interface (API) and the accounting management software.
4. Virtual implementation assistance
Accounting software is complex to manage, from installation to configuration, assistance is needed at every stage. With the introduction of remote implementation support, the buyers get specialist support for the software irrespective of the geographic location.
The software company assists with the software support virtually thereby extending the number of options for the buyer.
5. Analytics
The latest advancement in top accounting software India is the introduction of intelligence tools. Analytics lead to making better strategic decisions based on real-time data.
Businesses are going beyond measuring assets, liabilities, expenses and revenues as financial performance indicators. Dashboards now offer better management modules and a wide range of graphical presentation options for displaying data. The new-age software allows the creation of simplified reports to convert data into actionable business insights.
6. Role of AI
Artificial Intelligence optimizes accounting procedures and tasks. It allows analyzing large volumes of data at high speed. Thus, it results in increased productivity and efficiency at work.
AI provides an accountant with the opportunities to enjoy faster and more accurate calculations and easily detect any frauds or errors.
If you are planning to buy the best accounting system for the first time, here are some useful tips for you to consider so that you can augment your choice of online accounting software in India.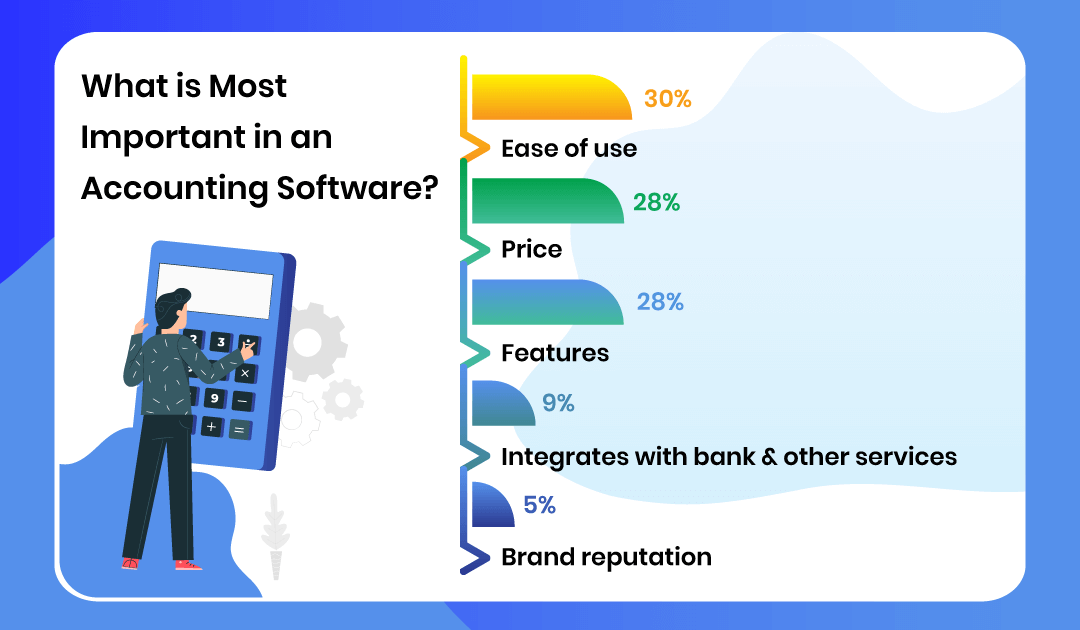 1. Pricing
Do you need a reasonably priced accounting system for small businesses with basic features like income tracking, expense tracking, customer management, and invoicing, or an expensive small business accounting software India with additional features such as inventory management and vendor management?
While considering pricing, make sure you also consider upgrade fees and expenses for availing additional services.
2. Features
Since different businesses have different accounting needs, you should ask the following questions before picking the best accounting system for your business:
1. What do you expect from your small business accounting software India?
2. Are you looking for a cloud-based accounting system?
3. Do you want software with invoicing capabilities, inventory management, project management, and time-tracking features?
4. What specific reports do you want the software to generate?
5. Do you want an accounting solution to have a mobile app?
3. User-Friendliness
Is the accounting software easy to use?
Make sure the top accounting system you are eyeing simplifies your accounting and bookkeeping tasks.
Also, make sure the software is easy to learn so that you and your staff can utilize the software to the fullest.
4. Multi-Business Assistance
Do you own multiple small businesses?
If yes, you may prefer the best accounting software that assists multiple businesses from one centralized system at no extra cost, without having to install separate software for different entities.
6. User-Access
How many users need to access the system?
The best accounting system generally allows you to give multiple users full as well as partial access to the system so that they can manage accounting tasks and data at their convenience.
For example, you may allow your accountant to have full access to the software while allowing your workforce to make use of the software only for invoicing clients. Additionally, some accounting system for small business allows you to add users free of cost, while others levy extra charges for adding multiple users to the system.
7. Multi-Currency Transactions
Does your business serve overseas clients?
If yes, you should choose the top accounting system for small business that supports multi-currency transactions.
8. Data Security
With software security risks increasing at an alarming rate, ensure that the accounting software you are planning to buy is competent enough to meet different security challenges besides protecting the financial records and personal information of your company as well as customers.
9. Regular Support and Maintenance Services
Does the software offer phone, online, and email support for troubleshooting, bug fixing, and other error fixing services?
Availability of round the clock support service is a crucial factor to consider while picking an accounting system for small businesses.
Moreover, some vendors of best online accounting software India offer complimentary support on purchasing the best accounting system, while others provide technical assistance only if you purchase technical support plans after purchasing the software.
10. Integration with Other Business Applications
When you are buying software for your business, make sure that it easily integrates with your existing 3rd party software.
Always choose the best accounting software that is easy to integrate with other applications for simplifying small business accounting.
11. Read User Reviews
Customer reviews and ratings are the best means of measuring performance; therefore, make sure you go through customer reviews and ratings of top accounting software to get an idea of the software you are planning to buy.
Our website has numerous in-depth reviews and ratings of best accounting systems that help you understand the price, features, compatibility, and efficacy of the software for small businesses.
Conclusion
While all accounting tools include basic features, there seem to be differences in their functionalities. Moreover, it must adapt to your existing processes. So, it is crucial to evaluate how robust a solution is before making the decision. Go through our comprehensive list of the best accounting software and find out which fits in your budget and offers the features that you are looking for.
9 Reasons Why Mobile Accounting Is the Future for CPAs
The Benefits of Accounting Software For Business Owners
AI in Accounting and Finance: How AI Will Impact theses Industries?
Showing
1
-
25
of
849
products
Handle all your accounting operations with ease
NetSuite ERP is a comprehensive accounting software, which has financing, billing, revenue-tracking, accounting, financial planning, and reporting modules built-in. The tool is capable of maintaining all your data on the cloud. Gain daily cash balance and real-time visibility across the business with 24/7 access from any browser. View Profile
#1
A complete GST-compliant accounting Software
Tally.ERP 9 is India's leading business management software for GST, accounting, inventory, banking and payroll. It is an economical and one of the most popular ERP software solutions available in the industry, used by nearly 20 lakh businesses. You can download a trial version of Tally.ERP 9. View Profile
#2
GST Billing software with Inventory & Accounts
Simple accounting software with complete inventory and accounts modules. It's fast, reliable and easy to maintain. Ideal for businesses that have a large number of invoices and deals in 100's of SKU's. Typically used by distributors, retailers and small manufacturers. Save precious time with fast report generation and simple UI for increased productivity. View Profile
#3
GST ready Billing - Accounting Software
Fraxinus is an integrated Advanced GST Ready Billing, Accounting and Stock Management Software for Small Business to Large Enterprises.operated from (Online or Offline) Desktop Computers and Mobile Application. View Profile
#4
Portfolio & Accounting Management with one software
Mprofit is one of the best portfolio management and accounting management software for investors, traders, advisiors, corporates, family offices and CAs to manage your stocks, MFs & other assets. View Profile
#5
Cloud-based accounting software for small business
ProfitBooks is amazingly simple and fastest amongst the list of business best online and offline accounting software for small businesses. It is claimed to be one of the best software for accounting in India. View Profile
#6
Simple software for FMCG, Retail & Trade
BUSY is one of the best accounting systems for small businesses and enterprises. It has been empowering SMEs across geographies, industry verticals & customer segments like FMCG, Retail, Trading, & Service by helping them manage their business efficiently. It is trusted by more than 6,00,000 businesses in over 20 countries. View Profile
#7
Free software with GST Billing & Filing
Best software for small businesses, handle multiple customers by allowing to hold current invoice. It is economical and one of the most popular ERP software. It's an complete solution from Purchase planning to Balance Sheet. View Profile
#8
Best GST-ready POS Billing & Accounting software
HDPOS is the best software for accounting for small businesses. It has ease of use and nice interface. It is a Windows-based billing, inventory management, and accounting system and it easily installs on a single computer or multiple terminals. View Profile
#9
Perfect accounting solution for 14+ major companies
Saral is one of the top accounting software in India for SMEs. It is very efficient for maintenance of books of accounts of an Organisation. Signup for a free account to download Saral Accounts. View Profile
#10
Easy accounting software for small businesses to manage finances
Simple, easy-to-use and one of the best accounting systems to help you manage your accounts online. You can download 14 days free trial of Zoho books. Zoho Books is an easy-to-use, online accounting software for small businesses to manage their finances and stay on top of their cash flow. View Profile
#11
Accounting Software by Vyapar
Vyapar is the simplest GST ready Inventory, Invoicing and Accounting software. It is user-friendly, you don't have to waste time learning it.It helps you to manage your business digitall, even with no Accounting knowledge. Track Cash-In, Cash-Out, Cheques, Cheques, Receivables/Payables, Total Stock Value, Payment Reminders etc, that too without the internet! View Profile
#12
Simple Accounting App for iOS, Android & Windows
Book Keeper is Most Simplified Accounting App available on Windows, Android and iOS platforms. You can generate GST invoices and generate GSTR-1,GSTR-2,GSTR-3B and GSTR4 reports. Also, you can access your data across devices by enabling Sync feature. It's an online as well as offline accounting software. View Profile
#13
Expense, Inventory & Payment handling from one place
Business leaders can't make informed decisions without accurate information. A majority of organizations suffer from disjointed data spread across too many systems. This impacts the bottom line with lost or missed revenue and lengthens the time-to-cash. View Profile
#14
Small business Accounting software for Retailers & Wholesalers
LOGIC ACCOUNT - complete retail, wholesale and accounting solution. It is a suitable software for billing, inventory & accounts functionalities. It is available in two editions such as Retail Edition and Whole Sale Edition. View Profile
#15
Manage accounting operations in a cost-effective way
PACT accounting software is a complete solution for all your accounting needs. Its highly-robust functionalities ensure that you get real-time updates. The software automates everything from the general ledger to accounts payable and receivable, and bank management. It can be used by companies of all sizes - small, medium, or large. View Profile
#16
Advanced invoicing & accounting software in India
Giddh online accounting tool is an innovative tool designed for undertaking accounting, invoicing and related activities. The tool allows users to add and manage accounts and share the status with relevant stakeholders via e-mail or a secure link which would be live for 24 hours. View Profile
#17
Beyond Accounting
AlignBooks is an Online Business Accounting Software specially designed to cater the needs of Small & Medium Business Enterprise, Chartered Accountants & other Professionals, and the Business Executives who mostly remains on the move. View Profile
#18
Best complete accounting software for small business
ZipBooks is very simple and easy to use complete accounting software designed specifically for small businesses. It enables you to streamline your financial operations and increase productivity. You can get access to all essential accounting management, inventory, sales and purchase features. View Profile
#19
Billing & Accounting Solution for Traders
Trade plus is a proven quality inventory management and accounting package used by several organizations. It is a single user package with features such as multiple financial years, VAT computations, cess on VAT calculations, multiple price rates, etc. View Profile
#20
Best Accounting System for Small and Medium Businesses
Reach is an online account software for small & medium businesses. We have software modules for accounting, POS and CRM. The best part about reach is all the business operations are bundled in one software so that the business owner can track every apsect of business. View Profile
#21
BillingInventory,Barcoding,Accounts,Crystal Report
Our Retail Store Software is reliable store business-management software that ideal update all of your sales, inventory management, analytic, accounting and reporting is one hand and reporting through email and SMS. View Profile
#22
A User Friendly Accounting & Billing Software
Digikhata GST Software simplifies GST Return Filing and GST Invoices, Billing, accounting and provides an easy interface to manage your Business. It has Easy and intuitive Interface for GST services. You can Register on our website for a free demo now! View Profile
#23
Complete Accounting Software for Small Business
CraveInvoice is a complete accounting software for small to medium size business. It includes all necessary features including inventory, invoicing and accounting management. View Profile
#24
Software by Veersoft Solutions
Accounting Guru is an Online Accounting Software for small business with inventory and billing, which includes Branch Accounting - Interbranch Transactions. View Profile
#25
Frequently Asked Questions (FAQs)
Recording expenses

Checking cash flow

Estimating profit/loss

Completing tax returns

Creating a budget, forecast, quotes

Creating and sharing invoices
The job of any

accounting software

is to make accounting easy and accessible for you. It reduces the hassles of paperwork and helps you to gain financial insights into your business.
Automating most of the manual processes like generating bank statements, sending late reminders, etc.

Helps you make a better financial decision

Give detailed info on profit/loss, revenue, customs, etc.
Manages your company account efficiently

Fewer management overheads

Remote accessibility

Data is secure
You can start using accounting software at any point in time. The early you start, the quicker you will automate accounting and get actionable insights to make an informed decision about your company.
Accounting software in following cities
Accounting software in following industries