What is Artivatic?
Artivatic is an Insurtech and Health-tech Platform that provides on-boarding, risk assessment, distribution, sales, underwriting, claims automation, fraud detection, consumer profiling and micro insurance.
Artivatic Awards
Our Awards and Recognition
Key Features of Artivatic
Case Management
Document Management
Marketing Automation
Performance Management
Lead Management
Call Recording
Product configurator
Customer DataBase
Patient Registration
Invoices
Channel Management
Performance Metrics
Onboarding
File Sharing
Live chat system
Collaboration
Billing & Invoicing
Goal Setting / Tracking
Budgeting & Forecasting
Dashboard
Key Performance Indicators
Strategic Planning
Pipeline Management
Analytics
Scheduling
Risk Management
Claims Management
Quote Management
Multi-Office
Patient Billing
Patient Records
Alerts/Notifications
Forms Management
Recurring Billing
POS Transactions
Rules-Based Workflow
Quotes / Estimates
Multi-Branch Connectivity
Product Analytics
Data Capture
Historical Valuation
Distribution Management
Push Notifications
Device management
Policy Management
Gamification
Social Media Metrics
Visualization / Presentation
Multi-Channel Communication
Benchmarking
Data Analysis
Data Visualization
Profitability Analysis
Trend / Problem Indicators
Data Quality management
Extract
transform and load (ETL)
Data Mining
Online Analytical Processing (OLAP)
Predictive Analytics
Semantic and Text Analytics
Scorecarding
Customer Engagement
For Developers
Risk Assessment
Brokerage
Chat / Messaging
Risk Alerts
Insurance Rating
Policy Generation
Policy Processing
Policy Issuance
Reinsurance Administration
Underwriting Management
Digital Signature
Closing Documents
Callback Scheduling
Claim Resolution Tracking
Paper-Based Claims
Payor Management
Policy Administration
Approval Workflow
Online payments
Data Integration
Fraud detection
Live Chat
Dashboard Creation
Data Collection
Big Data Analytics
Agency Commission
Commission Tracking
Customer Lifecycle Management
Health Score
Customer Portal
For Equipment Leases
Data Discovery
High Volume Processing
Competing Product Analysis
Multiple Data Sources
Collections Management
Financial Reporting
Multi-Department / Project
Personalization
Multi-Domain
Predictive Modeling
For Employers
Health Insurance Administration
Geocoding
Map Creation
Multi-Channel Publishing
User Interaction Tracking
Goal Tracking
Cohort Analysis
Funnel Analysis
Demographic Data
Interactive
KPIs
Public Dashboards
Scorecards
For Brokers
Graphical Data Presentation
Credit Risk Management
Decision Tree Analysis
No-Code Sandbox
Multi-Branch
Online Application
Commercial Mortgages
Carrier Upload
For Casualty Insurance
For Personal Insurance
Comparative Insurance Rating
For Health / Medical Insurance
For Life Insurance
Life & Health
Property & Casualty
Artivatic Users
Business
Freelancers
StartUps
SMEs
Agencies
Enterprises
Available Support
Email
Phone
Live Support
Training
Tickets
Specifications
Deployment:

Any

Payment:

Monthly, Yearly, Onetime(Perpetual license), Transaction

Api

Customization

Mobile Support
Desktop Platforms
Mobile Platforms
Artivatic Categories on SoftwareSuggest
Artivatic Pricing
Click here
to get detailed pricing as per your requirements.
KYC API
Health API
Decision API
Risk API
All Products Included
On-Premise Integration
Customized as per use cases
AI Based Insurtech
Underwriting Automation
Risk Scoring
Claims Management
Company Details
Full Address :
25 & 26, 2nd Floor, AVS Compound, 80 Feet Road, Koramangala 4th Block, Bengaluru - 560034
People who viewed Artivatic also visited
Artivatic Description
The software is built on powerful data-driven Cognitive technology that integrates all your processes, analytics, insights, and more to deliver a very intelligent and unified AI interface that enables your business to track and interact with customers and workflows, deliver personalized experiences and smart recommendations in real time. With Artivatic, you have a robust platform that automates your entire business (Insurance, Brokers, Distributors, PoS), allowing it to make smart decisions automatically and deliver services in the most cost-efficient and optimized way. Artivatic's artificial intelligence can perceive, understand, and interpret all sorts of business data and can dig into real-time interaction, recognize emotions and actions. With powerful business intelligence capabilities, Artivatic allows businesses to create smart systems capable of making decisions and deliver the right product, service, or insight to the right person automatically and in real time.
Artivatic provides solutions:
Underwriting Automation
Micro Insurance
Broker Sales & Distribution
PoS Platform
Auto Claims
Health Claims
Death Claims
Marine Claims
SME insurance
OCR/ICR
Deeplearining
Sales, Marketing Platfofm
Video Conferencing
Digital Platform
Digital Insurance
Health Profiling
Health Assessment
TPA
Resources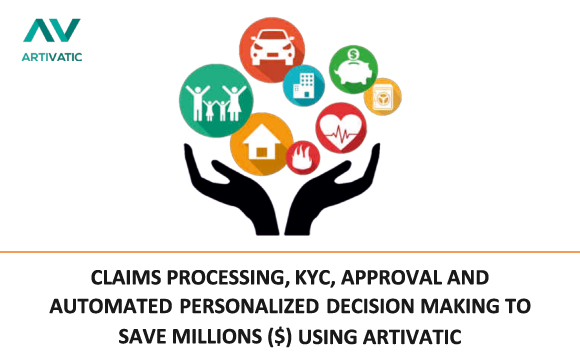 AI Insurtech Platform - Artivatic
Get Your Free Copy
Alternatives of Artivatic
Artivatic FAQs
How much does Artivatic cost?
The starting price of Artivatic is $ 0.04/Per API Call. It has different pricing plans:
Pay as You Go : $ 0.04/Per API Call
Licensing : $ 500000/Per Year
Subscription : $ 100000/Per Month
The details of Artivatic's free trial have not been shared by the vendor.
What are the top 5 features for Artivatic?
The top 5 features for Artivatic are:
Case Management
Document Management
Marketing Automation
Performance Management
Lead Management
Artivatic Awards