Best Auto Dialer Software
Best auto dialer software options are Ringcentral, Talkdesk, Five9, PhoneBurner, and Knowlarity. Such a solution help to reduce idle time, higher lead conversion ratio, provides real-time agent performance monitoring, in-depth data analysis, and enhances overall operational efficiency.
Get Free Demo
Connect With Your Personal Advisor
List of
20

Best Auto Dialer Software

Showing

1

-

20

of

62

products
An auto dialer software is a computer program that can automatically dial telephone numbers. When the call is answered, the system either assigns the call to a live person or agent or plays a recorded message. When the software plays a recorded message, the process is referred to as robocalling or voice broadcasting. When the call is connected to a live agent, it is called predictive dialing.
Phone dialer software is mostly used by outbound call center companies that dial a copious amount of telephone numbers every day.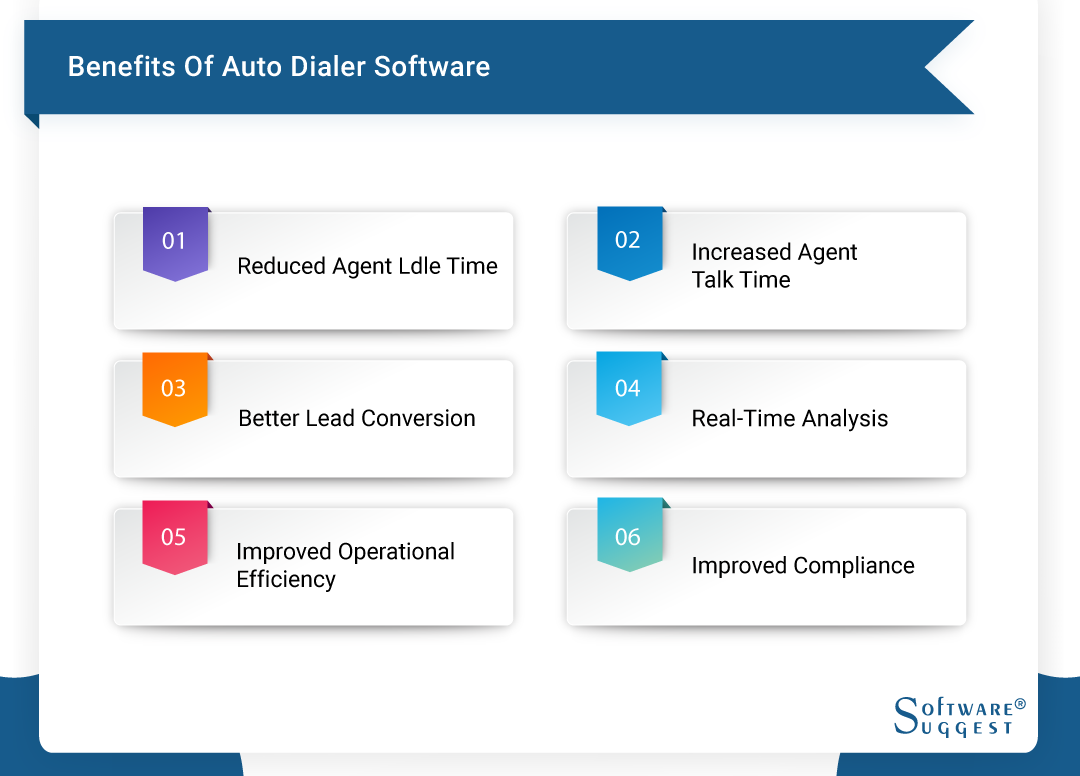 While the broad advantage of auto dialer software is to automate the calling process, it offers a bunch of advantages that can add to the efficiency, productivity, and sales performance of an organization. From reducing agent idle time to improving compliance, here's a look at the top benefits of an auto dialer system.
1. Reduced Agent Idle Time
Agents dialing manually on every lead can be a time-consuming process as the agent has to wait for more than a minute listening to busy tones and voice messages. An auto dialer cuts down this hassle by automatically recognizing components like no response and busy calls. Similar to predictive dialers systems, auto dialers for call centers help to minimize the ideal time of agents by assigning them only those calls that have been attended by a real person. It helps an agent save time and attend more calls.
2. Increased Agent Talk Time
Auto dialer software significantly increases the average agent talk time. With the idle time being minimized, agents get connected to live calls only, which enables them to spend more time talking to their prospects instead of failing no-response numbers and updating their CRM. Research suggests that auto dialers can increase talk time from 15-20 minutes to up to 50 minutes per hour.
3. Better Lead Conversion
Auto dialer systems simplify complicated sales procedures, which makes it easier for agents to handle valuable leads with better confidence and morale. These solutions make the outbound calling process more agile, and help sales organizations make the most out of their calling efforts. Auto dialer software also provides a summary of customer details before placing a call, which allows agents to prepare accordingly. Moreover, information about the customer allows agents to lead more personalized conversations, which is essential for engaging the prospect and converting them into loyal customers.
4. Real-Time Reporting And Analysis
Auto dialer software provides real-time insights into the call performance, operations, and activities of the agents. It enables the manager to get a clear idea of how each agent is performing, and what changes are required to improve their performance. The manager can also use this data to conduct training sessions for agents to handle customers and their rebuttals better.
5. Improved Operational Efficiency
Phone dialer software ensures you don't need to perform any manual dialing. Some of the major concerns faced by telemarketers include no response, excessive wait time, and busy calls, leading to wasted time and decreased efficiency. An auto dialer system automates the dialing process, thereby ensuring that only connected calls are assigned to the agents. In the case of busy calls or voicemails, the system automatically detects and disconnects them without bothering the agents.
6. Improved Compliance
A lot of people nowadays opt for the DNC service on their number. In addition, outbound call centers are bound to follow the restrictions roller don't by the FCC and TCPA standards, violating which can result in fines starting from $16,000. Modern-day automated dialer software helps you identify the DNC numbers, along with helping you stay compliant with the guidelines. So now, your call agents can call their prospects with maximum confidence.
An open-source auto dialer software can come with an exhaustive range of features, including response detection, automatic recording, and an opt-out list. Here is a quick overview of the key features of an auto dialer system.
1. Press-1 Campaigns
Connects you to only those prospects that are interested in what you offer
2. Personalized Messages
Send personalized messages to your prospects based on their details in the CRM record
3. Automatic Opt-Out Management
If a customer decides to opt-out, the auto dialer will automatically mark the lead as "DNC" in all subsequent campaigns to ensure an agent does not end up calling the person again.
4. Mobile Control
Allows you to control your campaigns from your smartphone and tablets, thereby providing remote work capabilities
5. Multiple Campaigns
Enables you to run numerous campaigns at one time, each with a different message and campaign options, transfer agents, and call lists. Moreover, you can easily start, stop, update, and delete a campaign.
6. Campaign Result List
Create campaign lists based on previous interactions and campaign results
7. Message Designer
Combine text and audio messages to create personalized messages automatically. Contrarily, it also collects touch keys and speech command responses.
8. Automatic Time Zone Adjustment
The auto dialing campaign feature automatically adjusts the time zone, thus, giving you peace of mind that the people you are getting matched with are of the same time zone.
9. Smart Detection
The system automatically detects electronic responses, busy tones, and live answers to match the agent with a human on the other side only.
10. Automatic Retry
Automated dialer software automatically calls back leads that did not pick up or were busy.
Auto dialer software for the call center is primarily used in a cloud-based contact center market, an industry expected to reach a market size of $15,670.9 million by 2021 with an impressive CAGR of 23.6%. Auto dialer software enables companies to get rid of their on-premise hardware infrastructure, thus, resulting in reduced overhead costs.
The following industries are the leading users of auto dialer software.
1. Travel/Tourism Industry
Tourism service providers need to reach out to their clients to increase the number of bookings.
2. Telemarketing Industry
Telemarketers need to call hundreds of prospects in a day, and an auto dialer system is an essential tool for them.
3. Banking/Finance Industry
Almost every individual on this planet is involved with the banking & finance industry, and these providers readily reach out to their consumers using the advanced features of auto dialer software.
4. Mortgage Industry
Mortgage industry representatives need to reach out to the right customers at the right time, and the advanced features of auto dialer software for call centers help increase their accuracy and efficiency.
Auto dialers are one of the essential tools required by outbound call centers to empower their sales, support, and marketing teams. But choosing the wrong solution which does not suit your requirements can have reversed, and often detrimental effects. Therefore, consider the following factors to choose the best auto dialer software for the call center for your business.
If you are running a large business with several agents, a predictive dialer would be the right pick. If you are a small business working on high-quality leads, use a preview dialer.

List down the features you need and the ones you don't, and make your choice accordingly.

Point down the objective of your calls. A progressive dialer works best if you're calling high-value clients or hot leads; a predictive dialer works best for cold calls.

Consider the type of audience you are targeting.

Make sure it easily integrates with your CRM system.
Auto call software is intended to make more fruitful, high-value, and result-oriented interactions between agents and customers. They come with a voice detection system that recognizes whether the call is answered by a person or electronic response.
These programs turn out to be critical for outbound calling teams that can't afford to waste time interacting with unqualified leads, such as no responses and busy tones. This software allows agents to spend their time only interacting with real people, which significantly increases their talk time, and eventually, sales and ROI.
Auto dialing modes are of various types. The most common ones of them include:
Preview: Agent views the information and decides whether to make a call or not

Predictive: State-of-the-art pacing mode in which the system automatically matches the agent to a live person

Power IVR: Used to deliver pre-recorded messages and collect touch tone key responses.

Progressive: Only one call placed for one available agent, lowering the risk of target abandoned rate
Your primary focus when choosing an auto dialer for your business should be to optimize your calling strategy. Figure out what problems your call agents are facing – less talk time, low-quality connections, increased no-response, etc. – and pick a solution accordingly. For instance, if your reps are spending more time dialing and less time talking, a predictive dialer more can help. Contrarily, if they are spending a lot of time talking but the results are not fruitful, perhaps a progressive dialer can help.
Compare Pricing Plans of Top Auto Dialer Software Providers
FAQs of Auto Dialer Software
Yes, you can. But make sure to keep your considerations in mind and choose a mode accordingly.
An auto dialer software can improve efficiency, increase dial rates, allow supervisor monitoring, reduce negative call results (no responses, dial-tones, and voicemails), and increase conversion ratios.
The auto dialer cost depends on various aspects like - features and implementation service, etc. It costs between $100 to $40000 based on selected packages.
Sales reps spend a lot of time dialing on numbers that are either unresponsive or end up in a voicemail. This can significantly deplete the reps' productivity. An auto dialer software solution automatically dials numbers and connects a call with a human agent only if it's attended by a live person. This helps save time and increases the productivity of your sales reps.
Auto Dialer Software in following cities
Auto Dialer Software in following industries