Conducting an examination is undoubtedly a challenging task! There are a million things that have to be handled simultaneously. How exactly can educational institutions like schools and colleges make the process efficient, speedy, and accurate? Well, the best way would be to invest in professional exam management software.
Online exam software is highly popular as it helps educational institutes manage all the critical tasks related to conducting examinations. It is a useful tool that can be used to:
Automate all repetitive tasks for administrators and teachers so that they can save time and focus on strategic activities.

Help in providing free access to real-time data for quality decision-making.

Open the lines of communication between school/college management, teachers, students, and parents.

Combine with various business applications and productivity tools, allowing a unified platform usage
How does an Open Source Online Exam Software work?
While different exam software systems vary slightly in terms of their functionality, they follow a unified mechanism to conduct examinations. Here is a step-by-step process on how an examination software solution works. 
Create an exam

: The first step is to create a formal exam paper. Once you have selected an ideal online assessment solution, you can make assignments and tests with the list of available test templates. Some platforms also offer custom tests creating features to customize a unique-looking test template. Once your design is finalized, import questions, add instructions, and set the time. 

Launch the test

: After creating an exam, publish it to make it accessible to students. Most systems give you access to sort students in particular groups according to topics and subjects. After launching the test, share the URL with your students to direct them to the test. 

Evaluate the result

: After the participants have finished the exam, system administrators will be able to see the progress, results, and statistics to track the progress.
Looking for Exam Software? Check out SoftwareSuggest's list of the best Exam Software and Assessment Platforms solutions.
Top 12 Open Source Exam Software
Software #1: Mercer Mettl
An all-inclusive online assessment software, Mercer Mettl is a cloud-based platform that help companies to create assessments throughout the employee lifecycle. It is beneficial for creating customized examinations, questionnaires, and managing certification courses. 
Mercer Mettl aids companies or educational institutions in tracking learner progress, screening talent, and maintaining the L&D environment.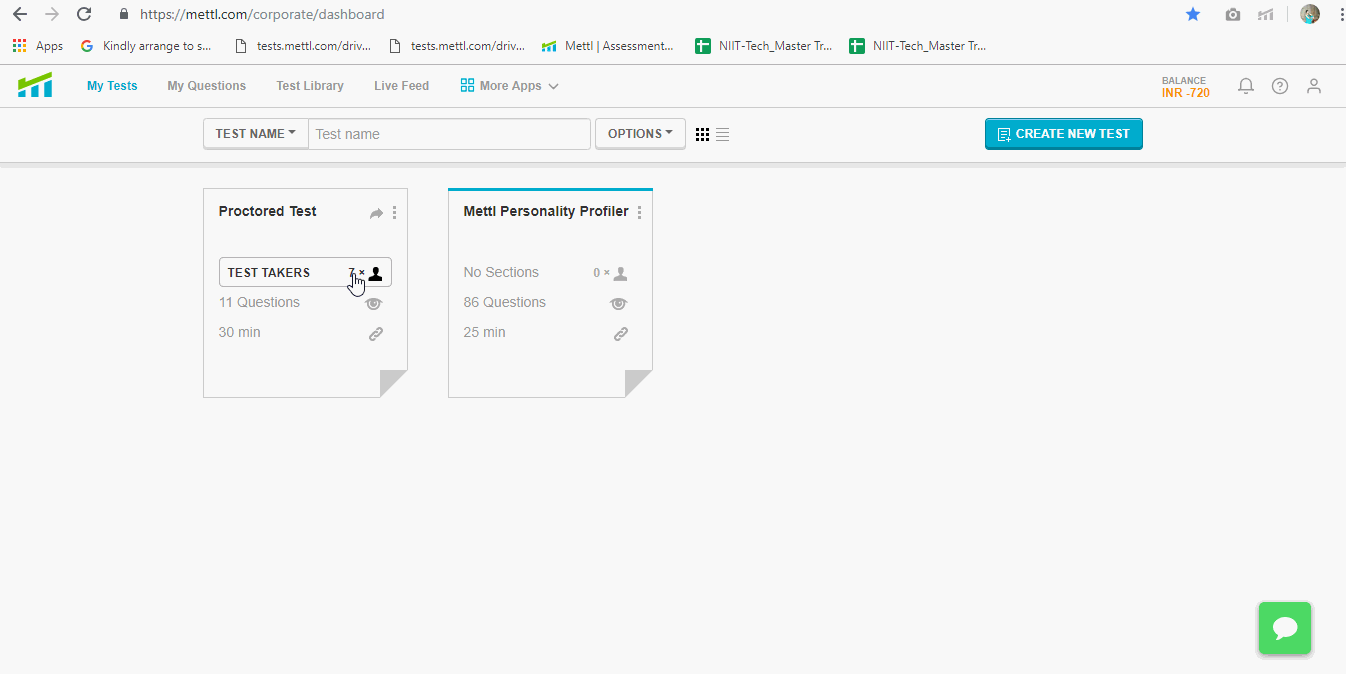 Key Features
Content Customization

Reports and Analytics

Assessment Delivery

Online Proctoring

Candidate Management

Competency Mapping
Pros
Seamless filtering of candidates

Provision of tests according to the designation

Excellent customer experience with high flexibility

Advanced reporting capabilities
Cons
Tests may shut down due to technical glitches or slow internet speed

Candidate verification relies only on OTP, which may not always be accurate 
Software #2: ProProfs
Packed with amazing features, ProProfs Quiz Maker is one of the most popular exam software and assessment solution available today. It's quite easy to use as it has been designed for all skill levels and offers a simple user interface. It can be used to create online exams, tests, quizzes, and assessments by anyone using a wide variety of professionally designed templates.
Features
100+ scored quiz and personality quiz templates

100,000+ ready-to-use questions

10+ question types

Automated Grading

Instant Feedback

Assessment Library

100+ settings & configurations

Completion certificates
Pros 
Easy-to-use

No software installation required

Compatible with mobile devices

24×7 customer support

Scalable

GDPR Compliant
Cons
Advanced features are confined to the premium and enterprise plan
 

Software #3: Kaldin
A web-based exam and assessment software, Kaldin has various innovative features that drive efficiency. It is targeted at schools, colleges, universities, and corporate organizations as a learning & development tool. An intuitive dashboard, user-friendly interface, and excellent customer support make it a must-have exam management software for all types of educational institutions. 
Key Features
Online Assessment

User-Defined Exam Pattern

Library Management

Document Management

Reporting and Analytics
Pros
Simple installation process

Responsive user support team

Scalable and user-friendly

Advanced exam setting features that include MCQ pattern and open-ended questions
Cons:
No multi-lingual support for creating tests

Users may have trouble in finding the source code
Software #4: TCExam
A holistic exam management solution, TC Exam has multiple features that drive productivity for educational institutes. It helps in designing online tests, quizzes, and questionnaires, and can streamline the learning environment in organizations. TC Exam automates all necessary tasks related to conducting examinations, in order to increase operational efficiency. 
Key Features
Question Bank

Exam Scheduling

Result Analysis

Content Management

User Management
Pros
Flexible test-creating modules

Advanced reporting with many in-built templates

Enables users to create a question bank that can be shared with team members
Cons
The test creation process is clunky and less intuitive

Users may experience a disruption in the test creation process
Software #5: Virtualx
One of the leading exam management software, VirtualX is an interactive system that can be used to create customized tests. It is many novel features that help administrators, and teachers to manage online assessment smoothly. VirtualX is highly navigable and has an intuitive dashboard that enhances visibility by displaying all key performance parameters. 
Key Features
Online Assessment Management

Document Sharing

Graphical Result Analysis

Test Creation

Reports Generation
Pros
Loaded with useful and user-friendly features

Offers mobile integration

Provides features such as Arabic Language, Time Zone, Data Flow Diagram, and Blogs
Cons
The installation process is not smooth

Customer support can be better
Software #6: PaperShala
An open-source exam software, PaperShala is a great resource for coaching institutes, colleges, and universities. It has many features that help in generating online tests, results analysis, and content customization. 
PaperShala handles all major exam-related functions such as student registration, categorization of exam results, and online assessments, making it a useful tool for educational institutes. 
Key Features
Question Bank

Results Analysis

Online and Psychometric Tests

Automatic Grading

Reports and Analytics
Pros
Easy-to-use system with powerful features

Supports rich text and mathematical formulae

Scalable and customizable modules

Simple installation process and less maintenance
Cons
The functionality of the platform is limited to only conducting exams

It lacks features for file sharing and allowing group discussions
Software #7: Edbase
A powerful exam management solution, Edbase helps users to create, administer, and customize online tests easily. It is ideal for teachers, lecturers, HR executives, and business owners, as it enhances the learning and development environment. An agile solution, Edbase is user-friendly and provides excellent support to first-time users. 
Key Features
Certification Management

Test Scheduling

Question Branching

Candidate Management

Question Library
Pros
An all-inclusive set of examination features

Excellent team collaboration and communication functionality

Advanced reporting and analytics

Scalable modules and a user-friendly dashboard
Cons
It is free only if you have ten students or less

The website may experience downtime which leads to delays
Software #8: Moodle
A free online learning management solution, Moodle is a smart resource for educators across the globe. It helps in conducting online examinations, customizing questionnaires, and analyzing results. Moodle has various modules and plugins, and educators can choose whatever they need for better study efficacy. 
Key Features
Blended Learning

Candidate Portal

Built-In Course Learning

Mobile Learning

Gamification
Pros
A

simple design and layout

Offers excellent collaboration features

Provides good user support and has great functionality

Interactive dashboard that increases visibility
Cons
Its

default UX is slightly clunky, which makes content delivery a bit unpleasant

Users

may find it difficult to configure Moodle if they don't have any IT knowledge
Software #9: FlexiQuiz
FlexiQuiz is an open-source exam software used by teachers across schools, universities, coaching classes, and learning institutions. This solution offers a plethora of configurable features that help you create a wide variety of tests, quizzes, and courses easily and quickly. In addition, FlexiQuiz also provides robust reporting tools that provide in-depth insight into the progress of an individual or a group. 
Key Features
8 question type templates

Assessments, quizzes, and online tests

Question library and test scheduling

Advanced reporting and analytics tools

Candidate management and certification management
Pros
Powerful features that help in creating and evaluating online tests

Responsive customer support

The navigable interface is easy-to-use

Scalable and flexible modules
Cons
The platform does not have a difficulty or discrimination index.

Certain essential features such as automated proctoring and survey management are missing
Software #10: R-Exams
R-Exams is an open-source exam software that provides a unified approach to automatic examination generation and evaluation. It is based on dynamic exercise templates and allows you to create a large number of personalized exams, tests, and quizzes. 
Furthermore, you can create assessments for a wide range of formats and systems, such as PDFs for written exams, live voting, import formats for learning management systems (LMS), and custom output in the form of HTML, Docx, etc. 
Key Features
Assessments

On-Screen Evaluation

Exam Creation

Exam Scheduling

Surveys & Feedback
Pros
Highly functional features

Responsive user support team

Supports a wide variety of file formats to create tests and quizzes

User-friendly and intuitive interface
Cons
Lacks some important features such as candidate management

Reporting options are not well developed
Software #11: PESofts
PESofts is an open-source exam software that offers both online and offline examination solutions for coaching centers, colleges, corporate sectors, and schools. This software enables you to conduct online examinations of various types, including but not limited to entrance exams, semester exams, and corporate assessments. 
Being a web-based solution, PESofts allows students to take the test from anywhere. Similarly, it provides the teachers and evaluators with remote capabilities as well. 
Key Features
Assessments, quizzes, weighted questions, and questions from the library

Test scheduling, automatic grading, and automated proctoring

Candidate management and certification management

Reports/analytics and surveys/feedback

Question branching and randomization
Pros
Excellent functionality and support – this provides an enjoyable user experience

Provides support on all devices and platforms, including Mac, Windows, Android, and iOS

In-built reporting templates

Good team collaboration and time-saving features
Cons
Its exhaustive suite of features can sometimes be overwhelming, especially for users who have never used an online examination software system before

Has a steep learning curve
Software #12: iSpring Quizmaker
iSpring Quizmaker is a powerful open-source exam software and test-building tool that allows you to create interactive quizzes and tests using different question types, templates, and multimedia. 
Whether you want to create online quizzes for learning, knowledge checks, or skill practice, iSpring Quizmaker can be an ideal pick for you. It allows you to assess skills and competence, reinforce knowledge after training, teach employees through quizzes, and let employees practice new skills. 
Key Features
14 question types for accurate knowledge assessment

Answer feedback

Info slides and branching scenarios

Audio-based questions

Exams and quizzes with questions
Pros
A seamless user interface that is easily navigable

Enables users to build and publish quizzes, embed videos, link PDFs, and more without any hassle

Advanced reporting and analytics

Excellent technical support
Cons
The default scoring system is based on percentages, which can be a little tricky to evaluate. 

Some users may face issues with creating tiered or conditional quizzes.
Exam software is a real asset that can help educators enhance their efficiency and deliver better results. It helps educational institutes and corporate organizations plan, conduct, and evaluate online tests and examinations in a streamlined manner.
It is definitely time to harness the power of technology. Make sure to invest in the best online exam software for your organization now to enhance all performance indicators instantly!
SoftwareSuggest empowers businesses to discover top business software and service partners. Our software experts list, review, compare and offer a free consultation to help businesses find the right software and service solutions as per their requirement. We have helped 500,000+ businesses get the right software and services globally. Get a free consultation today!