Out of the best technology applications, the web-based school management system has been the handiest in post-pandemic times. Many institutes have already incorporated it into their facilities. The brilliance in communication, improvement in education quality, and accessibility are some of its best advantages.
Looking for School Management Software?
Check out SoftwareSuggest's list of the
best School Management Software
solutions.
Like Automate The Schools (ATS), these software types are in use for a long time in modern cities like New York, in their City Public Schools. Hence, automated school management systems have proven their worth in a normal situations as well.
Here are some other popular facts proving that a web-based school management system is a basic necessity for schools:
Artificial Intelligence-based software has the power to eliminate biased admissions to schools by up to 80%.

The issues of record-keeping and management at school are decreased by 75% by implementing technology in schools. 

More than 44 universities (public and private) outsource the data collection and analysis to different firms.
So if you are looking for an open-source, powerful web-based school management system, you can get the help of this list of the most popular and versatile open-source school management software below. Along with its best features, pros, cons, and most importantly, pricing, you can select the one that best matches your needs.
What Is Online School Management System?
School management system refers to any platform tool or application that takes over the administrative and management-related processes at school. You can use it to automate routine and repetitive tasks and reduce the burden of human administrators. It even takes care of the organizational needs of your school in a fast and efficient manner for students.
Similarly, cloud-based school management software is one that runs on cloud technology instead of being hosted on a local platform. But, how is this beneficial for your school?
Well, with all your data stored in the cloud, you can access it from anywhere. This ensures that information exchange is smooth and is not limited to a system. Now that you are familiar with cloud-based school management system software let us look at its benefits.
12 Best Online School Management System
1. Vidyalaya
Vidyalaya has 18+ years of experience in the school ERP segment and has helped 1300+ premium educational institutes globally. It offers 50+ educational modules and lets students, parents, teachers, and administrators communicate with ease. 
Vidyalaya ERP also helps you reduce costs involved in school management by automating campus operations. Be it student admission or resource management, streamlining communication, or analyzing data, Vidyalaya does it all!
Features 
Bookstore Management

Cafeteria Management

Curriculum Management

Facility Management

Financial Management

K-12

Online Calendar

Online Payments

Parent/Student Portal

Reporting/Analytics
Pros 
Feature-rich and easy to use

24/7 chat support 

One-stop solution for schools, colleges, and universities
Cons 
Does not offer in-app messaging 
Pricing 
Quote-based
2. MyClassCampus
MyClassCampus is a unique school management system that enables the school to operate with better productivity. This school management system takes care of convenience in operations and efficient communication among various teams. It is trusted by more than 6,00,000 users across the nation and is used in 1000+ institutes.
Features:
Management Dashboard

Online Admission Form

Admission Payments and Reports

Merit Generation

Lead Marketing

Subject Selection

Complete Payroll Solution

Salary Slips and Analysis

Hardware Integration
Pros:
Option to choose from the 40+ modules available with logs and backup facility.

Online and Offline app work with push notifications for all updates.

Unique audio and video tools in pocket study along with live-class easies the e-learning platform.
Cons:
No options for the update by students.

Less information about the developments.
Pricing:
MyClassCampus is available in the following price variants:
| | | |
| --- | --- | --- |
| Basic | Advanced | Premium |
| $2/Student/Year | $3/Student/Year | $5/Student/Year |
3. Chanakya ERP
Chanakya ERP is designed to fulfill the customized needs of schools. It is a simple yet powerful web-based school management system in India. It has numerous options for integration with different other functions. It is created by MeanWhile Softs company that is a well-known name in the school innovation sector. This inclusive platform has more than 500 customers associated with it.
Features:
Creates and Manages Classes

Assign Teachers to Classes

Manage Subjects

Reports Printing

Employee Data Management

Payroll Generation

Examinations Management

Admissions Management

Create or Delete Notices

Hassle-free User Management
Pros:
A web-based system with free upgrades in the core modules.

Easy to use and time-saving school management system.

It is easy to fetch the details of parents and students from the system.
Cons:
Many features confuse users.
Pricing:
Chanakya ERP is available in the following three variants:
| | | |
| --- | --- | --- |
| Small | Medium | Students above 1000 |
| $250/ year | $0.09/Student/Month | $0.06/Student/Month |
4. EDUMAAT
EDUMAAT is a 100% customizable school management system hosted by Amazon Web Server (AWS). It has been awarded many certifications like ISO 9001:2015, ISO 27001, etc. It is the best fit for the needs of any school as it is equipped with useful features.
Features:
Automated Time Table

Excel Data Upload

Tailor-made Reports

Free Staff Login

Customized Dashboard

In-built Accounts

Apps

Multi-Institution

Google Sign-In

Multiple Integrations
Pros:
The customization of EDUMAAT ensures that each school enjoys the best of it.

There are no extra charges for server maintenance, implementation, payment gateways, etc.
Cons:
QR code is not easy to implement.
Pricing:
EDUMAAT is available in two plans:
| | |
| --- | --- |
| Starter | Premium |
| $0.21/Student/Month | $0.34/Student/Month |
5. Campus 365

Campus 365 is a simple and efficient interface to engage all teachers, students, and parents on one platform. This school ERP software has already proven its worth in many institutes like Higher-Ed, K12, Training Institutes, and Universities. Campus 365 has helped 1000+ schools worldwide with its presence in 200+ countries.
Features:
Custom Data Import

Graphical reports

Payroll

Language support

Free Mobile Apps

Admissions

Student Records

Class Chat

Live Classes

Group Exams

Timetable Management
Pros:
The different modules and plug-ins match all of the customized needs of the schools.

Any person with a basic knowledge of computers and emails can use it.

Uses cloud servers, provides 50+ integrations with a wide range of features, and flexible pricing.
Cons:
Unable to address the customization demands of a particular user.

Problems in free apps.
Pricing:
Campus 365 is available in the following two options:
| | |
| --- | --- |
| Professional | Enterprise |
| $7.99/Year/Student | Custom Pricing |
6. SchoolKnot
SchoolKnot is the best-integrated platform for school faculty, parents, and students. It uses automation and analytics as its best tools to cater to the management needs of different schools. This school management system is loaded with tons of features and is easy to use. It is one of the top-rated school management tools and is enjoyed by more than 500 schools worldwide.
Features:
E-Learning management

Admission management

Fees Optimization

Attendance

Digital Report Cards

Transport Management

Event Management

Assignments

Admin Panel

Library Management
Pros:
Highly active and reliable customer support for quick redressal of issues.

Helps in efficient finance management using the smart fee collector and in-depth analytics on staff productivity tools.
Cons:
Require third-party permissions for apps.

Weak functioning of hostel management

Expense management shows flaws at times. 
Pricing:
SchoolKnot is available in a single plan starting at $0.14 per student per month.
7. eConnect-K12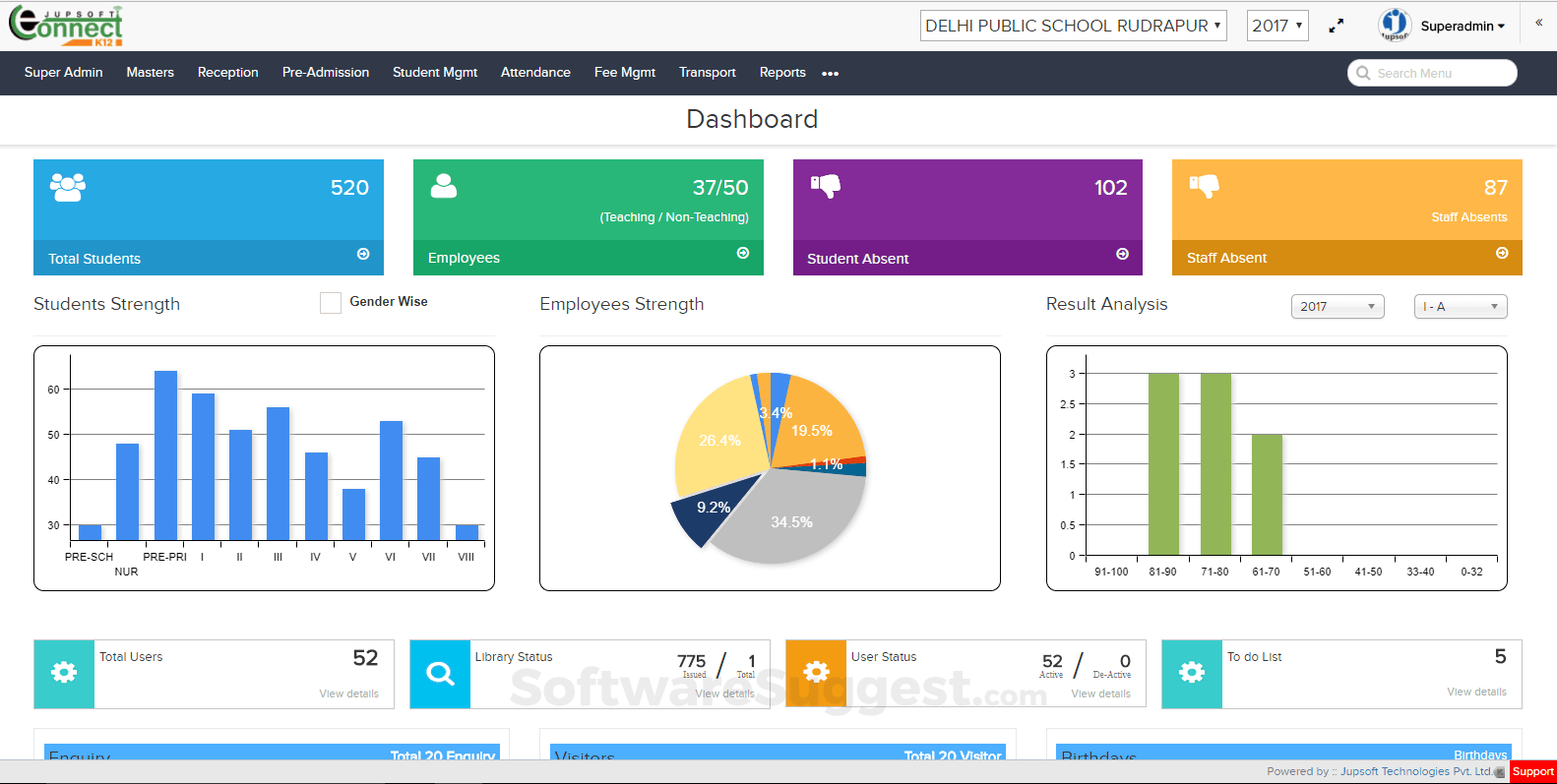 eConnect-K12 is an advanced ERP solution for school management. It can efficiently handle the infrastructure, administration, and logistics of the schools. More than 300+ educational institutes use it.
Features:
Role-based Dashboard

Multiple OS

Always Accessible and up-to-date

Student Admission and Information

Staff and Student Attendance

Fee Management

Result Management

Finance and Inventory Management

Staff Payroll

Transport Management
Pros:
It is easy to use and offers multiple integrations for collective working.

It offers various options in modules to fit the different needs of schools.
Cons:
The system keeps on updating.
Pricing:
eConnect-K12 offers a single option in pricing, which is $0.20 per user per month.
8. Digital School
Digital School is an ISO 9001-certified school management system that is loaded with the best features. This software web school runs on the school's personal server and facilitates efficient school management with an automated reporting system alert system. More than 500 educational institutes trust Digital School. It is a convenient school management system.
Features:
Renewal Free Software

Advance Dashboard Control

Free Dynamic Website

Video/ Image Gallery with Sharing

Fee Receipt with Photo and QR Code

Pending Fee Management

Admit Cards

Advance Result System

Staff Payroll Management
Pros:
Fast setup with unlimited student support.

It comes with an interactive tutorial for quick learning and the best use of the features.

Advanced printing promotes the brand to attract the maximum number of students.
Cons:
Slow response time

No 24*7 live active support 
Pricing:
Digital School has a single pricing plan that charges $250 for a lifetime purchase.
9. Parentsalarm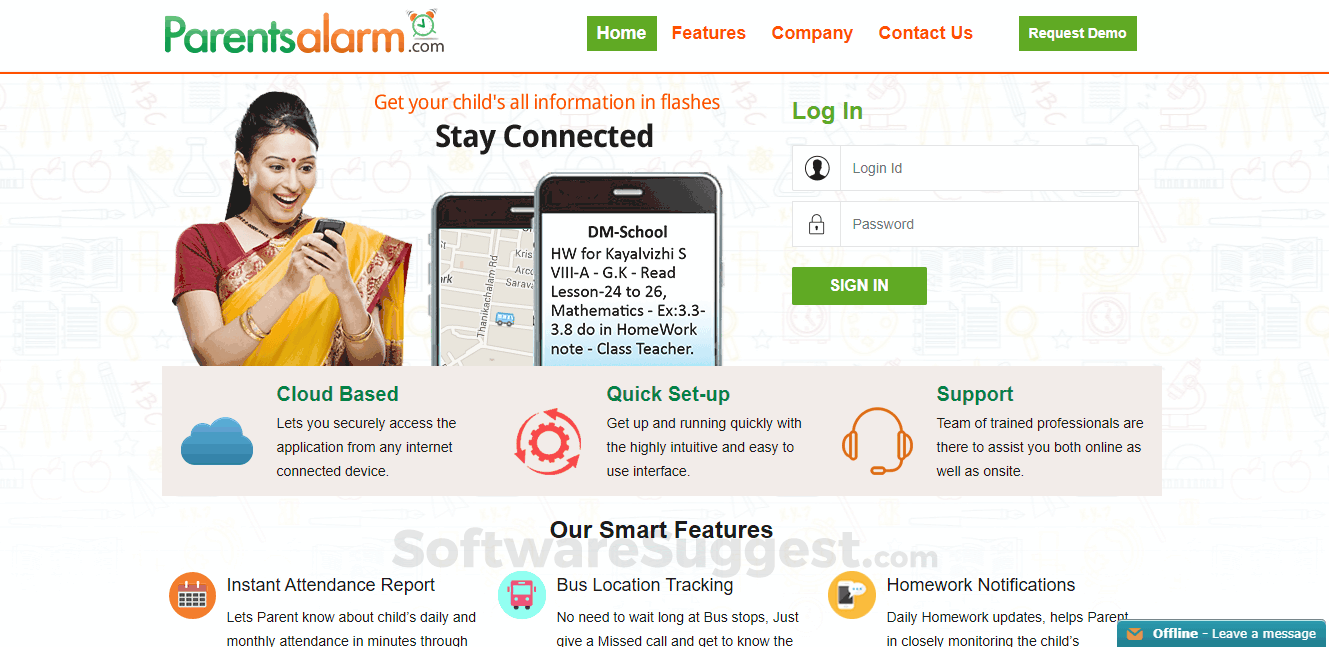 Parentsalarm automates all of the work like attendance, exams, results, etc., efficiently. It is designed to work as a 360-degree IT solution for schools. A team of trained professionals manages it. 
Features:
Instant Attendance Report

Performance Updates

Important Circular Updates

School Notifications

Homework Notifications

Mobile Apps

GPS Tracking of Vehicles

Access to Study Materials

Projects and Assignments

CCE Implementation

Permission-based Setup

Using Cloud-based system
Pros:
Constant notifications about the kid to the parents.

Acts as a bridge to facilitate communication and the overall performance of the students.

Better school management with multiple modules for teachers and admin.
Cons:
The app creates issues at times.

No transparent feature-wise pricing.
Pricing:
Pricing of Parentsalarm is set on a request basis
10. Entab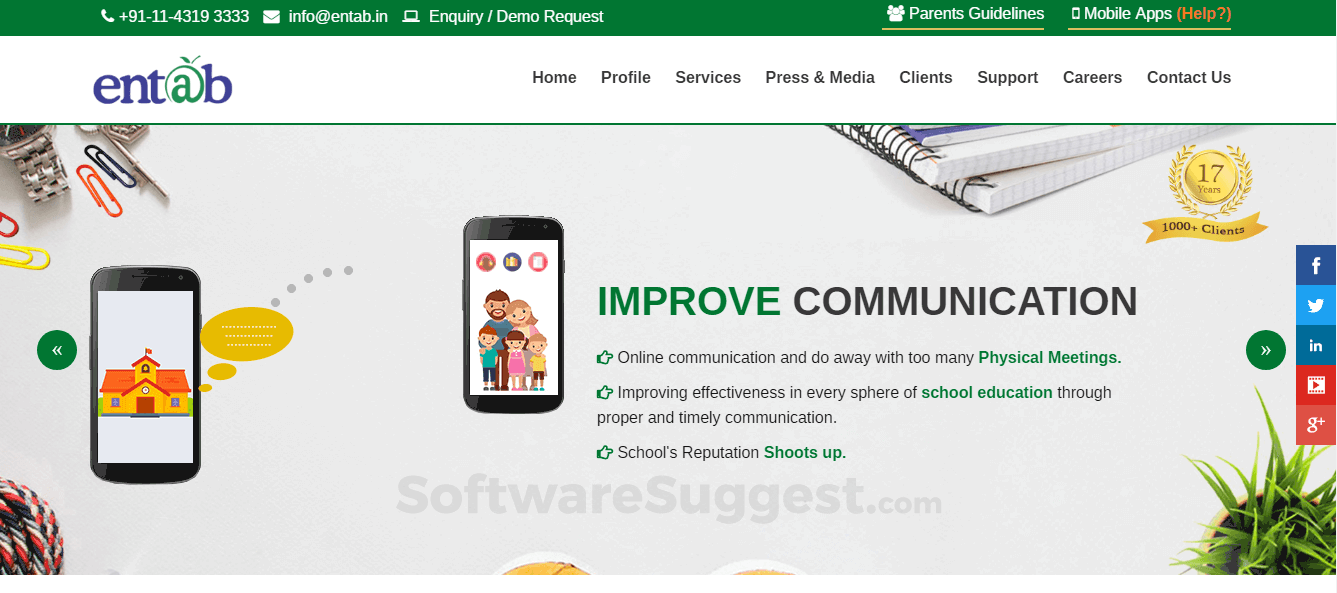 Entab is a comprehensive school management system that is available in different versions. This award-winning ERP software works on the principle of innovation, automation, and empowerment. Entab is trusted by more than 1500 schools and is in the industry for the last 20 years.
Features:
Online Registration

Student Attendance Tracking System

Student Information System

Fee Management

Exam and Result Management

Staff Payroll Management

Transport Management and GPS

Pre-School Management

Areas: Administrative, Academic, Finance, Communication

Portals- Principal, Management, Teachers, Parents

Mobile Apps- Principal, Management, Teachers, Parents
Pros:
The different versions, i.eCampusCare, CampusSoft, CampusSoftLite, and CampusKidz, best match any school's needs.

It facilitates communication between the Principal, Management, Teachers, and parents.

It ensures the safety of data with extraction efficiency.
Cons:
Multiple functions make it difficult to understand sometimes.
Pricing:
The pricing of the Entab is available on a request basis.
11. NLET School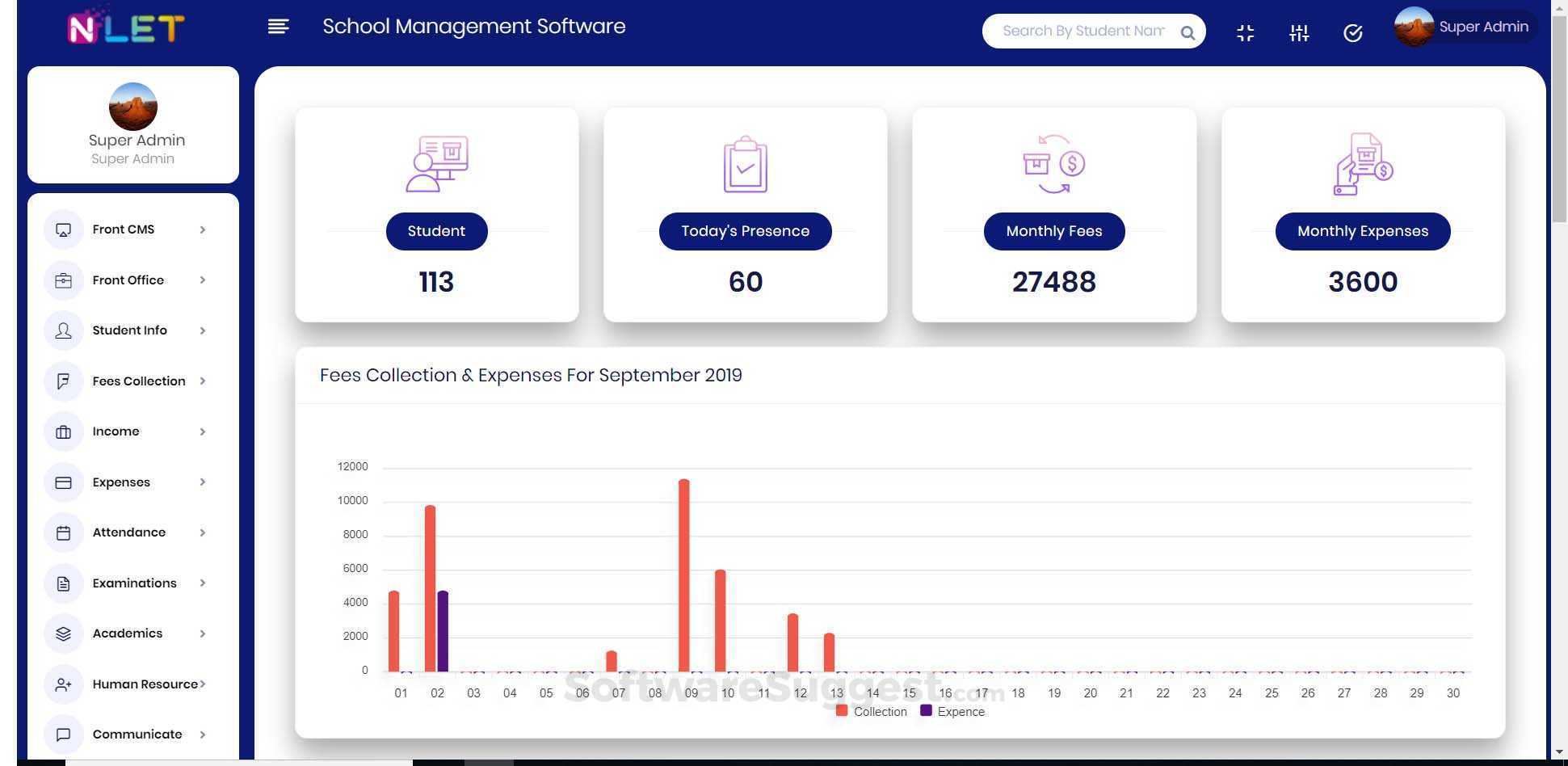 NLET School is designed to streamline the paperless administration of schools. It is available in 35+ modules at fixed costs. NLET School is trusted by more than 150 institutes worldwide and is currently serving more than 1,00,000 students.
Features:
Institute Management

Teacher Management

School Information Management

Exam Management

Payroll Management

Fee Management

Attendance Management

Time table Management

Library Management
Pros:
It is easy to retrieve information for easy and fast communication.

It is user-friendly school management software with information tracking.

It provides transparency in the working of schools and ensures complaints/query management.
Cons:
Pricing:
The pricing of NLET School is available on a request basis.
12. CLOBAS
CLOBAS is a cloud-based academy system that works as a one-stop solution provider to all of the schools. It is equipped with more than 60 online features that make school management easy and effective. CLOBAS is trusted by more than 100 educational institutes across the globe.
Features:
Innovative Dashboard

Integrated system

Attendance Records

Student Records

Fee Management

Parent Feedback Module

Report Generator

Certificate Generation

Time Table Integration

Mobile Apps

Dedicated Tech Support
Pros:
It provides instant communication that improves the productivity of the schools.

It reduces manual work and provides an e-learning platform at no additional cost.

It provides the option to choose from the school, college, and university modules to fit the education sector's requirements.
Cons:
You have to download the app from third-party websites.
Pricing:
The pricing of CLOBAS is available on a request basis.
Schools are rapidly catching up with the latest technology and are implementing school management software to become more efficient. As is the case with any new technology, it takes a while to get accustomed to it. To this end, we have compiled the following infographics to help you along the process and make the best use of your school management software.
School Management Software Infographics
Reasons Why Schools Should Use Online School Management System
   1.  Facilitates Collaboration
Schools have multiple departments that are handled by multiple people. It can become challenging to exchange information as there are chances of error or miscommunication. However, cloud-based school management software can help you avoid it. But, how is that possible?
Well, cloud solutions facilitate collaboration and centralize the data in a single platform. This means only authorized users can access the information when they want. For a school, these can be the administrative staff, students, teachers, and parents. Besides, it also helps increase communication between parents and teachers.
Parents across the globe can easily access their child's academic records from their laptops or mobile phones. Moreover, teachers can also access the system regularly from schools and occasionally from their homes. This has become possible only due to new technologies in school software.
2. Provides Disaster Recovery Solutions
If you are using traditional methods of administrative management, it is possible you will lose data. Even if you save it on a computer or hard drive, data can be lost due to malware and hardware damage. Luckily, such instances can be avoided if you use cloud-based school management software.
This is one of the main benefits of using a cloud-based solution. You will have the right support system that can help you recover data if you ever lose it. Thus, you do not need to worry about losing any documents.
3. Reduces Capital Expenditure
When schools think about shifting to cloud technology, they are usually worried about the high investment and procurement costs. However, the reality is that cloud solutions are way cheaper than traditional systems.
All you will need is high-speed internet, a computer/ laptop, and the licensing amount. Besides, you can always choose to start and stop the services anytime you want. Not only do these solutions reduce operational expenditure, but they also help you save a lot on storage.
4. Provides Flexibility
Cloud-based school management software lets teachers and stakeholders work with ease. They can choose to access it in school or from their homes as and when required with a guide for school management software.
Most solutions offer portals for teachers, parents, and students, using which they can check updates and analyze their child's progress.
So, you no longer need to visit multiple departments to collect documents and submit school fees. All you need to do is go to the designated portal and complete all your tasks in just a few clicks.
5. Provides Data Security
In the digital era, everything is sophisticated, and so is a crime. If you are planning to invest in a digital platform, you cannot ignore data theft. While schools do not have extremely sensitive data, the loss of information can be a huge problem.
This is where cloud-based school management system software comes in. It offers higher- levels of data encryption with encryption software and only lets authorized users to access the information with their credentials.
6. Offers Scalability 
All organizations seek growth, and it would be extremely unfair if technology implementation hinders that growth. Fortunately, cloud-based school management software is scalable and aids development.
For instance, in one year, you cross the target of admission rate, from 1500 to 2000. So, these solutions will customize your database for 2000 admissions without any manual intervention.
Jahnavi Vekaria is a Senior Content Writer at an E-commerce company, that has offices in India and the USA.
With a savvy understanding of language and search, Jahnavi grew her love of the IT and SaaS industry's technical side, gravitating towards learning about SEO, audits, crawls, and other aspects of digital marketing.