Best College & University Management software
Finding the best College & University Management Software for your business is now faster and easier! Compare prices, reviews, features, and get free consultation to find the perfect software.
All Software
Buyer's Guide

College & University management software, also known as campus management solution, has been devised for automating educational institutions' day-to-day operations. At the present time, every small and large school, college, and university relies on a management software solution for developing and managing their digital campus impeccably, and to make their organization's performance more efficient.
A college & university management system software equally caters to the needs of students, faculty members, and departmental staff. It manages student attendance, library item details, admission procedures, student enrollment process, and fees collection procedure, besides simplifying the task of conducting examinations and analyzing the academic performance and excellence of students based on the examinations, assignments, projects, etc.
College management software is a comprehensive ERP software solution that eliminates the trouble of executing administrative and academic activities of colleges manually. This incredible piece of educational technology also eliminates the need for doing repetitive tasks and managing paper-based files to help create a paperless work environment in educational institutions.
The best college and university management software are built with high customizability so as to cater to the academic and administrative requirements of the different educational institutions. Campus management solutions also come with multiple modules and useful features that help execute the different activities of college with ease.
Manually managing educational institutions is a Herculean task. The college management system facilitates hassle-free management of the entire administrative process.

College Management Software allows you to keep relevant information about students, guardians, teachers, and staff members on your fingertips

It helps educational institutions save time, money, and resources.

The best college and university management software connects students, parents, teachers, and administrators to keep them enlightened about all the aspects of an educational institution.

Last but not least, college management system software helps you reduce the monotony and trouble of dealing with mundane tasks, thus enhancing the standard of your educational institution.
College management system software offers a host of impressive features. Below are some useful features of the best college and university management software:
1. Student Registration & Admission Management:
Campus management software manages the entire registration and admission procedure of students, besides tracking comprehensive information of students, such as student registration entry, section assignment, and allocation of enrollment number.
The software also records the educational details of students for the past years.

Uploads photographs of each student for easy identification, and generates a unique ID for each student to avoid duplicity of enrolled students.

Uploads and stores data and reports related to students, such as transfer certificate, family background, etc. College Management Software also generates customized reports whenever you search for a particular student as per his / her roll number or enrollment number.
2. Students' Inquiries Management:
College management system software is essential for streamlining the process of student inquiries management. The software enables the college authority to respond to students' queries quickly, and with ease. Best college and university management software features students' inquiries management tool that keeps a tab on details concerning student/parent inquiries received by email, walk-ins, or phone. Once the student's inquiry is entered into the system, the school staff does a follow-up email or call.
3. Entrance Test Management:
Every school, college, and university adheres to specific criteria for admitting students or offering student scholarships. College management system software allows you to analyze the eligibility criteria of students instantaneously. Soon after the test is held, the software calculates the mark and generates a merit list automatically.
4. Manages & Control Accounts:
University management system software helps schools, colleges, universities, and coaching centers to manage the various expenses. The software generates reports such as balance sheet, ledger, trial balance, cash book, etc. to help educational institutions track all financial transactions accurately.
5. Fees Collection:
The income of an educational institute depends entirely on fees collection. College and university management software is an easy and secure way of processing fees from hundreds of students. The software allows you to receive payments, create billing heads, enter the due amount, and generate and edit fee structures, even if you do not have prior knowledge of account management.
6. Library Management:
University management software helps libraries to track the requirements of books. At the same time, it helps prevent duplicity of books, magazines, and journals. The software also saves time in the arrangement of books.
7. Maintains Students' Health Records:
Campus management software maintains the health records of students to overcome emergency situations within the campus. The software records the health issues of students along with complete medical history. It stores the records in a safe manner and allows only authorized users to access health-related documents.
8. Students' Attendance Management:
University management software helps track students' attendance across different classes in real-time. It also eliminates the trouble of maintaining attendance records of students on paper.
9. Hostel Management:
Best college and university management software manages the records of hostellers with absolute security. The software eliminates paperwork, saves time, and calls for minimum staff involvement.
10. Student Behavior Tracking:
College Management Software also tracks students' behavior in groups in order to curtail the absurd behavior of students and make them disciplined and accountable for their actions. The software also sends notifications to parents via SMS, telephone, and emails about the behavior of their children.
11. Examination Management:
Best college and university management software enables you to set up subject-wise examinations or tests. It also generates admit cards and class-wise date sheets for each exam. The software generates results based on percentile or grading system, and also illustrates the overall performance of each student throughout the academic session via graphical representation.
12. Timetable Generation:
Campus Management Software simplifies the time-consuming task of generating timetables for each class. The automated software creates different time slots for each timetable for avoiding conflicts in timings for teachers. It also allows you to make modifications, as and when required by the management.
These are some important features of university management software that help educational institutions to achieve their management goals. Now let's shed light on the advantages of using university management system software.
Best college and university management software streamlines all academic and non-academic activities of an educational institution, thus providing umpteen benefits to the management, administration teachers, students, and parents. Here are some of the advantages of installing university management software:
1. Reduces Workload & Enhances Productivity:
College Management Software, when utilized in the right way, significantly enhances the productivity of an educational institution. University management system software reduces manual work and facilitates a smooth flow of academic and non-academic activities, thus, saving the precious time of the school authority. Consequently, it enables the school authority to utilize the time to focus on strategic tasks.
2. Stores Data Securely:
Educational institutions have infinite volumes of data that need to be maintained on a regular basis. University management software is the smartest way of storing data as it reduces endless paperwork, besides reducing the need for paper storage. Best college and university management software enables you to update data within seconds. What's more, it encrypts your data and stores them securely on the cloud
3. Facilitates Effective Communication:
College Management Software makes it possible to circulate information among teachers, students, staff, and parents in a faster manner. The software allows teachers to post assignments to students online on a day to day basis. It also stores the contact number of the library, reception, hostel, etc., so that the numbers can be extracted online, as and when required.
4. Real-time Data:
University management system software generates multiple real-time reports to assist the administrative and teaching staff of an educational institution. It can also generate reports for a specified period of time and also for specific dates.
5. One-time Investment:
College Management Software is customizable and supports multiple modules. It is a one-time investment that offers complete automation and facilitates better decision-making.
Though college management system software offers a plethora of benefits to educational institutions, it has its own share of shortcomings too. Here are a few limitations of university management software: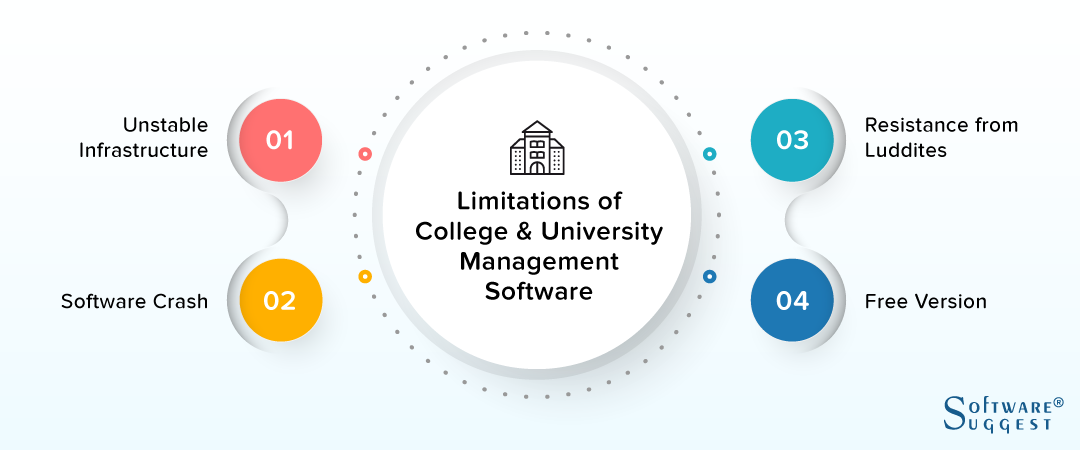 1. Unstable Infrastructure:
College management system software is totally dependent on the internet and electricity. Frequent power-cuts and fluctuations in internet speed often act as stumbling blocks that prevent educational institutions from utilizing campus management software to the fullest.
Solution: Before investing in college management system software, you should keep this factor at the forefront of your mind. Make sure you have strong alternatives for meeting the infrastructural requirements so as to ensure the smooth functioning of the software.
2. Software Crash:
It is inevitable for University management system software to crash anytime, thus, affecting a major portion of your data.
Solution: Make sure you have a backup solution in place to keep your valuable data safe.
3. Resistance from Luddites:
Luddites find it difficult to switch from the conventional to the contemporary; therefore, having employees with Luddite qualities is another lingering obstacle to deploying tech in educational institutions.
Solution: When deploying university management software, educational institutions should take every possible measure to emphasize the usability and effectiveness of the software.
4. Free Version of College Management System Software:
You may consider installing free versions of college management software; however, you should also be prepared to experience the unexpected breakdown of the free version of campus management software where the system does not guarantee to retrieve the lost data of students, teachers, parents, curriculum, etc.
Solution: If you do not want to complicate the process of data management further, you should refrain from installing 'free' campus management systems.
Currently, college management system software has been playing a fundamental role in benefitting educational institutions. Campus management software has simplified numerous complicated tasks for the school authority; this is why teachers, as well as parents now count on college management Software to keep tabs on the scholastic progress of the students.
Here are the top five campus management software trends for this year: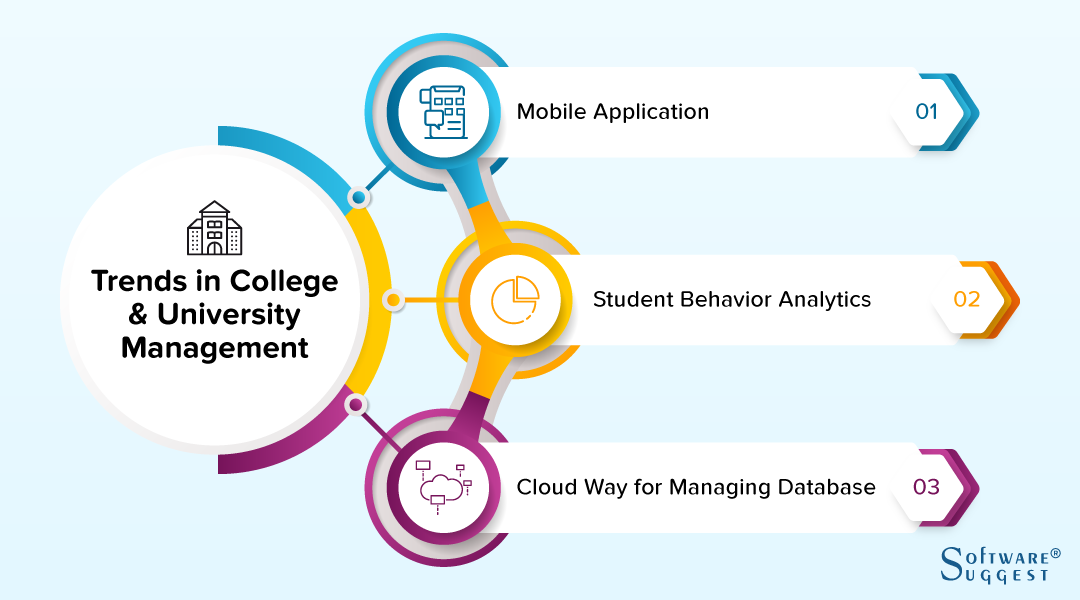 1. Mobile Application:
Educational institutions nowadays have been showing a preference for college management software featuring a mobile application, as mobile apps enable parents to keep an eye on their children's progress anytime, anywhere. Similarly, mobile apps allow students to access home assignments and projects, as and when required. Additionally, it enables teachers to respond to students' queries in real-time.
2. Student Behavior Analytics:
Educational institutions are responsible for molding students into responsible future citizens. Currently, university management software is empowering educational institutions to deliver the best learning experience to their students. Educational institutions have also come to realize that apart from analyzing the marks scored in examinations, accumulating student data goes a long way in understanding students better and helping students succeed.
3. Going the Cloud Way for Managing Database:
Technological advancements have made it possible to accumulate huge volumes of data, and store them securely in the cloud. To utilize the advantages of cloud technology, educational institutions have been giving preference to cloud-based college management system software with database management features for storing data anytime, anywhere.
Considering the factors given above, we can easily conclude that college management system software is surely a boon for educational institutions of all sizes because of its versatility, security, and high-quality performance at every level.
Showing
1
-
25
of
122
products
Education Management and Automation (EDUMAAT)
EDUMAAT is an enhanced college and university management software that automates the education sector that starts from student admission to graduation. An educational institute is a place where the management, the students, the parents and the faculty are identified as stake holders. View Profile
#1
Macademics Simplified !!
As a result E Smart Sankul is flagship web-based campus management solution developed by considering the most painful areas around the educational world. It has emerged as an answer to all the unsolved FAQ's in the current education ERP system. View Profile
#2
College SOFTWARE BY Dataman Computer Systems.
Academics ERP is a unique and very comprehensive software for management of academic institutions like Primary & Secondary School, Degree, polytechnic, Engineering Institutes, management Institutes, Image of Custom Academics ERP Medical college, Coaching and other Educational institutes. View Profile
#3
School Management Software
instoCampuz is a web based multi campus school management software offering affordable school ERP solutions for schools, colleges and training institutes in India. View Profile
#4
Software by Classmatrix
Online school management platform to help teachers achieve highest student engagement in their classes. Online student performance management evaluation, analysis and reporting platform. View Profile
Free Consultation
Pricing
#5
Transform Your University into a Digital Leader
MeritTrac's university management solutions encompass solutions like admissions processing, campus management and examination management helps universities and institutions digitise the management of the establishments for efficient university administration. View Profile
#6
the dedicated skills community
Certif-ID is a dedicated skills community bringing trust and transparency to the certification landscape by enabling educational institutions to issue and store certificates on blockchain. View Profile
#7
Software by Entab Infotech Pvt Ltd
Entab Infotech Pvt Ltd. is considered as India's Most Preferred School Management Software provider since 18 years. With more than 1200 schools as trusted clientele, we have established ourselves as a Leader in School ERP Software domain. View Profile
#8
Your own digital institute
MyClassCampus is a Mobile App and Web based tool for schools, colleges and private institutes to help them go digital. It works as an operating system which covers, online teaching, digital data management and communication part. View Profile
#9
BEST SCHOOL ERP - ( Cloud Portal + Mobile App )
CLOBAS is a cloud-based campus management system designed to help educational institutions accelerate growth and enhance their operational efficiency. View Profile
#10
Transform your Marking Process
TracMarks is an on-screen marking solution that institutions and universities can use to digitise the examination evaluation processes. The solution is robust an involves digitising the answer scripts and marking them online resulting in improved quality and enhancing the speed and efficiency of results processing. View Profile
#11
Cloud-based School Management Platform
Managing an institute can be a tedious job as a lot of activities happen at the same time. In such case, Campus 365 is your solution as it gives you the edge over any other educational application by bringing all the verticals at one place. View Profile
#12
Online School and College Management Software
iCampusHUB, can be defined as all-in-one School/College management system software that is specifically designed and developed to simplify Administrative, Academic and Financial management of a School / College. View Profile
#13
Software by JIL Information Technology Ltd.
Campus Lynx is a highly modular and scalable IRP solution specifically developed in line with the operational requirements of the present day Universities and Colleges integrated with state of the art smart card technology. View Profile
Free Consultation
Pricing
#14
Software by Iolite Softwares Private Limited
IOLITE is a paperless school automation software solution for today's modern schools. School management system produces the facility to carry out all day to day activities of the school, give them fast, simple, effective and accurate. View Profile
#15
Software by Teemac
As the world moves forward, awareness, empathy and the ability for critical and independent thought are increasingly important to creating a good future. Education is the most powerful tool to reach out and spread these values. View Profile
Free Consultation
Pricing
#16
A web-based Campus Management ERP product
A web-based state-of-the-art ERP product covering all aspects of operations and management of educational institutions. It helps to keep a track of all the campuses without the need for an additional software. It helps in improving operational effectiveness and bringing down administrative costs. View Profile
#17
Software by Auromeera Technometrix Pvt. Ltd.
Focusing on the present scenario of the Higher Education across the glob, eMLi delivers a diversified output on all the aspects of College Management. The entire higher education is facing fund-cut, faculties deficit and resource limitation in all over the world. Providing best education environment with the best available resources is the biggest challenge of the Higher Education. View Profile
Free Consultation
Pricing
#18
Complete Office Automation Platform
RicohDocs is high-performance Document Management software and Office Automation System. It offers the power of enterprise document management to mid-sized and large organizations. With RicohDocs, organizations anywhere in the world can gain control over their documents, with specific focus on business process automation. View Profile
#19
CAMPUS ERP SOLUTION
Eduflex is elegant in its operational concept of a 'Service Oriented Approach'. The distributed and synchronized data provides the source of information needed for student, parent, staff and management at a much higher speed. View Profile
#20
Software by Swastin Technologies
Swastin School College Management System Software, is a complete solution for managing a school/college online, in other words an enhanced tool that assists in organizing the day-to-day activities of a school/college. View Profile
#21
for All your Academic and Administrative needs
ScholarSYS has extremely rich features like advanced search capabilities, customizable entry screens, easy- to-use reporting wizards, a customizable menu and seamless integration with MS office. View Profile
#22
A comprehensive accounting software
Tally.ERP 9 is India's leading business management software for GST, accounting, inventory, banking and payroll. It is an economical and one of the most popular ERP software solutions available in the industry, used by nearly 20 lakh businesses. You can download a trial version of Tally.ERP 9. View Profile
#23
Bring Automation & Better Practices in Academic In
LSAcademia is a complete ERP Solution to manage an Academic Campus be it a school, college or an institute. It seamlessly integrates different administrative departments and ensures a smooth flow of information among them. View Profile
#24
A leading education management software
Academia is a complete enterprise solution for universities, colleges, schools and training institutions looking to automate their Academic and Administrative processes. It helps automate and manage the entire campus operations, administration, and learning needs. View Profile
#25