Best Content Writing Services
The Top Content Writing Service Providers: Upwork, Freelancer, WriterAccess, ContentWriters, and Virtual Employee. These services offer blog writing, web content, marketing materials, white papers, research articles, and proofreading.
Get Free Demo
Connect With Your Personal Advisor
List of
20

Best Content Writing Services

Showing

1

-

20

of

52

products
With the advent of the World Wide Web during the early 90s, there came the need to represent the business online. The organizations started to create websites which served their business and enabled visitors to obtain relevant information and engage with their favorite brands.
This information found on the internet is known as web content, and it slowly became intrinsic to the modern Web business. Soon enough, search engines like Google and Yahoo started to demand credible and well-organized information. Thus, it gave rise to the development of commercial content writing services.
Let us now dive into this detailed guide to get a deeper understanding of content writing services and learn about their benefits, types, and best service providers.
A content writing service refers to a professional service that provides written content for various purposes and platforms. Content writing services typically employ skilled writers who specialize in creating engaging, informative, and relevant content tailored to the specific needs of their clients.
The content produced by these services can take many forms, including articles, blog posts, website content, social media posts, product descriptions, press releases, whitepapers, case studies, and more. The content is often optimized for search engines (SEO) to improve its visibility and reach a wider audience.
If you want to effectively engage your audience and drive results, you need high-quality content that resonates with your target market. A content writing service can provide you with expertly crafted, original content tailored to your specific needs. By leveraging their skills and expertise, you can save time and ensure your content stands out from the competition.
Publish High-Quality Writing Regularly

Search engines like Google, Bing, and Yahoo are continually demanding fresh content. They stop crawling and indexing your website if you stop publishing new content. Besides, if you want to gain more traffic to your website, you need to provide solutions to people's problems. Only then will they keep coming back to you.

The only solution is to generate high-quality and new content regularly. And hiring a content writing service can help you with a non-stop supply of high-quality content.

Create SEO-Optimized Content

If you want to rank top on Google search results, you need to create SEO-optimized content. SEO-optimized content follows the stuffing of specific keywords that makes it easy for Google to find your content. With SEO, you also need to provide quality and fresh content.

A content writing agency can ensure a steady supply of high-quality and relevant content to improve your SEO.

Become an Authority in Your Field

To establish your authority in the market, you need to share your knowledge and wisdom with people so that they begin to recognize your business. It creates value for your brand. For that, you need to publish authoritative and expert blog posts regularly to establish your presence. Furthermore, you will need to share your content on social networking websites. People like to do business with companies that have reliable authority in the industry.

Consistency and Frequency

A content writing service can ensure consistent and timely delivery of content for your business. By outsourcing your content creation, you can maintain a regular publishing schedule, which is crucial for keeping your audience engaged and boosting your online presence.

Expertise in Various Topics

Content writing services often have a team of skilled writers who possess expertise in a wide range of topics. Whether you need content for technology, finance, health, or any other niche, they can provide well-researched and accurate information that adds value to your audience.

Access to Different Writing Styles

Each business has its unique tone and style of communication. A content writing service can adapt to your brand's voice and deliver content that aligns with your desired writing style. Whether you prefer a formal, conversational, or persuasive approach, they can tailor the content to meet your specific requirements.
Every company's requirement is different. To run a successful content marketing campaign, one needs to create curated content for their audiences. You need to figure out the type of content you need.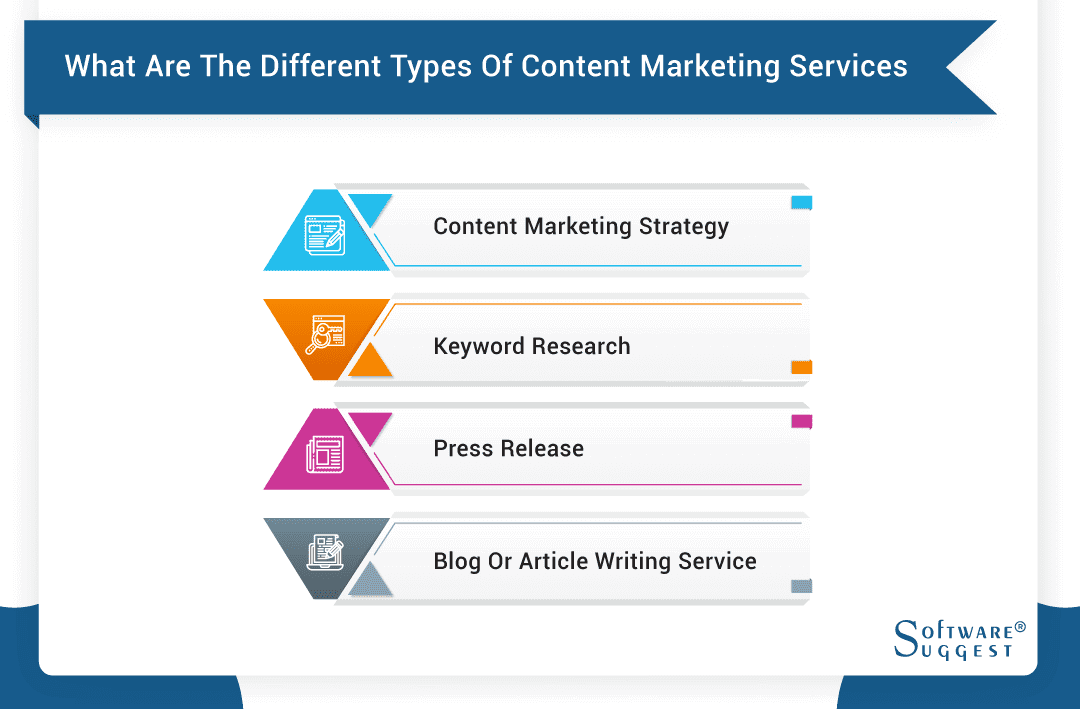 There are many different types of content writing services. Some of these include:
Content Marketing Strategy

There are a few content writing agency that offers content marketing strategy as a part of their content writing service. It involves creating and launching a full-fledged marketing campaign — aligning your content need to your buyer's persona and journey. Some of them also provide insights to calculate ROI to measure the success of the campaign.

Keyword Research

To rank higher on Google search page results, you need to use the right keywords. Not every company knows how to search for the right keywords and use them to create relevant content for their visitors. If you are clueless about what long-tail keyword is or how SEO works for your website, you need the help of a content writing agency.

Press Release

A press release is a way to make people aware of your brand or new product or service launch. Earlier, the owners used to send these releases to the local newspaper or radio station. But times have changed, and there are e-press releases as well to connect with online audiences. Reputed digital platforms publish them. You can get more visitors from the link. That's why you need to have a sharp and concise press release statement to grab attention.

Blog or Article Writing Service

Many websites have a blog page where they regularly post articles to educate and inform consumers about their products or services. It may include various niches like technical, non-technical, lifestyle, and more. Every content writing service specializes in a certain niche to help you write quality content for your business.
While having an in-house content writing team can have its benefits, there are also several drawbacks associated with it. Here are some common drawbacks of maintaining an in-house content writing team:
Cost

Hiring and maintaining an in-house team of content writers can be expensive. You need to consider salaries, benefits, office space, equipment, and ongoing training. These costs can be significant, especially for small or medium-sized businesses with limited resources.

Limited Expertise

In-house teams may have limited expertise and knowledge in various subjects or industries. They might not possess the same level of specialization and diverse skill sets that you can find in external content writing services. This can result in content that lacks depth and originality or fails to meet the needs of your target audience.

Capacity and Scalability

In-house teams have a fixed capacity, and their workload might fluctuate based on the company's needs. During busy periods or when multiple projects arise, your team might struggle to meet deadlines and maintain quality. Scaling up the team during such times can be challenging and time-consuming.

Limited Perspectives

In-house teams often operate within a specific organizational environment, which can limit their perspectives and creativity. External content writing services, on the other hand, bring in fresh ideas, diverse viewpoints, and experiences from working with various clients and industries.

Time and Training

Building an effective in-house content writing team requires time and effort. You need to invest in recruitment, training, and ongoing professional development to keep the team up-to-date with the latest trends and best practices in content writing. This can divert resources and attention from core business activities.
Choosing a content marketing service provider is a big decision for any business as it usually involves long-term collaboration. Few factors to consider while looking for the right content service provider for your brand: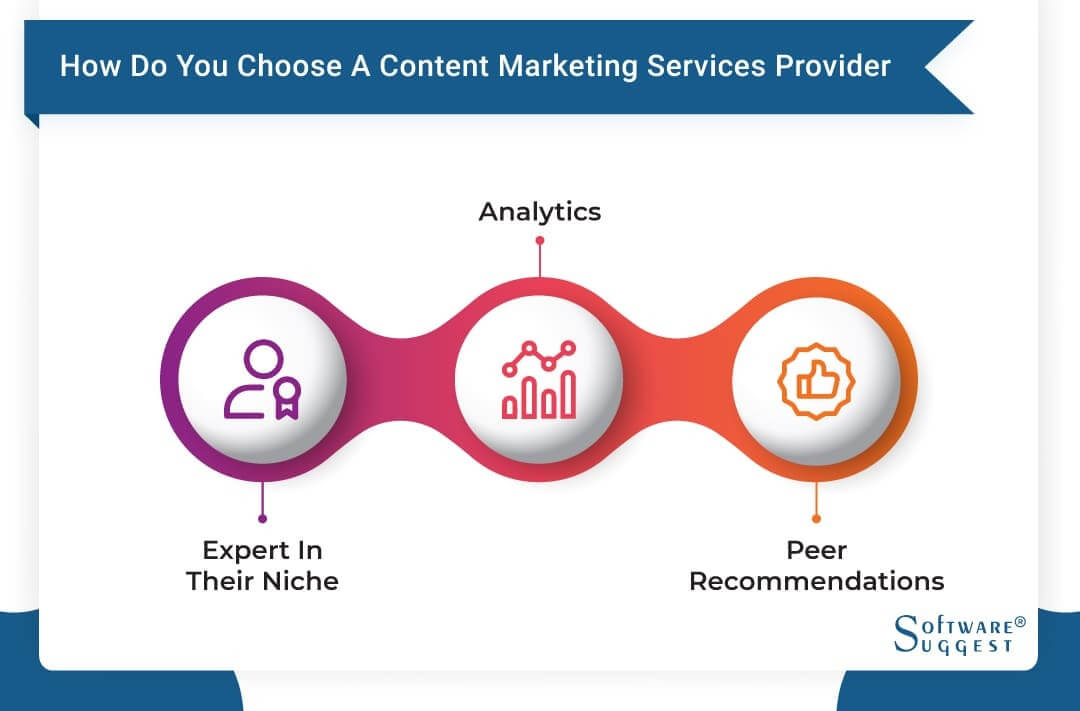 Expertise

Organizations are competing with content crafted by industry experts. Thus, a content marketing agency collects the most exceptional talent of content writers, which ranges across a wide range of industry spectrum.

You need to partner up with a content marketing agency who have substantial knowledge and experience in your space. They should have a strong understanding of your core business functions and industry expertise.

Analytics

A sign of the right content writing service provider is that they also offer visibility into and analytical evidence demonstrating your return on investment. The service provider should be able to explain to you the result of your content program clearly. Besides, the agency should have a sound knowledge of growing industries, new trends, and market movements.

Peer Recommendations

Don't just settle down. Once you have shortlisted a few proper content service providers' names, do some research about them. Check about their service and support through an online review or contact their previous clients. Don't invest in a lesser-known agency.
Hiring content writing companies can significantly contribute to increasing conversions for your business. Here's a detailed explanation of how content writing companies can help boost conversions:
Compelling and Persuasive Content

Content writing companies specialize in creating compelling and persuasive content that can effectively influence and persuade your target audience. They have expertise in crafting engaging headlines, captivating introductions, and persuasive calls-to-action (CTAs) that encourage users to take the desired action. By leveraging their writing skills and knowledge of persuasive techniques, content writing companies can create content that convinces users to convert.

Audience-Centric Content

Content writing companies understand the importance of creating content that is tailored to your target audience. They conduct thorough research to understand your audience's needs, pain points, motivations, and preferences. By crafting content that directly addresses these aspects, they can provide value to your audience and build trust. When users find content that resonates with them and provides solutions to their problems, they are more likely to convert.

Building Authority and Trust

Content writing companies can help establish your brand as an authority in your industry. By creating high-quality and informative content, they demonstrate your expertise and thought leadership. Consistently publishing valuable content builds trust with your audience, making them more likely to convert. Additionally, content that provides reliable information and addresses user concerns can help overcome objections and instill confidence in your products or services.

Content Personalization

Personalized content is highly effective in driving conversions. Content writing companies can analyze user data and behavior to create personalized content that speaks directly to individual users' interests and needs. By leveraging data analytics, they can segment your audience and deliver content that is relevant and tailored to each segment. Personalization helps create a personalized user experience, increasing engagement and the likelihood of conversions.

Storytelling and Emotional Appeal

Content writing companies excel in the art of storytelling. They can create narratives that resonate with your audience on an emotional level. Emotional appeal in content can evoke strong responses, generate empathy, and establish a connection with users. When users feel emotionally engaged, they are more likely to form a positive association with your brand and take the desired action, resulting in increased conversions.
Here is a list of the top 5 content writing services known for their quality and expertise in the industry. These providers have consistently delivered exceptional content tailored to various niches, ensuring client satisfaction and engagement. Whether you need blog posts, website content, or social media copy, these services can help elevate your brand's online presence.
Pepper Content is a leading content writing service that offers comprehensive solutions to meet your content needs. With a team of skilled and experienced writers, they provide high-quality, engaging, and customized content across various industries and niches.
Whether you require blog posts, website copy, social media content, or technical writing, Pepper Content can deliver exceptional results. Their commitment to excellence and attention to detail ensure that every piece of content is crafted to captivate your target audience. With a focus on delivering value and driving business growth, Pepper Content is a trusted partner for all your content writing requirements.
Key USP
Pepper Content offers a curated network of experienced content creators and provides end-to-end content solutions, ensuring high-quality content delivered on time.
Pros
High-quality content production
Customized solutions for diverse niches
Professional writers with subject matter expertise
Timely delivery of projects
Transparent pricing and flexible packages
Cons
Limited availability of writers during peak demand periods
Higher pricing compared to some other content writing services
May require additional communication to align with specific brand voice
Content Whale is a highly reputable content writing service known for its exceptional quality and reliable delivery. With a team of skilled writers and industry experts, they specialize in creating engaging and tailored content across various niches. Their comprehensive range of services includes blog posts, website content, SEO optimization, social media content, and more.
Content Whale prides itself on its commitment to customer satisfaction, offering competitive pricing packages and a seamless ordering process. Whether you're a small business owner or a large enterprise, Content Whale can help you effectively communicate your message and elevate your brand's online presence.
Key USP
Content Whale focuses on offering unlimited revisions and a fast turnaround time, ensuring client satisfaction with their content writing services.
Pros
Competitive pricing for content services
Fast turnaround time for projects
Dedicated team of experienced writers
Scalable solutions for content needs
Quality assurance and revision options
Cons
Limited range of content types and services offered
Some users have reported occasional delays in project delivery
StoryChief is a leading content writing service that offers a comprehensive suite of tools and services to help businesses streamline their content creation and distribution process. With StoryChief, businesses can centralize their content workflow, collaborate with team members, and publish content across multiple platforms seamlessly.
The platform provides a user-friendly interface, advanced analytics, and SEO optimization features to maximize the reach and impact of your content. With a team of skilled writers and editors, StoryChief ensures high-quality content that captivates audiences and drives engagement.
Key USP
StoryChief provides a comprehensive content collaboration platform, allowing seamless collaboration between team members and simplifying the content creation and distribution process.
Pros
Streamlined content collaboration and distribution
Multi-channel publishing and social media integration
Content performance analytics and insights
Efficient content workflow management
SEO optimization features
Cons
Learning curve for new users unfamiliar with the platform
Limited customization options for certain content elements
May require integration with other tools for advanced analytics
Upwork is a well-known online platform that connects businesses with freelancers across various industries, including content writing services. As a leading marketplace, Upwork offers a diverse pool of talented content writers who can cater to different niches and writing styles.
Whether you need blog articles, website copy, social media content, or other forms of written content, Upwork provides a convenient and efficient way to find skilled professionals. With its user-friendly interface and transparent review system, Upwork offers businesses the opportunity to collaborate with experienced content writers and access quality content tailored to their specific needs.
Key USP
Upwork is a freelancing platform that offers a vast pool of talented content writers, allowing businesses to find writers with specific expertise and hire them on a project basis.
Pros
Vast network of freelance writers and professionals
Wide range of expertise and skills available
Transparent freelancer ratings and reviews
Easy project tracking and communication
Secure payment system and dispute resolution
Cons
Quality can vary depending on the selected freelancer
Can be time-consuming to review and shortlist freelancers
Platform fees and payment processing charges apply
Freelancer content writing services offer a flexible and dynamic approach to meeting your content needs. With a pool of talented freelance writers, these services provide businesses with the opportunity to work with experienced professionals on a project-by-project basis. Whether you require engaging blog posts, website copy, or social media content, freelancer content writing services can deliver customized solutions to suit your specific requirements.
By tapping into the expertise and creativity of freelancers, you can access a diverse range of writing styles and industry knowledge while also enjoying the freedom to scale your content needs according to your business growth.
Key USP
Freelancer provides a global marketplace where businesses can find content writers from various industries and regions, ensuring a wide range of options and competitive pricing for content writing services.
Pros
Flexibility to choose from a global pool of freelancers
Cost-effective solutions for content projects
Customizable hiring options based on budget and requirements
Quick turnaround time for small to medium-sized projects
Wide variety of skillsets and expertise available
Cons
Quality control and consistency can be a concern
Project management and communication can be challenging with multiple freelancers
Content writing services face challenges such as maintaining quality, meeting deadlines, adapting to writing styles, and understanding diverse industries. Overcoming these obstacles requires expertise, adaptability, and effective communication to deliver exceptional content that meets client expectations.
Quality Issues

Maintaining high quality in content writing is crucial for content writing services. However, ensuring consistent quality can be challenging. Some common quality issues include grammatical errors, spelling mistakes, poor sentence structure, and lack of coherence. Content writers must pay attention to detail, conduct thorough proofreading, and adhere to style guidelines to deliver content that is error-free and meets client expectations.

Content Volume and Timeliness

Content writing services often handle a significant volume of work and face tight deadlines. This can put pressure on content writers to produce a large quantity of content within a limited timeframe. It can be challenging to manage resources effectively and deliver content on time without compromising quality. Content writers need to manage their time efficiently, prioritize tasks, and work collaboratively to meet the demands of multiple clients and projects simultaneously.

SEO Optimization

Search engine optimization (SEO) is critical for content visibility and organic traffic generation. However, SEO practices and algorithms are constantly evolving. Content writing services need to stay up to date with the latest SEO best practices and trends to ensure that their content ranks well in search engine results. This includes conducting keyword research, incorporating relevant keywords naturally, optimizing meta tags and headings, and considering user intent when creating content.

Subject Matter Expertise

Content writing services cater to various industries and topics, requiring writers with the necessary subject matter expertise. However, finding writers with in-depth knowledge and understanding of specific subjects can be challenging. Without proper expertise, content may lack accuracy and fail to resonate with the target audience. Content writing services need to invest in talent acquisition, training, and collaboration with industry experts to deliver content that demonstrates expertise and credibility.

Client Communication and Feedback

Effective communication with clients is essential for understanding their requirements, objectives, and feedback. However, maintaining clear and consistent communication can be a challenge, especially when dealing with multiple clients and projects simultaneously. Content writing services need to be responsive, clarify any uncertainties, and establish a smooth feedback loop. Addressing client concerns and incorporating feedback into the content creation process is crucial for client satisfaction and successful project outcomes.
The field of content writing services is constantly evolving, with new trends emerging to meet the changing demands of businesses and audiences. By staying updated on these trends, businesses can harness the power of content to effectively connect with their target market and stay ahead in the competitive digital landscape.
E-E-A-T (Experience, Expertise, Authoritativeness, and Trustworthiness)

E-E-A-T has become a significant focus in content writing services. It refers to the criteria that search engines like Google consider when evaluating the quality and credibility of content. E-A-T emphasizes the importance of content that demonstrates expertise, authoritativeness, and trustworthiness. Content writing services need to ensure that their content is well-researched, accurate, and authoritative, building trust with both readers and search engines.

Content Localization and Multilingual Content

With the increasing globalization of businesses, content localization and multilingual content have become essential trends in content writing services. Localization involves adapting content to specific regions or cultures, taking into account language, cultural nuances, and preferences. Multilingual content involves creating content in multiple languages to cater to diverse audiences.

User-Driven and Personalized Content

Personalization has become a key trend in content writing services. Businesses are leveraging data and analytics to understand their target audience better and create tailored content that addresses their specific needs and interests. Personalized content helps improve user engagement, enhances the user experience, and increases conversion rates.
Content writing companies typically offer different pricing models, including per-word rates, per-hour rates, or fixed project rates. The actual cost can depend on several factors, such as the complexity of the content, the length of the project, the level of expertise required, and the turnaround time.
On average, content writing services may charge anywhere from $0.03 to $0.07 per word. Keep in mind that some companies may offer discounts for bulk orders or long-term contracts, while others may have additional fees for rush delivery or specialized content.
It's always recommended to reach out to specific content writing companies and request a quote based on your unique requirements to get accurate and up-to-date pricing information.
Conclusion
In conclusion, choosing the best content writing service for your needs is crucial for maintaining consistency, expertise, and access to diverse writing styles. The top content writing services mentioned above have established themselves as industry leaders, delivering high-quality content tailored to various topics and providing assistance with SEO optimization, revisions, social media content creation, and customized content strategies.
By leveraging their expertise, you can enhance your brand's online presence, engage your audience, and drive meaningful results. It's recommended to evaluate your specific requirements and reach out to these service providers to find the one that aligns best with your business goals.
Compare Pricing Plans of Top Content Writing Services Providers
FAQs of Content Writing Services
Yes, many content writing service providers have expertise in SEO optimization. They can incorporate relevant keywords, meta tags, and other SEO best practices to help improve the visibility and ranking of your content in search engine results.
In most cases, content writing service packages include a certain number of revisions to ensure client satisfaction. However, the specific number of revisions may vary among providers, so it's important to clarify the revision policy with the service before engaging their services.
Content writing service providers prioritize client confidentiality and data protection. They typically have strict policies and procedures in place to handle confidential or sensitive information securely. It's advisable to discuss any specific concerns or requirements regarding data privacy with the service provider before sharing sensitive information.
Yes, many content writing service providers offer social media content creation as part of their services. They can help develop engaging and tailored content for various social media platforms, including posts, captions, and even graphics or videos to enhance your social media presence.
Yes, content writing service providers often offer customized content strategies based on your specific goals and target audience. They can collaborate with you to develop a content plan that aligns with your business objectives, brand voice, and marketing goals, ensuring a tailored approach to your content creation.
Content Writing Services in following countries