Best Data Management Software
Best data management software includes Collibra, Google Cloud, Improvado, IBM, 1010data, and Amazon Web Services. These data management tools allow organizations to store and manage large amounts of data in a centralized and organized manner.
Get Free Demo
Connect With Your Personal Advisor
List of
20

Best Data Management Software

Showing

1

-

20

of

149

products
The ability to effectively control and analyze substantial volumes of data from multiple sources holds immense value for businesses, especially in today's digital landscape. Since data is among the most valuable resources, it's no wonder it assists enterprises in achieving a lasting competitive advantage.
So, how can a business manage such an influx of data from various sources? Here's a hint: it must develop a solid data management strategy. And to effectively implement this strategy, businesses primarily require robust data management software.
Data management software is a system used to build and maintain a structure that stores, handles, and preserves the essential data for a contemporary business. This software allows users to craft a personalized database that fits their needs for analysis and generating reports.
Data management software is crucial for the core of a company's IT framework, merging all phases of information existence. An encompassing data management system for the entire organization can be created, executed, and upheld through database software planning.
Enterprise data management tools serve a diverse range of professionals who depend on well-structured data for making informed decisions and conducting analysis. Here are some primary users -
Data Analysts and Data Scientists

Data analysis and scientific exploration professionals rely heavily on data management tools. These tools streamline the intricate tasks of data extraction, preparation, and manipulation, all essential for insightful analysis. By utilizing these utilities, analysts are empowered to unearth meaningful insights from raw, untamed data, consequently facilitating the decision-making process.

Database Administrators (DBAs)

Database Administrators (DBAs) utilize data management tools to supervise and enhance database operations effectively. These tools assist in various tasks, including creating and updating databases, optimizing performance, and resolving issues. Their role guarantees the seamless functionality of data repositories, contributing to a well-operating data environment.

Business Intelligence (BI) AnalystsBusiness Intelligence (BI) Analysts

Data management tools are crucial for business intelligence analysts. These professionals rely on them to extract valuable insights from extensive datasets. Also, the tools facilitate data integration, aiding BI analysts in crafting detailed reports, dashboards, and visual representations.

Data Engineers

Data engineers shoulder the responsibility of creating and keeping data pipelines and infrastructure. Data management tools are pivotal in this capacity by supervising crucial processes such as data integration, transformation, and purification. Ultimately, these tools are essential in establishing dependable and efficient data pipelines.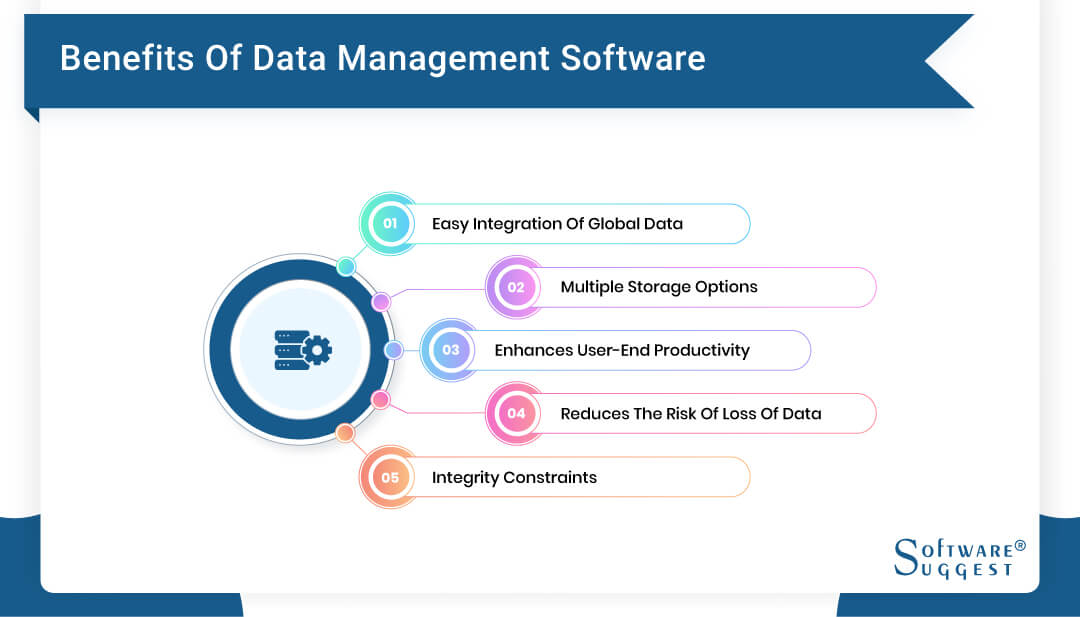 When dealing with large amounts of data, using big data management tools can be highly beneficial.
It can help produce high accuracy and efficiency when managing business-critical information. It brings with it many other advantages that allow for quick data analysis, resulting in improved decision-making.
Let's look at some advantages of using enterprise data management tools.
1. Easy Integration of Global Data
We live in a digital era, and companies are looking for ways to expand their operations overseas.
That's why it increases the need to ensure an approach that can unify data from local and global presence. The system of franchising of business has enabled businesses to build their presence in different locations. Thus, data must be collected from many other areas, and not all are in the same format.
You can quickly bring this data together in a standardized format with the help of data management software. It can consolidate different data into one and run a quick analysis.
2. Multiple Storage Options
Every business environment has different requirements. The best thing is that the online data management system can easily be deployed on a cloud-based server or as a traditional legacy system. Besides, the cloud-based option is not so costly to set up as it doesn't require any extra installation of the hardware.
3. Enhances User-End Productivity
Using data management tools increases efficiency in how the data is being gathered, managed, and analyzed.
It makes it possible to generate better quality information that can be used to make intelligent decisions for future growth. The tool converts data into significant insights. Plus, all users can easily access it, which helps them take quick and informed actions based on the reports.
4. Reduces the Risk of Loss of Data
An online data management software comes with a backup and recovery system. It provides a separate process for backing up your data. If your hard drive crashes, you can quickly recover your data from the remote server.
If the system fails in the middle of the software update, the software can restore the database to its original state again.
5. Integrity Constraints
The best data management software can enforce certain types of database constraints. This is necessary to ensure that the users enter valid information and that the integrity of the data is maintained. For instance, data uniqueness is a constraint that ensures that no duplicate data is entered.
These constraints can be simple as well as complicated.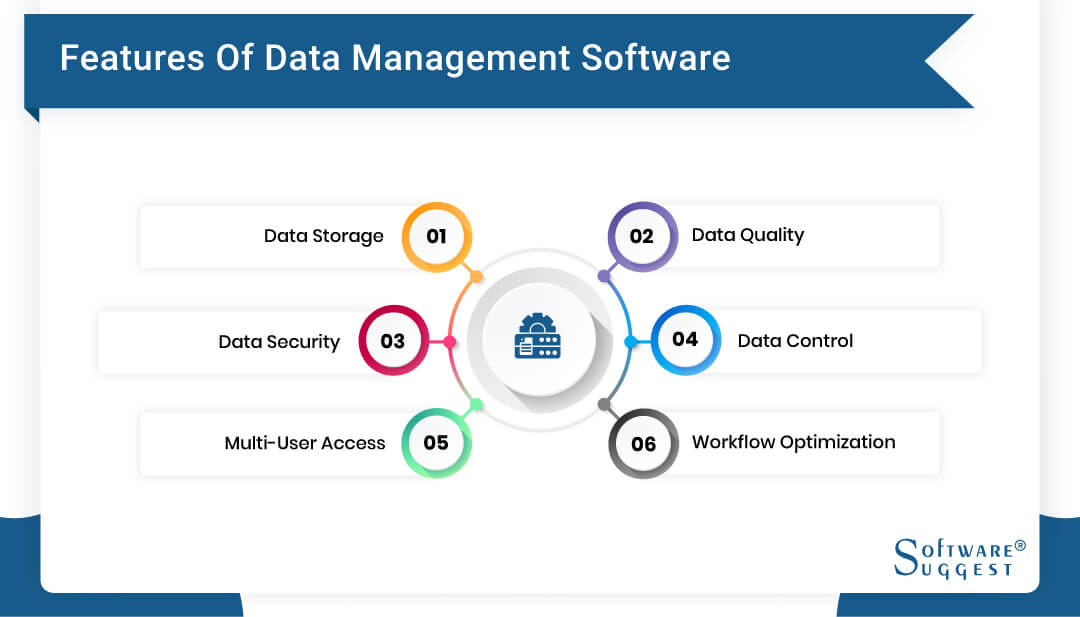 Data management is essential as it can help all aspects of the organization. That's why data management software is an integral part of every business.
Some of the essential features of the best master data management tools include:
1. Data Storage
Data management software is a database whereby all the critical data files are stored permanently. It reduces the chance of losing any data as the backup is made. So even if the data gets lost or deleted by mistake, one can quickly recover it. Thus, organizations don't have to worry about the risk of losing essential data files.
2. Data Quality
When many users have control of the database, it increases the chance of data duplication. However, by using database management software, one can easily avoid data duplication and redundancy.
An effective data management system creates a single data repository, which helps reduce data repetition. Besides, it ensures that the quality of data analysis is not compromised by filling the gaps in missing information.
3. Data Security
One of the biggest concerns for organizations handling a large amount of data is security. An online data management software offers a high level of security by including features like encryption, access control, and tokenization.
The system has admin-based control, which means users with permission can only access the system.
Only the department head or administrator can modify the database; thus, the data's sensitivity is maintained and protected from breaches.
4. Data Control
Another important feature of big data management software is that it gives you control over data. That means you can easily view and identify the changes in data if any.
In fact, as an admin, it can promptly alert you by sending out notifications for any changes made by any users.
5. Multi-User Access and Environment Support
Data management software can support multiple users, which enables several users to access and work on data at the same time.
Furthermore, it supports different views of the same data. More precisely, the database will be accessed by multiple users on multiple operators. Thus, it might need additional database view support for easy accessibility of the system.
6. Workflow Optimization and Analytics
The data management tool not only collects data but it combines and integrates them to provide useful insights, forecasting, modeling, and trend analysis.
It provides insights into your workflow and shows how they are performing to help you optimize your business process.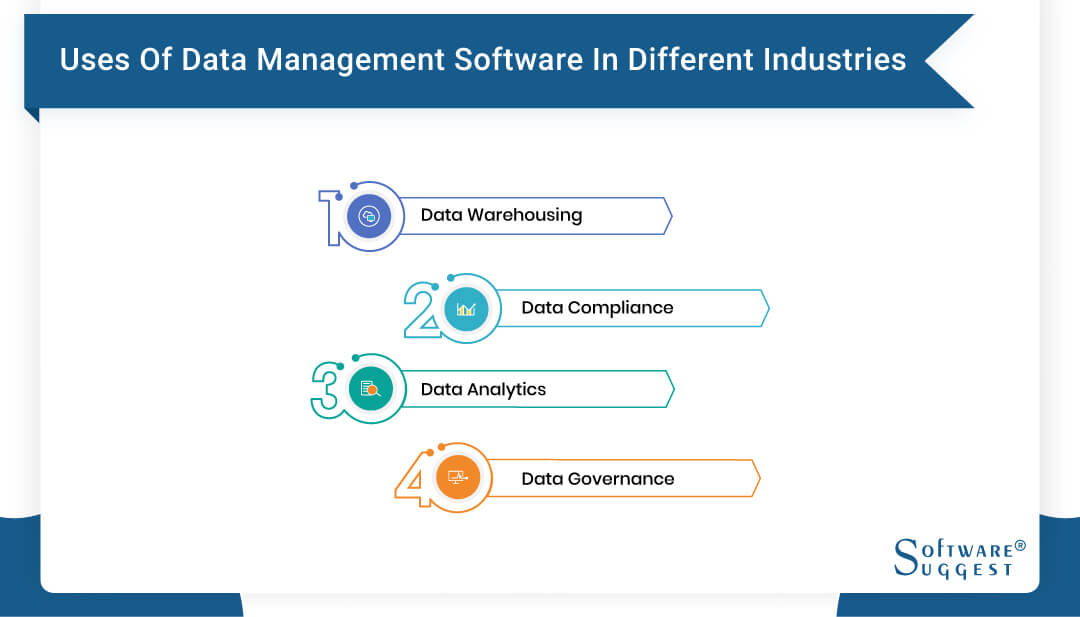 Data management software is widely used for various purposes across various industries, from banking to the healthcare sector, the automobile industry, the manufacturing hub, education, and many more.
It is used for various purposes by different industries. For instance, the banking sector needs it to store client info, account activities, credits, disbursements, and mortgages. Similarly, the telecommunication industry needs it to keep call archives and retain balances.
Some of its uses are as follows:
1. Data Warehousing
Data warehousing is merely transforming information into data and making it accessible to everyone in the organization.
Data warehouse management software consolidates data collected from multiple stores into a single data warehouse and creates meaningful reports and analytics. In fact, many advanced management software includes functionalities like auto-mapping, data mining, and more of both structured and unstructured data.
2. Data Compliance
Every industry, banking and finance, food and beverage, government organization, and more, has sure compliance to follow and maintain.
Besides, these compliance laws and regulations are continually changing. Data management tools can help maintain regulatory data compliance according to privacy laws. It ensures that organizations don't face unnecessary penalties.
3. Data Analytics
The primary purpose of data management software is to analyze the data and derive meaningful insights from the pattern that can help businesses make intelligent decisions.
Every industry has an unprecedented amount of data generated and collected. These data management tools can support analytical processing. It helps with trend analysis, forecasting, and much more.
In short, it enables businesses to make informed decisions independently.
4. Data Governance
Enterprise data management tool helps organizations employ the best industry practices and policies to set the framework for collecting and using the data. It ensures reliability, security, and effectiveness with security management software. Furthermore, it enables businesses to establish user-defined roles and admin-based control.
Choosing the right data management solution is a crucial choice that can significantly impact a business's efficiency and achievements. The following part lists steps to find a suitable data management solution tailored to your specific requirements.
Identify Your Data Management Needs

Begin by understanding your specific data management requirements. Different businesses have unique data challenges and goals. Identify the types of data you deal with, the volume of data, and the processes involved in data management. This self-assessment will serve as a foundation for evaluating potential solutions.

Evaluate Software Features

Next, carefully evaluate the features offered by various data management solutions. Consider factors like data integration, transformation, cleansing, and security. Also, confirm that the software equips you with the tools essential for your requirements. A comprehensive range of features guarantees the capability of your chosen solution to manage all facets of data adeptly.

Data Support and Customer Service

When incorporating a data management solution, the importance of high-quality customer support cannot be overstated. Look for vendors who provide dependable customer service, including technical aid and swift issue resolution.

Remember, a responsive support team can make a difference in successfully deploying and using the software to its full potential.

Compatibility with Data Formats

Your data might exist in various formats and structures. Confirm that the selected data management solution is compatible with the prevalent data formats within your organization. It should be able to manage various data sources and convert them into a unified format suitable for analysis and reporting purposes.

Vendor Reputation

Lastly, vendor reputation plays a significant role in the selection process. Research the vendor's track record in delivering reliable data management tools. In addition, read customer reviews and testimonials to gain insights into previous users' experiences. A vendor with a solid reputation is more likely to offer a credible and efficient solution.
| Name | Free Trial | Demo | Pricing |
| --- | --- | --- | --- |
| | 14 Days | Yes | Starting price at $209 - (Standard - CAL) |
| | 30 Days | Yes | On Request |
| | 7 Days | Yes | Starting price at $99/month |
| | 30 Days | Yes | Starting price at $0.8/capacity//month |
| | 30 Days | Yes | On Request |
There are several data management platforms and tools that stand out for their efficiency, versatility, and reliability. Here are the top 5 data management tools in 2023:
The Microsoft SQL Server Business Intelligence (BI) Edition presents a software solution tailored for enterprises of varying scales. This system encompasses both database management and BI capabilities. Within its framework, users gain access to a relational database management system, facilitating the retrieval of enterprise data through structured query language. The software empowers users to engage in intricate database analysis.
Furthermore, the product incorporates a BI Semantic model, enabling users to extract and dissect data from diverse sources.
Features
Object storage integration
In-memory OLTP management
3D visualization framework
Virtual reality (VR) support
Pros
The platform offers rapid and efficient retrieval of extensive data.
Thanks to its well-documented and longstanding history, it offers a consistent global platform for all its users.
SQL is easy to learn and understand and can answer complex questions quickly.
Cons
SQL possesses a challenging interface that some users might find uneasy when interacting with the database.
Setting up and managing SQL databases can be intricate, necessitating proficient database administrators.
Pricing
Pricing starts from as low as $230 to $15,123, with free plan available.
Oracle Corporation has developed Oracle Database, a highly regarded multi-model database management system. Clients can access various versions of Oracle Database, including cost-effective and high-performance options and in-memory, NoSQL, and MySQL databases.
You can use this solution through different service providers, whether on-site, in the cloud, or a combination of both. It's also possible to run it on Oracle hardware, like Exadata for on-site use, Oracle Cloud, or Cloud at Customer setups.
Features
3D visualization framework
Virtual reality (VR) support
Active directory integration
Data integration and collaboration
Pros
Oracle database works on many platforms, unlike its competitors.
Using Oracle database, you can easily recover to a specific time.
Oracle database makes things work faster, including transactions and locking.
Cons
It's not good to use Oracle if users lack technical knowledge.
Oracle is usually harder to manage for some tasks.
Pricing
Contact Oracle to get accurate and up-to-date pricing details.
IBM Db2 emerges as a hybrid data management platform, integrated with AI capabilities. This suite facilitates the management of structured and unstructured data across both cloud and on-premise environments for organizations. Leveraging IBM Db2, professionals can extract valuable insights regarding customer behavior and discern potential opportunities through predictive analysis.
Furthermore, IBM Db2 on Cloud presents an array of functionalities, encompassing data federation, point-in-time recovery, and High Availability Disaster Recovery (HADR) with support for multiple zone regions. This empowers developers to manage workloads effectively.
Features
AI-powered functionality
Real-time analytics
Active directory integration
Pros
Many users can access data at the same time because of high concurrency.
Oracle databases work with older versions, so businesses can upgrade without big changes.
Oracle does well with complex tasks and works fast.
Cons
If DB2 doesn't work well with other software, queries might not give the right answers.
Learning DB2 takes time, and it needs experts to reach full potential.
Pricing
IBM Db2 offers six pricing editions, ranging from a free trial to $13,651.
SAP HANA Cloud emerges as a dual-purpose solution, serving as both a database management and platform-as-a-service (PaaS) offering. This solution is invaluable for businesses, regardless of size, in designing, testing, and deploying web applications. Software developers benefit from its capacity to access and analyze data across various business units. Moreover, the solution facilitates the monitoring of data processing performance through hybrid transactions.
SAP HANA Cloud empowers employees to engage in data analytics on real-time transactions. This aids in optimizing the balance between cost and performance through a unified portal.
Features
Columnar data storage
Parallel processing
In-memory database system
Pros
It can handle big data even during business operations, giving quick real-time insights.
Using in-memory tech, data processes and transactions become super fast since data is in RAM.
SAP HANA can get data from different outside sources due to its source-agnostic capabilities.
Cons
SAP HANA only works with specific hardware like SAP or SUSE Linux-certified hardware.
Since it needs certain hardware, using SAP HANA can be expensive.
Pricing
Pricing starts from 9.60 USD per capacity unit per year, and there's also a free trial available.
Informatica PowerCenter stands as a versatile tool for data integration and visualization. This solution serves as an enterprise-level data integration platform, facilitating data access, transformation, and integration from diverse systems. It's meticulously designed to support organizations across the entire project lifecycle, from the initial launch to vital deployments.
Informatica PowerCenter fosters collaboration between developers and analysts, expediting project deployment timelines to days rather than months.
Features
Automated data validation testing
Advanced data transformation
Prototyping, profiling and validation
Pros
Informatica uses top techology to make things better, faster, and higher quality.
The platform helps with many databases like TPump, Teradata MLoad, and more.
It keeps track of errors in one place and helps teams fix them.
Cons
Users who are not familiar with data interation will find Informatica complex to use.
Scaling the platform for big data projects can be challenging.
Pricing
Contact Informatica to get started with pricing plans.
In a rapidly changing business landscape, data management software is evolving due to technology and industry shifts. Here we'll explore the latest trends shaping this field.
Cloud-Based Data Management

Cloud-based solutions have revolutionized data management. Businesses are increasingly adopting cloud platforms to store, process, and manage their data. Cloud-based data management offers scalability, flexibility, and accessibility, allowing organizations to adeptly manage their data without the need for extensive on-premises infrastructure.

AI and Machine Learning Integration

The concept of artificial intelligence has been present for a considerable period. However, its true potential is only recently starting to manifest. These tools enable data management software to automatically identify patterns, detect anomalies, and formulate predictions. This AI-driven methodology improves data quality, hastens integration, and furnishes valuable insights for more informed decision-making.

Self-Service Data Preparation

Self-service data preparation empowers non-technical users to clean, transform, and analyze data without relying on IT departments. Modern data management software incorporates intuitive interfaces, allowing business users to prepare and format data independently. This trend promotes agility, as users can quickly access the data they need for analysis.

DataOps

DataOps is an emerging approach that centers on collaboration between data experts and IT operations teams. Its objective is simplifying and automating data management procedures, from data integration to deployment. DataOps underscores data pipelines' ongoing integration, delivery, and monitoring, ensuring a more effective and responsive data management workflow.
In the constantly growing digital world, effective data management plays a crucial role in the success of business activities. The appropriate data management software enables companies to manage data efficiently, maintain precision, and make well-informed decisions.
By keeping up-to-date with current trends and thoughtfully choosing tools that match their requirements, businesses can confidently navigate the future shaped by data.
Compare Pricing Plans of Top Data Management Software Providers
FAQs of Data Management Software
The cost of data management software can vary depending on what it can do. For a data management platform (DMP), the usual price is between $1,000 and $6,000 each month.
Yes, data management software is created to manage big sets of data. Its purpose is to handle and arrange data in an effective way.
Data Management Software in following industries