Top Employee Management Software For Your Business
Finding the best Employee Management Software for your business is now faster and easier! Compare prices, reviews, features, and get free consultation to find the perfect software.
All Software
Buyer's Guide

An employee management software is a collection of many different applications which have been specially designed to help you with the smooth running of your business. The functions of employee management software are almost endless since they do things some of which even human beings would never possibly do. Stop worrying about scheduling of various tasks, tracking applications, efficient payment management, and much more – the employee management software will make every task, incredibly smooth. HR management software is remotely accessible via the internet so you don't have to be in your offices to manage the business.
There are certain specific features which a good employee management software needs to have to successfully meet an organization's goals. The features will make the given software easy to use, customizable, and even allow access. Below is a description of ten features of a perfect employee management system you should know, let's jump in!
1. Flexible Design:
Remember that not all organizations have the same human resource management requirements. For instance, some organizations have more employees than others. Furthermore, the extent of employee details being captured varies from one organization to another. In some cases, you may need to add more fields while in other instances, you may be forced to get rid of a few. Additionally, some parts or fields in the system may not exactly match your business's requirements. You'll, therefore, need to modify them before you can start using the system.
However, with flexible system design, the system can easily and quickly be customized with tremendous ease. Most HR management software has been designed in a way which enables the user to work on additional fields or even customize the in-built should such a need arise. This capability enables the available employee management software to fit just in any organization.
2. Cloud Connectivity:
Gone are the days when you had to physically be at the office to perform your HR management duties. Operating this way was unbelievably unproductive and time-consuming. Imagine a situation in which you're held up somewhere far away from your office, but there's something really important to be done. Thanks to HR management software, human resource management is quite a seamless and enjoyable task to perform.
A good employee management software should, therefore, be cloud-based to facilitate remote access, no matter where you are. The cloud connectivity lets you perform any task form whenever you are – all you need is a reliable internet connection and everything could become really perfect.
3. Different User Levels:
You should have already known that certain information about your business is so much sensitive and should never end up in the wrong hands. Some critical information, for example, your marketing strategies may easily end up not only in your employees' hands but also in the competitor's possession. This can be very destructive for your company. Well, to avoid such abnormalities, good HR management software provides different user categories.
For example, you can access the system as an admin or just as a lower general user. Additionally, good employee management software will partition your organization into departments, which adds greatly to the security of any sensitive information.
4. Ability to Perform Parallel Operations:
It's important to note that most human resource management operations are very complex and demanding processes. Quite frankly, the massive emergence of extremely highly capable HR management software has left many people wondering about how things would unfold if the tools simply did not exist. For instance, imagine a case whereby a certain request is to be assessed and approved by more than one person. It'd be really hard and time-consuming finding the individuals concerned as it will distract them from doing the task, originally assigned to them.
On the contrary, a perfect HR management software lets you send the request simultaneously to all the people concerned. They'll then quickly assess and approve it without necessarily having to engage them one-by-one or meeting together to perform the task.
5. Employee Self Services:
As a serious business owner, your number one goal is to maximize profits. One of the best ways of increasing profits is by cutting operational costs. Employee management software has tremendously reduced the number of staff in the HR department. These management tools have made it possible to have only a few individuals, without compromising on the job within the shortest time possible. Employee management software can, therefore, be considered a good one only if it can allow workers to perform some HR-related tasks at a personal level.
For instance, the HR management software should allow them to edit or add personal details into the system, without having to involve the HR department. This lets your organization to employ only a few staff, and in turn, speed up operations and maximize profits.
6. Ability to Integrate With Other HR Management Modules:
A powerful employee management tool is one which can be interoperated with other HR management software. For instance, it should be able to import data from other modules seamlessly and accurately. This capability lets the software to increase the speed of operations and minimize chances of errors by a significant margin.
7. Track Leave and Attendance

:
The ability of HR management software allows you to know who reports working. A wonderful employee management system should let you easily track attendances and manage leaves from a single interface. Most importantly, the system should be able to, thereafter, integrate with the payroll resulting in a highly optimized workforce.
8. Employee Management:
The right software is the one which lets you easily perform all the employee management related tasks. For instance, it should be able to track all applicants, post your adverts, analyze workforce, and even manage the entire hiring process. An excellent HR management tool should also be able to capture and safely store all the employee data for immediate and future references.
9. Automatic Notifications:
Communication is one of the greatest pillars of your organization's success. A powerful employee management software should, therefore, be able to send personalized communications to various stakeholders in your business environment. The system should also be capable of sending many different reminders to different parties at the same time. A few HR management software will allow you to schedule reminders, which need to be sent regularly.
10. Easy Data Reconciliation:
In some cases, you'll want to extract some data from the employee management software for further analysis. A powerful HR management software should allow you to export data to various formats. This will make it possible to use spreadsheets which is one of the most powerful data management tools.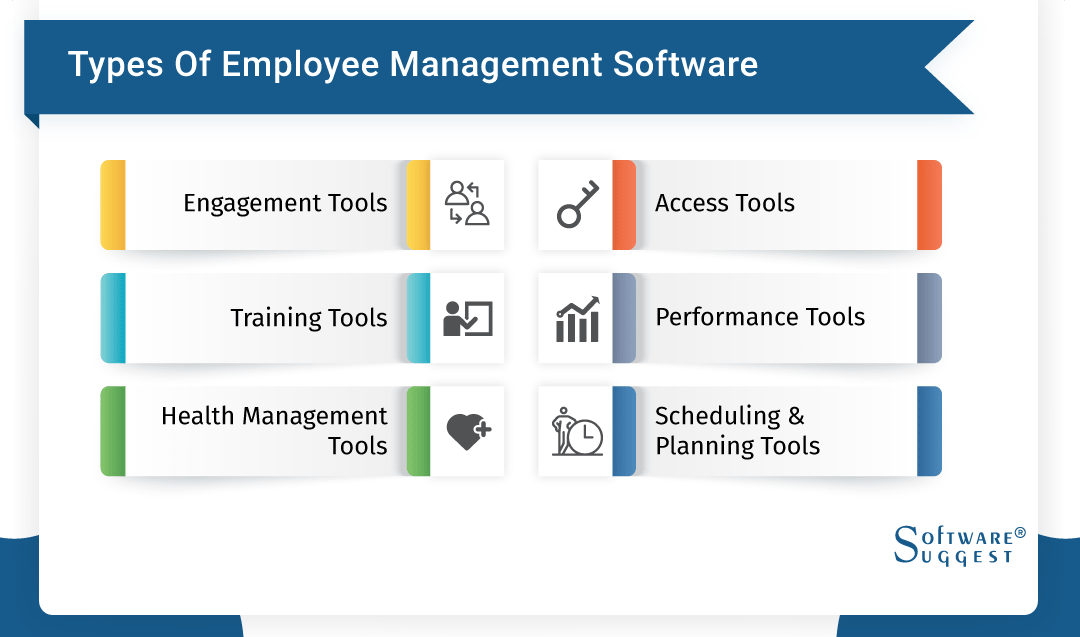 There are many different types of employee management software; here are a few of them.
1. Engagement Tools:
It's important to engage highly skilled employees in your organization. Employee engagement is a better way of boosting their performances. Employee Engagement tools are the perfect match for this kind of task. They enable you to use the company's data to generate interest among the employees. To cite an example, the best-selling employee of the month can be named and appreciated to encourage competition among the workers.
2. Training Tools:
No matter what you do, you definitely need the training to achieve your desired outcome. Employee training tools are used to train employees in various fields so that their performance could improve. They're usually exposed to the training tools before finally being given access to the actual system running. Employee training tools are a great asset since they minimize the chances of errors in various departments.
3. Health Management Tools:
Being healthy is the perfect way to ensure that you perform your best. Including employee health management programs in your organization brings a feeling of being cared for and this gives employees a much more settled mind to perform better. Workers nowadays value modern health management programs than traditional ones.
4. Access Tools:
The employee can access tools which can help them to see the company information, which is available to employees. The access tools can allow them to log in irrespective of their location, and view their payrolls, duty rosters, etc.
5. Shift Scheduling & Planning Tools:
Doing things manually can be a very tiring task in very big organizations, but thanks to shift planning and scheduling tools – they've made everything incredibly seamless. These tools help you to plan reasonably and minimize the chances of chaos among your employees. Planning and scheduling tools let you assign duties fairly and keep workers updated with any relevant information.
6. Performance Tools:
Employee performance tools are another example of extremely important HR management software for your organization. They help track of the extent to which various departments have completed their duties or targets. Without these tools at your disposal, you risk paying even those workers who are not productive. The performance tools provide you with information like the number of contracts which were successfully completed, sale made, and much more. Such information is important when deciding on the right action to take.
1. Information Sharing:
Quick communication is allowed by sending messages through the system. Employee scheduling software is not like this communication couldn't be done other ways but the employee leave management system can be simpler to do everything you need using one program. You can also share information like job openings and employee performance evaluations. You can restrict access so that every employee who has access to the program only sees what they need to see. Employee management software is even an easy way to track sick days, vacation days, and to request time off too.
2. Make Changes Easily:
A good employee monitoring software allows you to change employee information easily. There are countless reasons why you would need to do this from minor changes to promotions and new additions to your workforce. Keeping employee information correct and readily accessible helps with payroll, evaluations, and other matters.
3. Project Progress and Individual Employees Tracking:
If you choose an employee management system that has a time tracking features, and you should, then you can keep track of exactly what your employees do. When you know how they are spending their time then you can spot anything that doesn't look right and address it immediately. This will help you to see which employees should be in line for promotions and which employees are wasting company time and money. Clearly, this type of employee tracking system raises accountability to new heights to save you money and maximize productivity.
4. Choose an Employee Management System That Works From Anywhere:
You should choose an employee monitoring software system that works from anywhere. That means that even if you travel around the world you will still be able to keep tabs on your employees. This can help give you peace of mind when you are away on business or away on vacation. You can check up on the progress of specific projects or you can see how employees are spending their time and how much time they are spending doing everything they do.
1. Do I Really Need Employee Management Software In My Organization?
Yes, you need one, it'll actually bring more benefits than you can imagine.
2. What are Some of the Benefits of Employee Management Software to My Organization?
Well, deciding to go the digital way has a whole lot of advantages; some of which include:
Increased speed of operations.

Better planning.

Reduced costs and thus maximize profits.

Improved accuracy.

Minimum chaos among workers since scheduling will never be a problem.

Ability to manage your business minus not necessarily be within the office.

Engagement tools encourage employees to work even harder.

Different user levels help to keep the company's information safe.
3. What are Some of the Factors I Should Consider When Picking the Right Software For My Business?
If you want seamless operations then the software you're purchasing should meet the following requirements.
The size of your organization - different packages come with different functionalities and the maximum number of employees which can be managed. You must ensure that the package you're purchasing will meet your organization's numbers.

Should be cloud-based to facilitate easy access from anywhere in the world.

Should provide a high level of security to protect the company's data and any other form of unauthorized access.

Should be easy to customize to meet your own requirements.

Should be able to provide employee self-services.
The list is so long, these are just some key points to be considered.
4. How do I Pay For Employee Management Software?
The HR management software is available in the form of packages. Each package offers different functionalities and the number of days before expiry also varies from one package to another. You can pay monthly, quarterly, semi-annually or annual. One thing you need to note is that annual subscriptions are the cheapest, followed by the semi-annual plan. Therefore, monthly payment plans are the most expensive. On average, individual package prices are not very expensive. They're actually more affordable than you can possibly think.
5. What is the Difference Between Cloud-based and Locally Installed HR Management Software?
Well, a cloud-based human resource management software is available online. There's no need to access a specific device to use it. And by the way, most current online HR management tools are both mobile phone and desktop friendly. A locally installed employee management software, on the other hand, is the one which has been installed in a specific computer within your organization's premises. This means that in order to use it, then you must be within the premises. Basically, the cloud-based has become the most preferred option as a result of the possibility of using it from wherever you are.
9 Best Employee Performance Management Tools to Watch Out
20+ Effective Employee Engagement Ideas for Managers
How to Manage Employee Attendance and Time While Working Remotely
Showing
1
-
25
of
154
products
Your HR - simplified!
CakeHR is fast-becoming 1 software in staff leave and employee database management. By reducing the overhead time and money spent on paper chasing employees' leave requests, CakeHR helps you to solve your HR challenges and let's you to focus on building your business! View Profile
#1
AI-Driven Solution for Recruitment Professionals
CEIPAL TalentHire is an AI-driven, fully integrated ATS which assists staffing and recruiting firms in automating their workflows and enables them to quickly identify vacancies, promptly source and screen applicants, then effortlessly place and digitally onboard them. View Profile
#2
Complete employee experience platform
Keka is an employee experience platform. The only HR & Payroll software that is employee centric. Unlike traditional HR systems, they are a modern new generation platform focused on user experience and simplifying complex workflows. View Profile
#3
Fastest growing HR software. Why? See for yourself
Comprehensive and configurable HRMS with advanced, AI chatbot-enabled mobile apps. Qandle's new age, user-friendly HR solution is loved employees, leaders and the HRs alike. Too good to be true? See for yourself but get ready to be blown away. View Profile
#4
World's Most Powerful HR and Payroll Software
HRMantra is the World's most feature rich HR and Payroll software helping automate the most complicated of hire to retire HR processes easily using its CRORES of ready to use features. It saves 30 min per emp per day giving over 10 times ROI. 100% project success assured. View Profile
#5
Commitment delivered
We are a focussed HR solution provider for corporate. We offer end to end HR solution from recruitment to retirement covering entire employee life cycle in an organisation. Our solution can be delivered as a product that can be used by the customer at his location or the software can be accessed from our cloud platform or we can offer outsourced services for attendance and payroll. View Profile
#6
The Complete Payroll Solution
Saral PayPack offers you a comprehensive payroll software solution for all your payroll needs. It is a one-stop destination for your search as it possesses the most sought requirements of payroll management system. This is a right choice for automating your payroll. View Profile
#7
An easy-to-use employee app for non-desk employees
An online employee management system that lets you manage your employee from wherever you are. Communicate and train your non-desk employees with an all-in-one App. From time clock to employee scheduling, get hold of everything to handle your employees. View Profile
#8
Seamless blend of HR & Finance system for better performance
Gain complete visibility into your global workforce with the workday. Ensure smooth management of workforce planning, recruiting, and talent management within the same system. Leverage employee management tools to maintain leave and absence of your employees. View Profile
Free Consultation
Pricing
#9
Premium employee management software for small business
Tracking employee records through secured employee database simplified. Right from personal and payment information to as much as you want, avail it from a single place. Eliminate double entry errors with a self-service portal that lets employees do self-entry. View Profile
#10
Evaluate your employees performance and increase engagement
Drive employee engagement for your modern workforce. With this complete performance management solution, let your employees learn and grow from their very first day. Develop them throughout the entire employee life cycle with proper performance strategy. View Profile
Free Consultation
Pricing
#11
Easy and Simple to use HR Software
greytHR is the preferred HR software for Indian businesses. It automates key areas of HR, payroll management, leave, and attendance tracking. With more than 9,000+ highly satisfied customers and managing 10 lakh employee records daily, we understand what it takes to deliver a high-quality software service on a 24 x 7 basis. View Profile
#12
Recognition and rewards platform to enrich company culture.
Engaging employee management software that makes recognition more impactful by connecting it to company's core values. Give visibility to every employee's contributions & build a scalable culture. Integrate it with the communication tools and enrich the culture. View Profile
Free Consultation
Pricing
#13
360-degree HR solution to manage HR and employee activities
Centralize and secure your employee data with the best employee management software from Zoho. Track time, leave, and attendance in no time and eliminate errors due to manual entries. Answer your employees' questions in a snap and simplify their performance reviews. View Profile
#14
Reinvent your HR
Centralize your HR process across your multi-branch organization. Timelabs is the preferred next generation Web Based comprehensive HR Management System for SOHO, SME & Enterprise to centralize attendance, leave & payroll over the web. View Profile
#15
India's Most Popular HR Software
HR-One is a very easy, smart, scalable and cost effective HRMS solutions in HR Software. With 14+ power packed modules, it is well equipped to handle a complete HR operations from hire to retire. Available on cloud and on-premises, HR-One comes with flexible pricing options. View Profile
#16
Streamline onboarding with staff management software
From streamlining onboarding to PTO tracking, organization charts to performance reviews, this web based employee management system from Zenefits helps you manage all at one place. Provide benefits to your employees, like healthcare plans and extra perks. View Profile
#17
Address the most complex human resources requirements
PeopleSoft is owned by Oracle. PeopleSoft applications assist in the day-to-day execution of various business operations. It is used by human resource departments to manage employees' information and keep track of their performance. View Profile
#18
Best customized employee management system software
Optimize your workforce with the global leader in providing employee management tools. mitrefinch deliberates automatic scheduling and forecasting, employee self-service portal, gather time and attendance information, and store data securely at a single place. View Profile
Free Consultation
Pricing
#19
Track employees histories, abilities, skills and achievements
Reduce manual tracking and record-keeping of each employee in your organization with employee engagement software. Maintain their database, record attendance, create schedules, track absenteeism, and other analytics effortlessly with Eilisys. View Profile
#20
Online employee management system to connect with employees
Keep your employee data at your fingertips with Pocket. Access the required data whenever needed from the cloud. With analytically driven metric system, customize and create your metrics. It recognizes employee performance & also aids timely payroll processing. View Profile
#21
Employee time tracking software with screenshots and reporting
Leverage time tracking, reporting, team scheduling, and GPS tracking facilities with Hubstaff's employee management tools. Also, monitor the productivity and timesheets to optimize employee's performance. With Hubstaff, you can automate payroll. View Profile
#22
All-in-one employee management system software
Gusto is an employee management software for small business that incorporates HR and Payroll processes. It keeps track of time-off requests and PTO policies. Moreover, it manages onboarding of new hires, offer letters, organizations charts, and team surveys. View Profile
#23
Manage your company and employees at one place
With IceHrm employee management software, let your company centralize employee information. Define access permissions and ensure security. Utilize its leave management system to handle all leave types and time-off requests. Timesheet tracks the time spent. View Profile
Free Consultation
Pricing
#24
3-in-1 employee engagement system software for companies
Teramind combines User Activity Monitoring, User Behavior Analytics, and Data Loss Prevention to simplify human resource tasks. It is proficient at tracking employee activity and generating customized reports. It also incorporates compliance and audit activities. View Profile
#25
Employee Management software in following industries