Best HR Compliance Software
Best HR compliance software systems include OnBlick HR & Immigration Compliance, Zenefits, BirdDogHR, Akrivia, BambooHR, and NYGGS HRMS. With these software systems, you can automate different HR sections, streamline business processes, and save money and time.
Get Free Demo
Connect With Your Personal Advisor
List of
20

Best HR Compliance Software

Showing

1

-

20

of

34

products
With labor laws and state regulations constantly changing, companies are adopting advanced HR compliance software to help them navigate these complexities. The software helps streamline processes, mitigate risks, and encourage a culture of full local compliance.
This guide explores HR Compliance Software's features, benefits, and proactive risk management, fostering a culture of integrity.
HR compliance software helps business owners, managers, and professionals stay up to date with all HR business regulations and compliance laws. It is generally associated with employees' health and safety, data protection policy, payroll, and other benefits.
HR compliance software makes it easy to understand complex and ever-evolving compliance policies. Not only that, but it makes it easy for businesses to communicate these policies to all their employees.
Based on the deployment method, the HR compliance solution can be classified into three categories.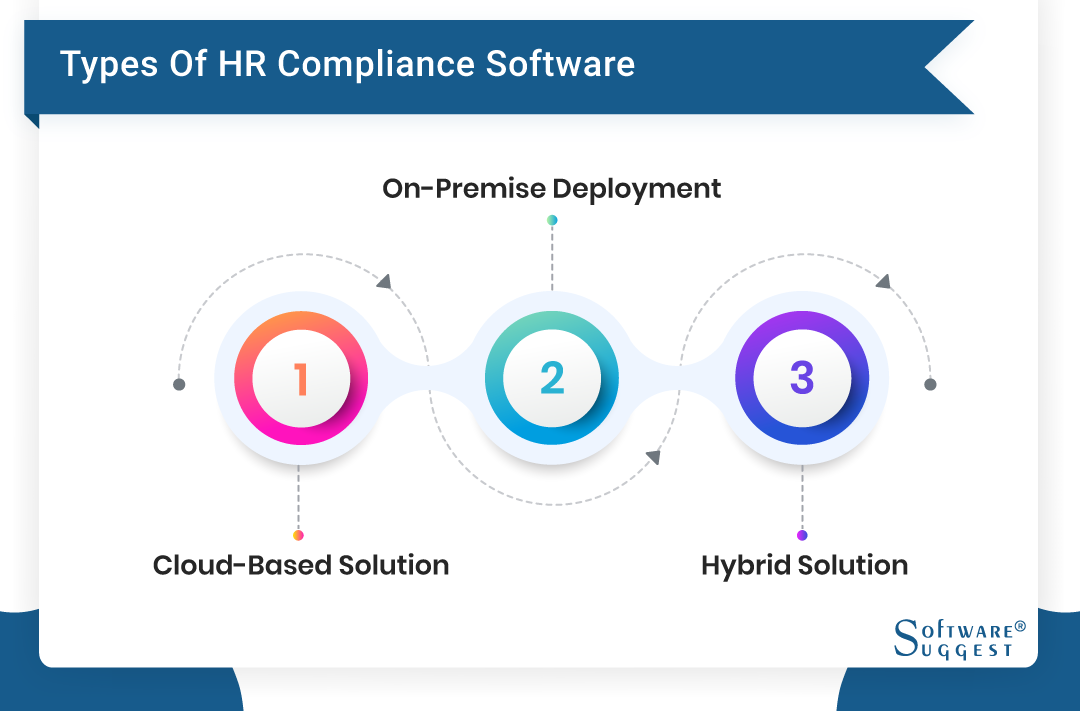 Cloud-Based Solution

HR compliance solutions are hosted on a cloud server, which is generally owned by vendors. The company pays the vendor a subscription price on a monthly or annual basis. The cloud solutions enable HR managers and other staff members to access the system from anywhere. Besides, it is compatible with all major devices, including computers, smartphones, and tablets.

Furthermore, it syncs activities from different devices in real-time, keeping everyone up-to-date with all the latest changes made in the policies.

On-Premise Deployment

On-premise solutions are restricted by the physical location where the server is installed. It is generally installed by large enterprises, with a massive amount of data to handle and have sensitive information. It requires a huge investment in infrastructure for installing traditional employee compliance software.

Hybrid Solution

A hybrid solution is when the company uses a mix of public cloud, private cloud, and on-premise server. It gives the flexibility to shift workloads between the two capacities. For instance, sensitive data can be hosted in the private cloud, whereas less critical information can be hosted in a public cloud. It becomes an affordable option for businesses that do not have the amount to deploy an on-premise solution.

With labor laws and state regulations constantly changing, companies are adopting advanced HR compliance software to help them navigate these complexities. The software helps streamline processes, mitigate risks, and encourage a culture of full local compliance.

This guide explores HR Compliance Software's features, benefits, and proactive risk management, fostering a culture of integrity.
Employee compliance software enables stakeholders to enforce legal requirements, creating a secure workplace through automation, data consolidation, and proactive measures to become compliant. Regardless of location, whether in India or elsewhere, it is a powerful tool for improving overall business performance and being compliant in HR.
Let's take a further look into how different types of organizational and HR departments within shapes up their strategies into using software for their own objectives.
Small and Medium-Sized Enterprises (SMEs)
Human Resource Professionals
Legal and Compliance Teams
Multinational Corporations
Managers and Team Leads
HR compliance software is a versatile solution that caters to the needs of various users in the modern business world. It helps small and medium-sized enterprises to simplify their processes, while multinational corporations can use it to navigate global regulations. With this software, stakeholders can ensure legal compliance, improve workplace safety, and boost business performance.
An HR professional is responsible for understanding regulatory policies and laws and taking steps to ensure compliance within the company. But with ever-changing rules and regulations, it can be a lot to bear. HR compliance software eases these issues along with increasing work efficiency.
Here are a few benefits it has to offer: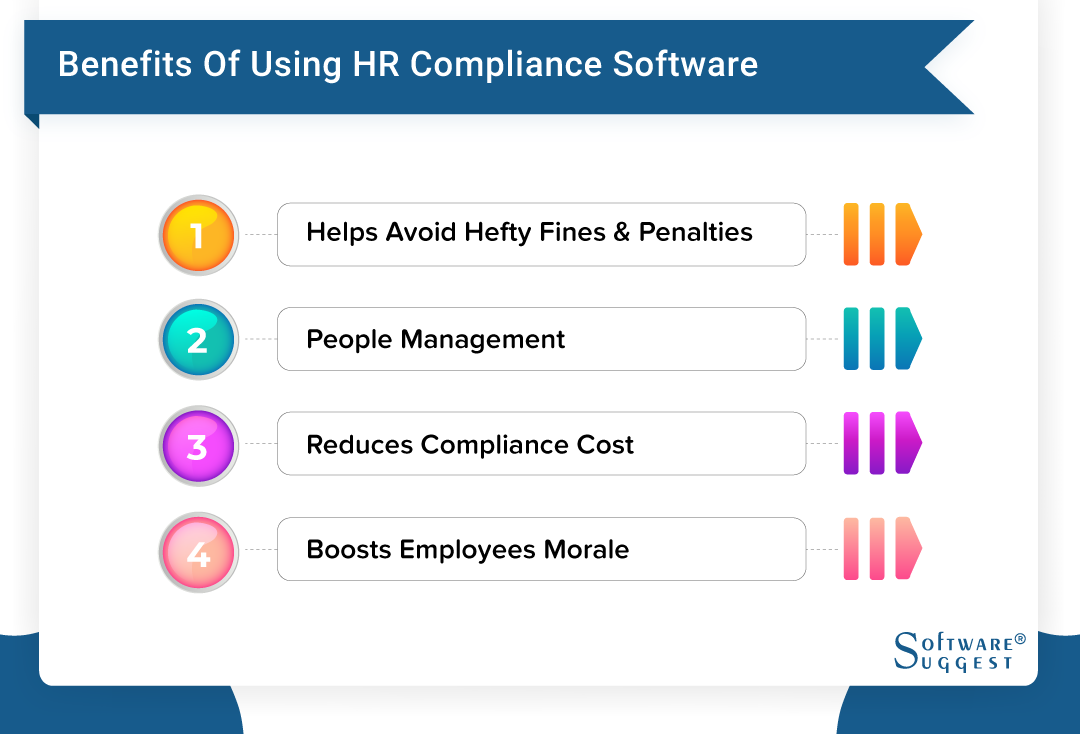 1. Helps Avoid Hefty Fines and Penalties
Every year, companies pay billions of dollars in fines due to non-compliance with HR guidelines set forth by the government. As a matter of fact, there are so many rules and regulations that it can be hard to keep track of them manually. Some of these policies are -
The Fair Labor Standard Act:
Every country has its own national labor policy that explicitly lays out ground rules on the maximum number of employees who can work, the minimum wage standard, and leave systems. This is to ensure that no employees are exploited, especially by big companies.
The Family and Medical Leave Act:
Even though every organization has its own leave policy, the government has set out rules for framing them.
2. People Management
An employee handbook can come in handy to communicate various entitlements and obligations to employees and demonstrate other compliance policies. Manually collecting and reporting on all employee-related information can be a tiresome process. Besides, it can be prone to human errors. That's why a solid HR or employee compliance software in place provides easy access to employee handbook templates. Furthermore, it contains samples of job descriptions, onboarding new talent procedures, and employment law alerts. An HR compliance solution acts as a unified platform that automatically creates important documentation for companies and ensures efficiency throughout.
3. Reduces Compliance Cost
With the ever-increasing compliance level, the cost of personnel is also going high. More than 70% of the total compliance costs account for personnel costs. HR compliance software enables businesses to increase their compliance performance without adding more compliance personnel.
Implementing compliance solutions optimizes the entire cost for maintaining compliance within the organization while also increasing efficiency.
4. Boosts Employees Morale
Implementing HR compliance software in your organization directly impacts your employees' morale. When all compliances are well addressed and communicated with transparency, employees feel satisfied that they are being treated fairly and the company cares about their employees' well-being.
High employees morale directly reflects in their productivity levels. Happy employees tend to be efficient and perform better.
HR compliance software is a powerful solution for managing the modern workforce, offering a variety of features to help organizations comply with complex employment regulations. Modern businesses face a complex web of employment regulations and legal requirements, making compliance management a top priority.
Compliance Tracking

HR compliance software solution makes it easy to keep track of adherence to employment regulations. You can seamlessly monitor mandatory training, policy compliance, and certifications, which reduces compliance risks and promotes a safe work environment.

Employee Training

Automated employee training modules can empower your workforce and ensure HR compliance. By completing mandatory training, employees can enhance their knowledge retention and foster a culture of continual learning.

Policy Management

HR compliance software makes it easier to create, distribute, and enforce policies by providing a centralized management system. This allows for seamless updates, efficient communication, and uniform adherence to policies throughout the organization.

Regulatory Updates

Effortlessly keep up with changing regulations that offers real-time updates and alerts. This ensures that your organization is always informed and able to adapt to the most current legal frameworks.

Licensing and Certification

Automated tracking of licensing and certification is essential to maintain workforce competence. Compliance software simplifies the renewal process, monitors expiration dates, and ensures that employees have current credentials.

Wage Compliance

Effortlessly handle wage regulations using HR compliance software. Guarantee precise payroll computations, keep track of overtime, and comply with wage laws to reduce legal liabilities and encourage equitable remuneration policies.

Record Keeping

Make it easier to access and comply with audits for important employee records by centralizing them. HR compliance software makes record keeping simpler, improves data accuracy, and helps with regulatory reporting efficiency.

To sum up, the use of HR compliance software can be extremely helpful in dealing with the intricacies of employment regulations. By utilizing its various functions, organizations can automate compliance tracking, simplify document management, generate reports in real-time, enforce policies, and customize workflows.

This can lead to a culture of proactive compliance and contribute to a safe and compliant workplace. When selecting the right software, it is important to take into account the specific needs of your organization and how these features can improve your compliance management efforts.
Choosing appropriate HR compliance solution is a crucial task for any company that wants to effectively handle the intricacies of employment regulations. Our all-inclusive guide presents essential factors that will assist you in making an educated data driven decisions that matches your business requirements and guarantees effortless management of compliance.
Assess Your Compliance Needs

Assess the unique compliance obligations of your company, including monitoring of training, enforcement of policies, and generation of reports. Determine the extent of features required to guarantee that the HR compliance software you choose is in line with your particular compliance obstacles.

Consider User Interface (UI)

Choose HR compliance software that has an intuitive user interface to ensure smooth navigation. Prioritize software that promotes efficient usage and reduces the learning curve for both HR professionals and employees.

Automation

Choose software that provides automation features to simplify compliance tasks. Seek out functions such as automatic reminders for training, enforcement of policies, and tracking of documents to improve productivity and minimize the need for manual involvement.

Cost

Assess the value offered by the HR compliance solution against the expenses of implementation and subscription fees. Take into account the potential advantages in the long run, such as minimized legal liabilities and improved efficiency, to determine the return on investment.
| Name | Free Trial | Demo | Pricing |
| --- | --- | --- | --- |
| | 14 Days | Yes | Starting price at $41.66/month |
| | 14 Days | Yes | Starting price at $15/month |
| | 14 Days | Yes | Starting price at $49/month |
| | 7 Days | Yes | Starting price at $36/month |
| | 14 Days | Yes | Starting price at $38/month |
Effective management of HR compliance requires careful selection of the appropriate software. Below, we have written down a detailed comparison of the leading HR compliance software solutions, assessing each platform based on key criteria. This thorough evaluation will allow you to make an informed decision and choose the best HR compliance software for your organization.
The Compliance HR tool is a software solution that aims to simplify and enhance regulatory compliance in the field of Human Resources. It enables organizations to efficiently oversee and comply with different labour laws, industry regulations, and internal policies, guaranteeing that their HR practices conform to legal requirements and industry norms.
Features
Regulatory updates
Audit trails
Policy customization
Data security
Reporting and analytics
Integration capabilities
Pros
The Compliance HR tool enhances compliance by automating processes and ensuring adherence to regulatory requirements.
It improves time efficiency by reducing manual tasks and fastens the compliance-related processes.
The tool helps mitigate legal risks by providing up to date information, reducing the chances of non-compliance.
Cons
Users might experience an initial learning curve as they familiarize themselves with the tool's features.
The implementation of the ComplianceHR tool may require an investment of time to integrate it into existing systems.
Pricing
Yearly plan starts at $5000.
Namely's HR Compliance tool is state-of-the-art software that has been carefully designed to enhance the regulation of compliance within the Human Resources sector. This advanced tool enables organizations to effortlessly manoeuvre complex labour laws, industry requirements, and internal protocols, guaranteeing that HR operations are in line with legal regulations and industry standards.
Features
Document repository
Regulatory alerts
Employee training
Audit trails
Customizable policies
Analytics and reports
Integration proficiency
Pros
Namely effectively enhances compliance by automating and centralizing key processes.
Namely improves time efficiency by reducing the need for manual tracking and management of compliance tasks.
The tools contribute to legal risk mitigation by providing pin point adherence to regulations.
Namely offers convenient access to well-arranged data related to compliance.
Cons
Becoming familiar with the tool's features may require some users to go through a learning phase.
Integrating the HR compliance tool into current systems may be a time-consuming process.
Pricing
The Deel HR compliance software is an advanced solution that enhances the management of regulatory compliance in the Human Resources field. It enables organizations to easily navigate complex labour laws, industry regulations, and internal protocols, ensuring that HR practices comply with legal requirements and industry standards, particularly when dealing with a worldwide workforce.
Features
International compliance
Document repository
Data security
Integration capabilities
Audit trail
Pros
Deel ensures global compliance by keeping track of diverse and changing regulations.
It enables efficient onboarding processes, minimizing the time and effort required for new employee integration.
The tool guarantees the protection of sensitive financial information by ensuring secure payments during transactions.
Deel simplifies HR processes by optimizing workflow and enhancing overall operational efficiency.
Cons
Users might grow through learning experiences as they become familiar with the features and functions of the tool.
It is advisable for purchasers to take into account the expenses related to the installation and upkeep of the tool.
Pricing
Contractors version starts from $49/month
EOR HR tool starts from $599/month
The OnBlick HR Compliance software is an innovative solution that enables organizations to efficiently handle and conform to regulatory compliance in the Human Resources field. This state-of-the-art tool simplifies the intricacies of labour laws, industry regulations, and internal policies, guaranteeing that HR practices are in harmony with legal requirements and industry norms.
Features
Document Management
Regulatory updates
Compliance tracking
Employee training
Audit trails
Policy customization
Data security
Pros
Mitigates risks by ensuring adherence to regulations and policies.
Increases time efficiency by automating and streamlining compliance-related tasks.
Provides transparency into compliance processes, making tracking and monitoring easier.
Offers customization options to fit specific organizational needs.
Cons
The acquisition of proficiency with the tool's functionalities may require users to undergo a learning curve.
OnBlick's tool acquisition, implementation, and potential maintenance entail a certain cost.
Pricing
Qandle's HR Compliance software is a sophisticated solution that improves the management of regulatory compliance in the Human Resources domain. This advanced tool enables easy navigation of labor laws, industry regulations, and internal policies, ensuring that HR practices align with legal mandates and industry benchmarks seamlessly.
Features
Document repository
Regulatory alerts
Task tracking
Employee training
Audit trails
Customizable policies
Data security
Reporting and analytics
Pros
Mitigates risks by ensuring adherence to relevant regulations and policies.
Enhances time efficiency by automating and optimizing compliance processes.
Qandle promotes transparency by providing clear visibility into compliance activities and outcomes.
Qandle offers customization options to align with the organization's unique needs.
Cons
There could be a period of adjustment for users as they familiarize themselves with the functions and features of the tool.
Integrating Qandle may be time-consuming, so implementation time should be considered
Pricing
Let us look at some of the services offered by HR compliance software: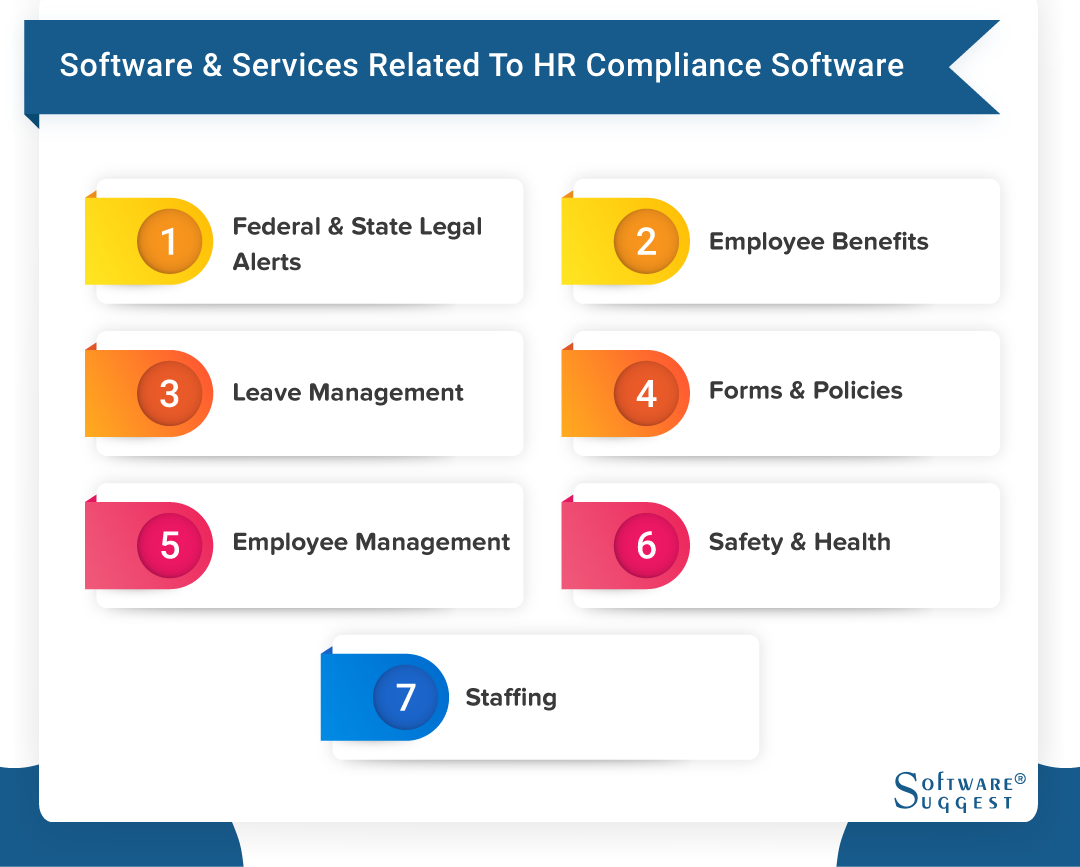 Federal & State Legal Alerts

The best HR compliance sends out automatic alerts and notifications in case of any changes made by the state and federal law related to employee policy guidelines.

Employee Benefits

This section allows HR managers and employees to view policies related to retirement and pension benefits, workers' compensation, and other related services.

Leave Management

It gives an overview of the company leave policy and the public holidays announced by the government. Employees can easily find information on holiday leave, paid vacation, sick leave, and more.

Forms and Policies

An HR compliance tool gives access to a library with 100+ workplace forms and policies. Besides, the best ones support multiple languages to cater to employees' needs for various countries. The forms and policies can also be saved in PDF format.

Employee Management

This section documents all best practices and legal compliances necessary for managing current employees.

Safety and Health

Activities like smoking, doing drugs, and bringing alcohol at workplaces are strictly prohibited. Every company has policies that explicitly lay down guidelines on drug and alcohol consumption, violence activities, and more.

Staffing

This section contains information related to recruiting, hiring, and doing background checks of new employees.
For businesses, dealing with HR compliance can be a difficult and demanding task, regardless of their size. To tackle the issues that arise, organizations need HR compliance solutions that are tailored to their specific requirements. This guide for buyers explores the typical challenges faced and how it can help alleviate them.
Pay Transparency

Modern organizations face the challenge of ensuring transparency in pay. However, HR compliance tools can help address this issue by facilitating clear communication of compensation structures, which can help companies maintain transparency and build trust with their employees.

Pay Equity

Continuously striving for pay equality and tackling wage gaps for genders and minorities is a persistent issue. HR compliance software offers resources to examine salary information, detect discrepancies, and establish corrective actions to guarantee impartiality and helps in pay employees equally.

Minimum Wage Changes

The complexity of adjusting to new minimum wage laws can be simplified with the use of compliance tools. This software automates the calculation of wages, guarantees precise payroll processing, and assists businesses in complying with changing local regulations.

Data Privacy

It is crucial to ensure the protection of employee data in accordance with data privacy regulations. To meet the requirements of data protection laws and safeguard sensitive information, HR compliance software provides access controls, compliance tracking, and data encryption.

It is essential to thoroughly evaluate the capabilities of HR compliance solutions when dealing with complicated challenges. Look for software that has automatic updates, efficient management of compliance across multiple jurisdictions, strong data security features, and effective tracking of documents. It is crucial to select a solution that is suitable for your organization's size, industry, and specific compliance requirements.
It is crucial for organizations to keep up with the latest trends, in order to improve their compliance efforts as the landscape continues to evolve. This guide explores the developing trends and how they can impact your compliance strategy.
AI-Driven Compliance Solutions

Compliance is being revolutionized by AI, which uses data analysis to detect possible risks and patterns, allowing for early resolution of issues and minimizing legal liability.

Remote Work Compliance Tools

Specialized tools have become increasingly important with the growth of remote work, as they help ensure that remote employees comply with policies, training, and regulations, no matter where they are located.

Increased Pay Requirements

Accurate calculation of wages and adherence to minimum wage laws are required by changing regulations, which makes compliance tools crucial for precise payroll processing.

More Pay Transparency Rules

Compliance solutions are flexible enough to comply with regulations that require clear disclosure of compensation arrangements, promoting confidence and conformity with transparency norms.

New Leave Requirements

Leave management compliance tools automate the process of managing employee absences, guaranteeing precise tracking, approval, and documentation of leave in accordance with changing regulations.

To maintain a secure and compliant work environment, it is crucial for businesses to keep up with the most recent trends. By incorporating automation, AI, cloud-based solutions, and data security improvements into their compliance strategy, businesses can greatly enhance their efficiency and minimize risks associated with compliance.
Conclusion
To effectively navigate the constantly changing world of HR compliance, selecting the appropriate software is crucial in simplifying procedures, improving workplace safety, and promoting a culture of adherence. This guide has provided essential insights on addressing challenges and staying up-to-date with the latest trends. It is important to note that selecting a solution that is tailored to your organization's size, industry, and compliance requirements is paramount.
With features such as automated tracking, centralized management, and robust security, modern HR compliance tools empowers you to proactively manage regulations, reduce risks, and concentrate on growing your business. Armed with this knowledge, take the time to explore available options and make an informed decision that will pave the way for a compliant and flourishing work environment. Your journey towards efficient compliance begins now.
Compare Pricing Plans of Top HR Compliance Software Providers
FAQs of HR Compliance Software
The price of HR compliance software may differ depending on the features provided, the size of your company, and the intricacy of your compliance requirements. Typically, there are various pricing options available, such as subscription-based models or one-time purchase fees. Prices for HR compliance software starts from $15/month and could go up to $5000/year depending on the plan and the type of Tool you are looking for. However, some of the other providers do offer free demo which could be surely be helpful for your company.
Yes, numerous HR compliance software options are created to cater to compliance requirements specific to various industries. These platforms provide flexible features that enable customization of the solution to meet the unique regulations and standards of your industry. It is crucial to select an compliance tool that can adjust to the specific requirements of your industry when assessing options.