Best Inventory Management Software
Best inventory management software are Cin7, myBillBook, Zoho Inventory, Ordoro, and inFlow. Such inventory and stock management software are easy-to-use tools offering stock, warehouse, and order management with the right products in the right place.
Get Free Demo
Connect With Your Personal Advisor
List of
20

Best Inventory Management Software

Showing

1

-

20

of

588

products
Any business that includes monitoring and managing the flow of commodities must prioritize inventory management. It is essential for maximizing operations, cutting expenses, and guaranteeing client happiness. Many firms use inventory management software to automate and simplify this complicated operation.
A strong tool for managing inventory levels, tracking material stock, and automating various inventory-related operations is inventory management software. Businesses can use its centralized platform to track their inventory in real-time, make wise choices, and keep the right amount of stock on hand.
The features and functionalities offered by this program often include inventory management, order management, purchasing, demand forecasting, barcode scanning, reporting, and interaction with other business systems. By utilizing these skills, businesses can increase accuracy, boost output, decrease stockouts and overstocking, and improve operational efficiency.
Inventory management software is an inventory tracking software that helps retail firms track orders, sales, deliveries, and overall inventory levels.
The key to running a successful business is to keep track of inventory and manage it well since there would be no money coming in without it. Stocks and other raw materials must also be ordered judiciously within a firm; too much stock can lead to wastage, and too little stock can halt production. Poor inventory management is one of the main reasons for the failure of small businesses.
Many businesses still maintain their inventory numbers through Excel, which is time-consuming. Though a plethora of inventory software is available in the market today, 46% of Small and Medium-Sized Businesses (SMBs) still track their inventory manually, leading to frequent re-orders and excessive production, substantially impacting a company's finances.
Modern inventory management software is also used in the manufacturing industry to create bills of materials, work orders, and other production-related documents. With a good inventory management system, businesses can reduce the efforts and time required for basic tracking of goods and focus on improving efficiencies and analyzing irregularities.
Inventory control software, also known as an inventory control system, is a versatile tool used by various businesses– ranging from retailers to distributors, to manage their inventory operations efficiently. The following are major users of inventory control software.
Retailers

Retail businesses– from brick-and-mortar stores to e-commerce platforms, rely on inventory control software to keep track of products, manage stock levels, and prevent overstocking or stockouts. It helps in accurately monitoring sales trends and making informed restocking decisions.

Manufacturers

Manufacturing companies also utilize inventory management software to manage raw materials, components, and finished goods. By tracking inventory levels and demand forecasts, manufacturers can optimize production processes and minimize production delays.

Distributors and Wholesalers

Distributors and wholesalers use inventory control software to monitor stock levels, track shipments, and manage orders efficiently. It ensures timely deliveries and enables them to maintain optimal stock levels to meet customer demands.

E-commerce Businesses

Online retailers benefit from an inventory control system to synchronize their online stores with real-time inventory data. This helps prevent overselling, manage multiple sales channels effectively, and provide accurate delivery timelines.

Healthcare Facilities

Hospitals, clinics, and pharmacies rely on inventory control software to manage medical supplies, equipment, and medications. It helps in maintaining critical stock levels, ensuring that essential items are always available for patient care.

Hospitality Industry

Restaurants, hotels, and catering services also utilize the inventory control system to manage food and beverage supplies. It assists them in controlling costs, reducing waste, and ensuring timely reordering.

Automotive Industry

Auto dealerships and repair shops use inventory control software to manage a wide range of automotive parts and accessories. It helps them optimize stock levels for various vehicle models and ensures efficient maintenance services.

Educational Institutions

Schools and universities also use inventory control software to manage textbooks, supplies, and equipment. This ensures that students have access to necessary resources and prevents shortages during critical times.

All businesses with inventory management needs can benefit from implementing inventory control software.
Stock management software, also known as a stock management system, is crucial for businesses to monitor and control their inventory effectively. It streamlines the entire inventory process, from tracking stock levels to optimizing supply chain operations. Here's how it works:
Real-time Tracking:

It provides real-time insights into stock levels, allowing businesses to monitor their inventory accurately and avoid stockouts or overstocking.

Order Management:

Manages purchase orders, sales orders, and stock transfers efficiently, ensuring the right products are available when needed.

Forecasting:

By analyzing past sales data and trends, stock management software can offer valuable insights to predict demand, enabling businesses to make informed restocking decisions.

Centralized Data:

All inventory-related information is stored in a centralized system, making it easy to access, update, and share across different departments.

Barcode Scanning:

Stock management software often supports barcode scanning, making receiving, picking, and counting stock faster and more accurate.

Reporting and Analytics:

The stock management system also generates detailed reports and analytics on inventory turnover, stock value, and more– helping in strategic decision-making.

Automated Alerts:

Automation allows sending alerts for low stock levels, expiring products, or other inventory-related issues, helping businesses proactively address challenges.

Optimized Reordering:

With the help of preset reorder points, the stock management software can trigger automatic reorders, ensuring products are replenished at the right time.
In conclusion, stock management software is an essential tool that helps businesses and organizations manage each aspect of inventory as well as supplies.
Inventory management plays a crucial role in the success of any business, as it directly impacts operational efficiency, customer satisfaction, and profitability. Some key benefits of inventory management software include: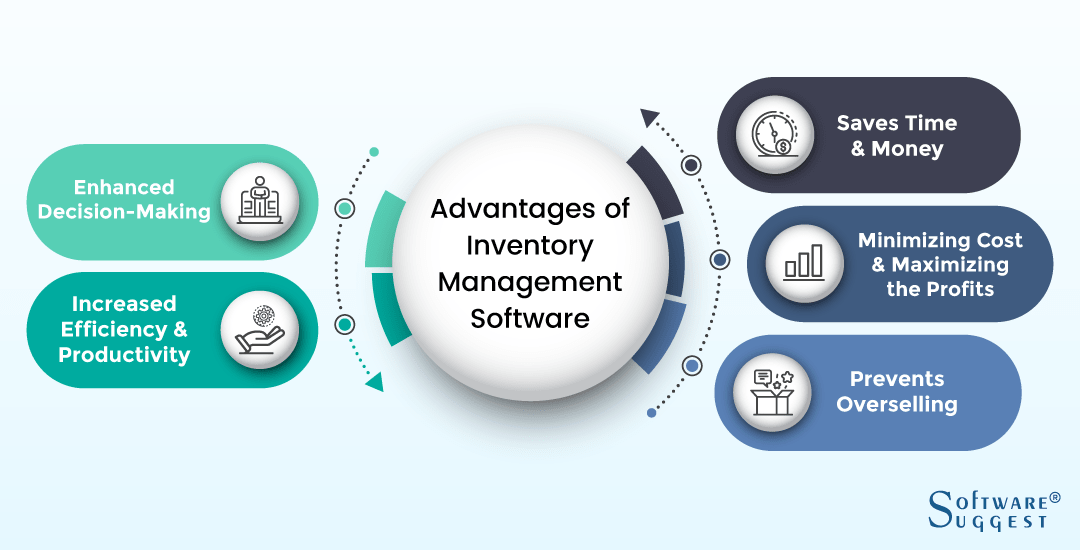 Reduced Inaccuracies

Inventory and stock management software contain an array of data handling and management processes that make getting the latest updates much easier. When they are updated manually, there are chances of data duplicity and inaccuracies that can cause a lot of trouble for businesses. Using software reduces the error margin considerably and gives you more accurate data on which to base your decisions.

Efficient Order Management

Inventory management software automates order management, from order placement to fulfillment. It streamlines workflows, reduces manual errors, and improves order accuracy.

Businesses can track order status, monitor inventory availability, and generate invoices seamlessly. The software also enables integration with other systems, such as sales and accounting software, creating a more efficient and streamlined order fulfillment process.

Optimal Inventory Levels

Inventory management software uses advanced forecasting and demand planning tools to analyze historical data and predict future demand. By considering factors such as sales trends, seasonal variations, and customer preferences, businesses can determine optimal stock levels for each product. This minimizes excess inventory and prevents stockouts, ensuring that inventory is aligned with customer demand.

Greater Productivity in Operations

Reports and analytics derived from your stock maintenance software can give you a clearer perception of which items are moving quickly in your business channels and which are not. This helps you make more intelligent business decisions and provides better insights into managing your stocks, especially if you deal with perishable goods.

Customer Satisfaction

A decent stock management methodology helps meet client demands quickly and anticipate future demand. Thus when your clients demand a product again, you have it ready for them. This not only helps in repeat business but also overall customer satisfaction and improved brand image.

Reducing Manual Work

Manual work is both costly and prone to mistakes. There is usually a lot of data involved, along with complex calculations leading to increased man-hours. Also, one human error can seriously impact the overall calculation. However, with inventory software by your side, you save much time and manual effort for such tasks.

Cost-Effective

It help you avoid overstocking and understocking scenarios by offering more accurate reports. Without them, your business can face substantial revenue losses and unnecessary expenditures.

Using an inventory management system, you can easily streamline your inventory and eliminate the risk of human mistakes. You can also calculate your safety stock and look at the product sale history to make better purchase decisions. These systems also notify you of low or finished stock in your warehouses, ensuring you never lose a customer.

Data Security

Using inventory management software also helps you give every user the required access associated with each level of your inventory chain. You can only provide them the access they need to manage or monitor inventory. This ensures that there are no mistakes and that your data is always secure.

Optimize Profits and Reduce Losses

A well-maintained inventory management system enables you to cut your expenses and maximize profits. Using analytics can significantly bring down costs and keep you updated with demand forecasts. This optimization ensures you make the most of every opportunity and reduce needless expenditures.
Managing and controlling an inventory system involves integrating the organization's inventory-related tasks, such as purchasing, receiving, shipping, warehouse storage, tracking, turnover, and reordering.
Today, many inventory software systems empower firms to utilize their resources to maximize productivity. However, all such systems can broadly be divided into the following types:
Periodic Inventory Management System

Ideal for small organizations, data is entered periodically in this inventory management system. Data is usually entered either monthly, quarterly, or annually for small amounts of products, and the cost of products sold is tallied. Though useful for small-scale operations, there are several drawbacks to this method, mentioned below:

The cost of sold goods must be estimated during periods when the count is unavailable. Thus after the complete count, companies have to make significant adjustments.

During periods when the count does not occur, companies are in the dark about the total cost of goods sold, making decision-making difficult.

The system doesn't consider obsolete inventory or scrap losses, which requires the firm to make significant adjustments after the count.

Despite these drawbacks, period inventory management is very popular among small and medium-sized firms as it does not require much investment upfront. Firms that do not have a large cycle count to keep their inventory management practices in check can find this system quite handy.

Perpetual Inventory Management System

As the name suggests, this inventory tool continuously updates its inventory records. This real-time updation helps the organization get the latest data to make better buying, selling, and procurement decisions, optimizing resources. There is also a lot of time and effort saved as no manual checking of stocks is needed.

However, the perpetual inventory management method requires firms to upgrade their technology and have a robust inventory system to make this method work well. Here are a few constraints that this system has:

These systems require frequent updates depending upon the platform deployment. This makes for costlier downtimes while such upgrades take place.
This system relies on specialized inventory management software and equipment that adds to business costs.
The recorded inventory might not always reflect the actual inventory, leading to discrepancies without regular physical inventory counts.
Errors in improperly scanned or stolen goods can influence inventory records, often leading to a mismatch in counting.

Even with its faults, a perpetual inventory management system can provide great insights to large organizations and help them in optimizing their storage process. They can reduce and take over several manual processes and offer greater data visibility.

As tasks get completed, the system gathers the data and metrics and presents them in a dashboard before managers, who can then make key decisions based on the insights received.

Inventory management systems can also be classified based on how they identify and demarcate inventory. They are -

Radio Frequency Identification Systems (RFID)

As the name suggests, this inventory control system has fixed readers that scan items as they move in or go out of warehouses. Data is added automatically into the system. A recent study suggested that using RFID tagging increases the accuracy of the inventory system from 63% to 95%. Thus several organizations make use of this system to ensure greater accuracy.

Barcode Systems

This system is the most widely used inventory management system, mainly due to its simplicity and cost-effectiveness. When employees use barcoding systems to scan stocks, inventory levels are updated in the system simultaneously.

Since mobile scanners are primarily used in this process, the process is speedy and allows for prompt reporting and documentation. The probability of errors due to manual entries and stock movement between warehouses was reduced significantly.
As the volume and complexity of inventory increase, managing it manually becomes challenging and prone to errors. Businesses often use stock and inventory management software to overcome these challenges and streamline inventory management processes.
This software provides advanced functionalities and tools enabling businesses to track, monitor, and control their material stock levels. Understanding when to use warehouse inventory management software is essential for businesses seeking to improve their inventory management practices and maximize operational efficiency.
Rapid Business Growth

As businesses experience growth, their inventory volume tends to increase. Manual inventory management processes become overwhelming and time-consuming, leading to inefficiencies and potential errors. Stock and inventory management software can handle large inventory volumes, automate processes, and provide real-time visibility into stock levels. It helps businesses scale their operations smoothly while maintaining accurate inventory data.

Multi-Channel Selling

Businesses that operate across multiple sales channels, such as e-commerce platforms, retail stores, and wholesale channels, face the challenge of managing inventory across various channels simultaneously.

Stock management software integrates with different sales channels, centralizes inventory data, and ensures accurate stock allocation and synchronization. This enables businesses to prevent overselling, maintain inventory accuracy, and deliver a consistent customer experience across channels.

Seasonal Demand Fluctuations

Many businesses experience seasonal demand fluctuations, where inventory demand varies yearly. For example, retailers may face increased demand during holiday seasons or specific periods.

best software for billing and inventory management can forecast demand based on historical data, market trends, and seasonality. It helps businesses adjust their inventory levels, plan for peak demand periods, and optimize stock allocation, ensuring product availability during high-demand seasons while minimizing excess inventory during slower periods.

Complex Supply Chains

Businesses with complex supply chains involving multiple suppliers, vendors, and warehouses require robust inventory management tools. Inventory software streamlines supply chain operations by automating inventory replenishment, optimizing order quantities, and managing supplier relationships.

It ensures efficient coordination among various stakeholders, reduces stockouts and delays, and improves overall supply chain visibility and performance.

Regulatory Compliance

Some industries have strict regulatory requirements for inventory management and reporting. Stock and inventory management software can generate accurate reports, track serial or batch numbers, and comply with industry-specific regulations. It helps businesses maintain audit trails, facilitate recall processes if needed, and provide accurate inventory records for compliance purposes.
Inventory management solutions offer various features and functionalities to help businesses track, monitor, and optimize inventory levels efficiently. Understanding the key features of inventory control software is essential for businesses looking to implement such software and improve their inventory management practices.
Inventory Tracking

Real-time inventory tracking is one of the key components of inventory system software. Businesses may monitor stock levels, follow the stock movement, and see where and how each item in their inventory is doing. This function assists in avoiding stockouts, facilitates effective order fulfillment, and offers precise inventory data for decision-making.

Order Management

Inventory management solutions include order management capabilities that allow businesses to seamlessly manage the entire order lifecycle. This includes order processing, fulfillment, invoicing, and tracking. Businesses can track orders, generate invoices, manage backorders, and streamline order fulfillment for improved customer satisfaction and operational efficiency.

Replenishment and Forecasting

Solutions for inventory management frequently offer forecasting capabilities that project future inventory needs based on historical data, trends, and demand patterns. These tools provide recommended reorder points, quantities, and lead times to help firms optimize their restocking processes. Businesses may avoid stockouts, eliminate surplus inventory, and increase inventory turnover by utilizing forecasting capabilities.

Barcode Scanning and RFID Integration

Barcode scanning and RFID (Radio Frequency Identification) technology integration are features supported by many inventory management solutions. These features allow firms to swiftly and precisely record inventory movements, update stock levels, and trace things across the supply chain by scanning barcodes or using RFID tags. This improves operational efficiency, lowers manual errors, and increases inventory accuracy.

Analytics

Inventory management solutions offer reporting and analytics features to provide businesses with valuable insights into their inventory performance. Businesses can generate reports on key metrics such as stock levels, turnover rates, stock valuation, and demand patterns. These reports help identify trends, and slow-moving or obsolete items and make data-driven decisions to optimize inventory management strategies.

Integration with Other Systems

Inventory management solutions often integrate with other business systems, such as point-of-sale (POS), e-commerce platforms, accounting software, and supply chain management tools. This integration ensures seamless data flow across different systems, eliminates manual data entry, and enhances overall operational efficiency.

Multiple Warehouse Management

For businesses with multiple warehouses or distribution centers, inventory management solutions offer management features across different locations. These features enable businesses to track inventory by warehouse, transfer stock between locations, and optimize stock allocation based on demand and geographical factors.

Serial Number and Batch Tracking

Inventory management solutions provide capabilities to track inventory by serial numbers or batch numbers. This is particularly important for industries that deal with serialized or batched products, such as electronics, pharmaceuticals, or food and beverage. It allows businesses to trace specific units or batches, manage recalls if necessary, and ensure compliance with regulatory requirements.

Automatic Inventory Restocking

The last thing any manufacturer wants is for their main components to run low during production. You can also miss out on customers if your product is out of stock, making customers choose your competitors.

You can avoid both of the above situations by using inventory management software. Most can set up automated restock requests once the stocks go below a set limit. This helps you to always be a step ahead and ensure that the business keeps running smoothly.

Asset Tracking

Online inventory management software can also help you keep track of all your assets in different warehouses. Using a barcode, RFID, or other tracking criteria ensures that you never lose track of your inventory and know where they are at any given time.

Product Identification

Another key feature provided is the easy and quick identification of products. Usually done using RFIDs or barcode scanning, these are an effective way to identify products coming in and out inexpensively.

Service Management

Beneficial for service-oriented organizations, this software can also help track the cost of all materials used to provide a particular service, helping you create more comprehensive bills of materials and estimate the total service cost.

Mobile Updates

Another great feature to have in your inventory management system is mobile update functionality. Since smartphones are with us most of the time, allowing timely mobile notifications proves to be a boon for any business, especially when managing inventory.
Selecting the right inventory system software is critical for businesses aiming to streamline their inventory processes, improve accuracy, and enhance operational efficiency. With numerous options available in the market, it is essential to consider several key factors to ensure the chosen software aligns with your business needs and goals.
Scalability

Consider the scalability of the best stock maintain software. Assess whether the software can handle your current inventory volume and accommodate future growth. Ensure the software can support additional products, warehouses, and users without compromising performance. Scalability is crucial to avoid the need for frequent software upgrades or migrations as your business expands.

Ease of Use

Choose inventory management software that is intuitive and user-friendly. The software should have a clear and well-designed interface that simplifies navigation and reduces the learning curve for your employees. Look for features such as customizable dashboards, drag-and-drop functionality, and intuitive workflows that enhance usability and productivity.

Integration Capabilities

Evaluate the integration capabilities of the software with other critical systems in your business, such as accounting software, e-commerce platforms, and point-of-sale (POS) systems. Seamless integration eliminates manual data entry, ensures data consistency across systems, and enhances operational efficiency. Verify if the software offers pre-built integrations or APIs to facilitate smooth data exchange.

Mobile Accessibility

In today's mobile-driven world, consider whether inventory management software offers mobile accessibility. Mobile apps or responsive web interfaces enable remote access to inventory data, allowing employees to manage inventory, process orders, and perform stock checks from anywhere. Mobile accessibility enhances flexibility, efficiency, and real-time decision-making.

Reporting and Analytics

Assess the reporting and analytics capabilities of the inventory and accounting software. Look for features that allow you to generate customizable reports on key inventory metrics, such as stock levels, turnover rates, and demand patterns. Advanced analytics functionalities, such as forecasting and predictive analysis, can provide valuable insights for strategic decision-making and inventory optimization.

Support and Training

Evaluate the level of support and training provided by the software vendor. Determine if they offer comprehensive onboarding, training resources, and ongoing technical support to help you maximize the benefits of the software. Consider the availability of user manuals, video tutorials, and a knowledgeable support team that can assist with any technical issues or questions.

Cost

Consider the cost of the inventory management software, including upfront fees, licensing costs, ongoing maintenance, and support fees. Compare the pricing models of different software solutions, such as one-time purchase, subscription-based, or pay-per-user. Evaluate the software's value about its cost, considering factors such as time savings, improved accuracy, and increased operational efficiency.

Security and Data Protection

Security is crucial when selecting inventory management software. Ensure the software employs robust security measures to protect your sensitive inventory data from unauthorized access or breaches. Verify if the software offers data encryption, user access controls, and regular backups to ensure the safety and integrity of your inventory information.

Vendor Reputation and Reliability

Consider the reputation and reliability of the software vendor. Research customer reviews, testimonials, and case studies to gauge customer satisfaction and the vendor's track record. Look for a vendor with a proven history of delivering reliable software solutions and providing excellent customer support.
| Name | Free Trial | Demo | Pricing |
| --- | --- | --- | --- |
| | 7 Days | Yes | Rs. 14999/ Year |
| | Yes | Yes | Rs. 7128/ Lifetime |
| | Yes | Yes | Rs.7128/ Month |
| | No | Yes | On Request |
| | Yes | Yes | Rs. 712.8/ Month |
Several top inventory management software solutions are available in the market, each with its strengths and capabilities. In this article, you will find some of the leading software options businesses can consider for their inventory management needs.
Implementing inventory management software is crucial for businesses seeking to streamline their inventory processes, improve operational efficiency, and optimize inventory control. A well-planned implementation ensures a smooth transition to the new software, minimizes disruptions, and maximizes the benefits of the inventory management solution.
To successfully implement software for inventory management, businesses should follow a structured approach encompassing several key steps.
Step 1- Define Your Objectives and Requirements
Start by clearly defining your objectives for implementing inventory management software. Identify the specific pain points and challenges you aim to address, such as inventory inaccuracies, stockouts, or manual processes. Determine the key features and functionalities you require from the software to meet your business needs effectively.
Step 2- Conduct a Thorough Evaluation
Research and evaluate different inventory management software solutions available in the market. Consider scalability, ease of use, integration capabilities, support and training options, and cost. Narrow down your options and select a software solution that aligns closely with your requirements and business goals.
Step 3- Plan the Implementation Process
Develop a detailed implementation plan that outlines the steps, timeline, and responsibilities involved in the implementation process. Identify key stakeholders and assign roles and responsibilities to ensure effective collaboration and accountability. Consider potential risks or challenges and develop strategies to mitigate them.
Step 4- Data Preparation and Migration
Before implementing the inventory management software, ensure your inventory data is accurate and up-to-date. Cleanse and organize your data, removing any duplicates or outdated information. Map your existing data fields to the corresponding fields in the software to facilitate a smooth data migration process.
Step 5- Customization and Configuration
Work with the software provider to customize and configure the stock inventory software to suit your business needs. Set up essential parameters, such as stock locations, units of measure, pricing rules, and order workflows. Tailor the software to match your inventory processes and workflows as closely as possible.
Step 6- Training and User Adoption
Provide comprehensive training to your employees to ensure they understand how to use inventory management software effectively. Train users on core functionalities, data entry processes, reporting capabilities, and specific features relevant to their roles. Encourage user adoption by demonstrating the benefits of the software and addressing any concerns or resistance.
Step 7- Test and Refine
Conduct thorough testing of the inventory management software before going live. Test various scenarios, such as order processing, inventory adjustments, and reporting, to ensure the software functions correctly and meets your requirements. Gather feedback from users and refine the configuration or workflows as necessary.
Step 8- Gradual Implementation or Pilot Phase
Consider gradually implementing the software for inventory management or conducting a pilot phase before rolling it out across the entire organization. This allows you to identify potential issues or areas for improvement on a smaller scale, address them, and refine the implementation before full-scale deployment.
Step 9- Monitor and Evaluate
Once the software is implemented, continuously monitor its performance and effectiveness. Track key metrics, such as inventory accuracy, order fulfillment rates, and inventory turnover, to assess the impact of the software on your operations. Make adjustments as needed and leverage the reporting and analytics capabilities of the software to gain insights and drive continuous improvement.
software to maintain stock is constantly evolving, driven by technological advancements and changing business needs. Here are some of the latest trends in inventory management software:
Predictive Analytics

Predictive analytics tools are used to analyze historical data, identify patterns, and forecast demand more accurately. By leveraging predictive analytics, businesses can optimize inventory levels, minimize stockouts, and make proactive inventory management decisions.

Sustainability and Green Initiatives

There is an increasing emphasis on sustainability and environmentally-friendly practices in inventory management. Incorporates features to track and manage sustainability-related metrics, such as carbon footprint, waste reduction, and ethical sourcing.

Blockchain Technology

Blockchain technology is being explored to enhance transparency, traceability, and security in supply chain and inventory management. Blockchain can provide a secure and immutable record of transactions, ensuring trust and reducing the risk of counterfeit or fraudulent activities.

Vendor-Managed Inventory (VMI)

VMI is gaining traction as a collaborative inventory management approach. VMI allows suppliers to monitor and manage inventory levels at customer locations, ensuring timely replenishment and reducing stockouts. Artificial Intelligence (AI) and Machine Learning (ML).

AI and ML technologies are increasingly being integrated into inventory management software. These technologies help businesses forecast demand, optimize inventory levels, automate replenishment processes, and improve overall supply chain efficiency.

Real-Time Inventory Visibility

Real-time inventory tracking and visibility have become essential in modern inventory management. With the rise of e-commerce and omnichannel retailing, businesses require accurate and up-to-date information on inventory levels across multiple locations and sales channels.

Cloud-Based Solutions

Cloud-based inventory management software continues to gain popularity due to its flexibility, scalability, and accessibility. Cloud solutions enable businesses to access inventory data from anywhere, facilitate team collaboration, and offer seamless updates and integrations.

Mobile Applications

Mobile apps are becoming increasingly prevalent in inventory management, allowing businesses to manage inventory, track orders, and perform other tasks on the go. Mobile apps provide real-time access to inventory data and streamline operations for businesses with mobile workforces or remote teams.

Internet of Things (IoT) Integration

IoT devices are being utilized to monitor inventory in real time, automate data collection, and improve inventory accuracy. IoT sensors and connected devices enable businesses to track inventory movements, monitor storage conditions, and optimize warehouse operations.

Integration with Other Business Systems

Integration with other business systems, such as accounting software, e-commerce platforms, and ERP systems, has become essential for efficient inventory management. Seamless data flow between systems eliminates manual data entry, reduces errors, and improves overall process efficiency.
Conclusion
Yes, many inventory management software programs allow for labeling and barcode scanning. Inventory management software frequently includes a barcode scanning capability that helps firms speed up data entry, increase accuracy, and boost productivity. Users can scan barcodes on things, places, or documents using the program, which often interfaces with barcode scanners or mobile devices with barcode scanning capabilities.
Businesses may rapidly and accurately manage warehouse operations, take stock, receive goods, pick things for orders, and track inventory movements using barcode scanning. It decreases the time needed for inventory-related operations and gets rid of human data entry errors. Businesses can create and print custom barcodes for items using inventory management software's barcode labeling tools, offering distinctive identifiers that can be scanned throughout the supply chain.
Inventory Management Software Related Research Articles:
Compare Pricing Plans of Top Inventory Management Software Providers
FAQs of Inventory Management Software
The cost of inventory software can vary significantly depending on factors such as the features and functionality offered, the size of the business, the number of users, and whether it is a cloud-based or on-premises solution. Generally, inventory software is available in different ranges from $100 per month to $3000 per month. Organizations can also opt for a one-time licensing fee payment.
What details will inventory management software carry regarding? Inventory management software keeps track of inventory, stock levels, manages orders, and streamlines other related processes. It stores information about each item in the stock, such as item names, descriptions, SKU numbers, and other identifying data.
The software to maintain stock tracks the quantity of each item in stock, providing real-time visibility into stock levels. It also records each item's sales and purchase history, including dates, quantities, prices, and customer or supplier information.
Yes, a lot of inventory management software programs allow for labeling and barcode scanning. It frequently includes a barcode scanning capability that helps firms speed up data entry, increase accuracy, and boost productivity.
The implementation time for inventory management software can vary depending on several factors, including the complexity of the software, the size of the business and the readiness of data and resources. Generally, the implementation process can take anywhere from a few weeks to several months.
Inventory Management Software in following countries
Inventory Management Software in following cities
Inventory Management Software in following industries