What is Project Management Software?
Project management software is a digital platform that enables companies to streamline project planning, execution, and completion. It's a unified platform that boosts collaboration and communication between project teams. Some common features of project management software are scheduling, resource allocation, task management, and reporting. Tasks are organized with assigned responsibilities and deadlines, while timelines and milestones are visualized for efficient progress tracking.
Show More
Get Free Demo
Connect With Your Personal Advisor
List of
20

Best Project Management Software

Showing

1

-

11

of

611

products
Project management software is a software that diverse industries utilize to facilitate project planning, resource allocation, and scheduling. It empowers project managers and entire teams to effectively manage budgets, ensure quality control, and oversee the exchange of project-related documents.
Projects come in various sizes, ranging from small to medium or large, and involve multiple processes and stakeholders. Efficient project management plays a vital role in successfully completing projects. Online team project management software serves as a platform that enables seamless interaction among stakeholders and aids in efficient project completion.
For businesses of all sizes and in all sectors, efficient project management has become crucial. Finding the appropriate project management software is essential to successful project execution, whether you're a small business owner, team leader, or project manager.
There are different types of project management software out there depending on user preferences and the type of project into which the software will be put into
The different types of software we will be looking at include.
Desktop Programs

Management project tools in desktop programs are useful in corporate environments. Businesses can install and use them on personal computers, servers, or laptops. They are available online for free (freemium versions) or proprietary systems that come at a fee.

Mobile Applications

Thanks to the evolution of technology, today's businesses can manage their projects through specialized mobile apps. These project management apps may be suitable for administrative functions, communication, and collaboration. For example, research published on Science Direct revealed that about 50% of mobile project management tool supports the execution of top software for a project management solution, while about 46% provide administration functions.

Web-Based Applications

These are project management apps hosted online. Today's web-based Software as a Service (SaaS) applications are effective in project portfolio management, project management, and project management solutions systems (PMIS). Their design caters to business managers who want to utilize the power of the Internet in managing their projects.

Visual Tools

Information visualization software is useful when addressing problems associated with understanding and viewing large project data sets. These tools allow users to search for, evaluate, and edit their data. They also mitigate information overload, a common problem in some projects.

Single-User Programmable Systems

These systems work under the premise that only one user is authorized to edit a project's contents. Such project management tools are commonly used by small businesses manned by a small professional team.

Personal Applications

These applications are useful in home settings to manage home or lifestyle projects. They have a simple user interface and require little to no technical skills to maneuver. For instance, homeowners can use them to plan for weight loss programs or track their food consumption habits.

Collaborative Programmable Systems

As their name suggests, these systems support multiple users, unlike single-user programmable systems. This means that several users can take part in editing parts of a project at once. They rely on a database to synchronize all changes that the users make on given data.
Agile project management tools can assist you in improving your Company's everyday processes. This kind of software would also permit you access to additional analytics. This will, in turn, make your company more productive.
Enhanced Collaboration

By offering a central hub for communication and information sharing, project management software significantly improves teamwork. Team members may effortlessly collaborate on work, communicate updates, and exchange ideas thanks to tools like real-time chat, discussion boards, and document sharing.

This encourages open communication and makes sure that everyone is on the same page, which improves teamwork and produces better project results. Additionally, project management software enables the assignment of roles and permissions, allowing team members to have effective access to pertinent information from any place.

Efficient Task Management

Streamlining task management is one of the main advantages of project management programs. Task creation, assignment, and tracking are made simple for project managers. Team members can immediately see the tasks they have been given as well as any deadlines or dependencies, which helps them to keep organized and on task.

Team members can properly allocate their time and effort thanks to the software's prioritization and scheduling features. Project management software makes ensuring that activities are finished by the due date, lowering the possibility of missing deadlines and boosting overall efficiency. Project managers are also given access to task status, allowing them to spot bottlenecks and take the appropriate steps to keep the project on track.

Improved Planning and Scheduling

Project management software offers robust planning and scheduling features that enable project managers to create detailed project plans, define milestones, and allocate resources efficiently. With the ability to set deadlines, assign tasks, and track progress, project managers can create realistic schedules that account for dependencies and potential risks.

The software also allows for easy rescheduling and adjustment of timelines when changes occur, ensuring that projects stay on track and within budget. Improved planning and scheduling not only enhance project delivery but also enable effective resource utilization, as team members are allocated tasks based on their availability and skill sets.

Effective Resource Allocation

Project management software offers a comprehensive perspective of resource availability and workload, enabling project managers to allocate resources efficiently. Managers can quickly assign work to team members based on their knowledge and availability using a centralized platform, preventing resource over- or under-allocation.

This results in better project outcomes, increased productivity, and optimized resource utilization. The software additionally enables managers to monitor resource utilization in real-time, allowing them to see any possible bottlenecks or imbalances and make the necessary modifications.

Real-Time Project Tracking

Real-time project tracking capabilities are provided by project management software, enabling project managers to keep track of developments, spot possible problems, and make informed choices. Project managers can visualize project status, monitor milestones, and measure task completion with tools including Gantt charts, Kanban boards, and dashboards.

With the use of real-time tracking, timely interventions and modifications may be made to keep projects on track and within their allocated budgets. As progress is visible to all stakeholders, it also fosters a sense of ownership and participation among team members, increasing transparency and responsibility.

Document and File Management

Strong document and file management features provided by project management software enable teams to store, arrange, and distribute project-related materials in a single area. Version control problems are less likely as a result, and manual file sharing is no longer necessary.

Team members can access files and papers at any time, from any location, ensuring they have the most recent information. Document management tools also make it possible to collaborate on papers while keeping track of changes, leaving comments, and maintaining a thorough revision history. As a result, communication is streamlined, document control is improved, and project documentation and knowledge management are generally improved.

Streamlined Communication

Effective communication is vital for successful project execution, and PM tool facilitates streamlined communication among team members, stakeholders, and clients. It provides channels for real-time messaging, email notifications, and discussion forums, ensuring that all stakeholders are informed and engaged.

With features like comment threads and @mentions, team members can easily communicate and collaborate on specific tasks or issues within the software itself, eliminating the need for disjointed communication across multiple platforms. Streamlined communication reduces miscommunication, enhances team collaboration, and fosters a cohesive project environment.

Enhanced Reporting and Analytics

Strong reporting and analytics features are available in project management software, and they offer helpful insights into the performance and advancement of projects. Managers can create dashboards and reports that can be customized to capture important indicators like job completion rates, resource usage, and project expenses.

Project managers can evaluate the health of their projects, pinpoint areas for improvement, and make informed decisions thanks to these insights. Furthermore, analytics tools can be used to spot patterns, anticipate risks, and improve project procedures for future endeavors. Project managers now have access to the data they need to promote ongoing improvement and guarantee project success thanks to improved reporting and analytics.

Scalability and Flexibility

Project management software is designed to accommodate projects of varying sizes and complexities. It offers scalability, allowing organizations to adapt the software to their evolving needs as project portfolios grow. Whether managing small teams or large-scale projects, project management software can scale up or down accordingly.

Additionally, the software provides flexibility in terms of customization, allowing organizations to tailor the features, workflows, and processes to suit their specific requirements. Scalability and flexibility enable organizations to effectively manage projects of any size and adapt the software to their unique project management methodologies and workflows.

Integration with Other Tools

Project management software often integrates with a wide range of other tools and platforms, such as communication tools, time-tracking software, issue trackers, and file storage systems. This integration streamlines workflows and eliminates the need for manual data entry or switching between multiple applications.

By connecting project management software with other tools, organizations can leverage the strengths of each tool and create a cohesive ecosystem that enhances productivity and collaboration. Integration also enables seamless data transfer, ensuring that information is up-to-date across different systems and reducing the risk of data duplication or inconsistency.

Achieving Project Objectives Made Possible

Utilizing an online project management tool enables the attainment of maximum productivity from projects by ensuring their successful execution within the stipulated timeframe and with commendable quality. Furthermore, it empowers Project Managers to formulate meticulous scheduling plans for their teams, thereby facilitating seamless oversight of the entire project workforce.

Unrestricted Project Progress Monitoring

With the capability to monitor team members and real-time project statuses from any location and at any time, the open-source project management platform offers unparalleled convenience. It also facilitates effortless communication among team members regarding project-related matters.

This streamlined communication avenue allows for the swift resolution of issues and queries while also providing the means to assess the performance of individual team members. Consequently, if any delays are identified, proactive measures can be taken, such as reassigning the tardy member to a less critical project and ensuring project timelines remain intact.

Optimal Results Unlocked

By effectively allocating workloads based on the competencies of each resource, the software empowers managers to optimize resource utilization. Complemented by a suite of tools for activity and time management, including network diagrams, spreadsheets, and Gantt charts, the project management system becomes a catalyst for substantial savings in time, resources, and finances. This, in turn, leads to enhanced productivity, reduced expenditure, and the elimination of extraneous costs, ultimately yielding the desired outcomes.

Project management software offers numerous benefits that can significantly enhance project execution and team productivity. The software provides a centralized platform that empowers organizations to effectively manage projects of any size and complexity.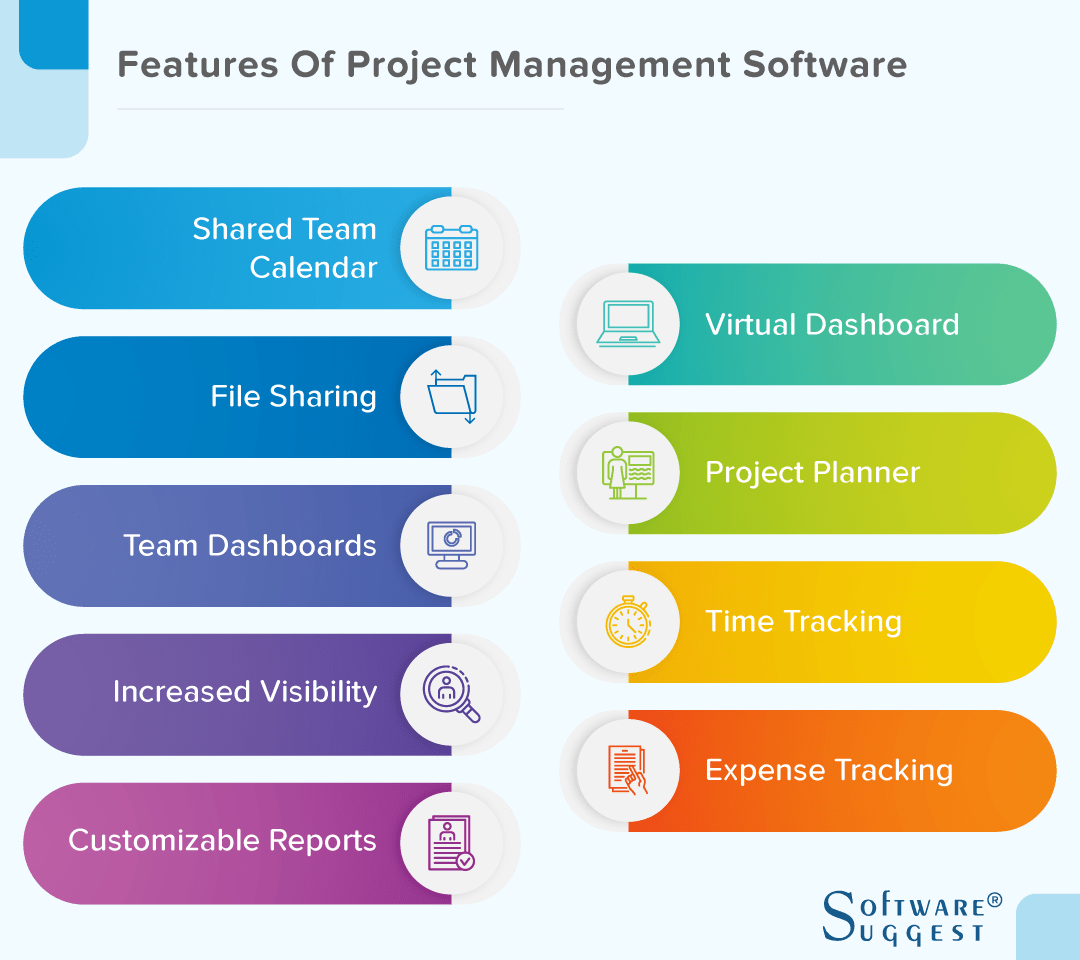 Project management software serves as an indispensable and crucial component for any commercial organization, acting as collaborative software that aligns clients and employees. It enables businesses to effortlessly carry out their work online, providing accessibility from anywhere and at any time.
The project tracker tool acts as a unified platform for effectively achieving targets with ease. Here are some notable features to consider when selecting the best project management tool:
Collaborative Calendar

Time holds great significance in every project, and a shared team calendar aids project managers in scheduling and organizing meetings. An advantageous aspect is the synchronization of the shared calendar with popular calendar tools like Outlook, Gmail, and iCal, ensuring everyone receives timely notifications and attends meetings promptly.

The calendar also facilitates the identification of critical deadlines for project teams, providing a quick overview of upcoming milestones.

File Sharing

File sharing is a prominent feature of top-tier project management software. Once a team member uploads information into the system, it becomes swiftly accessible to other team members, regardless of location or time. When selecting a project management system, consider the availability of robust file-sharing capabilities.

Team Dashboards

Efficiency lies at the heart of project management software for startups and enterprises. To enhance efficiency, the software should create team dashboards accessible to all team members.

These dashboards enable easy sharing and retrieval of charts, visual metrics, and key performance indicators (KPIs). During meetings, team dashboards serve as project KPI reports, facilitating the presentation of tracked metrics and resulting in comparisons against planned schedules.

Enhanced Visibility

Centralizing all project data in one place simplifies project management. Completed tasks, planned tasks, upcoming calendar events, project resources, customer data, bills, and other expenses become accessible with a single click.

Avoid wasting time switching between multiple spreadsheets in search of specific data. To maximize visibility, look for project management tools that integrate well with invoice automation and customer relationship management (CRM) software.

Customizable Reports

A comprehensive project management tool should be able to generate customizable reports. It should include applications that gather previously entered project data and utilize it to create reports tailored to specific needs. These reports may cover expenses, budgets, completed tasks, and team member performance. By selecting the desired parameters and information, graphs, and charts can be effortlessly generated. This enables the identification of over-utilized or underutilized resources, facilitating necessary adjustments.

Virtual Dashboard

The best online project management software provides access to a user-friendly dashboard. This dashboard offers an overview of tasks, issues, and task statuses associated with a specific project, all in one convenient location.

Project Planner

The project planning tools simplify the process of planning, setting up, and assigning new projects. Users or administrators can monitor the real-time project and sub-task statuses. Additionally, they can add or remove tasks throughout the project lifecycle.

Time Tracking

Whether exclusively working on customer orders or requiring team members to track their timelines, an appropriate online project management app is essential. Virtual time tracking features offered by project collaboration tools allow seamless tracking from the comfort of one's home.

Expense Tracking

Tracking expenditures and financial plans for individual or business-related projects is essential to prevent overspending. Expense tracking software enables the management of incoming revenue, outgoing expenditures, and periodic project-related expenses.
In the context of contemporary project management, it is critical to understand many key industry trends. These factors are reshaping the sector and affecting how projects are planned for and carried out. The following are some significant trends to be aware of.
Automation and Artificial Intelligence (AI)

There has been a noticeable growth in the integration of automation and AI with the emergence of project management software. These tools for project management boost efficiency, streamline procedures and facilitate decision-making.

Hybrid Management Approaches

More hybrid management outlooks are being adopted in the project management environment. Establishing specialized approaches that best meet projects' particular requirements includes merging various project management techniques and procedures.

Emphasis on Emotional Intelligence (EQ)

In project management, emotional intelligence in project management is becoming more important. For a project to be completed successfully and for collaboration to occur, it is important to recognize and manage emotions, develop solid connections, and encourage good communication.

Focus on Data Analytics

The best project management office (PMO) software enables organizations to pay greater attention to numbers and data analytics. By leveraging data-driven insights, project managers can make informed decisions, identify trends, and improve overall project performance.

Utilization of Advanced Project Management Tools

The use of advanced project management instruments and solutions is becoming increasingly prevalent. These tools offer enhanced functionalities, such as advanced scheduling, resource management, risk analysis, and collaboration features, to support efficient project execution.

Rise of Remote Work

Remote working has gained significant traction, and it has also impacted project management practices. Project managers need to adapt to managing distributed teams, utilizing remote collaboration tools, and incorporating remote work considerations into project schedules.
The pricing of project management software can vary based on the specific features and functionality you require. However, there are some typical costs associated with acquiring this software.
In general, project management software ranges in price from $100 to $500 per month. Within this price range, you can access fundamental features such as task tracking, project monitoring, and resource management.
When evaluating the cost of project management software, it is important to consider the value it brings to your organization.
If you require more advanced capabilities like collaboration tools, robust reporting, and integration with other software applications, the price will likely be higher, ranging from $500 to $1,000 per month.
It is worth noting that investing in project management software can yield significant time and cost savings by streamlining your project management processes. Additionally, it enhances communication and collaboration among team members.
Ultimately, the cost of project management software should be evaluated alongside its potential benefits and the specific needs of your organization. By considering these factors, you can make an informed decision that aligns with your budget and goals.
Conclusion
While every organization's requirements may vary, it's essential to carefully evaluate the features, functionalities, and limitations of different project management software options. By doing so, you can make an informed decision that aligns with your organization's goals and maximizes your project management efficiency.
Remember, project management software is not a one-size-fits-all solution. It's crucial to assess your organization's specific needs, consider user reviews and ratings, and, if possible, take advantage of free trials or demos to test the software's suitability for your team.
Compare Pricing Plans of Top Project Management Software Providers
FAQs of Project Management Software
Project management software is a system utilized for project planning, booking, asset assignment, and change administration. It permits project managers (PMs) to control expenses and oversee the planning, quality administration, and documentation.
Product management software can be used commonly by all types of businesses. Still, its usage is most critical for the industries that are in marketing, information technology (IT), and education. The reason behind this is that in these industries, business commonly works on many time-sensitive tasks at a single time. Therefore, it requires collaboration with the other teams for contrasting assignments.
The net present value of a project is calculated by adding the present value of cash flows for each year associated with the investment. It is then adjusted or discounted so that it expresses in today's dollars.
NPV =? (Year n Total Cash Flow)/( 1+Discount Rate)n.
Where 'n' is the year whose cash flow is being adjusted software project management comes with an NPV calculator.
Project Management software allows you to create project plans, define milestones, and establish timelines, enabling you to visualize the project's scope and schedule. Collaboration is made easier through centralized communication channels, file sharing, and real-time updates, fostering effective teamwork and information sharing. Resource management becomes efficient as you can allocate and track resources, ensuring optimal utilization. Budgeting and cost management feature help you define budgets, track expenses, and generate cost reports to keep the project within financial boundaries. Document management functionalities allow for easy organization, storage, and retrieval of project-related documents.
Project management software is made to enhance efficiency and streamline operations, ultimately saving project teams important time. The amount of time saved varies on a number of variables, including the difficulty of the project, the size of the team, and the particular features and functionalities of the software being utilized.
Yes, project management tools are highly effective in facilitating the successful execution of projects. These tools provide many features and functionalities that streamline project planning, task management, collaboration, and monitoring. Project management tools enhance team productivity and coordination by centralizing project information, facilitating communication, and enabling efficient task allocation and tracking.
While project management systems offer numerous benefits, they do have some limitations. One limitation is the reliance on technology and potential technical issues. If the software experiences glitches or downtime, it can disrupt project progress and communication. Another limitation is the learning curve associated with using new project management tools. Team members may require training to effectively utilize the system, which can initially slow down workflow.
Additionally, project management systems may not fully accommodate unique or complex project requirements, leading to the need for manual workarounds.Furthermore, these tools may lack the human element of project management, such as the ability to handle nuanced interpersonal dynamics or unexpected challenges.
Finally, project management systems are only as effective as the data inputted and the accuracy of the information provided. Inaccurate or incomplete data can lead to misaligned tasks, inaccurate reporting, and ultimately impact project outcomes.
Project Management Software in following countries
Project Management Software in following industries