Best Project Management Software in 2020
Finding the best Project Management Software for your business is now faster and easier! Compare prices, reviews, features, and get free consultation to find the perfect software.
What is Project Management Software?
Project management software is an apt tool for effortless collaboration between project managers and teams while meeting the demarcated project deadlines.
All Software
Buyer's Guide

Project management is the application of knowledge, expertise, tools, and techniques to project your activities to meet the project requirements within the definite time frame. Project Management also includes managing the execution of the project plan, along with timely 'controls' to ensure that there is no deviation between the projection and execution and if there is, recovery action can be taken at the early stage.
Project management software is a system utilized for project planning, booking, asset assignment, and change administration. It permits project managers (PMs), stakeholders, and clients to control expenses and oversee the planning, quality administration, and documentation, additionally, top web-based project management solutions can be utilized as an administration system.
Despite the fact that an online project management system is utilized for many purposes, its principal intention is to facilitate the planning and tracking of project components, stakeholders, and assets.
A project management process involves huge planning and forecasting at the initial stages. There may be more than a dozen tasks that may have to be tended to. Take the help of an experienced project manager and they will always suggest to you that it is always best to tend to a project in parts or phases rather than making it move about together. Here are five project management phases which you will find in the modules of every project management software:

1. Project Initiation:
This is the first step in the lifecycle of a project. Measuring the value and feasibility of the project is intended at this step. Most project management software makes use of two tools to make this evaluation which is the business case document and the feasibility study. These steps lay down the need for a project, its potential financial benefits, and an evaluation of the goals and timeline of the project. Projects may be abandoned if they are deemed unprofitable but if they pass these two steps, they can be carried forward for implementation.
2. Project Planning:
Once a project is assessed for its feasibility, it would require adequate planning to create a budget and allocate resources that would determine how the project would be implemented. Project managers can also make use of project management software to define the stages of planning.
3. Project Execution:
Project managers are most interested in and concerned with this step in the whole project management cycle. This is the step where they are required to build the deliverables which are expected to satisfy the customer. Remember that the execution phase will turn out to be a success only if the planning stage is a success. A project plan largely directs the outcome of project execution.
4. Project Monitoring and Control:
Sometimes, monitoring and control activities go hand in hand with the execution stage. This is because, once a project plan is executed, it would require constant monitoring and control activities to ensure that the project plan is moving as intended. This is where the scope for modifications and changes arises and the alterations of scope may materialize here. The importance of this step can be understood when an overall view of the project is taken by the manager. This is the step that ensures that the promised deliverables are actually being delivered and every step is being taken to keep a track of the performance of the team.
5. Project Closure:
When a project is delivered to the customer, it is ideally considered complete, at which point, it is considered curtailed. Stakeholders of the project are communicated about the completion of the project so that resources can be diverted to other channels. At this stage, the team can document the entire process, how it was executed, and what steps were taken to control the deviation in the plan. This helps in avoiding costly mistakes in the future and controlling the actions of the team for future projects.

Project planning

Document collaboration and sharing

Calendar and contact sharing

Reporting
The project management system provides the function of sharing, handling, and administration of documents, archives and other information sorts among a few clients or systems. These PM tools permit two or more remote clients to jointly deal with a project or task
Project management software is basically intended to improve productivity within a group of people and, more specifically, within an organization. This is accomplished through the coordinated assignments processing and administration capabilities provided by this kind of project tracking tools.
With skills like project and collaboration management, clients can create a workspace and include information and/or workflows to it. The created workspace is accessible and viewable for all assigned users, no matter what location he is operating from. Any changes made to the information or documents are synced up in everyone's pc, guaranteeing that everybody has the most updated variant of an ongoing project.
How do you strategize all the projects assigned to you in your Company? How do you perform a thorough study of the plans?
Even though you can employ the finest project management experts for your projects, there is a project management software that can accomplish and simplify your projects and work. Yes, I'm talking about Project Management tools. Best project tracking apps offer the virtual image of the entire project, project depth analytics, budget issues, and event management planning.
So, what exactly is a project management tool? It is a software that combines scheduling, planning, estimation, budget, and financial plan management. Furthermore, it manages resource allocation, time tracking, communication, collaboration, and the list is endless. Creative project management applications online propose noteworthy paybacks to the customers and to the team as they improve the output and performance of the project handling teams.
There are many online project management tools available at the moment with numerous features and options.
Project management system software typically has these objects of info for input:
Beginning date of every action

Timeline of each action

Needs of each action

Resources available

Stage to avail the resources
Project Management Software helps into Which Tasks?
There are a lot of simple project management apps and software that are used to address the following tasks:
Schedule and handling events that hinge on each other in diverse ways.

Being capable to schedule the numerous participants of the project, together with precise tasks for every participant.

The aptitude to forecast and deal with backup conditions that might rise all through the project.

Making sure that errands are over on time and that fresh tasks are allocated to each participant.
There are different types of PMS software for small businesses out there depending on user preferences and the type of project into which the software will be put into.
Among the different types of software we will be looking at include:

1. Desktop Programs:
Project management tools in the form of desktop programs are useful in corporate environments. Businesses can install and use them on their personal computers, servers or laptops. They are available online for free (freemium versions) or proprietary systems that come at a fee.
2. Mobile Applications:
Thanks to the evolution of technology, businesses of today can manage their projects through specialized mobile apps. These apps may be quite suitable for specific uses like in administrative functions, communication, and collaboration. For example, according to research published on Science Direct revealed that about 50% of mobile PM applications support the execution of project management processes while about 46% provide administration functions.
3. Web-Based Applications:
These are project management applications hosted online. Today's web-based Software as a Service (SaaS) applications are effective in project portfolio management, project management, and project management information systems (PMIS). Their design caters to business managers who want to utilize the power of the Internet in managing their projects.
4. Visual Tools:
Information visualization software comes in handy when it comes to addressing problems associated with understanding and viewing large project data sets. These tools allow users to search for, evaluate, and edit their data. They also mitigate information overload, which is a common problem in some projects.
5. Single-User Programmable Systems:
These systems work under the premise that only one user has the authorization to edit the contents of a project. They are commonly used by small businesses manned by a small professional team.
6. Personal Applications:
These applications are useful in home settings to manage home or lifestyle projects. They have a simple user interface and require little to no technical skills to manoeuvre. For instance, homeowners can use them to plan for weight loss programs or track their food consumption habits.
7. Collaborative Programmable Systems:
As their name suggests, these systems support multiple users, unlike the single-user programmable systems. This means that several users can take part in editing parts of a project at once. They rely on a database to synchronize all changes that the users make on given data.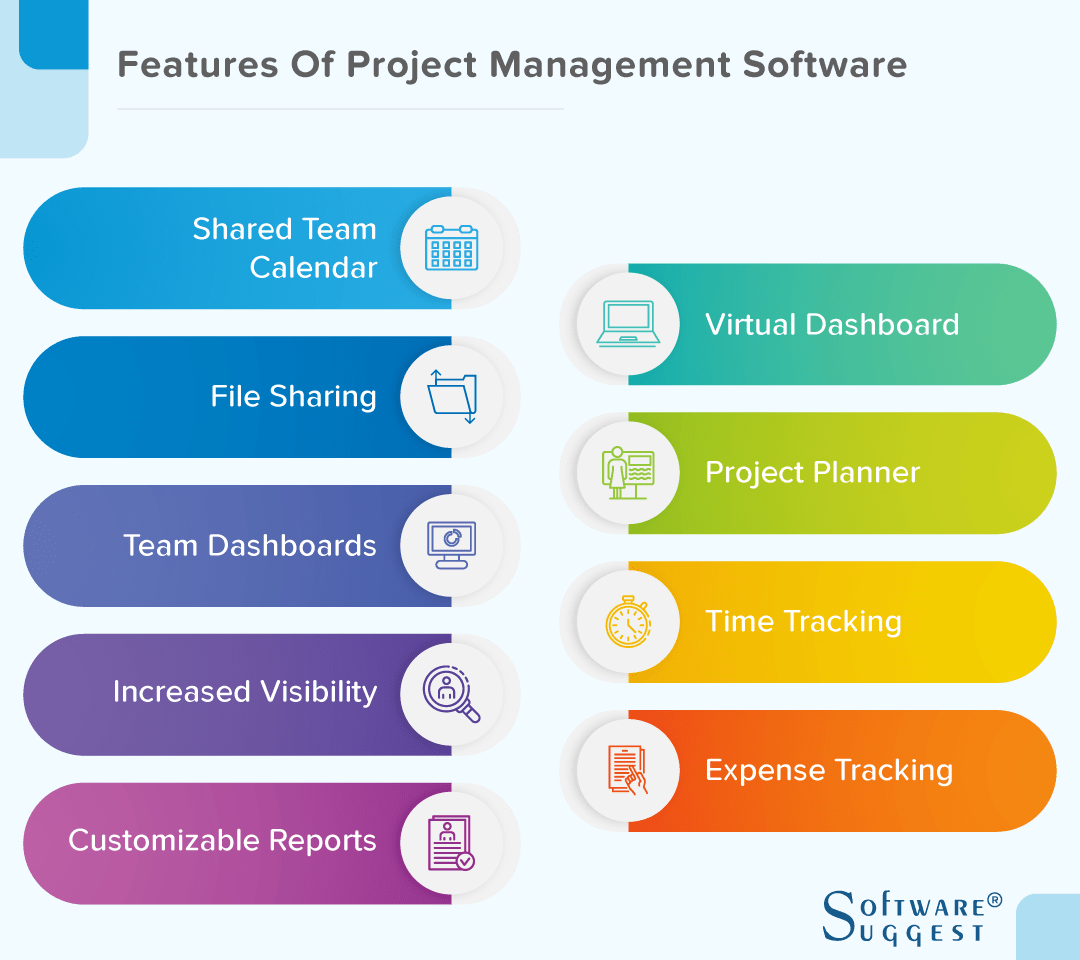 Project management is an indispensable part and chief distress for any commercial organization. A project management tool is a collaborative software that gets the clientele and employees on the same page.
By means of a project management system, businesses can effortlessly achieve their work online and access it from anywhere and anytime. Project tracker tool is a single podium through which targets can be attained effectively with comfort. Here are some of the features you might want to consider when purchasing project management software solutions:
1. Shared Team Calendar:
Time is of the essence in every project. A team calendar helps project managers with scheduling and organizing meetings. The good thing about having a shared calendar that synchronizes with the most popular calendar tools, for example, Outlook, Gmail, iCal among others ensures that everyone receives notifications and attends meetings on time. The calendar also helps you point out critical due dates to your project team so that they may have a quick idea of the milestones ahead of them.
2. File-Sharing:
One of the features of the top software is the file-sharing feature. As such, once a team member inserts (or uploads) information into the system, other people in the team can quickly have access to it, whenever they need, and wherever they are. When you start choosing your project management software, always
3. Team Dashboards:
Project management software is all about making the work easier. To make it easier, the software needs to be able to create team dashboards accessible to all members of the team. That way, teams can easily share or retrieve charts, add graphs, visual metrics and a host of other key performance indicators (KPIs) in your dashboard. The team dashboard, which can serve as a project KPI report can be used during meetings when you want to present your tracked metrics or comparing results with regard to the planned schedule.
4. Increased Visibility:
It becomes easier to run the project when all the data is accessible in one place. That way, completed tasks, planned tasks, upcoming calendar events, project resources, customer data, bills, and other expenses can be accessed with a single click. So you don't need to waste time switching between multiple spreadsheets on the lookout for different bits of data. Look out for PM tools software that includes (or can integrate well with) invoice automation and customer relationship management(CRM).
5. Customizable Reports:
The best tool should be able to generate reports. It should include apps that collect your teams previously inserted project data and use the data for creating customizable reports. For example, you will be required to create reports on your expenses, budget, the tasks you have already completed, and the performance of a member of your team. Since you will always have to gather a lot of data along the course of project execution, all you need to do is to choose the parameters and information that you would like to use to prepare for graphs or charts. From the reports, you can easily identify the over-utilized or underutilized resource and adjust accordingly.
6. Virtual Dashboard:
PM tools let you achieve access to a user-friendly dashboard. The dashboard enables you to see an impression of all the tasks, problems, the status of tasks, etc. related to any particular project at one single place.
7. Project Planner:
The project-planning wizard available in the project management software allows the user to plan, set up and allocate a fresh project with no trouble whatsoever. The user or the Admin can know the status of projects and sub-tasks in real-time. He/she can even add and remove jobs during the course of the whole project.
8. Time Tracking:
Whether you are working on the customer orders exclusively or if you need your team to track their own timelines, an apt project management tools is all you need. By means of the virtual time tracking feature available in the project management and collaboration software, you can do so from the cosy comforts of your home.
9. Expense Tracking:
Tracking expenditures and financial plans for any kind of project, whether separate or business-related is essential to ensure that you are not overspending. Expense tracking can let you establish incoming revenue, outgoing expenditures, and even periodic expenses related to the Projects.
Top Project Management Vendors by Company Sizes
The global project management software market size was valued at $4 billion in 2019 and was expected to surge to $5.6 billion by 2024 at a CAGR of 6.9%.
This growing demand for a project management system for business is due to the increasing need to gain a 360-degree view of project and resource management. Organizations want to have complete access to their projects, including their progress, resource utilization, and impediments.
Top 5 project management tools in terms of market share are:
Jira (24.8%)

Microsoft Project (21.58%)

Trello (4.43%)

Airtable (4.03%)

Kanban (3.77%)
Top 5 industries by the usage of PMS software are:
Information Technology

Engineering and Construction

Education

Finance

Marketing
Project Management Software Comparison for Enterprise PMS Systems
Enterprises usually manage multiple projects at a time. Thus, large business owners should look for a PMS software solution that enables them to manage complex projects at an enterprise level. Plus, it is also critical to choose a project management system for business that aligns with your long-term organizational objectives.
Large businesses can opt for on-premise solutions if the security of their utmost concern. But if you're more focused on functionality and scalability, stick to cloud-based software. These best picks for large enterprises are:
Scoro

WorkOtter

Hive

Free Trial
Iphone & Android App
Typical customers
Small Business
Mid-size businesses
Large enterprises
Mid-size businesses
Large enterprises
Small Business
Mid-size businesses
Large enterprises
Online Customer Support
API
Access Control
Activity Dashboard
Agile Software Development
Automatic Backup
Collaboration Tools
Data Import/Export
Document Storage
File Transfer
Multi-Language
Multiple Projects
Project Time Tracking
Real Time Updates
Third Party Integration
Project Management Software Comparison for Medium-Sized businesses
Medium-sized businesses have more people to manage and complex projects to handle. They need to ensure effective communication and collaboration. But at the same time, it is also essential to keep an eye on the operational costs.
Mid-sized business owners should invest in cloud-based project management tools that offer scalability and integration capabilities. Besides, they should also focus on the features the system offers and ensure they align for the project goals. Some of the best project management system for medium-sized business are:
Monday.com

WorkFront

EasyProjects
Monday.com

WorkFront

EasyProjects

Free Trial
Iphone & Android App
Typical customers
Small Business
Mid-size businesses
Large enterprises
Mid-size businesses
Large enterprises
Small Business
Mid-size businesses
Large enterprises
Online Customer Support
API
Access Control
Activity Dashboard
Agile Software Development
Automatic Backup
Collaboration Tools
Data Import/Export
Document Storage
File Transfer
Multi-Language
Multiple Projects
Project Time Tracking
Real Time Updates
Third Party Integration
Project Management Software Comparison for Small businesses
If you're a small business owner, managing projects can be quite easy with the right project management software. On the contrary, the procedure can become burdensome if the wrong tool is deployed for managing projects and resources.
Small businesses should find a free or affordable PMS software solution that provides all the necessary features, such as task management with timelines, collaboration, and integration. If you want to go for a paid tool, make sure to select the right budget. The best project management tools for small businesses are:
Asana

Trello

Wrike

Free Trial
Iphone & Android App
Typical customers
Small Business
Mid-size businesses
Large enterprises
Mid-size businesses
Large enterprises
Small Business
Mid-size businesses
Large enterprises
Online Customer Support
API
Access Control
Activity Dashboard
Agile Software Development
Automatic Backup
Collaboration Tools
Data Import/Export
Document Storage
File Transfer
Multi-Language
Multiple Projects
Project Time Tracking
Real Time Updates
Third Party Integration
PM tools can assist you to improve your Company's everyday processes. Having this kind of software in place would permit you to have access to additional analytics as well. This will, in turn, make your company more productive.

Helps Attain The Project Objectives:

Online project management applications enable you to receive the maximum productivity from the projects as it helps in successfully executing the projects on time and in good quality. It even assists Project Managers to create an appropriate scheduling plan for his/her team. Subsequently, the software assists in overseeing the entire team effortlessly.

One Can Check The Project Growth From Anywhere, Anytime:

Besides being able to oversee the team members and the real-time status of the projects they are working on, you can also interact with your team members about the projects. Discussing project issues and queries become very easy with project management tools. Moreover, you can screen the performance of each team member. So, if you catch any team member to be late, you can shift that member to another less important project, and as a result, evade any delay in projects.

Best Way To Avail The Expected Outcomes:

The software allows managers to allocate the workload as per the competence of each human resource. The software has numerous tools which help in activities and time management. This consists of network diagrams, spreadsheets, Gantt charts, etc. The project management system is the best way to confirm savings in time, resources and money. It can lead to output gains and elimination of miscellaneous expenses.
Project management software is not a cure-all. In fact, a bad project management system can deter the development of critical projects. Even though there are noticeably good reasons to exploit project management tools, there are a few drawbacks as well:
The Staff Needs To Be Trained:

You have to train the staff on the correct use of the project management software. You will have to put in training for everybody. Nevertheless, with an easy to use project management software interface, the training would be negligible.

Does Not Substitute Remarkable Management Skills:

Almost all Managers wish to discover a sure-shot recipe for a successful project. However, no project management software can actually substitute the expertise of a great Project Manager.

May Make Simple Projects Complicated:

A Project Manager can at no cost depend solely on any software for successfully completing the projects. It may produce a work setting that is conquered by disorder and confusion. The misuse of the software can also make simple projects complicated.

Management vs Execution:

Project management and project execution are two different sides of the same coin. Project Managers have to visualize beyond the software. You have to confirm that the staff is succeeding on their projects within the stipulated time frames, and this can be done manually only.

Inflexibility:

Business projects are extremely fluid by nature. They demand relentless alterations and modifications. Don't let yourself and your colleagues to be so dependent on the software that you aren't able to make modifications when required.
When it comes to choosing the best fit of project management methodologies for your upcoming project, you must make the most appropriate choice as it will hugely impact the outcome of your project and efforts. Here is a guide to evaluating different project management methodologies. One or a mix of these might be the right fit for your next project.
Among the first steps to successfully manage a project is to choose the right one among various project management methodologies. However, with an array of options available at your discretion for managing a given project, you will find that choosing one out of these approaches can be difficult because of the immense overlap between the suite of choices.
It is the job of a project manager to assist their organizations in choosing the right project management methodologies and project management software to produce an efficient and effective output. Let us take a deeper look into the impact of each methodology and how it stands to enhance the likelihood of success in your organization.
1. Waterfall:
Among one of the mainstream project management methodologies present today, this one has been in use for the past many years. If you carefully study its structure, you will find that it is sequential in nature and presently in use across a number of industries, most commonly in enterprise project management software development industries. It involves a static phase which includes requirement analysis, design, testing, implementation, and maintenance. These steps are always executed in a specific order. From the control aspect, waterfall allows the manager to observe effectively, but when it comes to flexibility, they would sometimes be hit hard with the lack of options if the scope of a project changes often. However, with a formal planning approach, all the relevant project related requirements are caught up front and there is a minimum chance of losing any key information relating to the project at the initial stages.
2. Agile:
As compared to the waterfall approach, the Agile approach was built with more flexibility and speed. Using a concept called 'sprints', the agile approach aims to achieve this flexibility through shorter delivery cycles. When it comes to projects, this approach is best suited for those projects which require less control and an element of real-time conversations among self-motivated teams.
Agile project management methodology is characterized by a high level of interaction, rapid feedback system, reduction in risk, faster turnaround, reduction in complexity, and allowance for rapid adjustments. Agile project management software and agile project management tools are among the most used today. They allow for quick identification of issues and making modifications in the early stages of development.
3. Hybrid:
Waterfall and agile project management methodologies are among the most favored among project managers. However, a hybrid approach allows for a more collective project management approach as it combines the planning and requirement phases of the waterfall methodology and the design, development, implementation, and evaluation phases as per the agile methodology.
4. Critical Path Method:
This is mostly used for projects which include an array of interdependent activities. Using a work breakdown structure, it includes the list of activities and the timeline within which they have to be completed, along with the various milestones and deliverables. This helps in outlining the critical activities and the activities which will consume a lot of time, separating them into critical and float activities. This helps in identifying which activities are critical to achieving targets and which ones are not, acting as one of the best online project management software and methodology.
5. Six

Sigma:
It was originally developed to eliminate wastes and improve the revenues of the organization. This data-driven online project planning tool includes three major components. While it continues to remain a debatable type of methodology under project tools, there is ample significance in how it allows a manager to make crucial decisions.
6. Scrum:
Scrum project management software is a part of agile project management tools and maintains an interactive status. It is characterized by Scrum sessions or rather, 30-day sprints, which are brought to use to define critical and priority tasks. Instead of a project manager, a scrum master takes the reigns of the project in his hands. Here, specific tasks are looked over by small teams, each of which has to report back to the scrum master and evaluate any bottlenecks in the whole process.
7. Critical Chain Project Management:
Compared to the critical path method, the critical chain project management methodology is quite different. Here, the focus is directed towards the use of specific resources for the project instead of simply focusing on project-related activities. Buffers are built to identify issues with the use of resources so that the timeline of the project does not suffer and everything moves on as planned. It also lays focus on safety as a critical issue.
Ideally, a process should be laid down to evaluate and assess each methodology but it often proves to be a complex, time-consuming activity. However, there is no other way to choose the right PMO tools or online project planning tool without going through this process. As per the Project Management Institute, an OPM3 model, known as the Organisational Project Management Maturity Model, can be used by organizations to identify and measure the project management capabilities and standardize the whole process involved in choosing one. It helps in defining the project outcomes and resources involved, so as to make an estimate of the outcomes.
When an evaluation of the best project management methodology is being made, one should evaluate and consider the following factors before choosing and zeroing in on any one of the methodologies:
What are the goals of the organization and how do they stand apart from its core values?

What are the key business drivers of the organization?

Does the organization face any constraints?

Who are the stakeholders of the organization?

What risks does the organization face?

What is the level of complexity faced by the project managers?

What are the estimated size of the project and the related costs?
Once these critical factors have been assessed and identified, you will need to develop project management options, which can be done through project management software to evaluate some steps:
Determine what the project drivers are and identify the primary goals of the project

State the goals and requirements and the impact of each methodology for the project

Match the relevant methodologies with the project

Compare and contrast each methodology

Consider the results of each methodology with the least risk

Document the entire workflow

Implement the methodology

Monitor the methodology and make amendments.
Project management software can help make these steps a short task at hand and help you achieve the best results in a short span of time. A project management information system is used vastly by project managers these days in conjunction with PPM software and PMO software which together make up the most interactive online project management system. Some project managers also make use of project portfolio management software to achieve these tasks.
With project management system tools in hand, you can establish and manage projects, resources, and schedules to achieve the needs of a particular project. Apart from the usual benefits that come with the implementation of online project management tools, there are some other advantages too such as calendars, tracking of people and finances, charts, producing reports, and scheduling.
Project management system software assists the managers to effectively plan, manage, and perform the significant sub-tasks tangled in each project. You don't have to look around for status info on any project running in your organization. The whole kit and caboodle are right in front of you, at your fingertips. So, don't wait anymore! Buy software, and manage each project with comfort and ease!
The project management software you are going to use determines how effective you will fair your project management endeavors. You don't want to make a hell of mistake that will cause you a lot of harm (financially speaking) a long way. Here are some of the things you need to look at before purchasing your project management tool:
1. Plan your Project Effectively:
Before you get started, ensure that you have all your objectives, scope, deliverables, time frame, and approach you are going to use. That means you will need background on what type of tool your project needs, why you need it, and how it fits in with your technology.
2. Gather your Project Requirements:
Before you take the plunge, take a note of all your requirements. Ask yourself why people would need that particular package, the likely changes they are likely to encounter and how they can be solved.
3. Create Package Long List:
Now that you know what you need, create a list of potential buys and all packages that might meet your needs
4. Come up with the Package Shortlist:
Evaluate your list and come up with a smaller number of the PM tools that may not fit with your needs are too new or may simply not fit within your technology architecture.
5. Evaluate Package Shortlist:
This is the hardest and time-consuming aspect of the project management software selection. Map out the product package features, functionality and compare with your immediate and future requirements. Then determine which package closely meets your needs. For more information, you can interview the vendors. Ask them also to set up full-version product demos so that you and your team can review their product.
6. Make the Final Selection:
Once you find out the best PM for your organization, negotiate the contract, and make a purchase.
A project manager is bound to face various difficulties and drawbacks while implementing his leadership skills for managing a project. Whether it is through the use of project management software or project portfolio management software, he has to maintain the vision and goals of his project at all times.
There are several myths that have infiltrated the world of project management. Let's talk about some of these common pitfalls and how you can avoid them.
1. It's Not About the People but the Process:
This one has been around for a long time and it's quite hard to make a project manager understand why it is nothing more than a myth. Project tools and project management software have their own relevance but even then, without a great project management team, you would still find it hard to realize most of your project goals. This is because unlike an online project management system, a project team holds a qualitative significance, which even the most sophisticated project portfolio management tools cannot match.
2. Project Management is just Paperwork:
Well, this one is just plain obvious. Project management has evolved in more than one way, which is why we find the use of project portfolio management tools quite common these days. Project management involves outdoor activities, technical studies, use of project management software to evaluate and choose different courses of action and possibly, a lot of technical mayhem, which is way beyond ordinary paperwork.
3. Facts and Figures are way too Important:
Facts and figures obviously form the basis on which project management software and project management information system do their job but when it comes to a project manager, there is something that a project management software cannot replicate and that is his unique vision. His vision and intuition can conceptualize an outcome in which any project management tool may fail to even grasp.
4. Project Management Orientation:
It is often believed that the only thing that a project manager is concerned with, is his project. That, in fact, is not true. In order to give a holistic approach to a project, a project manager is usually entrusted with the task of combining the use of online project planning, team management software so that team can understand the vision and mission of the project as a whole. Without doing so, he will be unable to come up with the right strategies for the firm and mold his project according to those strategies.
5. The Customer/Stakeholder should Know Exactly What They Want:
Sometimes, the customers/stakeholders in the organization need not necessarily know what they want out of a project management exercise to the minutest detail. A project management team can take up this role and help define the outcome of his project management activity through project management software and project management information system.
6. Failure is the End of the World:
Many project managers believe that one project went wrong means the end of their career. However, this is not true. Sometimes, it is the wrong implementation of the organization which leads to failure of a project and not a flaw in the design of the project which leads to the flaw in the outcome of the project management activity. This is not even dependent upon the project management software which churns out results of a project management activity.
7. Once a project starts, it won't end:
No matter if some of the best online project management software is being used or if an experienced project manager is engaged in the activity of devising project management results, there always remains the possibility that the organization may come up with some modifications to their existing project and devise some new course of action. In this scenario, the project manager may have to adopt a new approach to his project management approach. However, generally, it is not an ongoing activity and culminates once the desired objective of the client is achieved. This can be managed through project management software.
These are just a few of the common myths which surround a project manager's job role. Besides these, there are few others as well but before you set out to believe on any one of them blindly, make sure that you understand the exact repercussions of those myths.
Some of the best practices to follow, to manage your software project successfully are as follows:
Make sure that all your stakeholders acknowledge your requirements well.

Create a team that stands responsive for the risks, if any.

Create a detailed work plan using project management techniques.

The communication should take place effectively.

The progress should be monitored and tracked regularly, with the help of the project tracker.

The potential risks should always be kept in mind.
Some of the most important market trends to acknowledge in Project Management are:
The development of Automation and Artificial Intelligence because of the increase in the number of project management software.

Involvement of more and more of hybrid management outlooks, using more of the project management techniques.

The growing influence of emotional intelligence (EQ).

Giving extra attention to numbers and data analytics, which is possible by using the best PMO software.

Using advanced project management instruments and solutions.

Increase the time of remote working in your overall project management schedule.
Agile Project Management is a methodology that provides value to the entire project management process by imbibing error-free high-quality results for high-priority projects. Project Managers who include agile methodology and agile project management tools in their processes are often rewarded with supreme customer satisfaction and reviews. Many project management methodologies lead to dragging, cost miscalculation, and error-prone results. But Agile overcomes all these obstacles enabling a very optimal solution.
It is a well-known fact that no software project is unchanging. But, Agile Project Management is all about embracing the changes that arise even at a later stage of development.
A highly complex strategy involves developing an entire project, testing it, deducing millions of flaws, and then reworking on it. But this complexity is readily reduced by Agile methodology. It ensures that the entire project is divided into several small usable segments, each developed individually. This way each segment is tested individually and edited accordingly in a much more effective manner due to it being smaller segments of the whole. This way smaller components can be delivered separately for user testing during the development stages of the project commence.
Benefits of Agile Project Management Methodology
Deployment of software is quicker leading to value to the customer at an early stage

Less resource wastage due to working on up-to-date tasks

Faster turnaround time

Better adaptation to changes and faster response

Quicker bug detection and fixing

Experimentation and testing of new ideas made cost-efficient

Premature optimization does not take place

Knowledge sharing and quicker feedback
Drawbacks of Agile Project Management Methodology
Due to regular changes, documentations are inconsistent

Measuring progress is a bit more difficult here

At times projects can become unending due to no clear end of the scope

Clients with time and budget constraints can get stuck in the middle due to no finalization of either

When project development is in segments, then it is crucial to be hyperactive when it comes to integration otherwise the entire project can become disjointed.

Iteration takes place in short cycles which often leads to leaving out the designing discussions. Hence, designs or UX may be lacking
Agile project management methodology is built upon years of experience in facing the challenges of traditional methodologies. Though it counteracts the ill effects of traditional methods, it also has its own limitations. Even because of that, at present agile project management software make for the best and most effective project management methodologies.
Steps to Choose the Best Project Management Software Program
Organizing an entire team's workload is what project management is all about. In the age of technological advancement and modern outlook towards systems, the use of a project management system can help project managers achieve this task quite efficiently. Making use of project management software can ensure effective collaboration and communication between the members of a team. This is why the selection of appropriate software for this purpose is essential. The right project management software will yield success for the managers and the enterprise as a whole and would save essential time.
1. Why make use of spreadsheet programs to manage a project?
Counted among the most feasible solutions for a project manager, a spreadsheet program can help achieve a lot in a shorter time frame. This is best for small teams which are physically located at one location. However, using spreadsheet programs to manage a large team may turn out to be a cumbersome job. Thus, as long as constant upgrades and changes are not part of the plan, a small team can make use of these programs to solve much of their project management related tasks.
2. Why should you choose a dedicated project management software?
From planning to schedule, a project management software helps in managing every tiny detail which is related to a project. This is why project managers go to great lengths to make project management software comparison so that they can make the right selection for their organization. This is one way how teams can communicate and collaborate with each other and involve all team members in the tasks involved.
A project management software helps a manager remain organized from the time the project starts until the time it ends. It allows the manager to stay in the loop of things and keep track of what is happening. The major advantage of project management software is that it helps to maintain things in a centralized manner at one place, becoming the focal point of every project related activity, helping a manager gain more control of the tasks involved.
3. Understanding a project management software
Before you begin considering project management software as the ultimate last-minute resort to all your problems, it makes sense to understand that the software is not only meant for the project manager himself but also for the team. For this reason, the team needs to be briefed on how the project management software will be put to use and how the solutions will be implemented to solve a given problem. Training sessions can be used to enable your team to understand what the software is all about and how it can be used. The integration of project management software with relevant project management tools can assist a team in gaining a clearer insight into the intended goals of the project.
Some of the recent events which have taken place and are essential for you to know are:
JetBrains launched Space for developers, which is a collaborative tool for work management.

A list of 8 management behaviors was found, which promotes trust between the employees.

The organizational change movement (OCM) tries to add smartness to the strategy of project management with the help of a software project management plan.

So far, in 2020, Gartner has identified ten strategic technology trends for project management software.

Dominic Price predicted the most popular ten trends in the software project management plan, which will become very famous in 2020.
The product management software can be used commonly by all types of businesses. Still, its usage is most critical for the industries that are in marketing, information technology (IT), and education. The reason behind this is that in these industries, business commonly works on many time-sensitive tasks at a single time. Therefore, it requires collaboration with the other teams for contrasting assignments.
Project Management is the implementation of the procedures, techniques, abilities, comprehension, and the experience to attain specified project objectives, according to the conformation criteria of the project, within the agreed framework. Project management has outcomes that are forced to a limited time scale and budget.
The primary factor which differentiates project management from just 'management' is that it has some outcomes and limited and fixed time restrictions, contrasting control, which is a continuing process. This is the reason why a project professional needs an extensive range of knowledge, where the most important is technical expertise. Also, some people management skills and ethical awareness relates to business.
While executing the project management software, some of the significant challenges in using the project management best practices are:
Mistakes or Duplications in the Designs.

Absence of Combinations.

Lack of Commitment in the Leadership Process.

The Ignorance of Change Management in the Implementation of Project Tracker Systems.

Incompetence to use the PMO Software.
Conclusion
There is joy in successfully completing a project that was weighing you down. There is even more joy when your boss and stakeholders grin at the accomplishment. But, for you to achieve that, you need to make a good choice of PM. Such software will help you schedule, track and monitor every step along the journey of your project, manage to overcome the challenges associated with resource management resources and accounting errors.
Also, you need to make note of the trends in PM technologies that will help you keep up with changing times, for improved efficiency.
Showing
1
-
25
of
803
products
Free online project management system by Zoho
Plan, track and control your project with all-in-one and simple project management software. Manage your documents and collaborate seamlessly at one place. Helps to get in-depth insights through Gantt charts project management methodology. View Profile
#1
Project Management Software
Easy Projects is an award-winning collaborative work management platform used by local and remote teams to achieve quantifiable operational improvements. On average, teams that use Easy Projects report 30% decrease in project duration and 60% increase in productivity. View Profile
Visit Website
Request Demo
#2
Project software for all type of businesses
Jira is an issue project tracking software, developed by Atlassian. It is one of the best project management software for small business as well as medium and large businesses as it provides bug tracking, issue tracking, and more features. View Profile
#3
Most trusted project management software globally
With the monday project management tool, manage everything on a single board and visualize everything your team is working on at a single glance. Also, monday PPM software helps to find your team has ever worked on, such as project, images, and everything. View Profile
#4
Comprehensive, 100% Customizable, Online PM Tool
An award-winning, affordable, all-in-one project management and collaboration solution. Manage projects, resources, timesheets, issues, risks and more from one place. Successfully used by small teams and Fortune 500 companies, give Celoxis a try. View Profile
#5
One of the most popular project management software
Asana project management tool facilitates team communication and keeps the team on the same page. This project collaboration software eliminates the need to use email or any third-party apps for corporate communication. View Profile
Free Consultation
Pricing
#6
Best cloud based project management software
ProofHub online project management system helps managers across the critical phases of a project like planning, managing and delivering outcomes within the stipulated time. It works as a central hub for team members, clients to share tasks, images, files, notes, and discussions for a more effective collaboration. View Profile
#7
A Complete Project Management Software for SMEs
Collabrill is a suite of products to streamline core functions of any business. Cloud based solution provides an easy-to-use collaborative platform for the enterprise to help them manage their end-to-end process, take away their pain points and focus on growth. View Profile
#8
All-in-one online PMS software
Web based project management software for startups to the enterprise level. Manage your project tasks, time, reporting and resources across the enterprise. This online task management software shows visual information better with Gantt Charts than other such tools. View Profile
#9
Simple Project Management Software
ProProfs Project is an online project management tool, perfect for executing plans, scheduling and assigning tasks. It allows project managers with a solution to manage resources, allocate tasks and coordinate among different teams. It also provides an online platform where multiple teams can collaborate in real time to execute projects. View Profile
#10
A trusted project management software worldwide
Taskworld is a cloud based collaboration platform which offers advanced analytics, built in messaging and a bunch of good features which easily managing projects and serves seamlessly and straightens out the curved parts of the team. View Profile
#11
Most user friendly online project management software
Freshservice task management software helps you to organize projects into tasks and subtasks that can be easily assigned within team members. Also, you can add a guest user and give them limited capabilities to the project. View Profile
#12
Customisable project management solution
Podio project management software accelerates communication and provides the transparency and accountability needed for effective teamwork, helps to organize and track your project at single place.It integrates seamlessly with many of the most popular file-sharing tools such as Dropbox, drive, Evernote and more. View Profile
#13
Software by onlyoffice
ONLYOFFICE works as a link-up space for your team sky-rocketing their performance. It comes with the fast and easy installation. It can seamlessly integrate with a number of apps and services. It has simple and intuitive interface. View Profile
Free Consultation
Pricing
#14
Software by Paymo
Paymo is the simplest and one stop solution for project management software. Manage whole the project cycle of the project from planning, assigning, adjusting to financial cost also. Gives automatic the real-time collaboration and task Update of all the project mates. View Profile
Free Consultation
Pricing
#15
Collaboration and Task management software
SmartTask is an online task management and collaboration software for teams to track their progress. SmartTask brings task management, file sharing, CRM, location tracking and instant messaging on one platform. View Profile
#16
Project management tool with 30 days free trial
Basecamp is a project and collaboration management software tool is designed to store and share information with a team. This project tracker includes a calendar and to-do section but is it not a project planning software. View Profile
Free Consultation
Pricing
#17
Web based project management software solution
toast EPM project software centralizes and consolidates monitoring and control of projects across your enterprise. Not only project members, but the guest user can see the current status of projects. Also, consolidated view helps to get better control across all projects. View Profile
#18
Software by Clarizen
Clarizen provides fully cloud-based project management application tools. It provides functions to ensure customers succeed in their implementation, adoption, and usage of Clarizen. It has an easy to use interface to collaborate with your team and client View Profile
#19
Software by FATbit Technologies
BIZixx is one of the fine PM tools that help managers manage all the aspects of a project from his desk with ease. It is a one-stop solution for all management related issues and requirements in your project. View Profile
#20
Software by Zilicus Solutions
Zilicus is a simple project management software apps and collaboration tool on the market. It includes in addition to typical features resources tracking, wide reporting options or customization options. This pm online tools' user interface with icons makes it easy to use. View Profile
Free Consultation
Pricing
#21
Software by Zoho Corporation Pvt. Ltd.
Zoho is the powerful solution for the contact management. Build stronger customer relationships. Engage with multi-channel and social media. It manages all customer communication from CRM. View Profile
#22
World's Most Powerful HR and Payroll Software
HRMantra is the World's most feature rich HR and Payroll software helping automate the most complicated of hire to retire HR processes easily using its CRORES of ready to use features. It saves 30 min per emp per day giving over 10 times ROI. 100% project success assured. View Profile
#23
-
WebWork Time Tracker is a time tracking and employee monitoring software. Small, medium, big companies are also major beneficiaries of WebWork Time Tracker, monitoring their employees effectively and boosting their overall productivity and efficiency levels. View Profile
#24
The World's #1 Cloud Professional Services
Oracle NetSuite OpenAir is the world's #1 cloud PSA solution, running all your service delivery and project management processes on a single, real-time platform in the cloud. View Profile
#25
Frequently Asked Questions (FAQs)
The primary purpose of project management software is to help with planning, scheduling, resource allocation, execution, and delivery of projects. Besides, it helps in easy communication and collaboration with stakeholders and clients.
The net present value of a project is calculated by adding the present value of cash flows for each year associated with the investment. It is then adjusted or discounted so that it expresses in today's dollars.
NPV = ? (Year n Total Cash Flow)/( 1+Discount Rate)n
Where 'n' is the year whose cash flow is being adjusted
Software project management comes with an NPV calculator.
The role and responsibilities of a software project manager surround many activities like:

Planning of activity and sequencing

Planning of the resources

Time estimation

Defining the scope and planning

Cost estimation

Analysation of risk

Influencing the strategies

Working compatibility with vendors

The realization of the benefits

Analysis of the portability
If you have project management but without the correct software, it means you can catch it in due course, but it will take your lot of time and will become very difficult for you. Therefore, with the project manager, using the best possible tool can help your business make a massive change in improving the operations of the organization. Using the correct software, along with its online task tracker, can help you manage your project much quickly and smoothly in many ways.
You can control the users or members and their accessibility levels in all your projects. Moreover, you can also customize the levels of access you give to each of your users per project.

To view, edit or add and remove the members from the project, go to the option of the project's Settings > Members.

For adding new users, use the +Add button at the top to add the new user in the project, or you can also select multiple users at a single time. Moreover, you can also add users to your project from the project overview by using the same as the above manner to add people to your group from the project overview.
Project Management software in following industries