Best Proofreading Software
Best proofreading software includes WhiteSmoke, PaperRater, Typly, After the Deadline, and Proofread Bot. This software allows users to find and correct punctuation, spelling, formatting, and grammar errors and check for plagiarism.
Get Free Demo
Connect With Your Personal Advisor
List of
20

Best Proofreading Software

Showing

1

-

20

of

23

products
Until 30th Jun 2023
In the digital age, writing has become an integral part of communication, whether it's for work, education, or personal purposes. However, with so much content being produced, it's easy to make mistakes that can negatively impact the message's clarity and effectiveness.
That's where proofreading software comes in handy. With many options available, selecting the best one for your needs can be challenging.
In writing, proofreading means checking that your spelling and punctuation are correct. This could be an essay, novel, manual, website, or other medium.
Proper spelling and grammar offer a professional appearance and ensure your reader understands you. Poor proofreading can cause embarrassment, confusion, and potentially fewer career possibilities.
Proofreading software analyzes textual content to detect and correct spelling errors, as well as give recommendations for improvement. In addition to typical grammar checks, several proofreading systems provide contextual thesauruses, sentence rephrasing tips, and custom style guides.
Proofreading software can evaluate a wide range of writing, from emails to blogs to website material, and across professions, departments, and industries.
Proofreading software is useful for anyone who writes or produces written content. Proofreading software can benefit a wide range of individuals from students to business professionals, non-native speakers to publishers and editors.
Students

Proofreading software is commonly used by students to check their academic assignments, essays, and research papers for grammatical errors, typos, and plagiarism. It can also help them improve the structure and readability of their writing, ensuring that they receive better grades and feedback from their professors.

Writers

Writers, whether they are bloggers, journalists, novelists, or content creators, use proofreading software to refine their writing and ensure that their work is error-free. It can help them detect common writing mistakes, such as passive voice, wordiness, and redundancy, and suggest more precise word choices and sentence constructions.

Business Professionals

Business professionals, including executives, marketers, and communication specialists, rely on professional proofreading software to ensure that their written communications, such as emails, reports, and presentations, are polished and professional.

It can help them save time and maintain a professional image by catching mistakes before they are sent out to colleagues, clients, or customers.

Non-Native Speakers

Professional proofreading software can be especially beneficial for non-native speakers who are learning English or another foreign language. It can help them improve their grammar, vocabulary, and sentence structure, allowing them to communicate more effectively in their personal and professional lives.

Teachers and Professors

Teachers and professors can also benefit from proofreading software by using it to grade their students' written assignments and provide feedback on common errors. It can help them save time and provide more comprehensive feedback, enabling their students to improve their writing skills.

Publishers and Editors

Publishers and editors use proofreading software to ensure the quality and consistency of the content they publish. It can help them catch errors in grammar, spelling, and punctuation, ensuring that the final product is of high quality and meets their standards.

Website Owners

Website owners can use proofreading tools to check the content on their website, including blog posts, product descriptions, and marketing copy, for errors. It can help them improve their website's credibility and professionalism by ensuring that their content is error-free and easy to read.
Proofreading software is a vital tool for anyone who wants to ensure the accuracy and professionalism of their written work. With the rise of digital communication, it has become increasingly important to have a reliable tool to detect errors and suggest improvements in real time. Let's explore the key features of the best proofreading tools and how they can benefit writers.
Spelling and Grammar Checks

Proofreading and editing tools include a spelling and grammar checker that may swiftly discover and recommend changes for writing problems. This function can save writers time and increase their writing correctness.

Style Suggestions

The general style and clarity of writing can be enhanced with the help of some best proofreading tools. This feature can aid writers in better conveying their ideas and creating more interesting content.

Plagiarism Checks

Some proofreading tools contain a plagiarism detection capability, which can help verify that your material is unique and properly cited. This function is very beneficial for academic writers and journalists.

Vocabulary Enhancement

Some proofreading program software can recommend expanding or improving a writer's vocabulary. This function can assist in making writing more engaging and efficient.

Human-Like Language Understanding

Natural language processing (NLP) is used in advanced proofreading program software to better grasp the context and meaning of written material. As a result, the user receives more accurate suggestions for improvement and a more personalized experience.

Integration with Other Tools

Other writing tools, including word processors or content management systems, can be coupled with some proofreading tools. Using the program and integrating it into their writing process may be made simpler.

Multilingual Support

Writing in several languages can be checked by some best proofreading tools. Non-native speakers and multilingual writers may find this feature especially helpful.
Proofreading software can help detect and correct grammatical, spelling, and punctuation errors quickly and efficiently. We will explore the benefits of using the best proofreading software and how it can improve the quality of your writing.
Improved Accuracy

Professional proofreading software can assist in identifying and correcting writing errors, resulting in greater accuracy and higher-quality work. This is especially useful for authors who have trouble catching their own mistakes.

Time-saving

Proofreading tools detect problems far faster than hand proofreading, saving writers time and energy. This is especially beneficial for writers who must proofread large amounts of information or operate under tight deadlines.

Consistency

Proofreading software guarantees that written material is consistent and coherent by recommending adjustments to style and wording. This can increase the overall quality of the work and the reader's experience.

Reduced Errors

Proofreading tools can assist in reducing the number of errors that occur during manual proofreading, improving the correctness and professionalism of written work. This is particularly useful for individuals or enterprises who rely on written communication to deliver critical information.

Enhanced Professionalism

Proofreading software can help increase the correctness and quality of written material, boosting writers' professionalism and reputation. This is especially crucial for authors who work in disciplines that demand precision and attention to detail.

Improved Language Skills

By giving suggestions for improvement, proofreading software can assist authors in reducing their spelling mistakes, and improving grammar and vocabulary abilities. This is especially advantageous for non-native speakers who may want further aid in improving their language skills.

Accessible

Anyone with an internet connection can use proofreading software, making it more accessible than manual proofreading or paying a professional editor. This is especially beneficial for people or businesses on a limited budget.

Cost-Effective

Proofreading software is typically less expensive than hiring a professional editor, making it a more cost-effective option for frugal individuals or businesses.
Proofreading software can be a game-changer for writers looking to improve the quality and accuracy of their work. However, with so many options available, choosing the right one can be daunting.
By the end of this guide, you'll be equipped with the knowledge to make an informed decision and choose the best proofreading software to suit your needs.
Accuracy

The accuracy of proofreading software is critical in ensuring it can detect and correct written errors. Using software with a good reputation for accuracy can help you improve the quality of your writing.

Customization

Customizing your proofreading software to your tastes, such as selecting a preferred writing style or removing particular errors from checks, can increase the software's accuracy and effectiveness.

Features

Proofreading software has various capabilities, including spelling and grammatical checks, style suggestions, and plagiarism detection. Consider the characteristics you require and select software that provides them.

Integration

Choosing ai proofreading software that can be integrated with other writing tools, such as word processors or content management systems, can make it easier and more effective.

Cost

When selecting proofreading software, price is an important factor to consider. Consider the price of various alternatives and select software that works within your budget while still providing the functionality and accuracy you require.

Customer Support

Good customer service can be beneficial if you run into problems with your proofreading software. Look for software that provides responsive technical support and detailed documentation and tutorials to help you utilize the software efficiently.
| Name | Free Trial | Demo | Starting Price |
| --- | --- | --- | --- |
| | Yes | No | $15/month |
| | Yes | Yes | $29.95/month |
| | Yes | No | $29.96/month |
| | No | No | $19.99/month |
| | Yes | Yes | $20/month |
In the market, so many options are available; it can be overwhelming to choose the right one. SoftwareSuggest has compiled the top 5 proofreading software lists along with their pricing, pros, and cons to help you make an informed decision.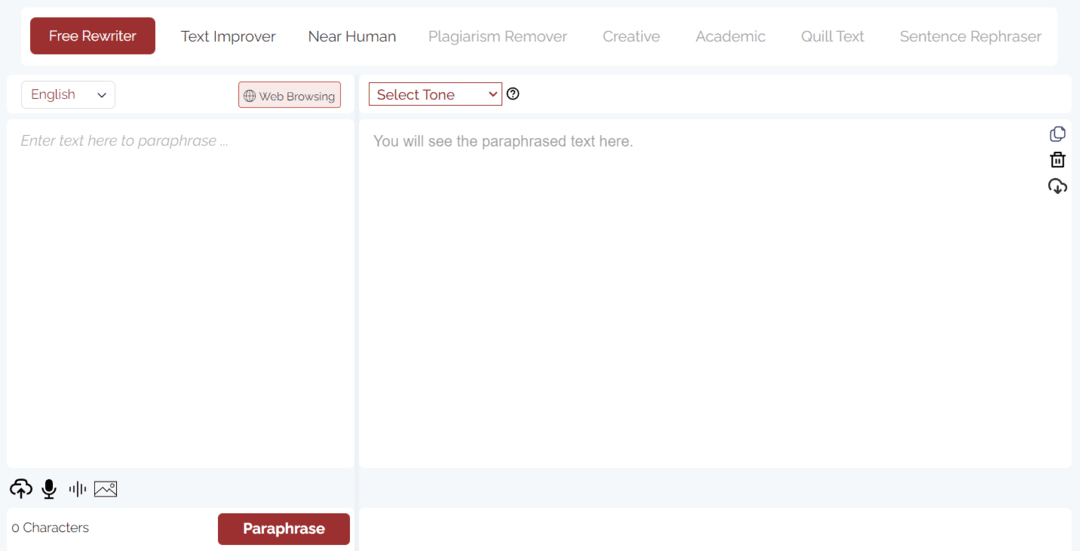 Paraphrasingtool.ai is an AI-powered paraphrase tool that allows you to rewrite content in various ways while maintaining the original meaning. It has a few other writing tools that may be used to check for plagiarism and grammar errors and generate summaries and essays without leaving the tool. The tool's best feature is that it provides most of its features and tools for free.
This program is extremely useful for students, bloggers, writers, and anyone wishing to write professionally and without errors.
Its paraphrase tool is one of the best for rewriting articles, blogs, essays, research papers, and other documents. The tool preserves the original notion of the content while presenting it more thoroughly, uniquely, and innovatively. It replaces the original words with their unique equivalents and modifies the phrase structure slightly without requiring you to rewrite it, saving you time and effort.
Paraphrasingtool.ai provides various modes you can use to modify your writing style and get the desired results.
Features
20,000 character limit with Free Rewriter Mode
The synonym and definition feature
Audio and image paraphrasing
Eight different writing modes
Four different writing tones
Multiple browser extensions
Supports multiple languages
Pros
The tool provides readable and highly accurate feedback to users.
It helps enhance users' vocabulary and writing skills.
Users can learn new words and their definitions while using the tool.
It can make paraphrasing 10 times faster for users.
The tool is perfect for writing content that targets different audiences.
Cons
Some paraphrasing modes require payment.
The free version includes distracting ads.
Pricing
Solo Text Generation: $15/month
Solo Paraphrasing Tool: $7/month
All-In-One Bundle Tools: $20/month
Grammarly is an excellent proofreading tool. It's perfect for most authors, editors, and anyone who works with words. Grammarly's strength is that it works across platforms and devices such as Windows and Mac and browsers such as Chrome, Firefox, and Safari.
Its artificial intelligence writing assistant allows for real-time review, acceptance, and rejection of faults with a single click. I proofread blog entries using Gmail, the Chrome extension, the Google Docs plugin, and articles using the Mac desktop plugin. It may be used to proofread everything from articles to emails.
If you work as a professional proofreader, chances are the writer or customer already uses or has access to Grammarly's free version. You may use Grammarly Premium to create a bespoke style guide and download reports for them to review.
Features
Grammar, punctuation, and style detection.
Browser extension
Mobile app
Robust free version
Pros
The tool provides real-time corrections to users' text.
It has a high rate of accuracy in paraphrasing.
The tool offers a browser extension and app for ease of use.
It is user-friendly and easy to use for all levels of writers.
Cons
Grammarly does not support Google Drive.
It does not offer big-picture feedback on the overall document.
Users must pay for the premium version to access all features.
Pricing
The free version offers a massive number of features
$29.95 per month
$59.94 per 3 months ($19.98/month value)
$139.95 per year ($11.66/month value)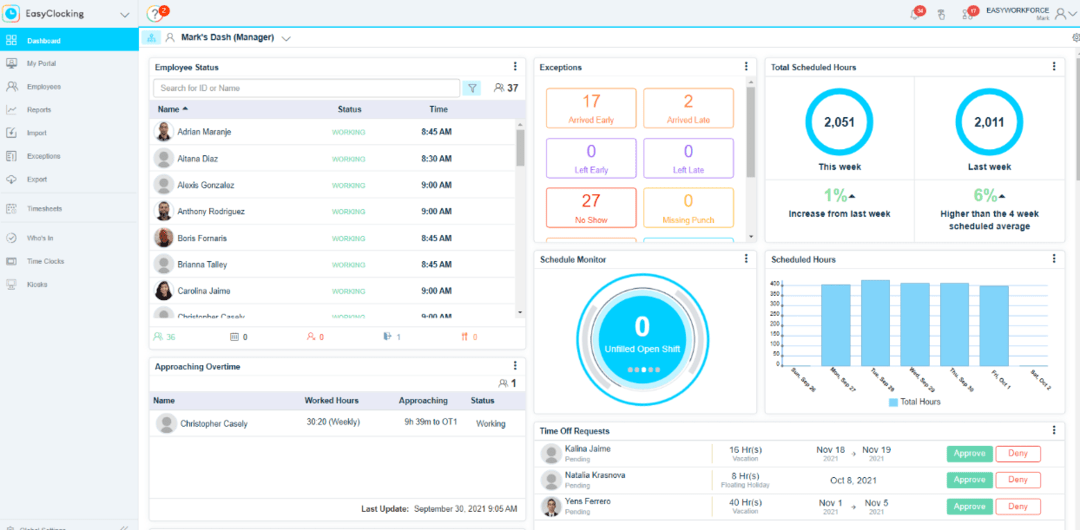 Ginger Software was formerly a legitimate competitor to Grammarly regarding features, accuracy, pricing, and ease of use. Unfortunately, Ginger's development has lagged behind that of Grammarly and ProWritingAid. Automatic proofreaders frequently require more information than a standard grammar and spell check.
It's slower and more clumsy than these proofreading tools. It also misses many of the extra proofreading reports and checks they have and a customer lexicon. However, it is still inexpensive and supports 60 languages.
Features
Grammar checker and sentence rephrase
Text reader allows you to hear your words out loud
Translate text into multiple languages
Mobile app
Free version
Premium version $11.98/month
Pros
Ginger is easy to use for all levels of writers.
The tool checks context-specific grammar to provide accurate suggestions.
It is available on both desktop and mobile devices.
The pricing is cheap and affordable compared to other similar tools.
Ginger works on most devices, including smartphones, tablets, and desktops.
Cons
Ginger does not work with Google Drive.
Users must pay for the premium version to access all features.
The user interface is out-of-date compared to other similar tools.
The tool may be less accurate than other proofreading tools.
Ginger may be less actively developed and upgraded compared to other similar tools.
Pricing
Its free version has a few useful features
$29.96/month
$59.88/year ($12.48/month value)
$95.76/24 months ($9.99/month value)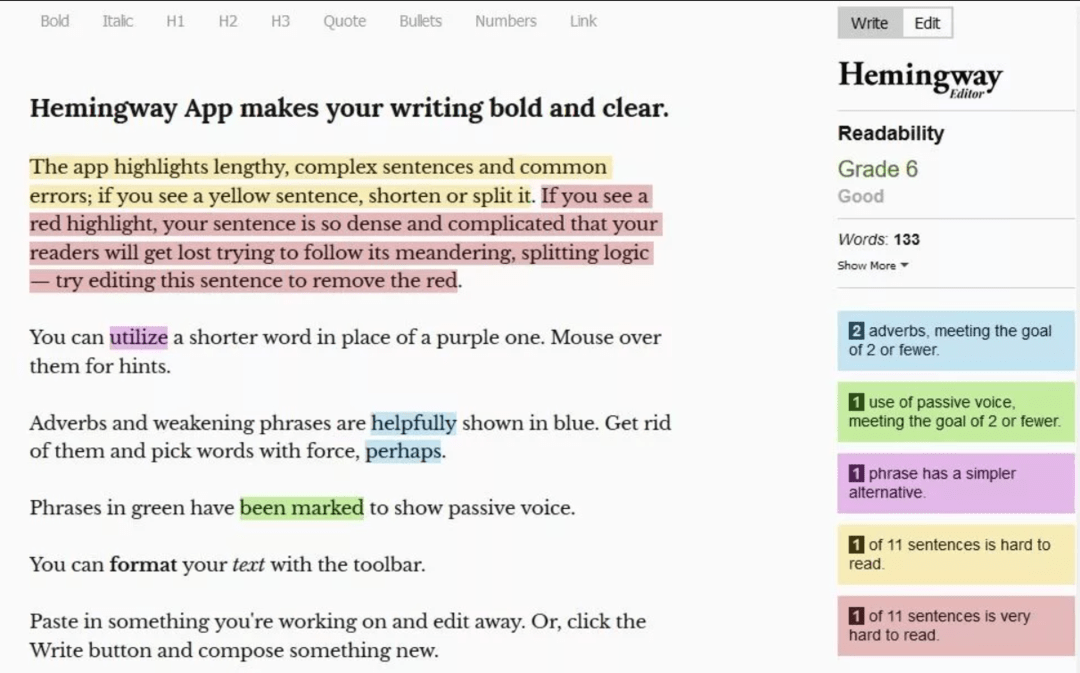 Authors recommend Hemingway Editor as a top tool for copy editing a piece of writing. A writer or editor can upload a Microsoft Word document, text, HTML, or Markdown file or copy and paste their work into the program. For enhancing sentence structure and writing style, we adore Hemingway Writer as the best English editing software. It aids in identifying and correcting instances of poor writing and excessive use of adverbs and adjectives. Additionally, it's excellent for avoiding wordy writing and enhancing a piece's overall readability.
Hemingway Editor, on the other hand, isn't like your typical proofreading apps. It will not detect or correct spelling, grammar, or traditional punctuation issues. It also does not generate reports that a proofreader may utilize or share. You also can't use it as a plugin in Google Chrome or other browsers. Having said that, it is free. You can purchase a version that operates without an internet connection.
You can't use it as a plugin in Google Chrome or other browsers. Having said that, it is free. You can purchase a version that operates without an internet connection.
Features
Identifies problem areas using color-coded highlights
Checks for passive voice
Sentence-weakening adverbs, run-on sentences, and over-complicated words and terms
The desktop app and mobile app
Pros
Hemingway highlights errors with easily identifiable color codes.
It has an advanced style checker to enhance writing skills.
Hemingway offers big-picture feedback to improve the overall document.
The tool is available for free without any hidden charges.
It is great for line edits, particularly for sentence structure.
Hemingway is a standalone tool, and it does not generate detailed reports.
Cons
Hemingway does not have a browser extension for ease of use.
There are no reports available for tracking progress.
The tool does not fix grammar errors directly but suggests edits.
Pricing
Hemingway's online editor is a free online proofreading tool
Hemingway's desktop app costs $19.99 for Windows or macOS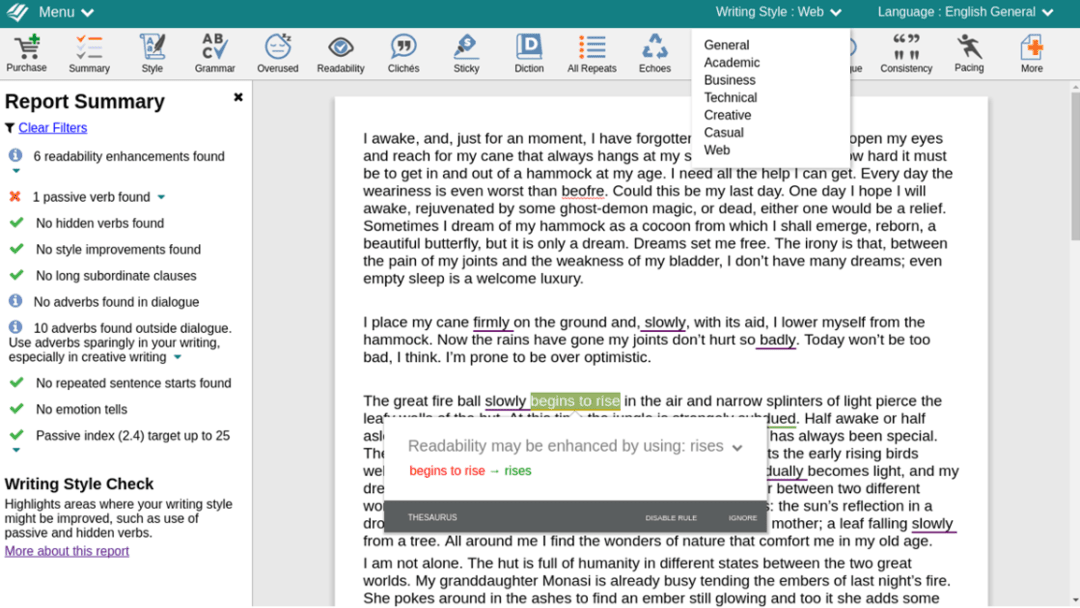 Grammarly can be replaced with ProWritingAid. It is compatible with nearly as many devices as Grammarly. It provides a plethora of high-quality writing and proofreading reports. Some of these are intended to detect common grammatical errors and other issues.
Others concern writing style and sentence structure issues in an article, blog post, or essay. We particularly like its reports for resolving concerns with word choice and repetition.
You can evaluate and act on these reports as an automatic proofreader or send them to a writer as part of your checks. Many professional writers and authors use Scrivener for long-form works. ProWritingAid is unusual because it is designed specifically to operate with Scrivener files and the best English editing software.
Features
Catches complex errors
In-depth reports and suggestion explanations in 20 common areas
Browser extension, mobile app, desktop client
Plagiarism checker
Free version
Premium version $60/year
Pros
ProWritingAid is compatible with popular writing software, such as Google Docs and Microsoft Word.
The tool works on both Mac and Windows operating systems.
It provides excellent proofreading reports to improve users' writing.
The pricing is affordable compared to similar tools.
ProWritingAid supports long-form documents for in-depth analysis.
Cons
The tool can be overwhelming with too many suggestions.
The browser extension can slow down browsing speed.
The plagiarism checker is only available in the premium version.
The free version has limited features and word count restrictions.
Pricing
$20/month
$79/year ($6.58/month value)
$399 one-time payment
Proofreading tools can be incredibly helpful in catching grammatical errors and typos; they may also miss more subtle issues and be unable to provide the nuanced feedback that a human editor can. This article will explore some of the key challenges facing proofreading software today.
Limitations of Technology

While proofreading software can be beneficial, it's important to remember that the technology may not always recognize subtleties in language and context. This may result in mistakes or proposed corrections that are inappropriate for the text's intended intent.

False Positives and Negatives

Users may find it frustrating when proofreading program software suggests pointless adjustments or overlooks issues that need to be fixed. This can be especially problematic for writers who rely extensively on the software because they might not spot faults the software misses.

Lack of Personal Touch

While the best proofreading software can be useful for detecting errors and improving writing, it cannot provide the same level of personalized attention and feedback as a human editor. This could be a disadvantage for writers needing more specialist editing or more difficult projects.

Need for Human Oversight

Despite the fact that the best proofreading software can be valuable, human monitoring is required to ensure that any modifications given are appropriate and consistent with the writer's goals. This is critical for authors unfamiliar with the application or working on delicate or difficult writing assignments.

Accessibility Issues

Some proofreading software may be inaccessible to people with disabilities, such as those who use screen readers or have visual impairments. This may diminish the software's usefulness for some users.

Security Concerns

Some proofreading tools may require users to upload their writing to a third-party server, which raises security concerns for confidential or sensitive data. Users should carefully investigate the security and privacy policies of any proofreading program.
In recent years, the latest trends in proofreading software have been focused on utilizing AI-powered tools, expanding multilingual support, offering real-time editing capabilities, and improving the user experience. These advancements are helping writers save time, produce high-quality content, and increase productivity.
AI-powered Proofreading

Artificial intelligence and machine learning are increasingly being utilized to increase the accuracy and efficacy of proofreading software. These technologies can assist in spotting faults and recommend fixes more quickly and accurately.

Multilingual Support

Many proofreading software options are expanding their language support, providing checks in languages other than English, and improving accuracy in non-native languages. This is especially useful for writers who work in multilingual settings or with non-native speakers.

Real-Time Editing

Real-time editing is now available in some proofreading software, allowing users to see recommended fixes and enhancements as they write. Instead of waiting until the editing step, this can help writers identify problems and improve their writing in real time.

Focus on User Experience

With better interfaces and more intuitive designs, several ai proofreading software alternatives focus on improving the user experience. This can improve the software's usefulness and value for writers by making it easier and more pleasurable.
Proofreading software costs vary substantially based on the product and services provided. Some ai proofreading software is free, while others need a membership or one-time purchase.
Free proofreading software may have limited capabilities or be ad-supported. However, they can be beneficial for detecting basic faults in written material.
Paid solutions for proofreading software may include more advanced features such as advanced grammar and style checks, plagiarism detection, and interaction with other writing applications and platforms. Depending on the software and degree of service, the cost of paid proofreading software can range from a few dollars per month to several hundred dollars per year.
Many options for proofreading software have tiered pricing plans, with higher-priced plans offering more advanced features and functionality. Discounts may also be available for students, non-profit groups, and bulk purchases of some software.
Finally, proofreading software can be a great resource for writers trying to improve accuracy, clarity, and overall quality. AI-powered proofreading, multilingual support, real-time editing, and a greater emphasis on user experience are among the most recent advances in proofreading software. Proofreading software alternatives abound, ranging from free tools with minimal capabilities to complex, commercial software with more advanced features.
When selecting proofreading software, it is critical to consider your specific needs and goals and its accuracy, reliability, and ease of use. Many proofreading software options provide free demos or trial periods, allowing users to test the software before making a purchase decision.
Overall, writers can enhance their writing skills, save time, and generate more polished and effective written content using the correct proofreading software.
FAQs of Proofreading Software
No, proofreading is not the same as rewriting. Proofreading involves identifying and correcting grammar, spelling, punctuation, and formatting errors, while rewriting involves substantial changes to the structure, tone, and content of a piece.
It depends on the specific software and the type of editing needed. Proofreading software can effectively catch basic errors and offer suggestions for improvement. Still, a human editor may be better equipped to provide more comprehensive feedback and make more nuanced changes to the writing.
Yes, proofreading software can be used for academic writing. Many proofreading software options offer features specifically designed for academic writing, such as citation and reference checking, and can help to improve the overall quality and accuracy.
Some proofreading software options are designed to be accessible for people with disabilities, such as software that offers text-to-speech capabilities or compatibility with assistive technologies. However, it is important to research and chooses software options prioritizing accessibility and inclusivity.