Best Real Estate Software
The best Real Estate Software are DaeBuild, Buildium, RSquare, Highrise, and StrategicERP. Real estate solutions help real estate professionals manage their business relationships with clients, vendors, and colleagues.
Get Free Demo
Connect With Your Personal Advisor
List of
20

Best Real Estate Software

Showing

1

-

20

of

258

products
Until 30th Jun 2023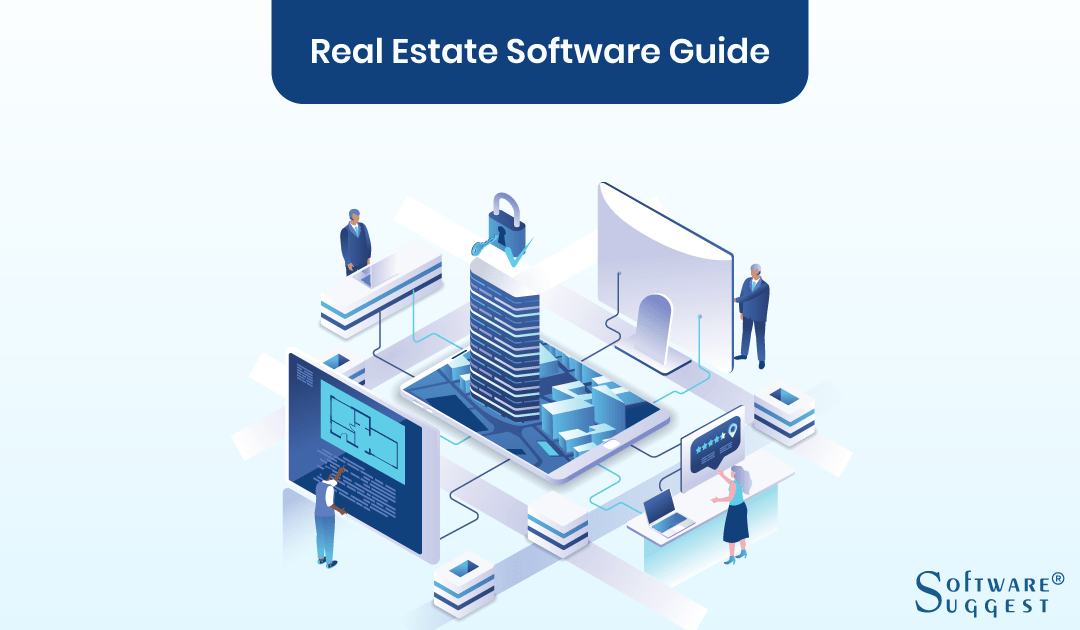 Builders and real estate developers are increasingly facing challenges in meeting stipulated deadlines while delivering a project. There can be many foreseen and unforeseen issues that can interfere with the timely execution of a project. When this is damaging to their reputation, it also increases the cost and risks associated with it.
Real estate management software applications are designed to mitigate such issues by allowing real estate vendors to manage all aspects of their complex business requirements from an integrated platform. They facilitate pre-project tasks and enhance project execution planning, cost, and risk management through efficient forecasting, etc.
The basic highlights of real estate software are listed below.
Managing multiple projects from a single platform

Reducing stakeholder risk

Budgeting, cost monitoring, and better management of finance

Reducing risks and improving profitability

Designed to serve the building lifecycle of the user

Document management and reporting

Timeline management

Bidding
Both on-premise and hosted software solutions are available in abundance. Software vendors are offering real estate management software for large as well as small builders. The key is to select the right size application that will support intrinsic business requirements, is easy to integrate and install, flexible, and scalable to changing business needs. Our listing service lists realtor software pertaining to your specialized industry where you can check, learn, and compare the different software applications available.
The section on real estate software lists specialized software appropriate for builders. If we are to suggest a few names, those would be – iGreen T.FAT Build, BuilderPlus, Highrise, etc.
Competition nowadays has intensified between real estate developers as everyone is trying to grab customers' attention.
Real estate management software facilitates the amalgamation of different complex aspects of the construction business by offering an integrated dashboard to users. Today, where most builders strive to complete multiple projects within a short period of time, it is crucial to be able to manage the day-to-day operation from a consolidated platform.
The benefits of real estate software are multi-dimensional to a construction business owner, a real estate agent, and a developer. Most applications of this category have the following features.
1. Hassle-free Project Planning:
Construction projects typically involve a large investment. Therefore, the real estate management system must lay down a proper project execution plan to make the process smooth and hassle-free. It also helps towards mitigating risks and delayed deployment.
2. Helps in Data Collection and Management
The manual storing and managing of information, including contact details, payment history, and assigned properties, can be time-consuming and prone to human errors.
Software for real estate management automates the collection of lead data from many sources, sorting and storing it in a centralized repository accessible to all authorized users. This makes tracking and managing leads as well as identifying your best lead-generating sources much more accessible.
Additionally, such software can calculate brokerage fees and list unoccupied properties on websites and third-party portals. Commercial and residential properties such as apartments, flats, condominiums, hotels, and cooperatives might benefit from real estate property management software.
3. Provides Effective Workflow Automation
Professionals may feel burdened by long sales cycles, high lead-to-customer ratios, and a lack of repeat orders. Real estate property management software can automate repetitive, resource-intensive operations like sending payment reminders, escalating service requests, answering client queries, and following up with clients.
This minimizes property managers' manual burden, allowing them to focus on business development activities like visiting clients and giving property tours. Such seamless automation can also help real estate agents finish deals faster. Furthermore, the saved time can allow them to concentrate on converting leads and increasing profits.
4. Reduces Activity Costs
Real estate CRM software helps minimize the human costs associated with tasks like lead nurturing, lead qualification, and customer communication. This is carried out by features such as data collection automation, lead generation and scoring, and monitoring of client interactions.
5. Financial Planning With Full Transparency
Large involvement of funds also needs proper management and planning, and hence, these applications integrate with a financial management system that allows users to keep track of receipts and expenses and ensure transparency at every level.
6. Schedule Task for Timely Delivery
Schedule tasks and check progress from a consolidated dashboard. It enables you to receive daily updates and measure project execution percentage for a timely delivery. You can even see all open issues and steps taken to address the problem – from one platform.
With the increase in population, there is also an increase in accommodation needs. All over the world, people are realizing the potential of the real estate business and investing in it.
At the same, there's a dire need to operate from a single platform to manage your business effectively. Real estate management software is of great help. The major portion of the work of the real estate transaction management software is to offer functionality for takeoff, estimating the cost, managing the project properly, document management, service management, and accounting. The real estate database software works under different features such as: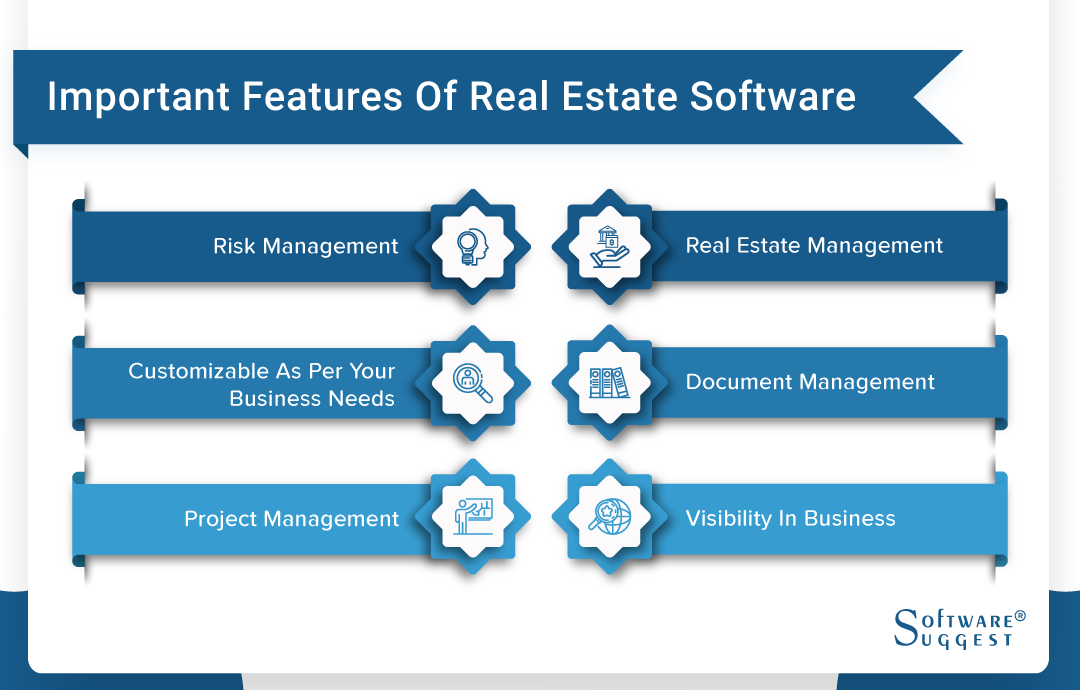 1. Risk management:
Real estate property management software will help the users to minimize liability in the field of tracking lien waivers. The laborers who all are working at the construction site undergo different risk factors. In that case, you can explain to them the risk management process, thus reducing their tension.
2. Customizable:
Most real estate ERP software vendors provide the organization with much freedom to define their accounting, operations, and procurement processes. The job is much simpler as it can be customized as per its necessity.
3. Project Management:
With the help of real estate software, the users can easily manage multiple projects from one platform. It enables project managers to assign tasks, track progress, and view reports, thereby increasing their productivity. It ensures the successful completion of the project. It alerts organizations if there's any roadblock that can delay the project completion.
4. Lease/Property Management:
The users will get the details of all their documents and they get the opportunity to manage their entire property with improved communications. They can also offer their organizations inflexible lease options and can eventually make a profit.
5. Document Management:
Using real estate management software, the users will have great control over the documents and undergo a clean audit trail, thereby reducing the risk factors.
6. Visibility in business:
The system gives full flexibility to define the information the organization requires and control access. It offers profit charts and other insights necessary for making important business decisions.
7. Bidding Management
Check vendor bidding status. Most applications will allow you to check, schedule, and attach a document to the bidding process along with providing a list of vendors who have been invited to bid.
8. Contract Management
Manage contract documents and also track changes in contract terms and conditions. Real estate ERP software allows a collaborative platform from which all documents pertaining to all open and closed projects can be managed. The user can also set the permission level for users to view, access, and edit documents.
As a result, all the features of the construction management software eventually help the organizations work peacefully, attain profit, and reduce the various risk factors.
There are two types of real estate management software dominating the market based on deployment. It includes web-based software and on-premise software. Let us elucidate on both.
1. Web-Based Real Estate Software
The real estate management software programs in this category are hosted on an internet server. As a result, it's known as on-demand SaaS (software as a service). This cloud-based software is beneficial as the number of apps available to the user is practically infinite. A team of specialized software engineers refreshes the program regularly.
Because these services are hosted online, they are accessible from anywhere. All a real estate manager needs to do is connect to an internet-enabled computer to access their leads. All the data is stored on a vendor's server. You can start using a real estate software solution by paying a subscription fee – monthly, quarterly, or annually.
2. On-Premise Real Estate Software
On-premise real estate software is hosted on a private service and deployed on a particular device. It doesn't give the flexibility to access it from any device. Besides, it requires an upfront cost in building infrastructure for the same. However, it ensures the complete safety of your data since it is installed on the company's servers. Any real estate company can pay a license fee and get it installed.
The property management business in the United States alone generates around $88 billion in yearly revenue. Owing to the real estate sector's exponential growth, several software vendors have sprung up to assist companies of all sizes.
This bifurcation, essentially, helps businesses meet property management needs with tailor-made solutions. Furthermore, customized assistance to attract, screen, and manage renters – enables you to flourish within your capacity and pace.
Let us have a look at some of the popular real estate software vendors by company size.
1. Top Property Management Software Comparison for Enterprises
Integration with CRM solutions and other corporate technologies is critical for large enterprises. Real estate management software for businesses provides end-to-end solutions for managing people operations, in addition to automating administrative chores.
Some of the top choices of real estate property management software for enterprises include Buildium, Entrata, and Yardi Voyager.
| | | | |
| --- | --- | --- | --- |
| Features | Buildium | Entrata | Yardi Voyager |
| Lease Management | Yes | Yes | Yes |
| Property Database | Yes | No | Yes |
| Tenant Portal | Yes | Yes | Yes |
| Vacancy Management | Yes | Yes | Yes |
2. Top Property Management Software Comparison for Medium-sized Businesses
Medium-sized businesses should look for software that provides maximum utility in minimum pricing. It is important to seek out cloud-based solutions for seamless integration of routine tasks, saving considerable time and effort.
Some of the top real estate property management software for medium-sized companies include ResMan, AppFolio, and LeaseHawk.
| | | | |
| --- | --- | --- | --- |
| Features | ResMan | AppFolio | LeaseHawk |
| Alerts/ Notifications | Yes | Yes | Yes |
| Campaign Management | No | Yes | Yes |
| Email Marketing | Yes | Yes | No |
| Lead Management | Yes | Yes | Yes |
3. Top Property Management Software Comparison for Small Businesses
Managing property transactions such as sales, purchases, maintenance, account management, and accounting is easier with property management software. Users of this type of software can manage renters and buyers, track leases, and reconcile payments. Small businesses can benefit a lot from this.
Some of the best property management software for real estate for small businesses include Yardi Breeze, Innago, and Tenant Cloud.
| | | | |
| --- | --- | --- | --- |
| Features | Yardi Breeze | Innago | Tenant Cloud |
| Commercial Property Management | Yes | Yes | Yes |
| Tenant Tracking | Yes | Yes | Yes |
| Residential Leases | Yes | No | Yes |
| Vacancy Management | Yes | Yes | Yes |
Comparing software alone cannot suffice your market research. Consider the following factors while choosing a real estate management software to make a holistic informed decision:
1. How Smooth Is the Integration?
Your real estate CRM system should work effectively with your current software (such as accounting software). It should also consolidate with other file sharing, collaboration, productivity, or social networking tools you employ.
This will guarantee that data is transferred seamlessly between systems, giving all users access to the same information. It will also save you the time and effort of re-entering data into multiple applications.
2. What Are Your Deployment Options?
Property management software for real estate can be used in the cloud or on-premise. While cloud solutions are cost-effective and accessible from any internet-connected device, customers' data is stored on third-party servers.
With on-premise implementation, users have total control of the product and may keep their data locally, but they must make a larger upfront hardware expenditure.
Make sure you evaluate the benefits and drawbacks of each deployment option based on the size and budget of your company before you choose one.
3. What Type of a Buyer Are You?
Whether you are a residential or commercial real estate agency, your real estate software choice should be influenced by your specific work area.
If you work at a residential real estate firm, condominiums, duplexes, and vacation houses are among the residential properties you would sell. However, because of the slim odds for repeat purchases, you have to place a greater emphasis on lead creation. Hence, look for software that has customized campaign templates, lead qualifying, and targeted email marketing.
Commercial real estate firms, on the other hand, sell assets such as shopping centers, malls, hospitals, and office space. With an increased likelihood of repeat sales, methods to engage clients even after a closed deal are possible. Hence, software that allows contact management, list management, inventory management, invoicing, reporting, and email and text message campaign management should be ideal here.
4. How Much Would it Cost?
It is important to chart out software based on your budget. Additionally, the total ownership cost should be kept in mind.
All related expenditures, such as subscriptions, training, support, and updates, should be considered when acquiring software. Although a solution may appear to have a low upfront cost, there may be hidden costs, such as extra payments for ad hoc assistance.
As a result, it's good to double-check any associated fees before completing a purchase.
5. Is it Mobile Responsive?
Real estate property management software adds more value if accessible on a smartphone. For a substantial portion of the day, real estate agents, brokers, and sales professionals travel to client or site sites. You should be able to access project data, customer information, lead data, and marketing materials from any location. Hence, software that works on a mobile application will come in handy.
6. Is it Easy to Use?
It's best to go with software that's simple to use, especially for new agents and requires little to no training. If the real estate management software interface is cluttered, difficult to use, or needs extensive training, your employees may be unable to use it successfully. Use free trials to try out several products and see which one is the most user-friendly.
Here are some of the drawbacks that property management software for real estate can cause:
1. Expensive
CRM software may seem expensive for small businesses. The system will help you cut additional costs and increase productivity in the long run. However, it might not be an economic decision if you are just starting out. You can, of course, go for free versions, but it comes with limited functionalities.
2. Time Consuming ( If Wrong System Chosen)
If you pick the wrong software for your business, the process will be time-consuming. Make sure you evaluate your own company, the extent of the projects you lead and work on, and choose the property management system that best suits your needs. If you manage a small business, the best option is to opt for a basic, user-friendly interface.
Some of the key trends influencing the real estate management software market include:
1. AI Integrated Chatbots for Lead Generation
Chatbots with Artificial Intelligence (AI) can help in lead creation and segmentation. Bots can respond to customer questions quickly, automate conversation, prospect for leads, and send quality leads to employees for follow-up.
Property management software providers are anticipated to include AI and chatbot capabilities in their real estate management systems in the coming years.
2. Revolutionizing Real Estate With Virtual Reality and Augmented Reality
The majority of real estate professionals take prospective clients on tours of actual properties. Recent advances in the VR and AR arena, on the other hand, have brought the notion of virtual property tours, which can be accessed at any time and from any location.
For agencies, these excursions are both cost-effective and time-saving. Realtors and builders may also use virtual furniture to display unfinished property spaces. This allows purchasers to take a fully immersive tour of a house before it is finished.
3. Smartphone Applications
Agents can access property data, customer contact information, and reports on the move, thanks to mobile accessibility. Many real estate management software suppliers currently include mobile applications with their software, and more vendors will consider mobile accessibility a requirement in the near future.
Related Research Articles:
FAQs of Real Estate Software
Some of the tools used by real estate agents are:
Project planning and management tool
Budgeting and cost monitoring tool
Document management and reporting tool
Customer relationship management (CRM) tool
Timeline management tool
The common users are builders, contractors, agents, investors, landlords, property managers, and small and medium-sized infrastructure companies.
You can cut costs, save time, gain analytical insights, and secure sensitive information with cloud-based solutions.
Real Estate Software in following industries