UltaHost Overview
Ultahost is a web hosting provider that offers a variety of hosting services to suit your needs. A leading provider of high-speed hosting solutions for mission-critical websites and apps. All plans are managed by 24/7 customer support for free.
Industry:
Software / Technology
Employee Size:
10-49 employees
Annual Estimated Revenue:
$1 million to $2.5 million
Avg Hourly Rate:
$50 - $99/hr
Min. Project Size:
$1,000+
Other Locations:
Turkey, United States
UltaHost Categories on SoftwareSuggest
Most Preferred on SoftwareSuggest
UltaHost Awards
UltaHost Reviews (1)
Usama K.
Developer
Used the software for : 6-12 months
Ultahost is a gem in web hosting.
The hosting services provided by Ultrahost ensure minimal downtime, allowing my website to be accessible to visitors consistently. This reliability gives me peace of mind, knowing that my online presence is well-maintained.
Pros: What did you find most impressive about UltaHost
I highly recommend Ultrahost to anyone looking for a reliable, high-quality hosting provider. They are among the best hosting companies with exceptional service, reliable infrastructure, and a knowledgeable support team.
Cons: Please provide which UltaHost features/part can be improved
Nothing to discuss here as I am highly satisfied with its features and services.
What were your goals for this project?
I wanted to develop new apps and ultahost helped me in managing my websites for so long.
Can you share any outcomes from the project that demonstrate progress or success?
Yes. during all my work, this product managed my work well. All thanks to ultahost that I am now very good developer.
How effective was the workflow between your team and theirs?
Great. Their customer support is the best.
What other products like UltaHost have you used or evaluated ?
Nope.
How would you rate after sales service/customer support of UltaHost?
10/10
Description
The internet, particularly websites, does not look the same as it did a decade ago. From text-only websites in 1991 to flash websites in 1996 to responsive websites in 2010 to graphic and visual-rich websites today, we have seen a dramatic revolution in websites over the past few years.
Modern websites not only look visually appealing, but also contain a wide range of elements and features that work together to create a memorable, user-friendly experience. However, in addition to creating a website that is aesthetically pleasing, well-polished, and professional, you will also need a powerful web hosting platform to ensure that website is always accessible to visitors and that its data is securely stored.
This is where UltaHost comes into the picture. In this product review, we will look in depth at UltaHost– a next-generation web hosting provider, and will cover the following topics:
Introduction to UltaHost
Key Services of UltaHost
Benefits of UltaHost
Our Final Verdict
Introduction To UltaHost
UltaHost is a top-tier, cutting-edge web hosting provider that breathes new life into your websites and apps. This platform, designed for small-to-medium-sized businesses as well as personal websites, is outfitted with a variety of cutting-edge features that guarantee your website will stay swift, secure, and always up.
One element that gives UltaHost an advantage over its competitors or qualifies it as a reliable hosting option is its carefully thought-out infrastructure. UltaHost, unlike the majority of other web hosts, owns and manages each of its seven data centers, which are spread across the USA, Canada, Germany, Netherlands, Turkey, India and Singapore.
All of these Tier-3 and Tier-4 data servers are housed in a cutting-edge data center with raised floors, climate control, round-the-clock security, fire suppression, water detection, UPS, and generators, ultimately ensuring 100% system uptime.
Additionally, the platform offers several of the features listed below, making UltaHost a popular option for both business and individual users.
Besides that, all UltaHost servers are built on advanced SSD (Solid State Drives) that provide a 200% speed boost for website speed, caching, and database queries.
Moreover, the platform uses Cloudflare CDN caching, which replicates your website's content across 190+ server locations around the world. This allows visitors to load your website from the server closest to them, significantly reducing load time.
In a nutshell, UltaHost web hosting includes all of the foundational as well as sophisticated features that spare you from hosting hassles, free up your time to focus on growth, and guarantee the best possible website performance, stability, and security.
Key UltaHost Hosting Services
UltaHost primarily offers four types of managed and unmanaged hosting options to their users, which are listed below. You can select the best one based on your business's objectives and requirements.
1. Shared Hosting
If you are a blogger, small business owner, or web designer looking for a low-cost web hosting solution for your website, the UltaHost Shared Hosting plan might be the best choice. It is the most popular, entry-level, and affordable web hosting product that includes everything you need to get started with a website.
Thanks to NVMe (Non-Volatile Memory Express) storage and the latest generation of AMD EPYC CPU, UltaHost shared hosting provides up to 20x faster page load times, unlimited bandwidth, and a free cPanel license.
Key features of Ultahost Shared Hosting
Unlimited bandwidth
99% uptime guarantee
Enterprise-grade security
RAID-10 NVMe SSD storage
Free daily backups
In addition to these benefits, a Shared Hosting account comes with a complimentary SSL Certificate(s) for your website as well as free website migration services. It is worth noting that, unlike a dedicated server, the web host- UltaHost- will be responsible for all types of server maintenance and upkeep in the case of Shared Hosting.
2. VPS Hosting
The next UltaHost hosting product on the list is– Unlimited Bandwidth VPS hosting, also known as Virtual Private Server hosting. If you're looking for a hosting solution that gives you more power, control, and flexibility, VPS Hosting is the answer. This hosting solution provides you with complete control, which would include full root access and secure shell access (SSH), allowing you to manage all of your domains, websites, and email addresses.
Furthermore, in order to meet the diverse needs of its customers, UltaHost provides four different DDoS Protected VPS hosting plans: VPS Basic, VPS Business, VPS Professional, and VPS Enterprise. The two main aspects that vary between these four plans are– the total number of hosted websites and SSD storage capacity.
Key features of Ultahost VPS Hosting
VPS full root access
SSD NVMe disk drives
Scalable DDR4 RAM
Unlimited bandwidth
Custom VPS servers
Managed servers
In contrast to shared hosting, a VPS gives you full root access and gives you complete control over your web hosting environment, allowing you to customize it as you see fit. Furthermore, UltaHost provides premium customer support to all of there VPS hosting customers.
3. VDS Hosting
VDS, or Virtual Dedicated Server hosting, is UltaHost's third type of hosting solution. VPS and VDS are both types of virtualization that enable you to host multiple websites on the same server while providing you complete control over your hosting environments. The main difference between the two is that a VPS shares the server with other users, whereas a VDS has its own dedicated server.
UltaHost VDS hosting is available in seven different scalable plans. You can select the best one based on your requirements and scale it to different plans if necessary. Except for the CPU core, RAM, and NVMe SSD storage capacity, all of the features remain the same across all plans.
Key features of Ultahost VDS Hosting
Unlimited bandwidth
Free domain transfer and SSL certificate(s)
SSH and SFTP access
Automate daily backups
Regular security patching
Also, keep in mind that UltaHost only utilizes the most recent Intel Xeon Processors on our VDS hosting platform to guarantee the highest levels of performance and reliability.
4. Dedicated Server
UltaHost's fourth primary offering is Dedicated Server with unlimited bandwidth. Dedicated server hosting is the best choice for those serious about their business and who don't want to take any chances. These servers are built to provide quick page loads across all of its hosting locations, data centers, and countries, improving the usability of your website as a result.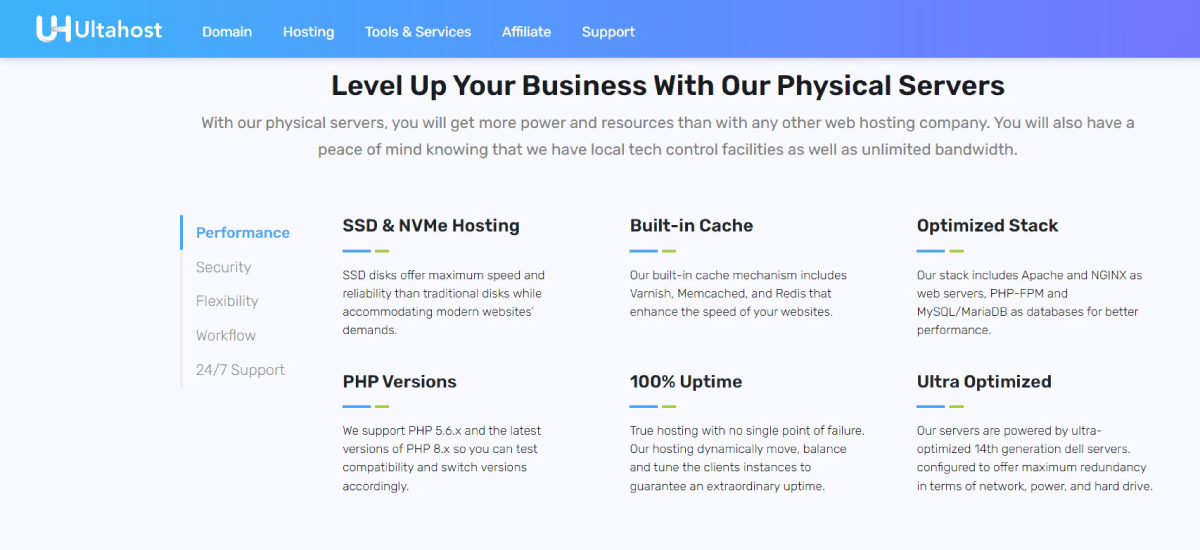 Additionally, Dedicated Server Hosting gives you the most control over your server environment when compared to all other hosting services. For instance, you can install, uninstall, and upgrade any operating system, theme, plugin, and software you want, such as Windows, Linux, and Ubuntu.
Key features of Ultahost Dedicated Server Hosting
Custom dedicated servers
Daily automated backups
Multiple OS options
Anti-DDoS protection
SSD NVMe Disk Drives
Optimized stack
Additionally, UltaHost makes significant investments in the security of its dedicated servers and employs BitNinja security, which shields the data and files on your website as well as secures your online presence by safeguarding your website's reputation from online threats.
Other UltaHost Products & Offerings
In addition to the four key hosting services explained above, UltaHost has several other products and services in its portfolio, as listed below:
In a nutshell, it is not an exaggeration to say that UltaHost is a one-stop solution when it comes to web hosting services.
What sets UltaHost apart from other Web Hosting providers?
Despite the fact that UltaHost is a relatively new web hosting services provider in the market, it has risen to the top, surpassing its competitors. According to our analysis, the five key factors contributing to UltaHost's growing popularity or giving it an advantage over its competitors are as follows:
1. Outstanding reliability and 100% uptime
The first major factor that we believe makes UltaHost a popular choice among users is its excellent reliability and 100% uptime. This is possible because UltaHost has housed its servers in cutting-edge data center facilities located in countries such as the United States, Canada, Germany, and the Netherlands. This will help the UltaHost platform remain operational at all times while also protecting customer data.
2. Enterprise-grade security
Another critical factor that contributes to UltaHost's popularity as a web hosting service provider is the platform's rock-solid security. In addition to the multi-layered BitNinja security system, UltaHost employs a variety of other security mechanisms and techniques, such as SSL certificates, dedicated firewalls, IP whitelisting, and so on.
3. Multiple transparent pricing options
Pricing is an important factor to consider when selecting the best web hosting service. UltaHost understands this very well. In addition to providing a variety of pricing options for each hosting product, the provider has kept a very transparent pricing structure, allowing users to understand the costs and charges better. In addition, when compared to competitors, UltaHost pricing is very reasonable.
4. Complimentary features and services
In addition to keeping prices as low as possible, UltaHost provides multiple freebies, such as free domain transfers, free daily backups, free SSL certificates, and so on. It is also worth noting that transferring your server to UltaHost is completely free, with no additional or hidden fees for setting up or installing your operating system (OS).
5. Multi-tiered customer support
UltaHost also ensures that all users, whether novice or experienced, receive immediate assistance and that their business does not suffer in any way. To that end, they offer five support channels: Knowledge Base, FAQs, Server Support Service, Email and Phone Support, and Blogs—through which you can obtain the necessary help and support. You can select your preferred channel whenever you require assistance.
In addition to these five major benefits, UltaHost also offers a 30-day money-back guarantee. If you are dissatisfied with the services, you can cancel the plan within 30 days and receive a refund.
Our Final Verdict
After thoroughly scrutinizing each of UltaHost's services, solutions, and offerings, we can confidently assert that it is the most advanced and powerful web hosting services provider available today that can bring your website to life.
UltaHost's extensive portfolio of managed and unmanaged hosting services, custom configuration, flexible deployment, platform stability, top-tier performance, and rock-solid security architecture are some of the major elements that not only give it a competitive advantage but also ensure its popularity for the foreseeable future.
To summarize, whether you are an individual looking for shared hosting to host your personal blog, a small or medium business looking for VPS hosting, or an enterprise looking for a dedicated server to power your software, UltaHost is the ultimate web hosting solution.
Top Companies in Web Development Category
UltaHost FAQs
Where is the head office of UltaHost located?
UltaHost's head office location is not disclosed.
What major services does UltaHost provide?