List of best Accounting Software For Your Business in 2017
Page Last Updated On 12/10/2017 07:13
Accounting software is a computer program build and setup up to store and manage the accounts and also perform arithmetic or accounting operation. Accounting systems are used to Keep records of transactions(account receivable, payable), payroll etc. The main purpose of account management software is to meet the internal and external financial expenses and keep a record for it. It is the systematic measurement, verification, interpretation, summation, and classification of financial data.
Accounting Software is used to stay informed about the wide range of finance-related business needs in such manner that adds accuracy and proficiency to the business. Through the utilization of an accounting package, any organization can record and Monitor their cash flows. This change in cash flow visibility can help prevent future financial loss, and help to make better monetary choices.
Accounting information system will, by and large, contain tools that help to create bills, process payments, track costs, improve communication and create reports. Thus it helps in reducing cost and time spent on accounting tasks.
Such software additionally incorporates efficient functionalities, for example, the mechanized era of check printing, accounts receivable and Payable, bookkeeping, billing, fixed assets, payroll, and sales forecasting. The software nowadays ranges from fundamental to more advanced systems including adaptable software for growing organizations, through to best software for particular industries.
Customer Purchase Insights for Accounting Software
Here is the accounting software report generated by analyzing more than 1000+ software buyers in 2016
1. Geographic Spread Of Accounting Software Buyers in 2016
2. Industry-Wise Spread Of Accounting System Buyers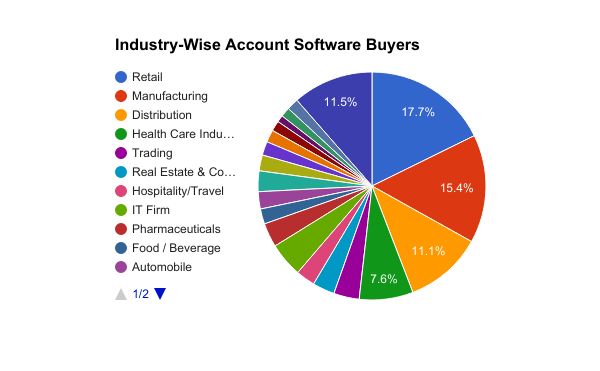 The success of any company is dependent on its robust accounting system. With technology becoming a necessity, it becomes mandatory to use accounting solutions for most of the organization. Let's have a good look at the essential features required in a good small business accounting software:
Security: Best accounting systems always demand security of the data. With the financial data always being deemed highly confidential for any business, it is of the paramount interest for the companies to be assured that the software has no security problems. Software companies who themselves think of this as the first feature of their software are bound to enjoy good faith from their customers. It has been noted that currently, cloud computing software enjoys good security features in comparison to the other kinds of software.
Reports: Top accounting tools not only help you to keep track on your finances but also includes banking transactions as well as sales revenues and investments. Software that can generate reports save a lot of time and efforts of the company.
Communication between departments: simple software looks into basic financial processes. However complex software (those on cloud computing) manage the financial processes of the whole firm like employee salaries, orders of customers and much more. This function must come with the feature of allowing multiple users to connect to each other to make the work smoother. If you need to deal with your credit cards and investments, bank accounts as well as your income and expenditure, all in one place on your smartphone or PC - Get

Personal Finance Software

.
Automation: Manually making invoices or financial data are long gone processes. Nowadays, the business accounting software comes with automatically formulated reports and invoices that you can print without much effort. With access granted to team members, work can be done quickly and much better rather than waiting for an accountant to fill in the data.
Insights: Software that gives a full view of the entire business or its financial status at one glance is preferable these days. You can also get a detailed insight into each area of work by going into specific pages to view it.
Cloud computing: cloud computing is the latest way of using accounting system through different gadgets. It allows multiple users and also keeps the data secure using

Online Accounting Software

. What's more is that it is the quicker than the desktop installations.
Here is the list of benefits and possible issues with a business account management software that can help you understand the software that you shall use.
Managing money is an essential feature of your business. To survive the market it becomes mandatory to check all your accounts. So, whether you are a start-up or an established company, having accounting packages has several benefits.
Financial Updates: Handling a business and also trying to remember all the financial details is not an easy task. This is the first reason why business accounting system comes handy. You don't have to rely on your memory to remember the daily budget, small business bookkeeping software essentials, and taxation details. Once all the details are fed into the software you just need to make certain updates from time to time. What's more is that a good accounts software will give you all the details of your business Check top

Finance Management Software

in a single view and a single click.
Saves Time: Your business needs you and with so many areas of your business demanding your attention, accounting packages allow you to be more productive in business management. For example, apart from storing all the necessary financial details of your business, the software also helps in managing invoices, credit notes, discounts and other relevant documents for your clients.
Sharing: Accounting system has multiple user options which are a great asset to you if you want to keep your chartered accountant updated. It is also possible to work with multiple members of the team.
No guessing games: Most accounting software come with well-explained instructions which give you step by step details of how to store your data and use the different features. This is especially beneficial for start-up companies which cannot hire full-time accountants.
There are certain issues with software that every company has to take into consideration before buying software.
Continuous support and help are always needed. Many software vendors might be weak in handling your queries or problems.

For established companies, even if you use the business account management software, it is necessary to share all the details with your accountant. You will have to make sure that your accountant also has access to your software and is able to use it.

Certain software might not have the necessary features that you need and still might be quite expensive.

The accounting package might not get installed properly or might not run properly due to compatibility issues with your computer's operating system.

Inability to solve problems face to face with the support staff might make you feel frustrated.
Accounting software is used by organizations to perform daily accounting tasks efficiently. For our readers to utilize the latest features, we've listed down the 5 latest market trends of the accounting system. These trends are influencing the accounting ecosystem in a positive way.
Moving to the cloud: Cloud technology is being rapidly incorporated as a part of the best cloud-based accounting software by software manufacturers and is quickly adopted by organizations. A study by venture capitalist firm North Bridge found that more than 75% C-level executives and IT managers reported that their company uses minimum one cloud-based application.

Shifting to cloud software is an ideal choice for companies outsourcing their hardware and software support to minimize costs and improve their core competencies. By moving to the cloud, the software features can be accessed by remote users and various branch offices. An added benefit of the cloud is the ability to access business data and accounting systems from anywhere irrespective of the time and location.

The subscription model adopted by these software are preferred by businesses because the software costs are flexible and based on scalability. This eliminates the need to pay an upfront cost.

A wide range of functionalities:

The present-day best small business accounting software comprises of a wide range of functionalities and applications. These functions include supporting the supply chain, HR, marketing, sales forecasting and overlooking manufacture. Traditionally these functionalities do not fall in the accounting System domain.

The aim behind introducing such all-inclusive accounting system software packages is to chuck out the inter-module integrations. This helps reduce costs that would otherwise have been utilized in supporting such complicated integrations. A single system monitors multiple data-sets so that changes in any area show the real-time influence on other aspects. There is no duplication of work, greater transparency and interdepartmental errors are reduced. This trend is nowhere close to slowing, with more companies adopting the accounting System software package.

3rd Party application integration: Business people always looking best accounting software system for their business and 3rd Party application integration – Businesses are opting for ERP account software with added features besides the core functions. Thus a whole new community of developers is evolving who integrate these features into the existing system. The 3rd party integrated software works in sync with the primary account management software.

At the other end, the accounting system developers are extending help to 3rd party software developers by expanding the core functions. The data can thus be exchanged between the 3rd party application programming interface (API) and the accounting solutions. This trend of extended API availability is nowhere close to fading.

Virtual implementation assistance:

Software systems are complex to manage, from installation to configuration, assistance is needed at every stage. With the introduction of remote implementation support, the buyers get specialist support for the software irrespective of the geographic location. The account software company assists with the software support virtually thereby extending the number of options for the buyer.

Speedy internet and Virtual Network Computing (VNC) such as GoToMyPC and Remote Desktop Connection from Microsoft has drastically elevated the level of remote assistance companies can offer in terms of software support. Geographic hindrance and local dominance are no more a hindrance, buyers can choose the accounting software-based on the available functions.

Analytics: The latest advancement in the accounting software is the introduction of intelligence tools. Analytics lead to making better strategic decisions based on real time data.

Businesses are going beyond measuring assets, liabilities, expenses and revenues as financial performance indicators. Dashboards now offer better management modules and a wide range of graphical presentation options for displaying data. The new age software allows the creation of simplified reports and conversion of data into actionable business insights.