Best Workflow Management Software
Best workflow management software are Smartsheet, Proofhub, Asana, Kissflow, and monday.com. Such workflow management tools Improve your business processes, reduces errors, and boost productivity.
Show More
Get Free Demo
Connect With Your Personal Advisor
List of
20

Best WorkFlow Management Software

Showing

1

-

20

of

217

products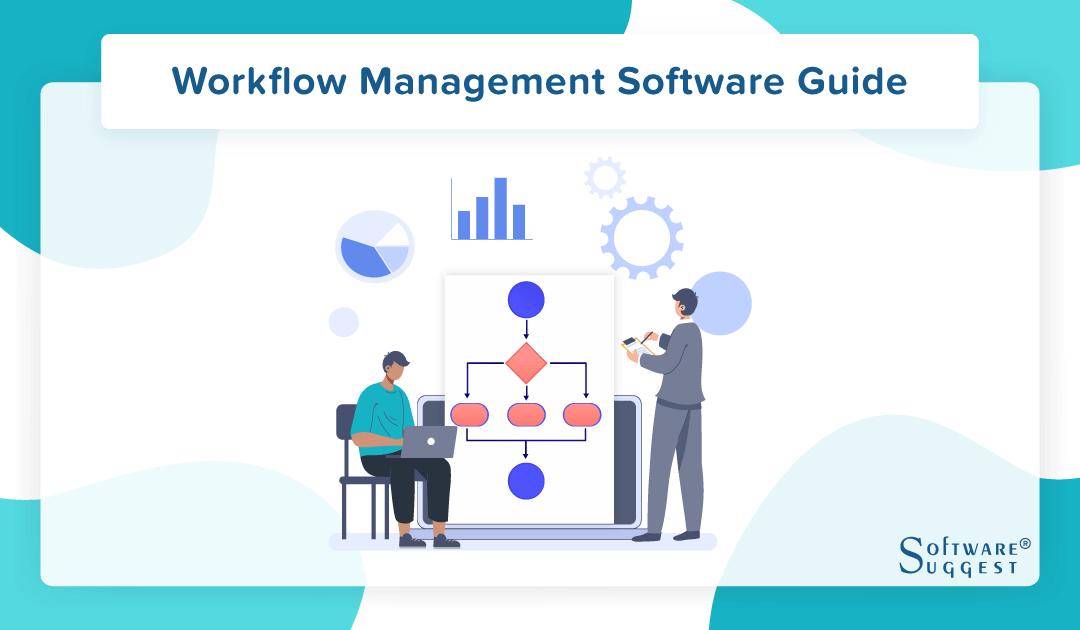 Workflow management software is an instrument that facilitates individuals and organizations to administer their duties, undertakings, and procedures proficiently. A tool that enables effective task, project, and process management is workflow management software.
Giving users a visual depiction of the workflow makes it simple to monitor task progress and spot any bottlenecks or delays. Many establishments, including marketing, manufacturing, healthcare, and finance, can employ workflow management tools.
Features including task management, workflow automation, collaboration tools, reporting, and analytics are frequently included in the program. In this buyer's guide, we'll review the vital factors to consider when choosing a workflow management software and offer a list of the top 5 Workflow Management Software on the market.
Workflow management software is an application that helps individuals or organizations streamline their processes by efficiently managing tasks, projects, and workflows. The software creates a visual representation of the workflow, enabling users to track the progress of tasks or projects and easily identify delays, bottlenecks, or areas that need improvement.
Workflow management software comes with features such as task management, automation, collaboration tools, and reporting and analytics to ensure that projects are completed within the expected timelines and budget. It finds wide application in several industries, including healthcare, finance, marketing, and manufacturing.
Workflow management software users can benefit from enhanced productivity, better communication, and greater visibility. The software is customizable to the specific requirements of different industries and establishments, providing relevant solutions to manage complex workflows.
A Workflow Management Software (WMS) is an application designed to automate and streamline establishment processes. It helps establishments manage their workflows by tracking and optimizing the flow of tasks between different departments or individuals. Here we will explore some of the primary functions of workflow management tools.
Form Creation

A proper workflow management application necessitates an uncomplicated and user-friendly interface for data input. The user must have access to create forms with multiple fields like checkboxes, radio buttons, dropdown menus, and text fields. Furthermore, the best workflow management tools interface should employ a drag-and-drop function that is easy to use. People should be able to use it without technical knowledge to construct forms and workflows quickly. The software might also have ready-to-use form templates and widgets to reduce the time and effort required.

Workflow and Business Logic

Workflow and Business Logic are critical components of any WMS. Workflow refers to the sequence of activities that make up a workflow within a company. On the other hand, Business Logic is a set of rules that dictate how a workflow is executed. The flow management software must be able to model and manage the workflow process effectively. It should offer features like activity tracking, automated notifications, and decision-making capabilities like conditional branching to ensure the workflow progresses smoothly and efficiently.

Low-Code Development and Change Management

Low-code development is an essential aspect of this software. It enables the rapid development of custom workflows and applications with minimal coding. Developers can choose from a library of prebuilt modules and components to easily assemble, test, and deploy workflows.

The low-code approach reduces the time and resources needed for application development, making it easier to adapt to changes in the establishment environment. In addition, Change Management ensures that changes to workflows and establishment rules are carefully managed. It avoids disruptions to existing processes by allowing the various stakeholders to view the impact of changes made on the system components.

Third-party Integration

In today's business environment, companies use a variety of software solutions to manage their operations. The business workflow tools should be able to integrate with various platforms without requiring heavy coding. This seamless integration will instantly allow users to import data and functionality from other systems, applications, APIs, and endpoints. Examples of third-party integrations include email systems, CRMs, ERP systems, and accounting software.

Security, Authentication, and Role-Based Access Control

Security, Authentication, and Role-Based Access Control are essential components of any WMS. The platform should offer several security features that protect data and operations against unauthorized access, such as Secure Sockets Layer (SSL) encryption, single sign-on (SSO), and two-factor authentication. The WMS should also allow for granular permissions management, granting access only to authorized parties. Role-based Access Control (RBAC) enables administrators to securely define specific roles and appropriate access levels for each part.
Workflow management software manages and streamlines business processes, often leveraging technology to boost efficiency, reduce costs, and eliminate errors. It has become an essential tool for many organizations, and no single type of organization or industry exclusively uses this software. Here we explore the diverse range of organizations that rely on this software:
Businesses & Corporations

Workflow management software is valuable for businesses and corporations of all sizes. Irrespective of whether you are a fledgling enterprise or a well-established conglomerate, this application aids in simplifying your business procedures, mechanizing monotonous activities, and minimizing the likelihood of human mistakes. This not only economizes time and finances but also enhances the company's overall effectiveness.

One of the key perks of workflow management software is that it helps ensure everyone is on the same page. It is particularly important for organizations with multiple departments or teams working on a project. Thanks to the workflow management tool, everyone can see the tasks that need to be finished, who is in charge of each assignment, and the deadlines. It makes communication easier, lessens the chance of misunderstandings, and guarantees that projects are finished on schedule and under budget.

Another benefit of workflow management software is that it can help to identify areas where processes can be improved. Tracking the progress of tasks makes it possible to identify bottlenecks or areas where jobs are taking longer than expected. This can help establishments change their processes and improve overall efficiency.

Manufacturing Companies

Manufacturing firms have several operations and protocols that require efficient management. These establishments can regulate their production line, monitor inventory levels, and oversee the supply chain by utilizing these softwares. In doing so, a reduction in wastage can be achieved, productivity can be enhanced, and timely fulfillment of orders can be ensured.

Improved quality control is one of the main advantages of workflow management software for manufacturing businesses. It is possible to lower the possibility of human error and ensure that products adhere to the necessary standards by automating processes like quality inspections. By doing this, waste may be decreased, and consumer happiness can be raised.

Enhancing supply chain management is another advantage of workflow management software for establishments that manufacture goods. The supply chain can be monitored, and inventory levels tracked to help spot potential concerns before they become serious. This can lower the possibility of stock shortages or production delays, which could greatly affect the company's operations.

Government Agencies

Government agencies have many complex processes and procedures that must be managed efficiently. Workflow management software may assist in streamlining these procedures and ensuring everyone is on the same page, from processing applications to monitoring budgets. This can lower the possibility of errors, boost transparency, and quicken the delivery of services.

One of the primary advantages of utilizing this software in government agencies is its potential to enhance accountability. By monitoring the advancement of tasks and guaranteeing that all individuals are aware of their duties, it is feasible to improve openness and diminish the likelihood of inaccuracies or postponements. This can aid in elevating public confidence in government agencies and refining overall effectiveness.

Government organizations may also benefit from workflow management multiple tools by using it to enhance departmental communication. Improving teamwork and lowering the possibility of miscommunication is feasible by offering a single platform for organizing tasks and projects. This can shorten service delivery times and lower service delivery costs while increasing overall efficiency.

Healthcare Organizations

Workflow management software is vital for keeping patient information, making appointments, and ensuring that medical procedures are. It ensures that everything is carried out properly in the healthcare establishments. With online workflow management software, healthcare facilities may enhance patient outcomes, reduce wait times, and boost productivity.

Enhancing patient safety is one of the main advantages of this software for healthcare establishments. Medication administration and patient monitoring are two examples of tasks that can be automated to lower the possibility of human mistakes and increase the precision of medical care. This may improve patient outcomes and reduce the danger of unfavorable results.

Education Institutions

Educational institutions must effectively manage several complicated operations, from student enrollment to course scheduling. These organizations can benefit from workflow management software to simplify these procedures and ensure everyone is on the same page. This can lower the possibility of mistakes, enhance communication, and boost the institution's effectiveness.

The ability of workflow management software to help educational institutions enhance student results is one of its main advantages. It is feasible to spot problem areas in students and offer individualized guidance by monitoring student development and automatically submitting comments. Academic achievement and student involvement may both benefit from this.

Non-profit Organizations

Non-profit organizations have many processes and procedures that must be managed efficiently, from fundraising to program delivery. These establishments can benefit from workflow task management features by streamlining their operations and ensuring everyone is on the same page. It can lower the possibility of errors, promote accountability, and boost organizational effectiveness.

An advantage of utilizing workflow management software in non-profit entities is its potential to enhance responsibility. By overseeing work progress and ensuring that all parties know their duties, transparency can be heightened while reducing the likelihood of errors or delays. This promotes public trust in non-profits and elevates their overall efficiency.
Workflow Management Software offers the necessary instruments to manage your workflows and processes efficiently if you're an entrepreneur with a small-scale business or a corporate giant. It enables you to establish uniform procedures, minimize mistakes and delays, and monitor your workflows and processes in real time. If you're eager to elevate your business, read on! We'll delve into the advantages of Workflow Management Software and demonstrate how it can assist you in accomplishing greater triumph.
Efficient Approval Management

One of the greatest advantages of utilizing Workflow Management Software is its effective approvals management. The best tools can streamline the approval process by automating tasks and reducing the duration required to complete projects. It can be especially advantageous for establishments with numerous approvals to handle or that must act expeditiously to meet deadlines.

With Workflow Management Software, team members can easily submit tasks for approval with just a few clicks. The designated approver will receive a notification and can quickly review and approve the study, which then moves on to the next step of the process.

Improved Visibility of Team Performance

Enhanced team performance visibility is yet another advantage of Workflow Management Software. By utilizing this software, supervisors can monitor the advancement of each team member and pinpoint any areas where they require further guidance or education. This data can be beneficial in recognizing areas that need improvement and making informed judgments to boost productivity and efficiency.

This software can cultivate a sense of accountability and continuous progress by shedding light on team performance. Additionally, employees can view the progress of their coworkers, which can foster healthy competition and promote team spirit.

Effective Process Collaboration

Helping the cultivation of smooth process collaboration is feasible through the utilization of a workflow management tools. Such a system can augment productivity and teamwork by enabling seamless coordination. The application of workflow management software allows for the exchange of information in real-time among team members.

For instance, if a team member requires feedback or input from another colleague, they can conveniently request or send a notification within the software. This saves time, decreases the need for lengthy email threads, and guarantees that everyone is aligned and working towards a common objective. Effective collaboration can reduce errors, enhance communication, and expedite project completion.

Speed Up Approval Processes

Workflow Management Software can help speed up your approval process by automating tasks and reducing the time it takes for projects to be completed. With this type of software, team members can easily submit jobs for approval with just a few clicks, and designated approvers can quickly review and approve the study, which then moves on to the next step of the process. This helps to ensure that nothing gets held up in the approval stage and that projects move forward smoothly and efficiently.

This software can help companies meet deadlines and boost production by lowering the time for projects to be authorized. Additionally, the program can assist in reducing the possibility of errors and guaranteeing that approvals are accomplished accurately and promptly. This might be especially useful for companies that need to manage a lot of blessings or act rapidly to satisfy client or consumer requests.

Reduce Manual Tasks

Workflow management software also helps you get routine tasks off your desk so you may concentrate on more worthwhile activities. The program can assist in reducing the amount of time you spend on administrative duties and freeing up more time for strategic thinking and decision-making by automating regular chores and approvals.

Workflow management software, for instance, can assist in automating duties like timesheet or invoice approval if you're a manager who spends a lot of time on them so that you can concentrate on other objectives. The software can also aid in lowering the possibility of errors and ensuring that routine chores are finished promptly and accurately.

Keep Data in Sync

By centralizing your workflows and facilitating information access and sharing within your team, workflow management software can also aid in keeping your data up to date. Thanks to this kind of software, team members can effortlessly share information and feedback while working together in real time. This makes it more likely that mistakes won't be made and that everyone will be on the same page and working toward the same objective.

Workflow management software can also assist in maintaining the security and organization of your data. A centralized database makes measuring progress and performance metrics simple and guarantees that every team member has access to the data they require to fulfill their duties successfully.

Cost Savings and ROI

Workflow Management Software can help businesses save costs and improve their ROI by reducing the time and resources required to manage workflows and processes. With this type of software, companies can streamline their workflows and automate routine tasks, which can help to reduce the need for manual labor and lower operational costs.

Furthermore, implementing Workflow Management Software can enhance the efficacy of workflows and procedures, enabling enterprises to accomplish projects with greater speed and efficiency. This, in turn, can curtail the time and resources allocated toward project management, resulting in significant cost savings in the long run.

Compliance and Risk Management

By enhancing visibility and control over workflows and processes, workflow management software can also assist firms in managing compliance and risk. Businesses can create standardized methods and procedures that adhere to industry standards and best practices with the help of this kind of software. This may lower the possibility of non-compliance and the ensuing fines and penalties.

Workflow management software can also assist companies in lowering the likelihood of mistakes and inconsistencies in their workflows and procedures. Businesses may guarantee that procedures are carried out promptly and accurately while reducing the risk of errors and inconsistencies by automating routine operations and approvals.

Real-time Tracking and Monitoring

Workflow Management Software can also provide real-time tracking and monitoring of workflows and processes, which can help establishments to identify issues and address them quickly. With this type of software, firms can track the progress of tasks and approvals in real time and receive alerts and notifications when tasks are overdue or require attention.

Real-time tracking and monitoring can also help businesses identify bottlenecks and areas for improvement in their workflows and processes. Companies can identify areas where workflows can be optimized and streamlined by analyzing metrics such as completion time, approval time, and productivity.

Increased Transparency and Accountability

Workflow management software helps improve the degree of accountability and transparency in establishments. It is accomplished by offering a consolidated platform to manage workflows and processes. The workflow management tool enables team members to access tasks and approval documents promptly while allowing managers to oversee progress and detect and resolve any potential issues effortlessly.

Such a high degree of transparency helps strengthen a culture where team members accept accountability for their duties. Additionally, they are inspired to help the company succeed. Further, encouraging open conversation about tasks and projects can promote improved teamwork and communication. Along with cooperation to achieve shared objectives.
Software for managing workflows is a crucial instrument for any establishment that aims to simplify procedures, enhance productivity, and minimize mistakes. Here are eleven key workflow management tools features that make this software so valuable:
Workflow Configuration

Workflow configuration is a key feature of online workflow management software that allows users to configure and customize workflows to meet the specific needs of their establishment. The workflow's steps, each team member's duties, and the guidelines and standards for advancing tasks from one stage to the next are all defined in this process.

Users can design processes using workflow configurations tailored to their company's needs, whether for project management, document review and approval, or any other function involving numerous stakeholders.

Calendar Management

Calendar management is a crucial aspect of workflow management software that empowers users to plan duties and target dates, establish notifications, and allocate tasks to colleagues. It is dependent on their accessibility and workload. Calendar management enables establishments to guarantee that tasks are accomplished punctually and that team members are not overwhelmed with an excessive number of jobs simultaneously. This can foster amplified efficiency, reduced stress, and increased productivity.

Approval Process Control

Approval process control is a feature of workflow management software that allows organizations to define the rules and criteria for approving or rejecting tasks and documents and to assign approvers based on their role and authority. This feature can help to ensure that all duties and papers are reviewed and approved by the appropriate personnel and that the approval process is consistent and transparent. It can also help reduce the risk of errors and ensure that all tasks and documents comply with regulations and internal policies.

Business Process Automation

The most potent function of workflow management software may be business process automation. It enables businesses to automate routine tasks and procedures, including email notifications, document generation, and data entry. Organizations can automate these processes to reduce the time and labor needed to execute them, increase precision and consistency, and free up team members to work on other crucial projects. This might promote efficiency all around, lower expenses, and raise production.

Task Management

A crucial function of workflow management software is task management, which enables users to define and control tasks and subtasks inside a process. Users can assign tasks to team members, establish due dates, and monitor progress toward completion using task management. The timely completion of tasks and team members' understanding of their roles within the process can be ensured. Additionally, task management offers customers access to each work's status, enabling them to rapidly spot any bottlenecks or locations where more resources could be required.

Access Controls/Permissions

Workflow management software must provide access controls and permissions for enterprises to regulate who has access to particular workflows, tasks, and documents. Organizations can ensure that team members only have access to workflows and functions necessary for their roles and that sensitive data is only accessible to authorized individuals by implementing access controls and permissions. By doing so, the possibility of data breaches can be decreased, and data security can be increased.

Customizable Workflows

Workflow management software's important feature of customizable workflows enables users to design processes specifically suited to their company's requirements. Users can specify the stages of the workflow, the roles and duties of each team member, and the requirements for advancing tasks from one location to the next using configurable workflows. This can aid in ensuring that workflows are tailored to the company's specific needs and are streamlined for optimal efficiency.

Analytics and Reporting

Insights into the effectiveness of processes and tasks are provided by analytics and reporting, which are crucial components of workflow management software. Through analytics and reporting, organizations may monitor important metrics like task volume, task completion times, and user productivity.

This can assist businesses in locating workflow improvement opportunities and streamlining procedures to boost effectiveness and production. Analytics and reporting also give managers insightful information about how each team member performs, enabling them to spot any areas requiring further coaching or assistance.

Integration with Other Software

The ability to effortlessly integrate workflows with other systems and applications, including project management software, CRM systems, and document management systems, is a key aspect of workflow management software.

Establishments can prevent redundant tasks, upgrade data precision, and simplify processes by integrating workflows with other platforms. For instance, if a specific procedure requires the production of a record, the workflow administration program can automatically generate it in a record-keeping system, Ultimately eradicating the need for manual input of data.

Mobile Access

As more and more workers work remotely or on the go, mobile access is a component of workflow management software that is becoming increasingly crucial. Thanks to mobile access, users can stay productive even when they are away from their desks, which enables them to access workflows, tasks, and documents from their smartphones or tablets.

As team members may accomplish activities and review documents at any time or place, this can help increase productivity and efficiency. Thanks to mobile access's flexibility and ease, team members can operate in a fashion that matches their unique needs and preferences.
Enterprises are incessantly compelled to optimize their return on investment (ROI) in rapidly moving commercial surroundings. One efficient approach to achieve this is utilizing the best workflow software. Workflow management software assists businesses in simplifying their procedures, enhancing cooperation, augmenting transparency and reporting, diminishing expenses, and boosting customer contentment. In this write-up, we'll examine each of these benefits in depth.
Streamlined Business Processes

Businesses can automate their procedures with the help of workflow management programs, which increases their efficiency and eliminates errors. By automating operations, companies can save time and lower the risk of human mistakes.

For instance, a company can automate its invoice approval process using a workflow management platform. The tool may alert the appropriate approver when an invoice is ready for review, route invoices to that approver automatically, and track the approval status. This automation can speed up processes, reduce mistakes, and guarantee that bills are paid on time.

Improved Collaboration

Tools utilized in managing workflows provide practical solutions for augmenting collaborative efforts within establishments. These business workflow tools offer a centralized hub for teams to perform project-related tasks and optimize communication. Workflow management tools can improve accountability, reduce redundancy, and elevate efficiency.

A prime example of such utilization is in the context of establishments. By deploying such tools, an establishment can promote collaboration among its team members by facilitating the delegation of tasks and monitoring progress. The smooth integration of these tools can prevent inconsistencies and errors and ensure coherence among all stakeholders involved.

Enhanced Visibility

Enterprises can oversee advancement and detect hindrances owing to the current process visibility proffered by workflow automation software. Organizations can acquire further insights into their activities, pinpoint areas for refinement, and implement data-oriented resolutions by providing comprehensive reporting and analytics.

To illustrate, a corporation can track the duration required to accomplish a task by utilizing workflow management software. The software can present real-time reporting on each team member's time to complete a task, enabling the enterprise to identify hindrances and optimize its processes.

Reduced Costs

Workflow management tools can assist firms in lowering costs by automating procedures and enhancing efficiency. By automating repetitive tasks, establishments can reduce the time and energy required to carry them out, freeing up resources for other responsibilities. One instance is using a workflow management tool to automate the recruitment process. The application can manage interviews, automatically advertise job openings on job portals, and assess CVs. By automating these tasks, HR resources can be directed to other studies, reducing mistakes and saving time.

Increased Customer Satisfaction

Tools for managing workflows can assist businesses in enhancing customer satisfaction by improving the quality and swiftness of their services. By automating tasks and increasing efficiency, companies can provide their customers with quicker and more precise benefits.

To illustrate, a business can utilize a workflow management tool to automate its customer service process. This tool can automatically direct customer inquiries to the relevant agent, furnish real-time updates to the customer, and monitor the status of the investigations. This automation can elevate response times, diminish errors, and amplify customer satisfaction.
| Name | Free Trial | Demo | Starting Price |
| --- | --- | --- | --- |
| | 14-days | Yes | Starts at $8 per seat/month |
| | 14-days | Yes | The basic plan is free |
| | 14-days | Yes | Starts at $45 per month |
| | 14-days | Yes | Starts at $5/member/month |
| | 14-days | Yes | Starts at $9.80/user/month |
This section thoroughly explains the Top 5 smart workflow management software. It includes details on the expenses, advantages, and disadvantages of each one. Regardless of the size of your organization, this guide will help you select the most suitable workflow management software.
Teams can manage their work processes on an integrated platform with the help of monday.com, a cloud-based Work OS. Roy Man, Eran Zinman, and Eran Yahav created it in 2012; its main office is in Tel Aviv, Israel. Businesses of all sizes utilize this workflow management software in various industries and have a range of pricing, including a free plan.
Features
Work OS for managing various functions in one platform
Customizable interface with different templates and automation tools
Integration with multiple apps and tools, such as Slack and Jira
Drag and drop interface for easy task management
Real-time collaboration and communication features
Pros
User-friendly interface
Better workflow templates
Task management with deadlines
Multiple pricing options, including a free plan
Collaboration and communication features for teams
Cons
Some workflow automation features require technical knowledge
Few users may find the setting-up process time-taking
Pricing
Basic- $8 per seat per month
Standard- $10 per seat per month
Pro- $16 per seat per month
Asana is a web-based software for managing tasks that assists teams in enhancing their productivity. It was established in 2008 by Dustin Moskovitz and Justin Rosenstein and had its main office in San Francisco, California. Asana presents functionalities like project and duty administration, group cooperation, and workflow automation. This workflow management software is used by establishments of all sizes across various industries to streamline their work processes and improve productivity.
Features
Task and project management with deadlines
Customizable templates and automation for workflow
Integration with third-party tools and apps like Slack and Outlook
Real-time team collaboration and communication
Kanban-style project tracking view
Pros
User-friendly interface with intuitive design
Extensive feature set for managing projects and teams
Mobile app for remote access and management
Cons
The learning curve is steep
Few may find it not scalable enough to accommodate the growth
Pricing
Basic- $0
Premium- $10.99 per user per month
Business- $24.99 per user per month
Workflow management software provider ProofHub provides several solutions to facilitate team collaboration and improve project management. Since its creation in 2011, it has grown to be a well-liked option for establishments of all kinds, including services like task management, time tracking, and team communication, all in one location.
Features
Custom roles and permissions for team members
Multiple project views (Gantt chart, Kanban board, etc.)
In-built time tracking and timesheets
Robust proofing and markup tools for creative projects
Advanced reporting and analytics
Pros
Comprehensive project management features in one platform
User-friendly interface with customizable workflows
Affordable pricing plans for teams of all sizes
Excellent customer support and training resources
Cons
Limited integrations with third-party tools
Does not provide a wide array of customization range
Pricing
Essential- $45 per month
Unlimited- $89 per month
ClickUp is an efficient platform that simplifies your work procedures. Established in 2017, it provides a variety of instruments, such as job administration, time monitoring, and project administration, all in a single location. Its user-friendly and adaptable interface makes it a well-liked option for companies of all magnitudes striving to enhance their productivity.
Features
Users can switch between different views, including Gantt charts, calendars, and boards
Users can create their statuses for tasks, making it easier to track progress
ClickUp includes built-in time-tracking capabilities
ClickUp integrates with several tools and services, such as Google Drive and Slack
Users can assign comments to team members, making it easier to keep track of tasks and responsibilities
Pros
Highly customizable to fit different automated workflows and needs
Excellent for team collaboration and communication
Comes with a diverse array of useful functionalities and integrations
Provides a complimentary package for minor teams
Cons
It can be overwhelming for new users due to its many features
Some users have reported performance issues
Pricing
Unlimited- $5 per member per month
Business- $12 per member per month
Business Plus- $19 per member per month
Wrike is a collaboration and project management software company founded in 2006. Wrike provides cloud-centric workflow management software solutions that empower teams to simplify processes, monitor advancements, and cooperate instantly. This platform is utilized by more than 20,000 organizations globally, including Airbnb, Google, and Hootsuite.
Features
Establish and activate automatic processes to eradicate manual labor
Applications for both mobile and desktop
Efficient validation and teamwork consolidated into a single platform
Schedule and distribute resources for punctual completion
Adapt assignments to suit your workplace
Cross-Tagging offers unmatched insight into multiple work streams.
Gantt Charts facilitate project planning for all teams.
Personalized forms featuring conditional logic
Monitor project advancement and devise custom workflows with Kanban Boards
Ensure approvers are informed from beginning to end
Over 400 widely-used applications, as well as personalized integrations
Pros
Increased productivity and efficiency
Improved user experience
Competitive advantage over other products/services
Potential cost savings in the long run
Cons
The initial investment may be costly
The potential learning curve for new users
Pricing
Team- $9.80 per user per month
Business- $24.80 per user per month
Workflow management software is an integral tool for modern-day businesses, allowing for efficient and streamlined processes. However, the implementation and use of such software come with challenges. Here we will explore ten significant challenges that businesses face when utilizing workflow tools:
Integration with Other Software and Systems

One of the significant challenges businesses face when utilizing workflow management software is integrating it with other software and systems. Establishments often use several different software and techniques to manage their operations, and ensuring that the workflow automation tools work seamlessly with these can be daunting.

Ensuring that the workflow management software integrates with other software and systems is crucial to maximizing the benefits of the software and ensuring that the business operates efficiently.

Remote Work and Collaboration

Remote collaboration and work are huge problems for establishments. With so many companies switching to remote work due to the COVID-19 pandemic, it is more essential than ever to have remote collaboration. Workflow management apps can assist with remote work and collaboration, but establishments must ensure the software is user-friendly and conducive to remote work. It may include attributes like real-time communication, mobile accessibility, and cloud-based storage.

Customization and Flexibility

The adaptability and customization of workflow management software can pose significant challenges. Since each establishment has distinct demands, the software must be adjustable to cater to these requirements. Unfortunately, implementing flexibility and customization can be daunting, and companies may have to compromise some features to meet their client's specific needs. It is, therefore, crucial for establishments to ensure that the workflow management software they use can accommodate their unique needs.

User Adoption

User acceptance is one of the main difficulties in implementing workflow management software. Despite the obvious advantages of adopting such software, some employees could be hesitant, especially if they are accustomed to working with a different method. For instance, employees who have been utilizing manual processes can find it difficult to transition to a digital system. It is crucial to explain the software's advantages to the staff members and give them training so they feel confident using it to overcome this difficulty.

Security

Regarding other software for managing workflows, security is a major issue. Since this software deals with delicate data, it is essential to guarantee its safety and protection from possible cyber dangers. Establishments must ensure their software is regularly updated and employ strong safety protocols like firewalls, encryption, and multi-factor authentication. Failure to secure workflow management software can lead to data breaches, which can be financially and reputation-wise costly.

Resistance to Change

Organizations often need help with the obstacle of opposition to alteration when introducing workflow management tools. Employees may exhibit resistance due to apprehensions about its possible impact on their job security or a lack of comprehension regarding the new system's advantages.

To overcome this challenge, it is crucial to communicate the rationale behind the change and how it will benefit the organization and its workforce. Furthermore, involving employees in the implementation process and providing comprehensive training is crucial to ensure their comfort with the new system.

Compatibility with Different Devices

Managing workflows through software can be challenging due to compatibility issues with different devices. For establishments to enable their employees to work remotely, ensuring that the software is compatible with various devices such as laptops and mobile phones is essential.

Incompatibility issues can lead to a decrease in productivity and cause frustration among employees. Therefore, organizations must test their software on multiple devices before implementation to ensure compatibility.

Cost and Budget Constraints

Cost and budget constraints are one of the main challenges of using workflow management software. This type of software can be quite expensive, especially for small establishments or startups. Additionally, the cost of integrating workflow management solution with other software and systems can add to the overall expense.

Establishments must balance the cost of implementing and maintaining workflow management software with its potential benefits, such as increased productivity and streamlined processes.

Technical Support and Maintenance

One more hurdle in utilizing workflow management solutions is the prerequisite of technical assistance and upkeeping. This specific software necessitates a certain degree of technical proficiency to set up, set up, and maintain.

Establishments must have dependable technical assistance to resolve any problems that may arise. They should also perform routine maintenance and upgrades to guarantee the software functions correctly. Furthermore, establishments must be equipped to dedicate time and resources to educate workers on proficiently operating the software.

Workflow Transparency and Accountability

Ensuring the best workflow tools are transparent and accountable presents a third difficulty when utilizing workflow management software. It can be challenging to guarantee that every activity is completed on time and by the appropriate individual when using this software.

Tasks may be delayed or left unfinished without the right transparency and accountability procedures, resulting in workflow bottlenecks and lost productivity. An organization's system must monitor every task, and each team member must be responsible for their part in the workflow.
Workflow management solution has developed into a crucial tool for companies and establishments of all kinds in recent years to simplify operations, automate repetitive procedures, and boost overall productivity. Technology development has led to several fascinating new trends in workflow management tools. Here will discuss the latest workflow management software trends and how they impact establishments.
Machine Learning

Incorporating machine learning capabilities into workflow software is one of the newest developments. Machine learning software can analyze previous workflows to forecast and suggest changes to upcoming processes. Businesses can use this technology to streamline workflows, uncover bottlenecks, and automate repetitive procedures.

Chatbots

The usage of chatbots in workflow management software is another trend. Employees and customers can obtain round-the-clock assistance from chatbots, which enables them to swiftly find solutions to problems and receive answers to their concerns. Establishments can speed up response times, boost customer satisfaction, and allow staff to concentrate on more difficult duties by adopting chatbots.

Focus on User Experience

Ultimately, there is a growing trend in workflow management applications to prefer user experience. By emphasizing experience, software programmers design user-friendly and easy-to-interface, requiring extensive training. As a result, it can result in higher adoption rates, enhanced employee involvement, and, ultimately, increased overall efficiency.
Determining an average cost for workflow management software can be challenging since the expenses may differ significantly based on the provider and the features provided. Nevertheless, numerous providers present diverse pricing options, with certain monthly plans commencing at a couple of dollars per user. In contrast, more comprehensive plans may cost several hundred dollars per user monthly.
An enterprise workflow management software tool costs between $30 to $40 per user. Exploring various providers and their pricing models is recommended to discover the most suitable alternative that fits your organization's requirements and budget.
Conclusion
In conclusion, choosing the appropriate workflow management software is essential for optimizing productivity, streamlining procedures, and team cooperation. Given the variety of features and pricing alternatives available, it's crucial to assess your establishment's demands and pick a provider that fits your objectives and price range. You can advance your company's operations by implementing the appropriate workflow management software.
Compare Pricing Plans of Top WorkFlow Management Software Providers
FAQs of WorkFlow Management Software
Numerous software vendors for workflow management provide possibilities for integration with various other tools and applications, including project management software, customer relationship management software, and financial software.
The convenience of utilizing workflow management software may differ based on the vendor and functionalities provided. Nevertheless, numerous vendors provide instinctive interfaces and workflows that are easy to use and execute for both technical and non-technical users.
WorkFlow Management Software in following countries
WorkFlow Management Software in following cities
WorkFlow Management Software in following industries