What is Interacty?
Interacty is an intelligent and easy-to-learn platform for creating learning games, quizzes, interactive worksheets, and dozens of other activities. Interacty allows teachers to test students' knowledge playfully and is suitable for distance and classroom learning.
Key Features of Interacty
Rich Text Editor
Higher Education
K-12
Presentation Tools
Mobile Access
Online Assessment
Content Management
Interactive Content
Test / Quiz Creation
Gamification
Colleges / Universities
Testing / Assessments
Academic / Education
Customizable Forms
Interacty Users
Business
Freelancers
StartUps
SMEs
Agencies
Enterprises
Available Support
Email
Phone
Live Support
Training
Tickets
Specifications
Deployment:

Cloud Based

Payment:

Monthly, Yearly

Api

Customization

Mobile Support
Desktop Platforms
Mobile Platforms
Language Support
Dutch
English
French
German
Italian
Portuguese
Spanish
Interacty Categories on SoftwareSuggest
Interacty Pricing
Click here
to get detailed pricing as per your requirements.
All Interactive Activities
Up to 100 pageviews /month
Up to 50 projects
Storage size: 100 Mb
2 team members
Question banks
LMS embed code
Sharing a project by link
Free lifetime license with limited functionality
All Interactive Activities
Up to 1000 pageviews / month
Up to 100 projects
Storage size: 500 Mb
3 premium templates / month
3 team members
Question banks
LMS embed code
Sharing a project by link
Tariff plan for beginners
All Interactive Activities
Up to 5000 pageviews / month
Up to 300 projects
Storage size: 1 Gb
10 premium templates / month
Leaderboards
5 team members
Question banks
LMS embed code
Sharing a project by link
Advanced tariff plan with leaderboards
All Interactive Activities
Unlimited pageviews
Up to 500 projects
Storage size: 5 Gb
50 premium templates / month
Leaderboards
10 team members
Question banks
LMS embed code
Sharing a project by link
Professional tariff plan with unlimited project views
People who viewed Interacty also visited
Interacty Description
Interacty is designed to make the learning process more fun and effective.
The service offers dozens of game activities, including tests, memory, search for objects, matching games, treasure hunts, find differences, timelines, interactive maps, before and after, flip cards, audio, video, and more.
Teachers can use pre-made templates to create learning activities or lessons from scratch. The flexible Interacty editor allows you to assemble interactive lessons from ready-made blocks – it's as easy as building a children's construction kit. The combination of blocks will enable you to create an interactive worksheet, a game, or a whole lesson with a theoretical and practical part. In the end, you can evaluate students' answers.
The finished project is easy to publish and embed in your LMS, copy the link, and send to your students. When teaching in class, you can print or display the QR code so that students can scan it with their phones and have a game at the end of the lesson.
All games allow you to connect a leaderboard, motivating your students and rewarding those who coped with the task better than others.
The Interactive editor allows you to create audio and video lessons. You can record audio right in the editor. You can embed a video from YouTube and immediately check the learned material with the help of a test.
Interacty supports Question Banks. You can create your question sheets and use them to test students. Questions in the test will be selected randomly from your sheet, which makes it easier to test knowledge objectively, and you can create tests in minutes.
Interacty has a community of teachers from all over the world who post templates for learning activities. These templates are available to Interacty users free of charge.
Interacty has a free version for teachers and several advanced plans with additional functionality.
Resources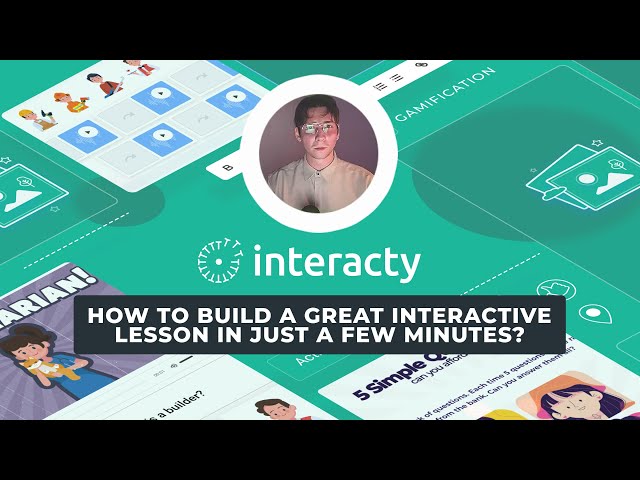 Webinar for teachers: How to build a great interactive lesson in just a few minutes?
Watch Now for free
Alternatives of Interacty
Interacty FAQs
How much does Interacty cost?
The starting price of Interacty is $ 0/Forever. It has different pricing plans:
FREE : $ 0/Forever
BEGINNER : $ 3/Per Month
INTERMEDIATE : $ 5/Per Month
ADVANCED : $ 9/Per Month
Interacty also provides a free trial to users.
What apps do Interacty integrate with?
Interacty integrates with various apps:
What are the top 5 features for Interacty?
The top 5 features for Interacty are:
Rich Text Editor
Higher Education
K-12
Presentation Tools
Mobile Access