What is LearnWorlds?
Selling online courses and content is now easy by using the powerful search engine of, LearnWorlds. The advanced and in-build 3rd party analytics facility of this course authoring software helps a business to sell on multiple platforms.
LearnWorlds Starting Price
$ 29/Monthly (up to 20% off on Annual Plans)
LearnWorlds Awards
Our Awards and Recognition
Key Features of LearnWorlds
Customer Management
Document Management
Knowledge Management
Registration Management
Time & Attendance Management
Time Tracking
Training Management
Contact Management
Membership Management
Data Security
Social Media Integration
Assessments
Onboarding
File Sharing
Application Security
Archiving & Retention
Compliance Management
Collaboration
Document Indexing
Billing & Invoicing
Payment Processing
Employee Profile
Goal Management
Dashboard
Key Performance Indicators
Alerts/Notifications
Forms Management
Customizable Templates
Course Management
Cultural Alignment
Employee Alignment
Employee Awards
Quizzes
Employee Training
Marketing Management
Data Capture
Attendee Management
Badge Management
Member Portal
Device management
Assessment Management
Attendance Tracking
Enrollment Management
Higher Education
K-12
Student Portal
Gamification
Community Management
Content Syndication
Feedback Collection
Video Content
Data Analysis
Progress Tracking
Template Management
Customer Engagement
Multi-User Collaboration
Activity Monitoring
Mobile Access
For Education
Leaderboards
Learning Management
Group Management
Audio / Video Conferencing
Chat / Messaging
Discussion Boards
Media Library
Education
Asynchronous Learning
Built-In Course Authoring
Certification Management
Corporate / Business
Mobile Learning
Skills Tracking
Social Learning
Training Companies
Synchronous Learning
eCommerce
Blended Learning
Content Library
Data Import/Export
Online payments
Content creation
Data Integration
Multiple Question Types
Automated Scheduling
Alumni Management
Question Library
Action Management
Class Scheduling
Analytics & Reporting
Content Import / Export
Content Management
Adaptive Learning
Role Management
Course Publishing
Interactive Content
PowerPoint Conversion
Self-Paced Courses
Storyboarding
Test / Quiz Creation
Video Management
Instructor-Led Courses
Content Delivery and Tracking
Customer Training
Course tracking
Account Management
Document Control
Built-in LMS
Engagement Monitoring
Visualization
Digital Asset Management
Goal Setting
Scoring
Skill Testing
Electronic Forms
Employee Handbook
Skills Assessments
Colleges / Universities
Faculty / Staff Management
Real Time Editing
Member Communities
E-forms
Learner Portal
Video Conferencing
Activity / News Feed
Discussions / Forums
Conferences/Conventions
Social Media Promotion
Form Builder
Online Registration
Member Management
Customizable Questions
Model Training
Single Sign On
Learning Plans
Member Accounts
SCORM Compliance
For Classroom
Support Audio/Images/Video
Tests/Assessments
Media Management
Testing / Assessments
Progress Reports
Discount/Coupon Management
Onsite Registration
Report Cards
Parent/Student Portal
Electronic Assignments & Tests
Built in LMS
Lesson Planning
Teacher Dashboard
Activity Log
Certification Tracking
Academic / Education
Live Results Tracking
Learning Paths
Competency-Based Learning
LearnWorlds Users
Business
Freelancers
StartUps
SMEs
Agencies
Enterprises
Available Support
Email
Phone
Live Support
Training
Tickets
Specifications
Deployment:

Cloud Based

Payment:

Monthly, Yearly

Api

Customization

Mobile Support
Desktop Platforms
Mobile Platforms
Language Support
Dutch
English
French
German
Greek
Portuguese
Spanish
LearnWorlds Categories on SoftwareSuggest
LearnWorlds Pricing
Click here
to get detailed pricing as per your requirements.
Starter
$ 29
Monthly (up to 20% off on Annual Plans)
$5 Fee Per Course Sale
1 Admin
Custom Domain
Unlimited Paid Courses
Pages Builder (3 Pages)
Built-In Community
4 Payment Gateways
Coupons
Basic Integrations
Free SSL Certificate
Drip Feed Courses
24/5 E-Mail Support
Pro Trainer
$ 99
Monthly (up to 20% off on Annual Plans)
Starter features plus:
No Transaction Fees
5 Admins / Instructors
Unlimited Courses
Unlimited Landing Pages
Complete Website Builder With Blog
Subscriptions & Memberships
Installments
Fully Customizable Course Player
Customizable Checkout Page
Custom Certificates
Live Classes & Webinars Via Zoom
SCORM / Multimedia Files
Affiliate Management
Zapier, Zoom & Premium Integrations
Question Banks
100% Off LW Academy
24/7 Priority E-Mail Support
Learning Center
$ 299
Monthly (up to 20% off on Annual Plans)
Pro Trainer features plus:
No Transaction Fees
20 Admins / Instructors
Bulk Student Upload
Full White-Label Options
Integrations With API
Interactive Video
Auto-Transcripts & Subtitles For Your Videos
Advanced Affiliate Management
Webhooks Integrations
Single Sign-On (SSO)
Custom IOS & Android App (Extra Fee)
100% Off LW Academy
1 Hour Premium Onboarding
24/7 Premium Support
Company Details
Company Name :
LearnWorlds
People who viewed LearnWorlds also visited
Resources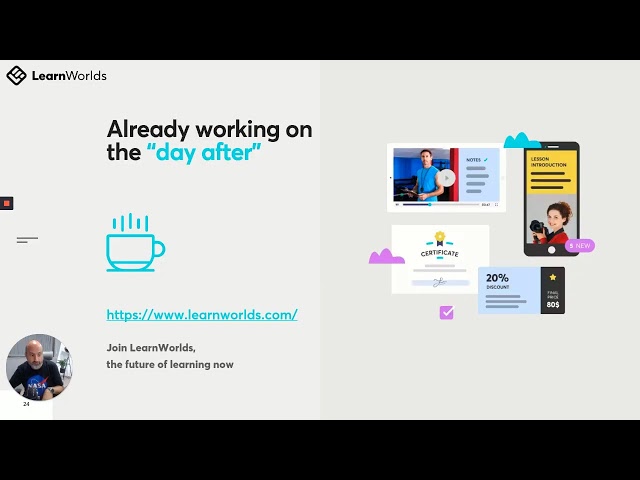 LearnWorlds Insider Updates [New Features presentation by Panos Siozos, LearnWorlds CEO]
Watch Now for free
Alternatives of LearnWorlds
Integrations
Hubspot, Zapier, zoom, mailchimp, ActiveCampaign, AWeber, ConvetKit, Google Analytics, Google Search Verification, Google Tag Manager, Mixpanel, Facebook-pixel, Intercom, Sumome, ReferralCandy, FreshChat, Zendesk, Olark, Tawk to, Fomo, Vimeo, Wistia, Stripe, Paypal, PagSeguro, 2Checkout, iDEAL, Bancontact, Shopify, Auth0, Quaderno
Helen H.
Used the software for : 2+ years
Company Size :51-200 employee
LearnWorlds FAQs
How much does LearnWorlds cost?
The starting price of LearnWorlds is $ 29/Monthly (up to 20% off on Annual Plans). It has different pricing plans:
Starter : $ 29/Monthly (up to 20% off on Annual Plans)
Pro Trainer : $ 99/Monthly (up to 20% off on Annual Plans)
Learning Center : $ 299/Monthly (up to 20% off on Annual Plans)
LearnWorlds also provides a free trial to users.
What apps do LearnWorlds integrate with?
LearnWorlds integrates with various apps:
Hubspot
Zapier
zoom
mailchimp
ActiveCampaign
AWeber
ConvetKit
Google Analytics
Google Search Verification
Google Tag Manager
Mixpanel
Facebook-pixel
Intercom
Sumome
ReferralCandy
FreshChat
Zendesk
Olark
Tawk to
Fomo
Vimeo
Wistia
Stripe
Paypal
PagSeguro
2Checkout
iDEAL
Bancontact
Shopify
Auth0
Quaderno
What are the top 5 features for LearnWorlds?
The top 5 features for LearnWorlds are:
Customer Management
Document Management
Knowledge Management
Registration Management
Time & Attendance Management
LearnWorlds Awards